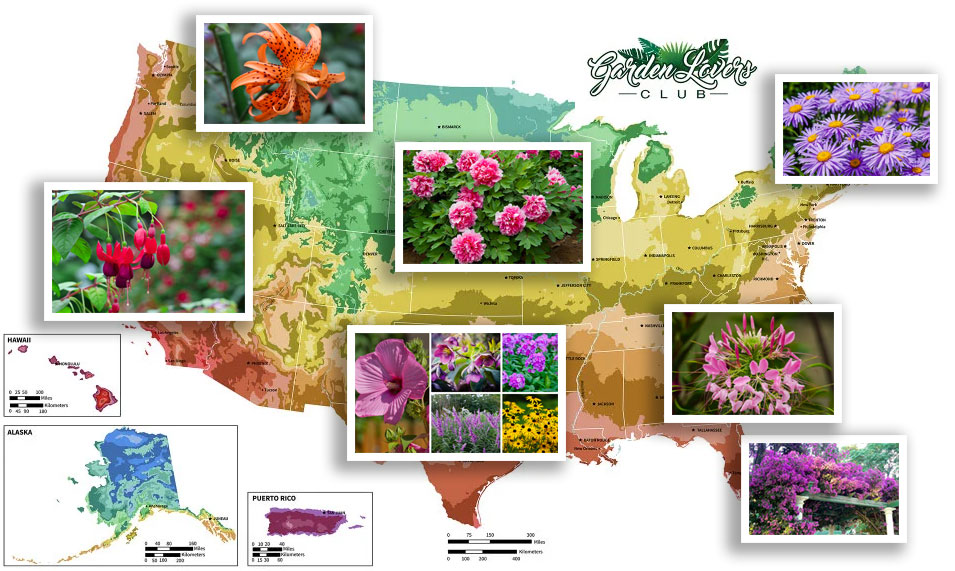 Perennial flowers are flowers that have a lifetime of two years or more. These flowers form the backbone of any backyard garden. They grow and decorate the backyard for many years, which makes them a worthwhile investment.
Most people often wonder about the difference between annual and perennial flowers. Annual flowers have a short lifecycle that lasts between one season to a year. On the other hand, perennial flowers last longer due to an extensive root-work that allows them to survive for years. However, they have short blooming periods, usually a few weeks to a few months, and largely depend on being planted together with other perennial flowers that bloom in different seasons to keep your backyard colorful.
Select a State below for a list of perennial flowers that will thrive in your State!

Alabama
Alaska
Arizona
Arkansas
California
Colorado
Connecticut
Delaware
Florida
Georgia
Hawaii
Idaho
Illinois
Indiana
Iowa
Kansas
Kentucky
Louisiana
Maine
Maryland
Massachusetts
Michigan
Minnesota
Mississippi
Missouri
Montana
Nebraska
Nevada
New Hampshire
New Jersey
New Mexico
New York
North Carolina
North Dakota
Ohio
Oklahoma
Oregon
Pennsylvania
Rhode Island
South Carolina
South Dakota
Tennessee
Texas
Utah
Vermont
Virginia
Washington
West Virginia
Wisconsin
Wyoming
USDA Zones
Best Perennials for Zone 3
Best Perennials for Zone 4
Best Perennials for Zone 5
Best Perennials for Zone 6
Best Perennials for Zone 7
Best Perennials for Zone 8
Best Perennials for Zone 9
Best Perennials for Zone 10
Best Perennials for Zone 11
When to Plant Perennial Flowers
The ideal time to plant perennial flowers is during spring and fall. During these seasons, your plants will thrive because there is enough rainfall and warm soil. Furthermore, the sunlight hours are longer, giving these plants enough time to grow and develop.
You can plant perennial flowers using their seeds or by buying pre-planted flowers from a local nursery. For pre-planted plants, you can either plant them in their containers or using their bare roots as instructed. After planting, water the area well to ensure growth.