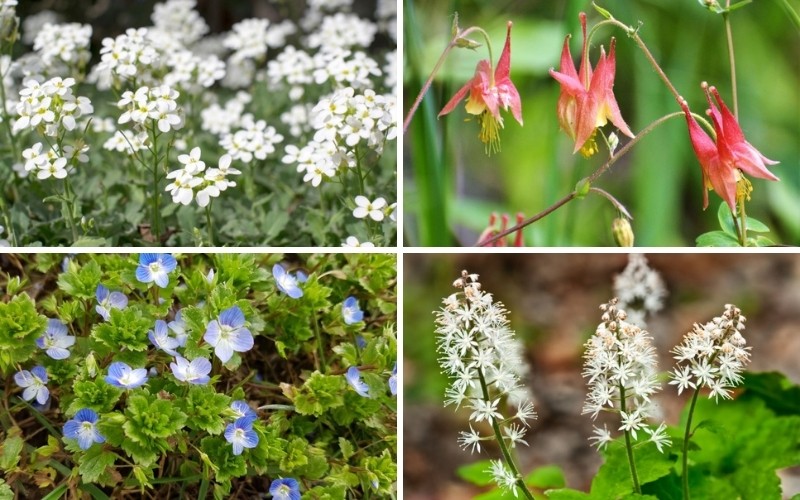 Perennial plants help maintain soil structure and are relatively easy to care for once you've got them planted and established. While some people prefer annual flowers that they can rip out once the blossoms die, others prefer perennials that don't need to be changed out.
It may seem difficult to keep perennial plants growing year after year in Maine, with its harsh winters, muddy season, and hot summers. However, perennials have grown and regrown in Maine for centuries without human gardening help, so they'll flourish in your garden.
Maine has several native perennials well-suited to dealing with everything the region can throw at them, including hungry deer, but some hardy non-natives also do very well in the state.
Try to plant an assortment of varieties that have staggered bloom times to keep some color in the garden from April through October. Look for multi-taskers, too – not just colorful plants, but those that are drought-resistant or that provide food for pollinators.
1. Arabis caucasica, or rock cress
This is a non-native perennial, a hardy alpine plant that will grow in USDA plant hardiness zones 4-7. Maine is in zones 3-6, so rock cress can grow in most of the state. This is a low groundcover plant that doesn't grow over about a foot tall, and it likes full sun. This makes it a perfect plant for beds where you want a low border that doesn't need shade.
The blossoms are white and bloom in April and May. It doesn't need a lot of water, and if you have sandy soil, the plant should thrive. It is deer-tolerant. Note that Arabis caucasica is a subspecies of Arabis alpina, which does have native varieties in North America. Also be aware that "rock cress" is also the common name of Aubrieta deltoidea, which has purple blooms and is also drought- and deer-tolerant.
2. Aquilegia canadensis, or eastern red columbine, wild red columbine, or Canadian columbine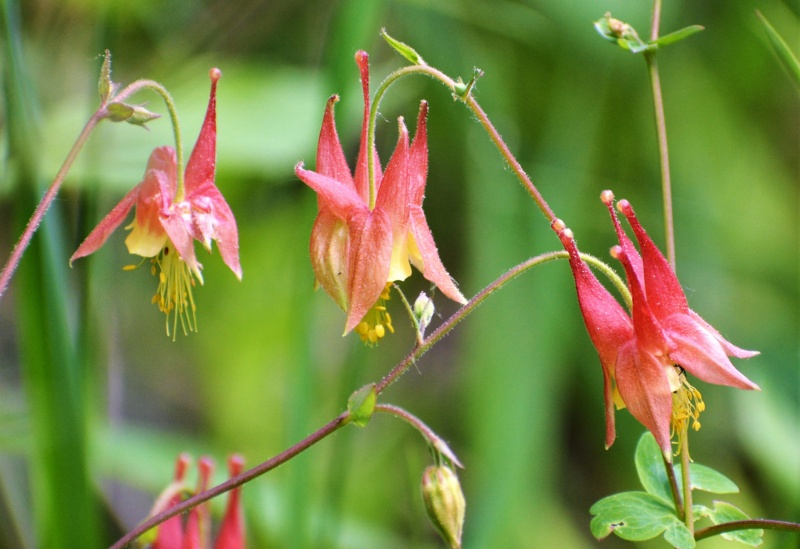 This variety of columbine grows across the eastern U.S. in zones 3-8. It's a spiky plant that grows to about 2 to 3 feet tall, with drooping red flowers that occasionally have shades of pink and yellow. It blooms from May through June and can take both full sun and part shade. It prefers drier soil, so don't go overboard with watering. It attracts hummingbirds and is deer- and rabbit-tolerant.
3. Tiarella cordifolia, or foamflower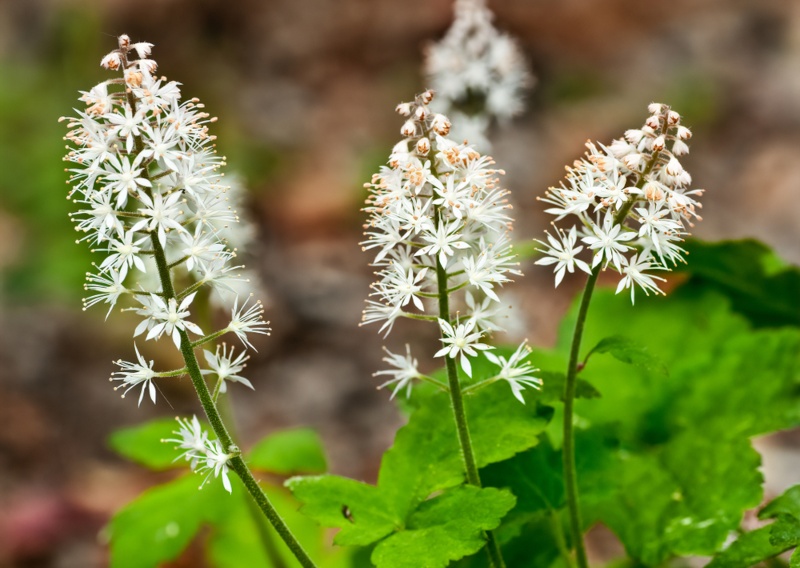 Good for zones 4, 5, and 6 in Maine, this low-growing, leafy plant works in both full sun and part shade. It blossoms from May through June and produces tiny clusters of white or pink flowers. Soil needs to be well-drained and kept at a medium moisture level; don't let the soil dry out, and don't let it flood either.
Be careful in winter when snowmelt can soak the soil. The foliage looks very nice in autumn. Deadheading helps keep the plant looking nice.
4. Veronica spp., or speedwell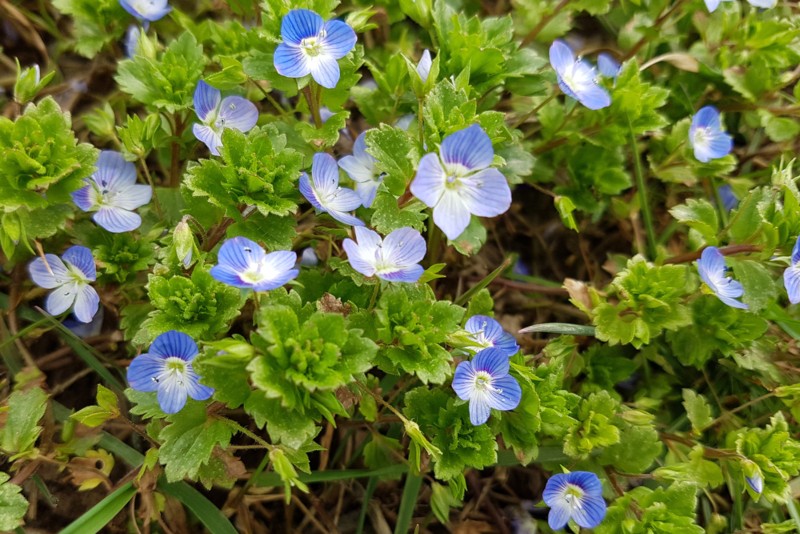 Veronica is an interesting genus as there are two distinct blossom categories. One has four-petaled blossoms, and the other grows long, blooming spikes. Give them full sun, and you may have to stake the spiky varieties. Make sure the soil drains well. You'll get blossoms from June through July in blues, pinks, whites, purples, and even yellows. Some varieties can bloom a second time during the season.
5. Monarda spp., or bee balm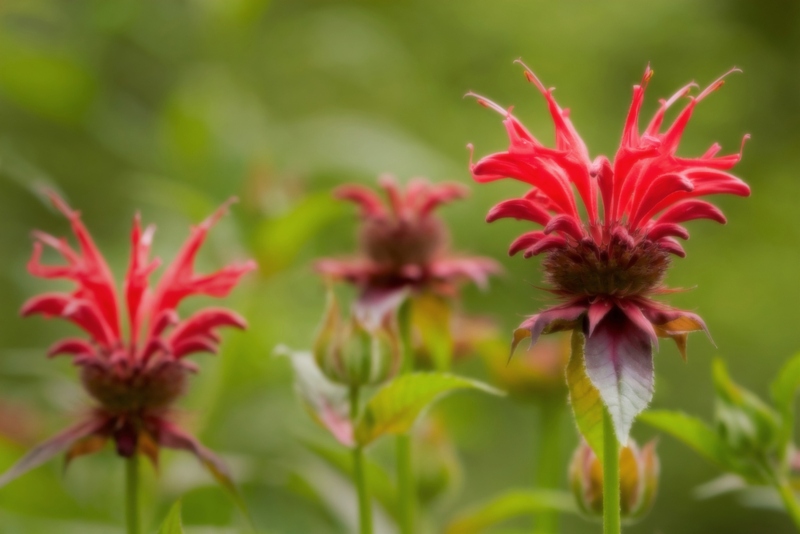 Bee balm is a common perennial that grows in zones 4, 5, and 6 in Maine. It is relatively tall, topping out at around 4 feet or so, and the blossoms have blooms that look like starbursts. These blossom from July through August in Maine, and they like full sun.
Keep the soil moist, and watch out for spreading. Bee balm is part of the mint family and can grow and spread rapidly unless you keep dividing it. The payoff for all that work is a hardy plant that attracts hummingbirds, bees, and butterflies and that smells like oranges.
6. Rudbeckia hirta, or black-eyed Susan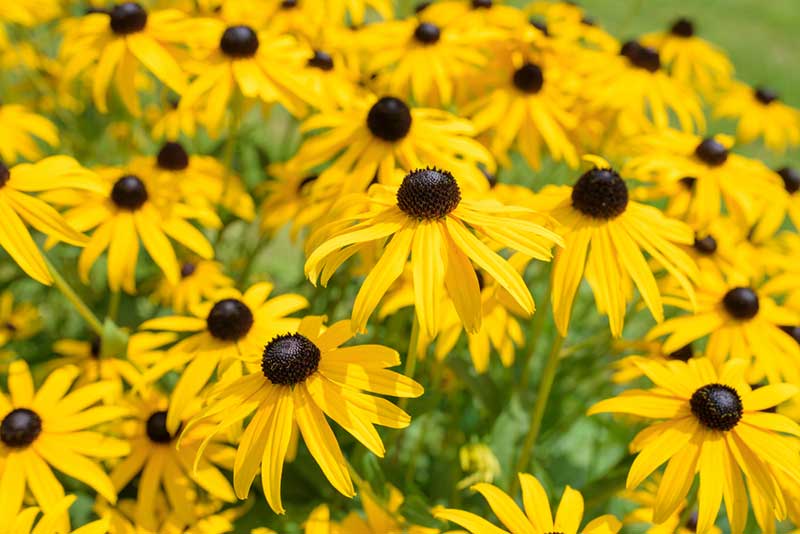 The black-eyed Susan is a classic yard flower that can grow all over Maine, including in zone 3. The plant has long stems that look lovely whether in a bed or intertwined with fences around your yard. The blossoms have bright yellow to orange petals with brown centers and bloom from July through September. These can be short-lived perennials in colder zones, so keep watch. Make sure they get full sun. Enjoy the butterflies that they can attract.
7. Phystostegia virginiana, or obedient plant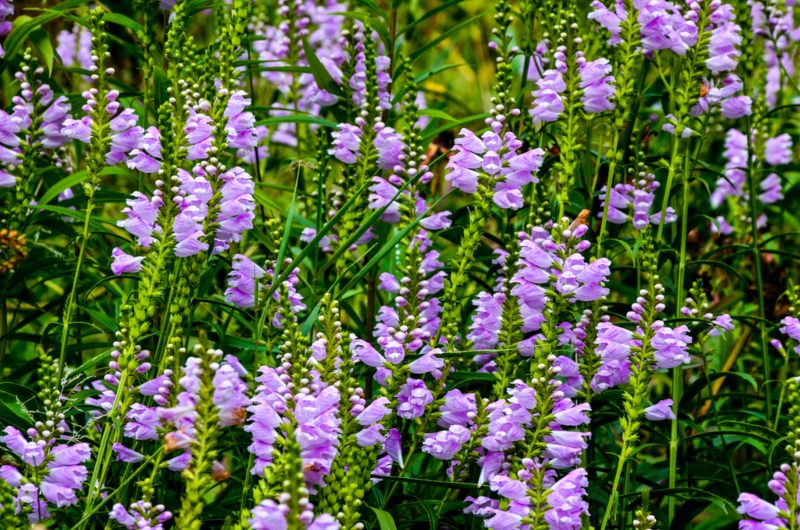 For color from August through September, try obedient plant. Tall spikes with clusters of blooms in soft pink or white rise above rich green foliage. The plant gets its common name because the stems will stay bent for a while if you bend them. These will grow all over Maine no matter the zone. It likes full sun and needs medium watering, and it attracts hummingbirds. Very hot weather can make it wilt, so if your area is prone to hotter summers, plant where it can be protected by some part shade.
8. Aster spp., or aster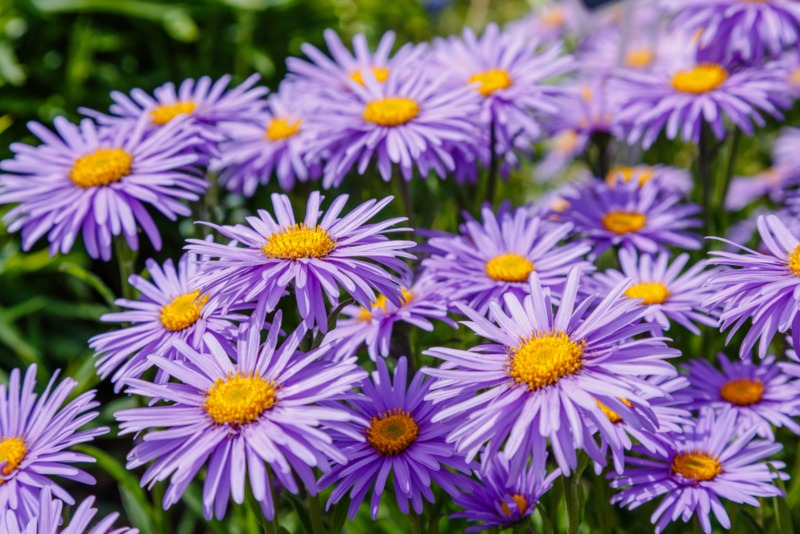 Late summer and early fall, from September through October, gets color from asters. These spiky, daisy-like flowers come in both low-growing and tall varieties and grow all over Maine. Blue, pink, white, and purple flowers surround yellow centers. Asters are easy to care for and do well in partly sunny conditions, although you can find varieties for everything from full sun to full shade. Avoid very wet soil, and add mulch around the bases of the plants.
9. Gypsophila paniculata, or baby's breath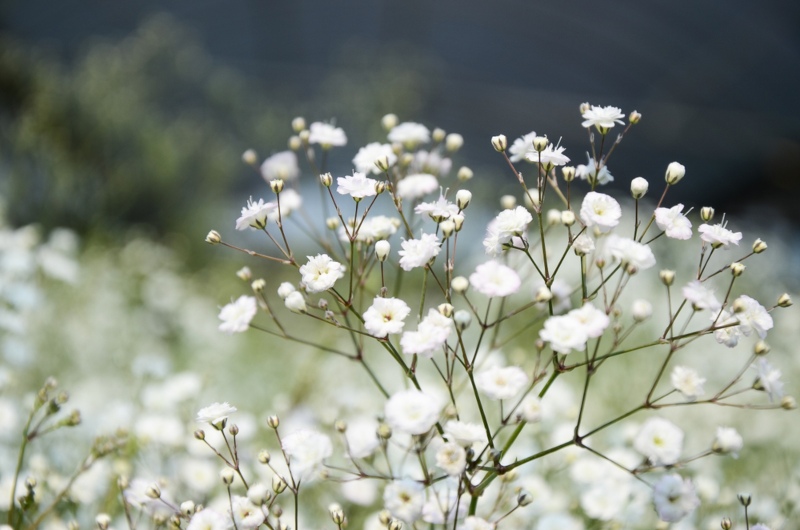 Yes, that baby's breath, the small, white flowers that seem to show up as filler in every floral bouquet. These flowers grow in every Maine zone and love full sun. In Maine, it flowers in July and August. It spreads about 3 feet around, so give it room, but you'll be rewarded with lots of tiny blossoms that cheer up any yard. Deer don't like it, and it handles salty soil and drought well.
10. Osmunda cinnamomea, or cinnamon fern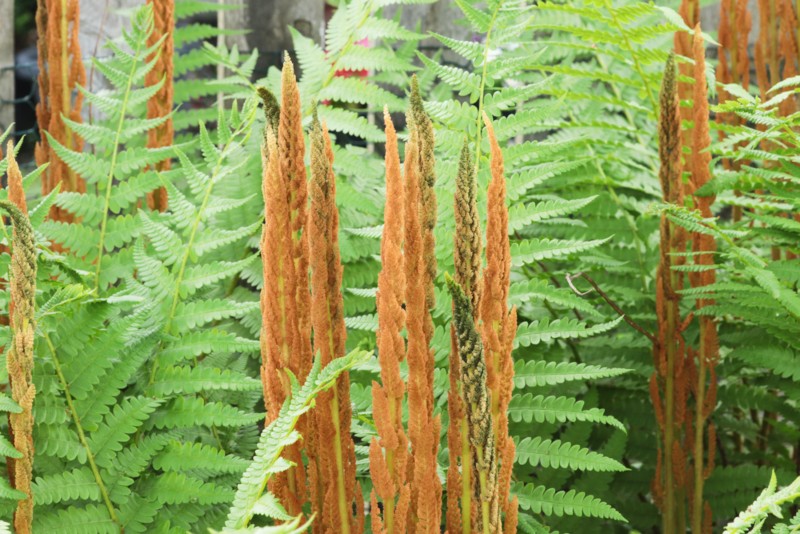 This is a fern, not a flower, but it's a native perennial in Maine. It likes part to full shade, so it's great for those parts of the yard that don't get any sun. Keep it moist, and it does well in acidic soil. It can spread out to about 3 feet. Newer fronds appear as spikes that turn chocolate-brown, but the outer fronds are bright green. If you have in-ground water features or live near streams, this is a good choice for those wetter soils.