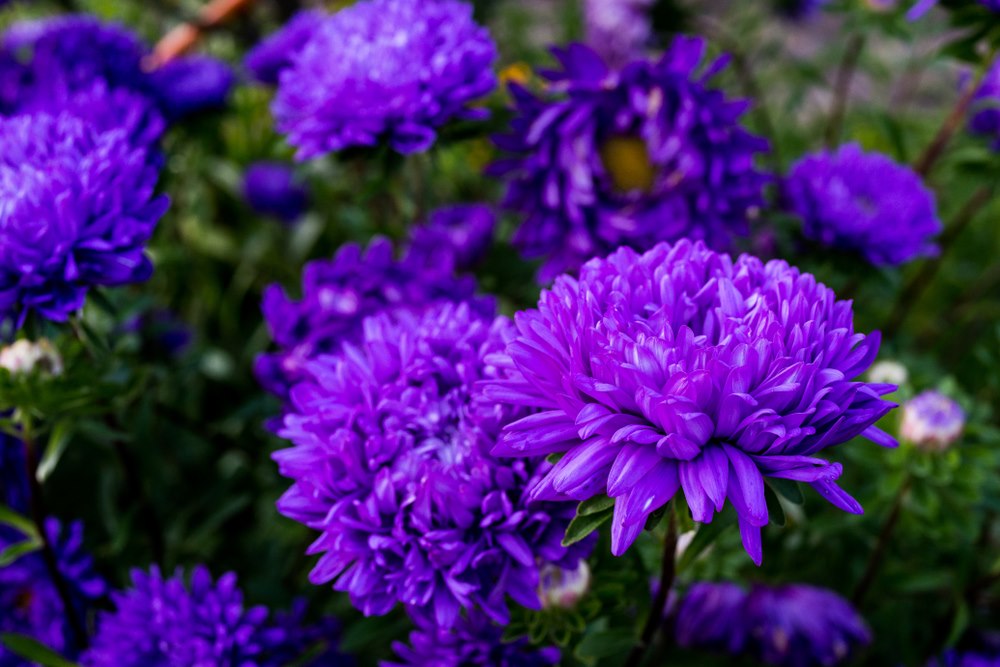 There are more than 180 varieties of the Aster, which is a flowering plant many gardeners confuse with the humble daisy. The Aster has been popular throughout the U.S. and is found in a wide range of the Eurasia region giving this flower a wide range of growing zones where it can thrive from zones three to eight.
As a plant that blooms in late-Summer to Fall, the Aster is popular with gardeners looking to add some late in the year color to their garden.
Grunder (Aster amellus)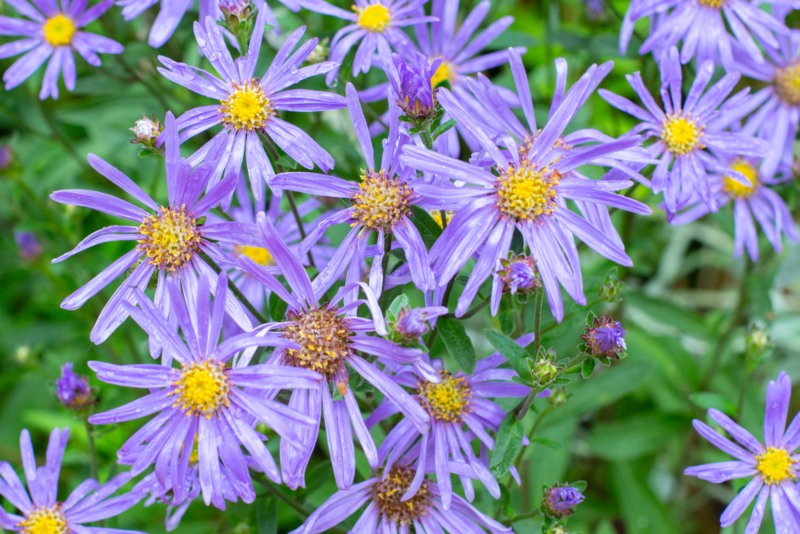 This is one of the most distinctive Aster varieties available because of the deep colors of its petals and standing over two feet set this variety apart. The daisy-like flowers of the Aster Amellus or Grunder are sprays of violet-blue petals around a yellow central portion that makes this a popular version of this European flower. The Grunder is a fast-growing flower that needs to be separated every three to four years as they tend to grow around 2.5 feet in height and two feet in diameter. This variety is commonly known as the Italian Aster because of its roots in Europe where it is commonly used as a flower for garden beds, prairie gardens, and borders blooming in late Spring.
Harrington's Pink (Aster novae-angliae)
Commonly known as one of the New England Asters, the Harrington's Pink is one of the most popular varieties of Aster because of the large cluster of flowers that are seen on these multi-stemmed plants. Each flower is around one-inch in diameter with large slender petals that have a light pink coloring around a yellow center. The New England Aster grows to between four and six feet in height and two feet in width leading to it being awarded the Garden Merit Award from the Royal Horticultural Society in the U.K.
Purple Dome (Aster novae-angliae)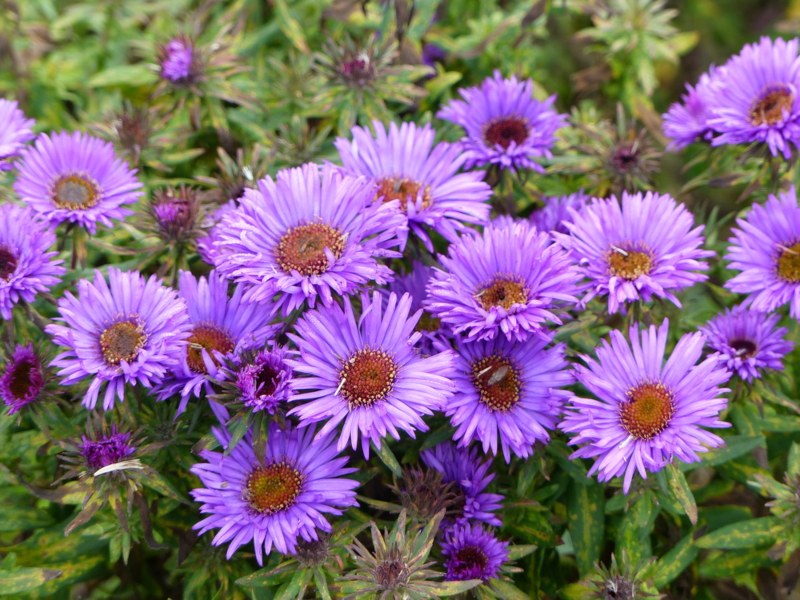 Another member of the New England Aster variety of these flowers, Purple Dome is a dwarf variety and stands at just 18-inches in height. Caring for a Purple Dome is not difficult when the correct location is chosen for this dwarf Aster that a position in a garden that is in full sun or part-shade. The purple accent to the petals makes this a popular option that enjoys a long blooming season from late-Summer to Fall.
Aster frikartii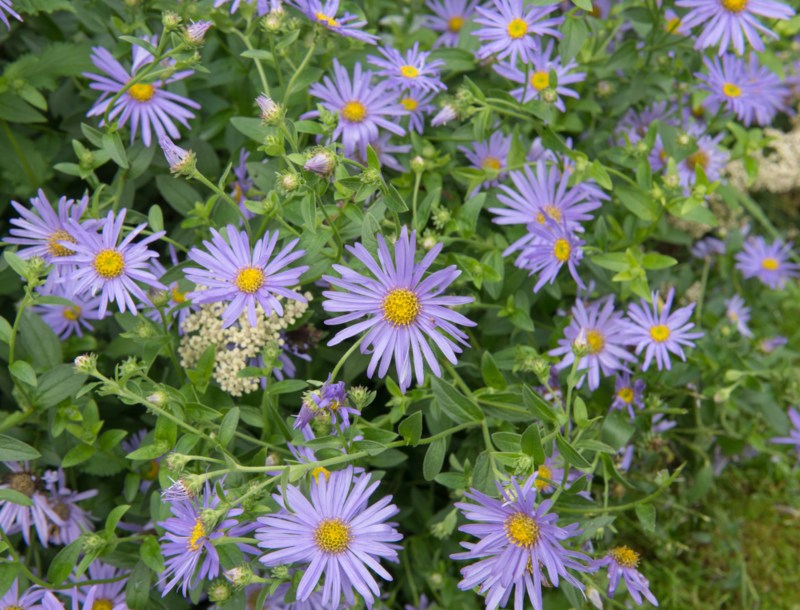 The Aster Frikartil is a popular option for those looking for a bush that is as large as it is wide with a rotund three feet by three feet. The plant grows in IDA growing zones five to eight enjoying a normal to clay soil that makes this one of the hardiest plants in the Aster variety of plants. One of the reasons for the success of the Aster Frikartil is its ability to bloom until the first major frost of the Fall or Winter.
Fellowship Aster (Aster novi-belgii)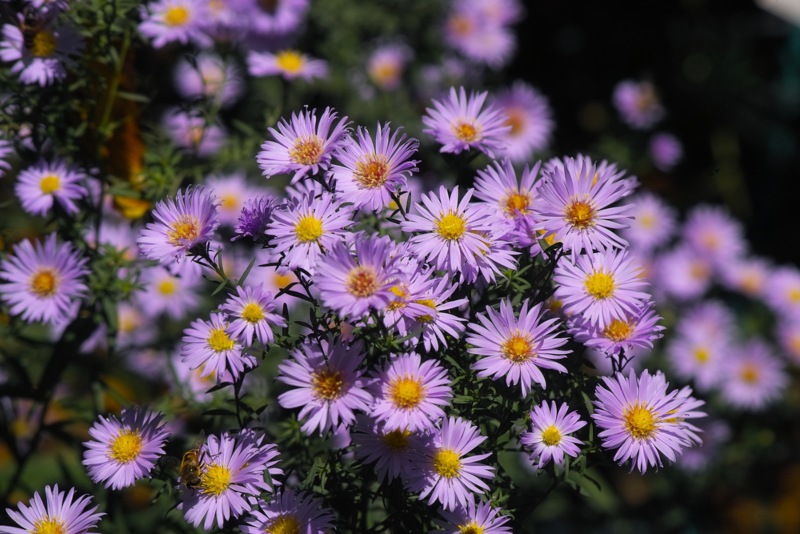 The Fellowship Aster (Aster Novi-Belgii) is also known as the New York Aster with a large flower diameter of around 2.25-inches with pink-accented petals surrounding a yellow center. Despite growing to a size of over three-feet and around two feet in width, the New York Aster can look delicate because of its long, slender stems. Blooming from late-Summer to Fall gives a long season for flowering.
Calico Aster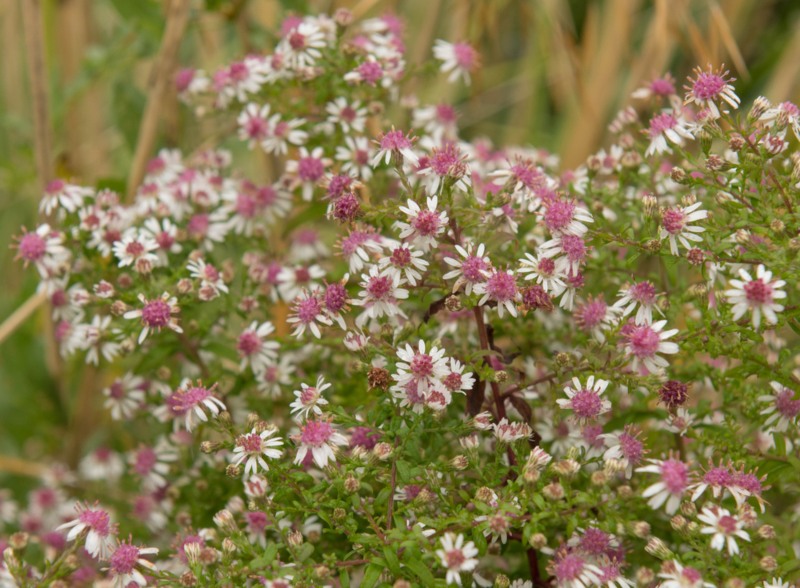 The Calico Aster is a large perennial version of this variety of Aster which is noted for its one to the two-month blooming season at the end of Summer to Fall. The Calico Aster can be grown in areas of a garden ranging from full sun to part-shade with the full sun only tolerated when the ground is not too moist or saturated. Each Aster has a spray of long, slender stems pushing out that can reach between eight and 12 on each plant.
Pink Aster (Callistephus Chinensis)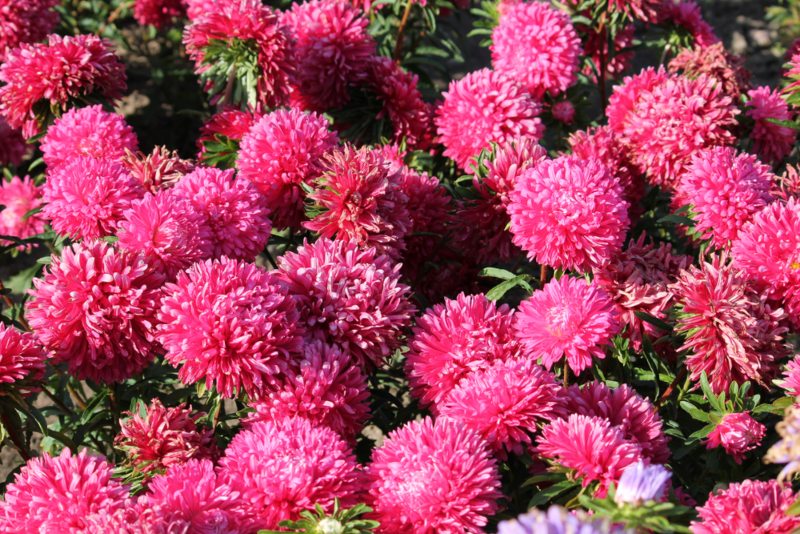 The China Aster is one of the easiest to grow and is cold-tolerant to bring some color to the borders of a garden late in the year. The Pink Aster loves full sun or part shade and comes in several different varieties that include long and short stems to allow them to be used to add height and texture to any garden. The stems of the Pink Aster grow between one and three feet with its lengthy blooming season extending from early Summer to Fall.