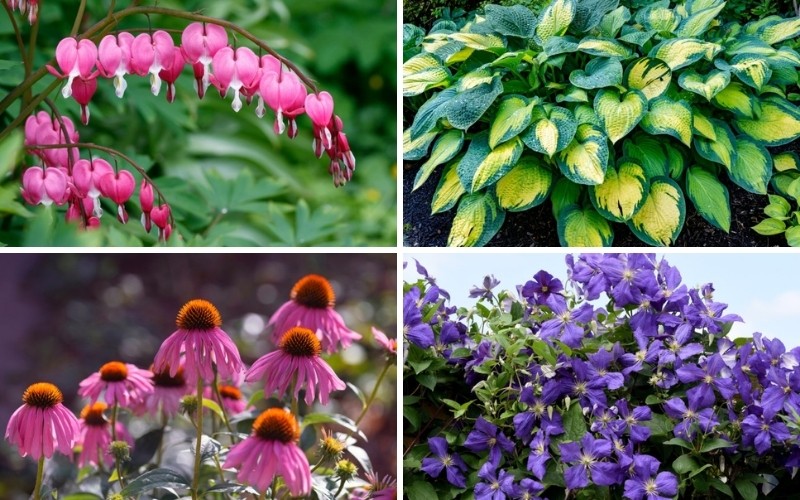 The semitropical climate of Arkansas lends it well to growing a wide assortment of tender perennials that won't survive in cooler or drier climates. USDA plant hardiness zones range from 6b to 8a, depending on your location in the state. Knowing the planting zone for your garden and choosing perennials hardy in that zone is vital to successful perennial gardening. Consider these delightful perennials for your Arkansas flowerbed.
Butterfly Bush (Buddleia 'davidii')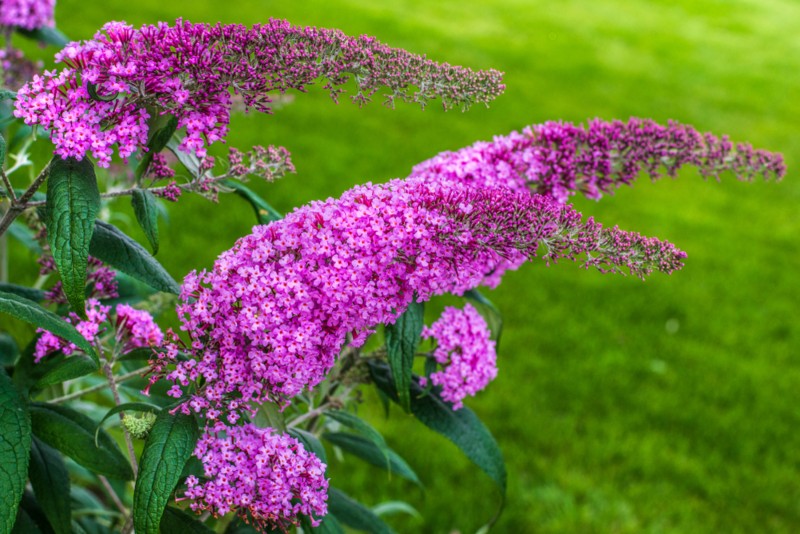 Butterfly bush is a deciduous shrub that can reach heights of 6 to 12 feet with a spread of 4 to 15 feet. This delightful perennial produces cone shaped flowerheads made up of hundreds of tiny blooms that range from purple and pink to shades of yellow, white and red. They bloom from early summer into the fall attracting hosts of butterflies to your flower garden. It thrives in USDA plant hardiness zones 5 through 9. It prefers average, well-drained soil in a sunny location.
Clematis ('Jackmanii')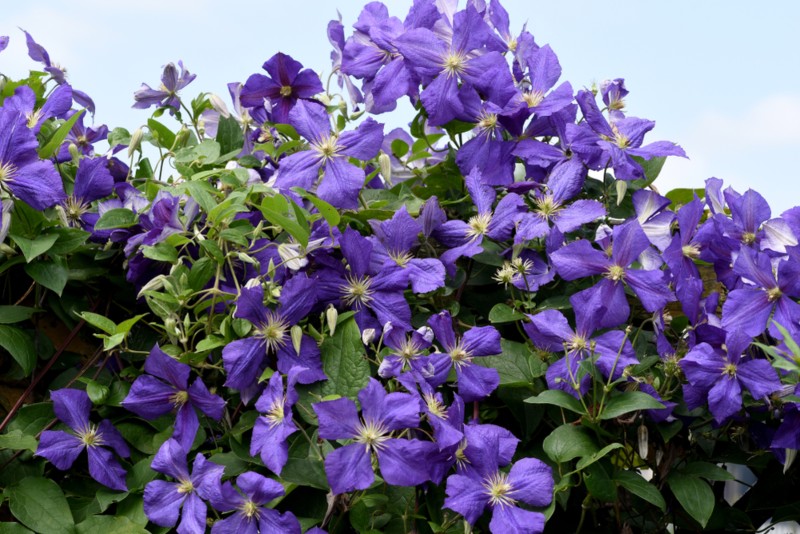 Clematis vines prefer to grow with their flowers in the sun and their feet in the shade as their roots require cool, moist soil to thrive. Full sun in the morning and some shade in the afternoon is ideal. To keep the roots cool and moist, mulch the area with 2 to 3 inches of organic mulch. Clematis Jackmanii produces blue-purple flowers for several weeks in mid to late summer. It is hardy in USDA plant hardiness zones 5 through 8.
Coneflower (Echinacea sp.)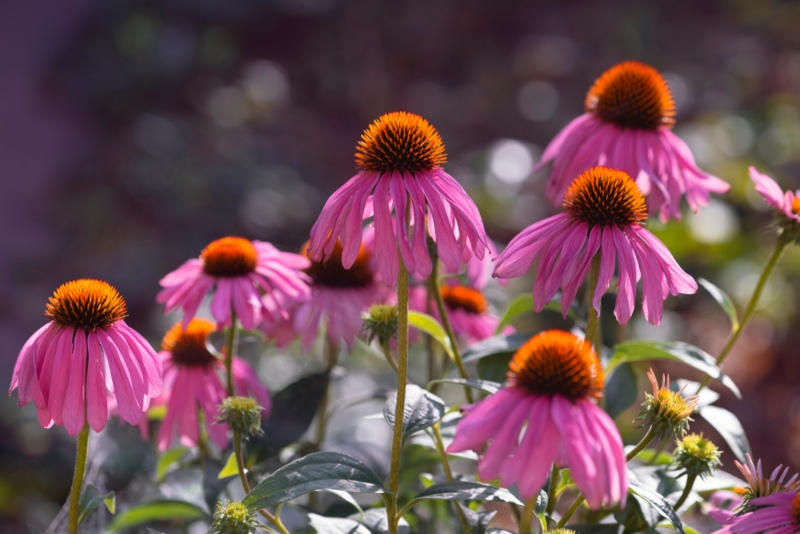 Coneflowers make a dramatic statement in the perennial bed and will survive for years returning in larger clumps once they have become established. They do however take time to reach their mature stage and may take two to three years to reach their glory. Available in a variety of cultivars, these daisy-like flowers typically feature a distinct contrasting cone in the center with petals that fold backwards. Flower color ranges from the traditional purple coneflower with dramatic orange center to several intriguing shades of yellow, orange and red with green or yellow centers. Coneflowers prefer a site in full sun with average to poor well-drained soil. They are hardy in USDA plant hardiness zones 4 through 9.
Rudbeckia (Black Eyed Susan)
For long-lasting color in the perennial bed, you can't go wrong with rudbeckia. Commonly called black-eyed Susans the traditional rudbeckia is gold with a chocolate center, but there are many other varieties to choose from. "Prairie Sun" produces beautiful two-tone yellowy-gold petals with green centers, while "Cheyenne Spirit" produces a wide range of colors in shades of yellow, orange and mahogany. Rudbeckias prefer average to poor soil in a sunny location and are hardy in USDA plant hardiness zones 3 through 7. Rudbeckias bloom from early to mid-summer to well into the fall.
Salvia (Salvia 'nemorosa')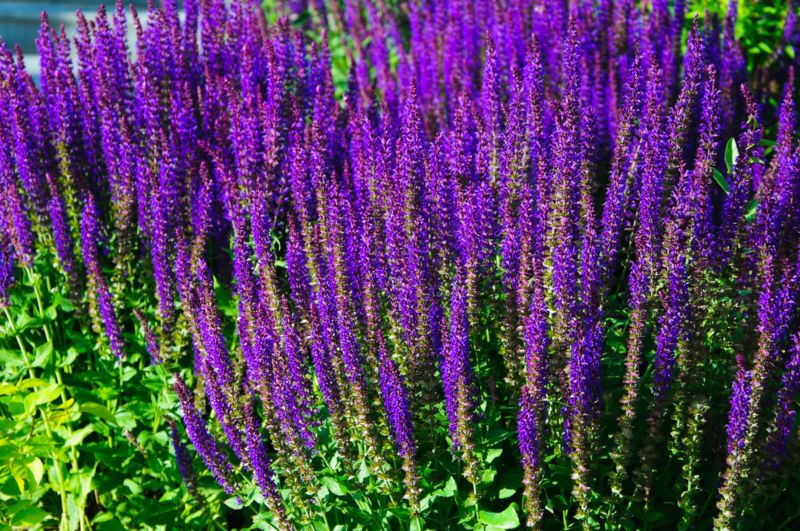 This herbaceous perennial brings color the garden from early summer until fall with its tall spikes adorned with tiny purple blooms. It attracts bees and butterflies to the garden making it any excellent choice for pollinator garden, but you might choose it for its beauty instead. When grown with mounding perennials, salvia adds height and texture to the garden. It prefers full sun and average well-drained soil. Once established it is drought tolerant but will appreciate supplemental watering during dry spells. It is hardy in USDA plant hardiness zones 4 through 8.
Stoke's Aster (Stokesia)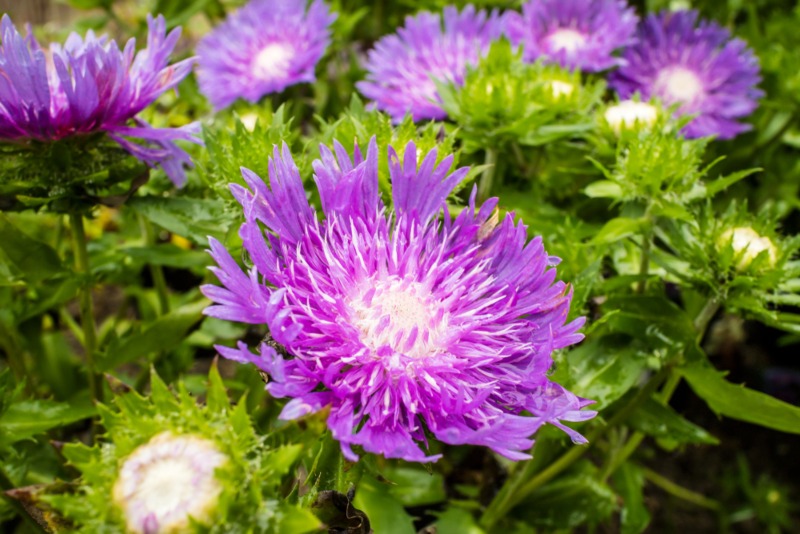 This herbaceous perennial produces showy white flowers that gradually age to beautiful shades of lavender and purple from June through September. Flowers resemble cornflowers with their delicately forked petals surrounding a dense center of miniature, pale florets. It prefers full sun and average soil that is well drained. While it prefers moist soil, it holds up well in drier conditions. It is hardy in USDA plant hardiness zones 5 through 9.
Bleeding Heart (Dicentra)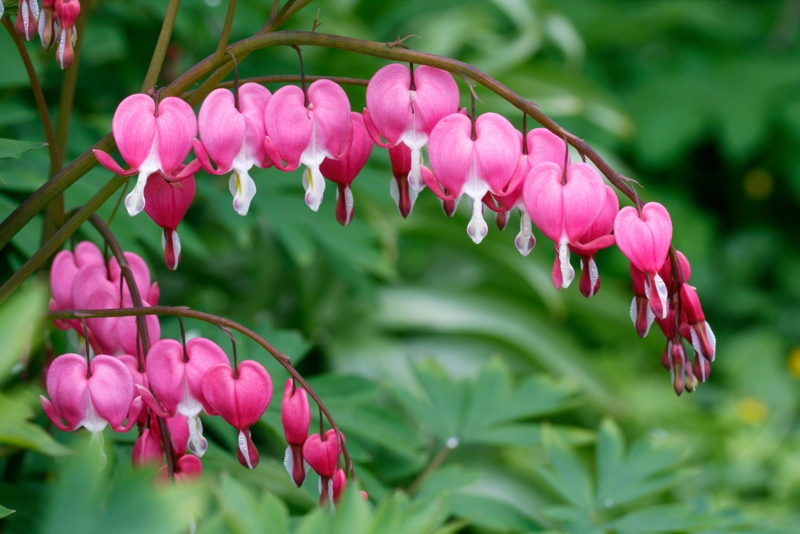 Bleeding hearts produce arching stems laden with rows of tiny heart-shaped flowers that range in color from pure white to lovely shades of pink and red, depending on the cultivar. Plant these perennials in a shady or partially shady location in humus rich, well-drained soil and keep the soil moist during the summer. Blooms appear in late spring and continue through mid-summer. Bleeding hearts are hardy in USDA plant hardiness zones 3 through 9 and reach a mature height of 18 inches with a similar spread.
Lenton Rose (Helleborus 'orientalis')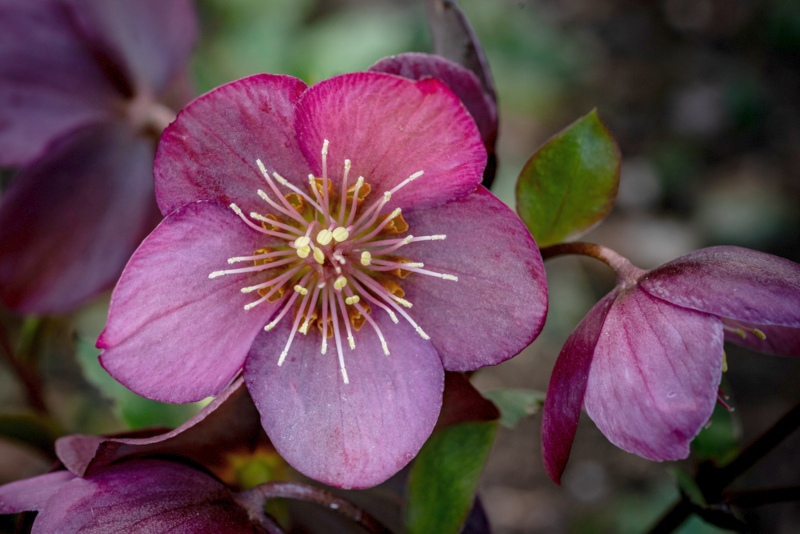 If you are looking for late winter or spring color, Lenton rose may be a good choice for you. These cup-shaped blooms resemble roses as they nod in the early spring breeze. Plants grow to heights of 18 inches with a similar spread. Lenton rose prefers humus rich well-drained soil that does not dry out completely. Plant them in a shady nook or in woodland garden and they will produce showy flowers for 8 to 10 weeks in the spring. Lenton rose is hardy in USDA plant hardiness zones 4 through 9.
Hostas (Hosta sp.)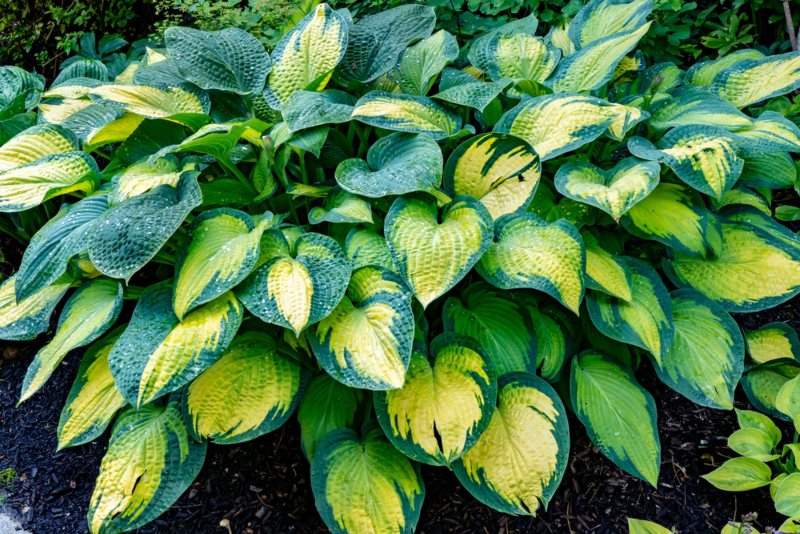 Hostas are grown primarily for their foliage and their ability to brighten shaded areas of the garden. Available in shades of green, blue-green, green-gold and variegated green (or gold) and white, depending on the cultivar, there is a hosta for nearly any landscape. Most prefer full or partial shade and thrive in soil rich in organic matter. Hostas do bloom in midsummer, but their blooms are typically nondescript. Blooms do however attract hummingbirds. Hostas are hardy in USDA plant hardiness zones 3 through 8.
Astilbe (Astilbe sp.)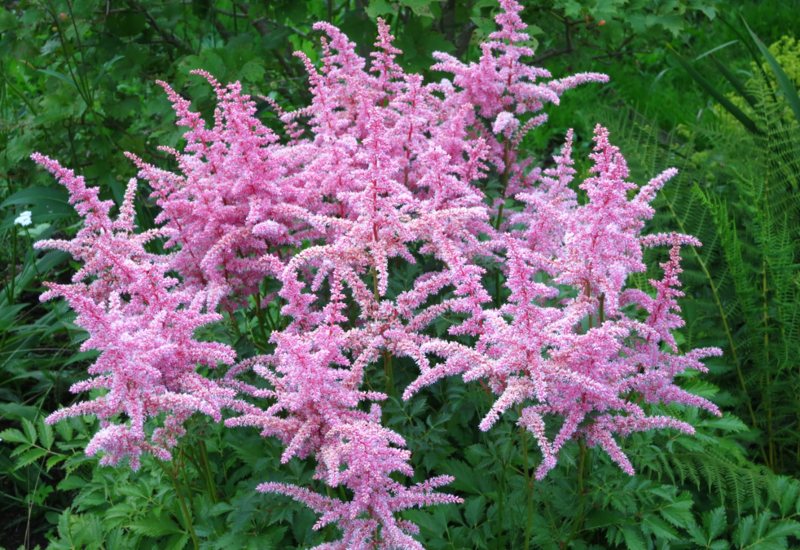 Astilbe produces feather plumes of flowers that range from white and pink to deep shades of red, depending on the cultivar. These showy plants create a soft mist of color that is ideal for brightening shaded areas of your garden. Tuck them into nooks or add them to woodland gardens for a showy display in mid-summer. Astilbe is hardy in USDA plant hardiness zones 3 through 8.
When choosing perennials for your Arkansas perennial bed it is important to check that the hardiness zone of the plant matches your growing zone. Likewise, check the plant label to determine the light and growing requirements of the plant. Hardiness and growing requirements can vary even between species of the same plant.