For spectacular, attention-getting color in the garden, nothing can outdo red flowering perennials. Red draws the eye like no other color and is a masterful complement to the greenery in the background.
Not only does red pop for humans, but it also attracts lovely hummingbirds and other wildlife to your garden.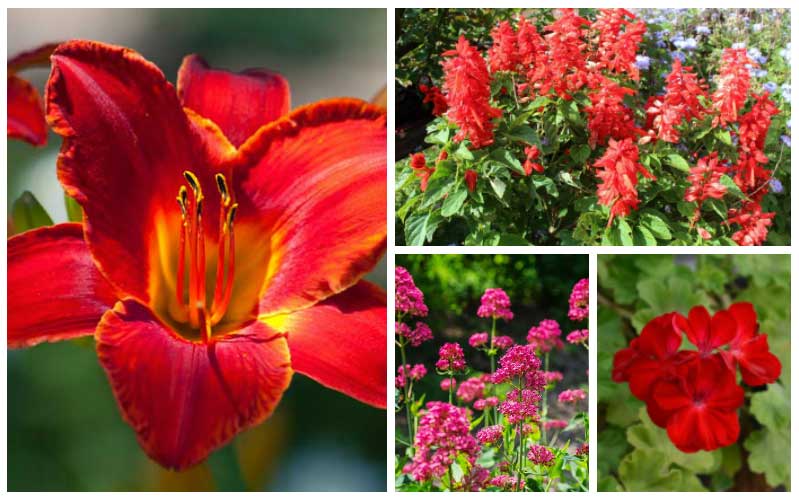 Each perennial described below can be found in a shade of red, and each will contribute its own interesting detail to your landscaping. For instance, bleeding heart, named for its heart-shaped blooms, adds drama while cranesbill geraniums add classic beauty. Armeria, or thrift, stands tall with its stiff stems and bears rose-red blooms for many weeks.
Salvia can be planted en masse or lined up for a striking accent, and bergenia provides deep red autumn and winter color.
Saxifraga forms a low mound of green leaves underneath gorgeous red cup-shaped flowers. Daylilies with their trumpet-shaped blooms grow up to three feet tall, and each bloom lasts for only around 24 hours. Dianthus with its red lacy flowers blooms profusely from spring into fall.
Valerian, with its fragrant, star-shaped flowers also has a long blooming season and attracts birds and butterflies. Yarrow has velvety blooms and fern-like foliage to add grace and elegance to your garden oasis.
Yarrow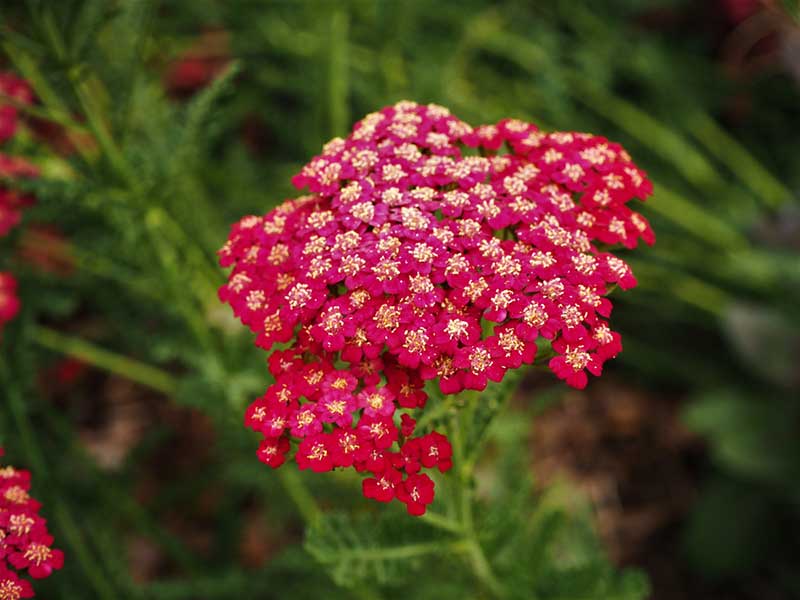 Yarrow is an excellent perennial to grow when planning your garden. Yarrows have flat-topped clusters of tiny flowers and feathery leaves. They bloom in red, lavender, pink, white or yellow. Yarrow bloom for over three months, from late spring to fall. They prefer full sun and well-drain to dry, slightly acidic soil. See our guide on the different types of Yarrow varieties.
Red Valerian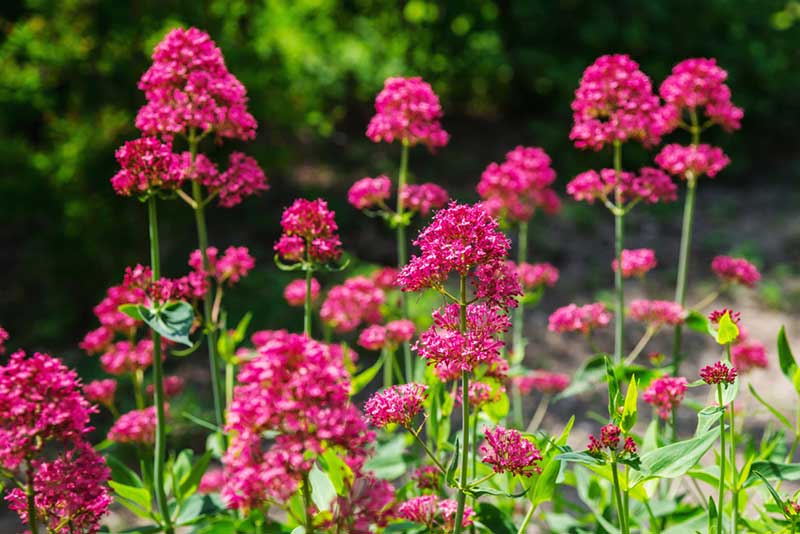 We love red valerian, Jupiter's beard! They smell lovely and also attract butterflies. Red Valerian bloom in red, pink or white. They grow to be 2 to 3 feet tall and do well in full sun or light shade. They thrive in average well-drained soil. Valerians grow in USDA hardiness zones 3 to 9
Red Dianthus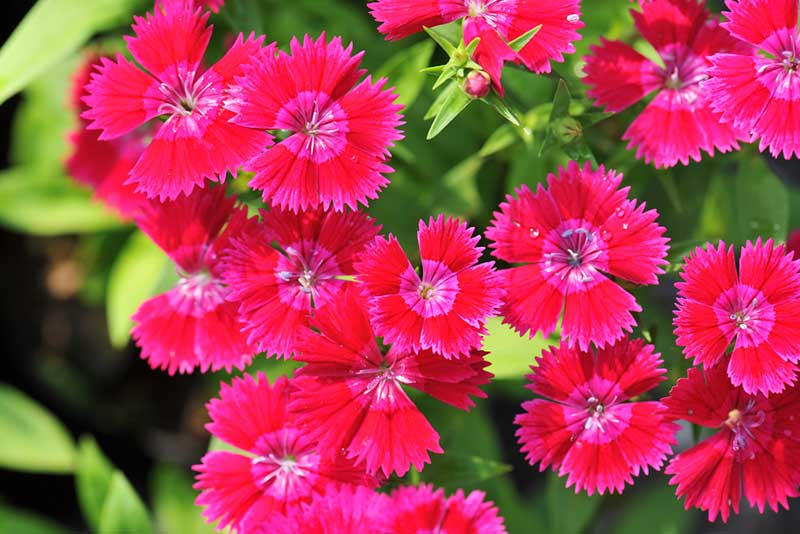 Red Dianthus bloom in red, pink and white. Flowers have a spicy sweet fragrance. They grow to be 4 to 18 inches and spread 8 to 18 inches. They prefer full sun to light shade. Make sure to deadhead regularly so that they rebloom throughout the summer and even into fall. Grow them in USDA Hardiness zones 3 to 9.
Cranesbill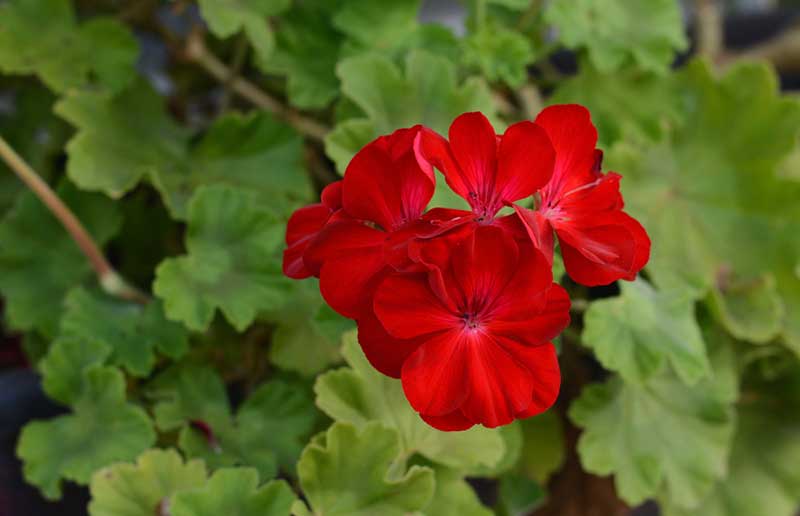 Cranebill is another excellent perennial to grow. They bloom in different colors, but red is beautiful. Red cranesbill prefers full sun to partial shade. They thrive in moist, well-drained soil.
Salvia
Salvia grows in just about every climate imaginable. They bloom in red, blue, pink, purple or white. They put on a big show in the summer months that could last over two months. They do prefer full sun or light shade. Salvias are drought-tolerant.
Bleeding Heart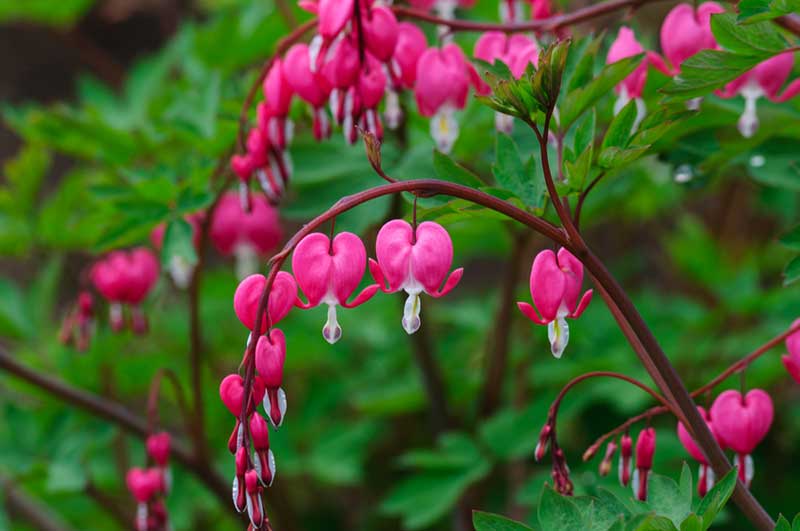 Bleeding Heart with their gorgeous heart-shaped flowers is a beautiful choice for a garden with red perennials. They prefer full sun to partial shade for best blooms. They thrive in rich, moist soil and cooler climates.
Daylily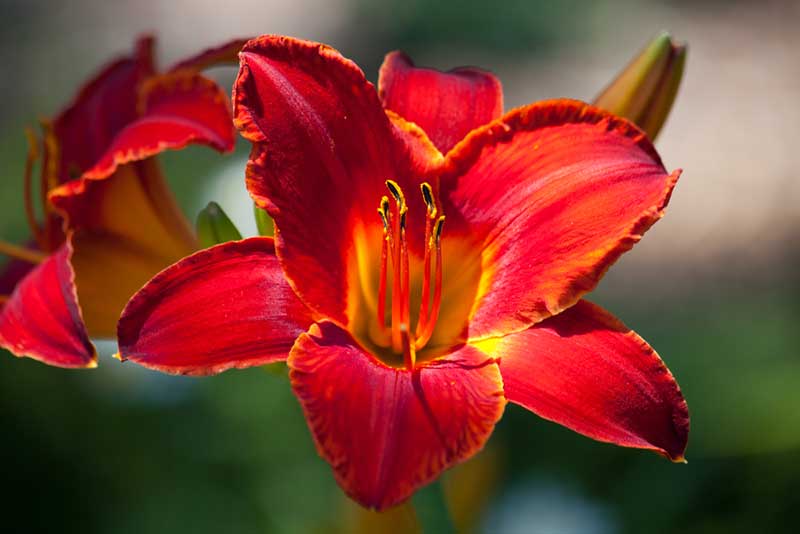 Who doesn't love Daylily? This popular perennial needs no introduction. They bloom in different colors, red being our favorite. Daylilies are super easy to grow. They prefer full sun to partial shade. Keep these plants slightly moist at all times for maximum blooms.
Armeria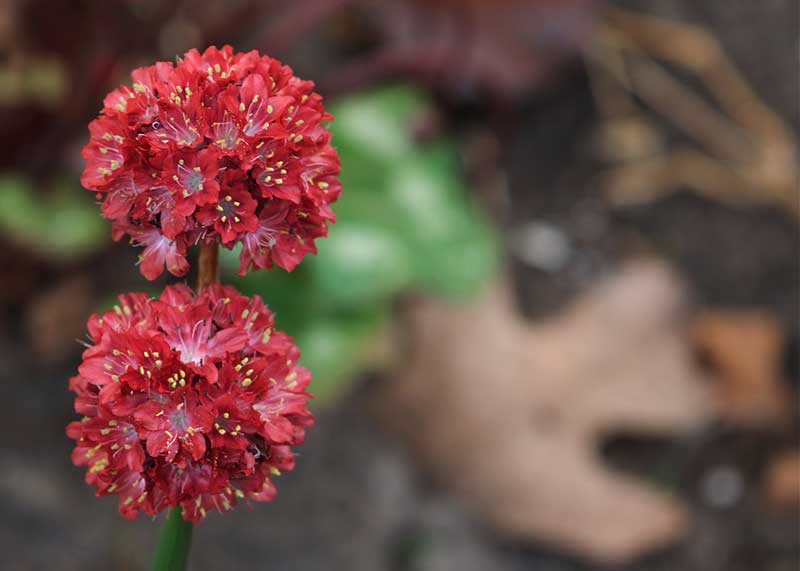 Armeria called Sea Thrift is an excellent red perennial to grow near rocky cliffs near the sea. These plants can take a lot of rough conditions like wind and rain. They prefer full sun to light shade. And they grow in zones 4 to 9.
Bergenia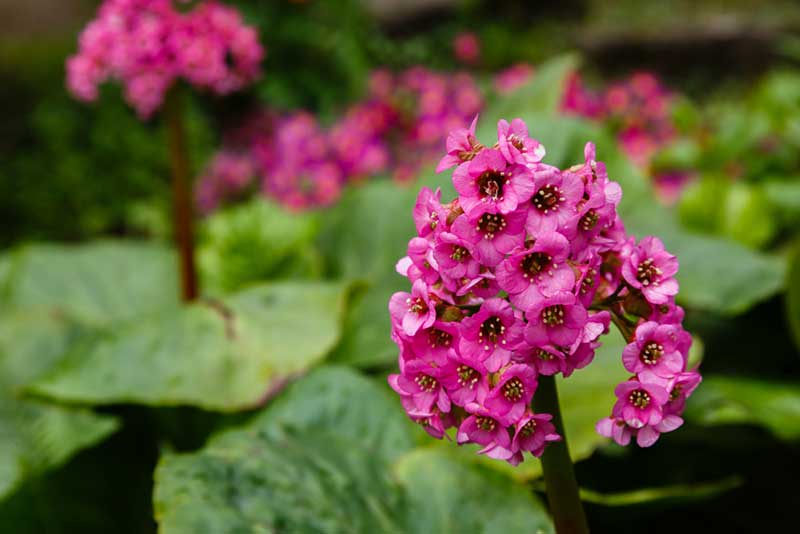 Bergenia is another red perennial favorite. They also bloom in different colors link pink, rose, purple or white. Bergenia grow to be 12 to 18 inches tall. They thrive in humus-rich, moist but well-drained soil.
Saxifraga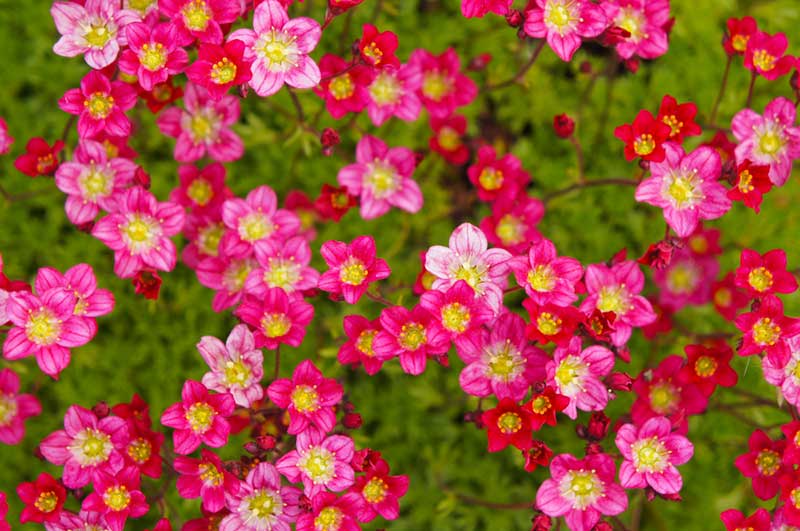 Also, known as red rockfoil is a low-growing plant. They prefer light shade to deep shade. Some species thrive in loamy soil. Grow Saxifraga in USDA Hardiness Zones 4-9.
Conclusion
These perennials provide an amazing variety of shapes, heights, and interesting details, but are united by their spectacular red flowers. Whether you hope to add passion, drama, or just fantastic pops of color to your garden, these red perennials will become your favorites.