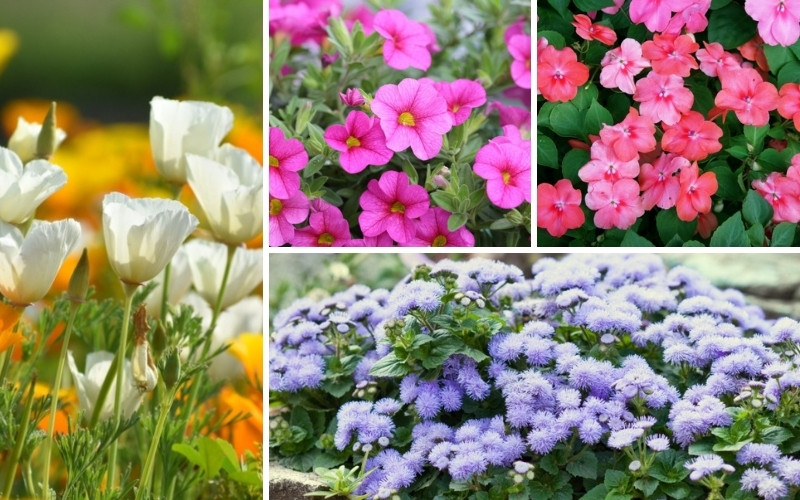 Do you want to create a "frame" for your garden? If so, you need the perfect bordering plants.
Colorful annuals are a great option, but which ones are best? If you are wondering the same thing, keep reading.
Here you can learn all about the 12 best annuals for borders.
1. Begonias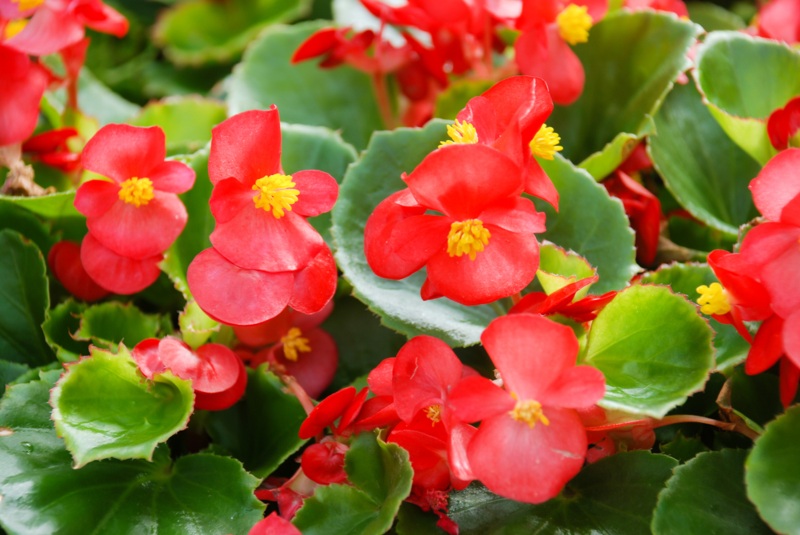 The begonia has been around for a long time, and for a good reason – they are easy to grow, thrive in many conditions, and need very little care and maintenance to grow well. If you provide this annual some shade, water, fertilizer, and rich, well-drained soil, beautiful flowers of red or pink (depending on the species) will be your reward.
Also, the begonia comes in many different colors, sizes, and shapes, and they will quickly take the spotlight in any garden setting.
2. Red Salvia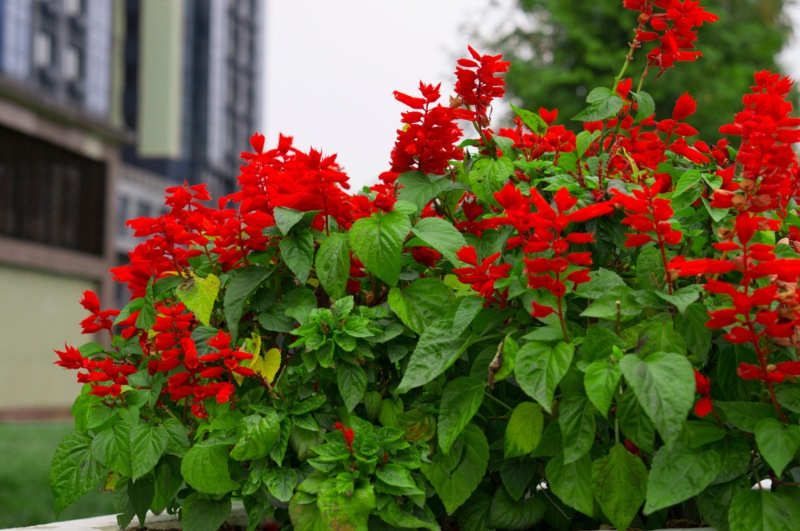 Salvia is an annual that's native to Brazil. They add a striking accent to any garden bed and make a beautiful border plant. They are also commonly used in container gardens, where they can provide some vertical interest.
You should plan to plant your red salvia in mid-spring after the soil has warmed to temperatures of at least 70 degrees Fahrenheit. In these conditions, red salvia will grow quickly and can reach heights of 18 to 30 inches. It produces heart-shaped, dark-green leaves that pests don't like, which also help to make the plant rabbit and deer resistant.
3. California Poppy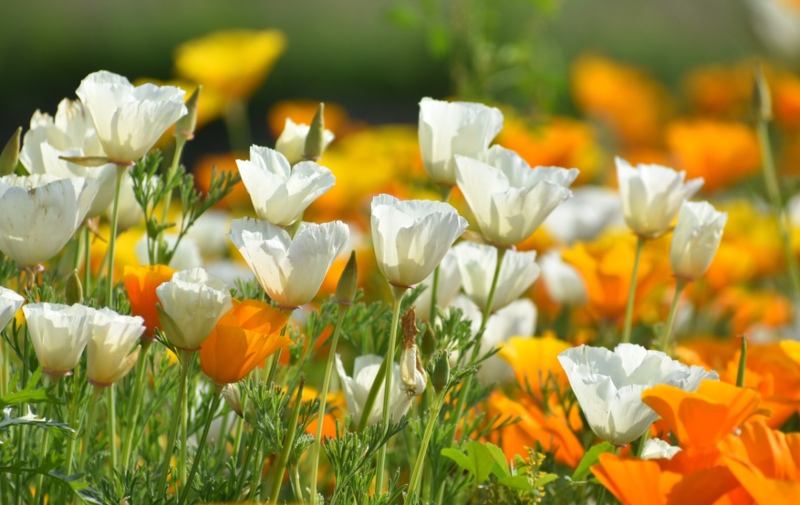 The California poppy is the state flower of California, and you can find them growing wild in many prairies and meadows. These are treated as annuals in your home garden and will reseed in your garden for many years to come.
Even when these are not in bloom, the plants have soft foliage tufts that add a nice texture to your landscape.
4. Shasta Daisy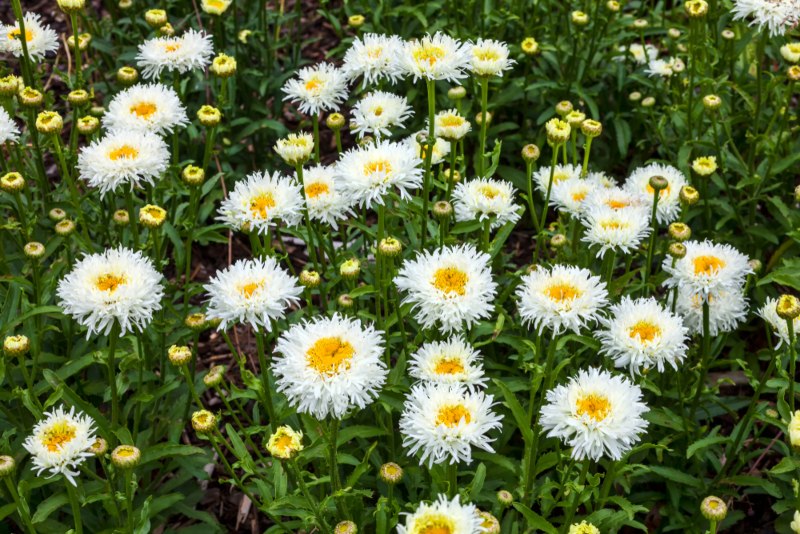 The Becky shasta daisy is a showy, long-lasting flower that will grow three to four inches across. The blooms feature the classic "daisy" look with white petals around a single yellow disk.
The flowers grow on rigid stems with lance-shaped, leathery green leaves. If you let these seed freely, they can quickly take over your garden, so keep this in mind. It's also worth noting that these are toxic to people and pets, so be sure your pets don't have access to them.
5. Sweet Alyssum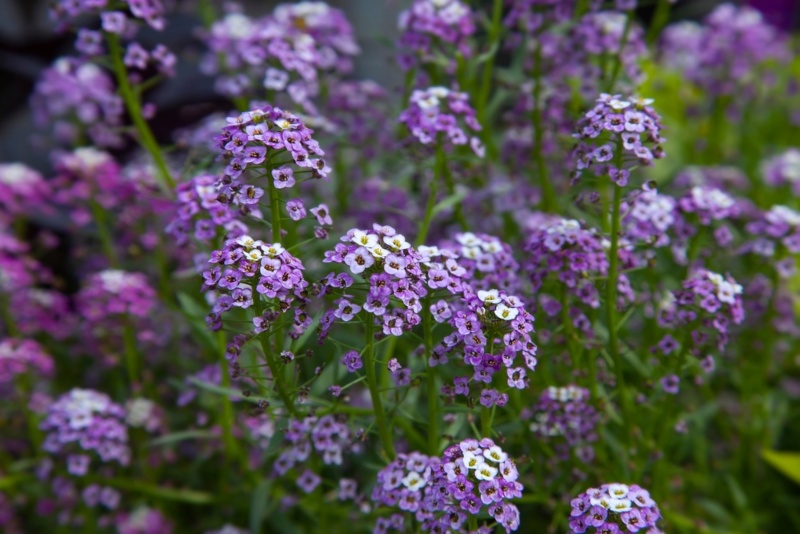 Sweet alyssum is a cool-season annual that's been a favorite for years, thanks to the dainty blossoms and small mounds of leaves. This plant makes an excellent edging option for your garden or in containers.
You can also plant these together to create plenty of the light honey fragrance the plant is best known for. Even better, sweet alyssum will get all types of pollinators to come to your garden once planted.
6. Ageratum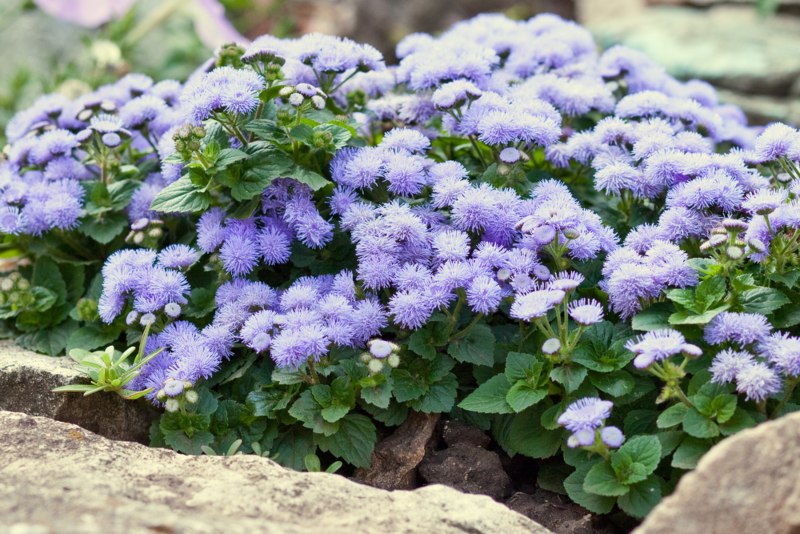 If you want to add bright purplish-blue flowers to your garden beds, then ageratum is an excellent option. It will continue blooming from late spring until the first frost.
It grows low to the ground, which makes it ideal for edging or planting in rock gardens. It grows well in sunny locations and needs well-drained, moist soil to thrive. As the plant continues to grow, it will need to stay moist, and after it is established, it may be able to withstand short periods of dryness.
7. Lantana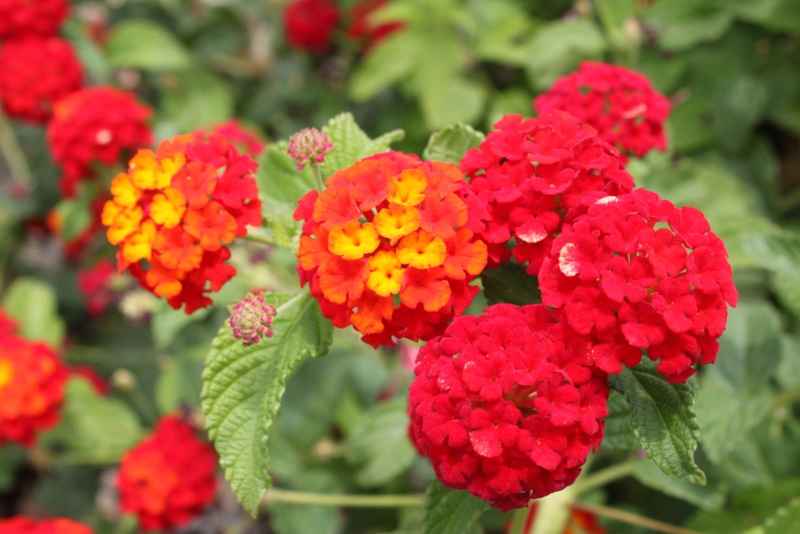 Do you have any hot and dry areas in your garden where many plants struggle? If so, lantana may be the ideal solution.
The lantana is a hardworking plant that produces colorful flowers and thrives with very little moisture and full sun. Not only is it easy to grow, but it also attracts all types of pollinators to your garden space.
8. Celosia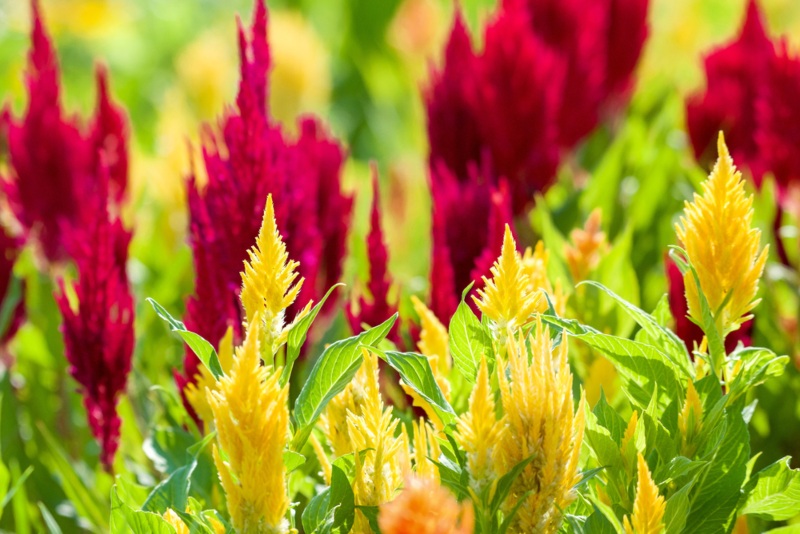 While celosia may appear to be a rooster's comb, alien's brain, or feathery plumb, this garden flower comes in many colors and is an excellent addition to your full-sun garden. It is a warm-weather annual and provides visual interest to any garden bed.
It's best to start the seeds inside about six weeks before the last frost of the year. You need to plant them in warm soil and temperatures of 70 to 80 degrees to ensure they grow and thrive.
9. Diascia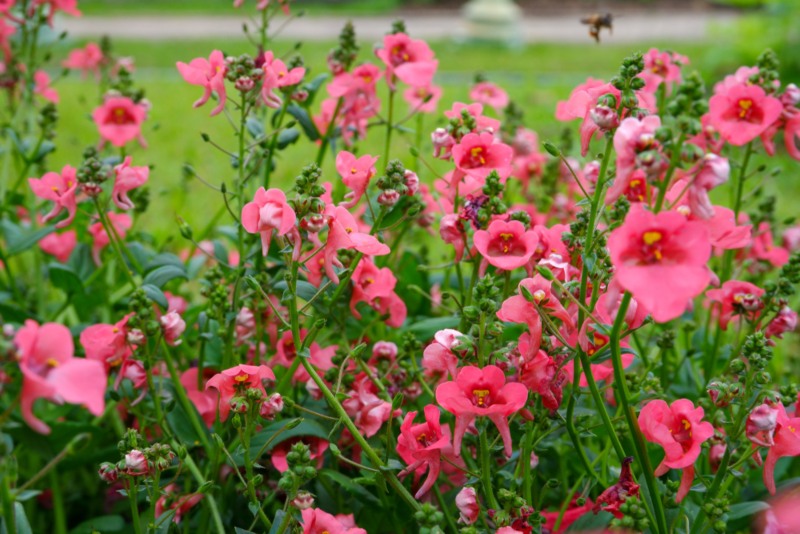 The prolific, delicate blooms of the diascia are similar to the open-face snapdragon flowers you may be more familiar with. It's a colorful option for your early spring garden beds and containers.
Thanks to the small and showy flowers it produces and the fact that it is a low-growing, sprawling plant, you can use it along with other cool-season annuals, such as nemesia, pansies, and alyssum, to create a strong visual appeal.
10. Zinnias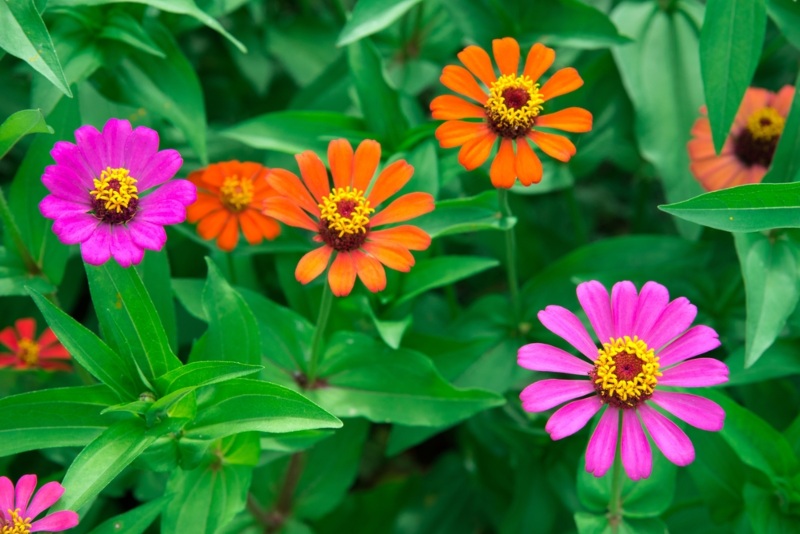 Zinnias are a great hot weather plant but can quickly grow almost anywhere. They are fast growers and bloom a lot. Even better, they don't require much ongoing care.
While you may think that zinnias only come in bright, vibrant colors, that's not the case. Each year, new color options are introduced, including some white shades.
11. Impatiens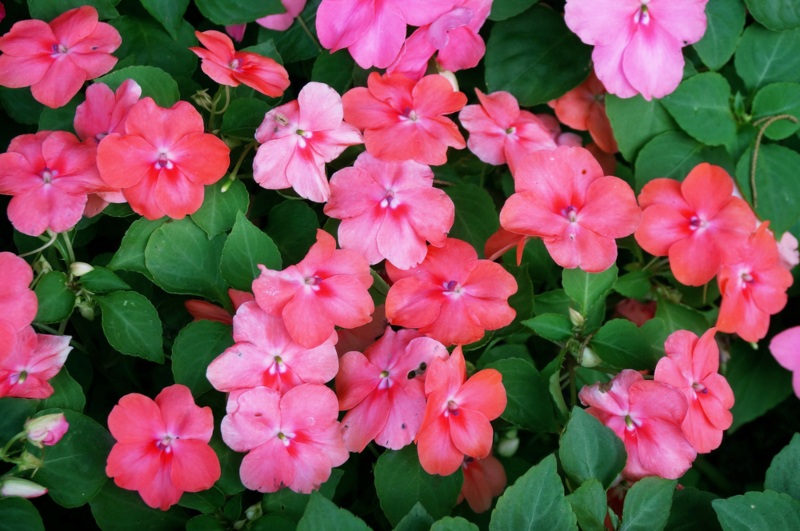 Impatiens are a better-known shade garden annuals available and have been a popular choice because of the color options and bloom power. They will produce flowers nonstop for an entire growing season.
Impatiens may become susceptible to downy mildew and fungal disease, so it is a good idea to look for options that are more resistant to these issues.
12. Petunias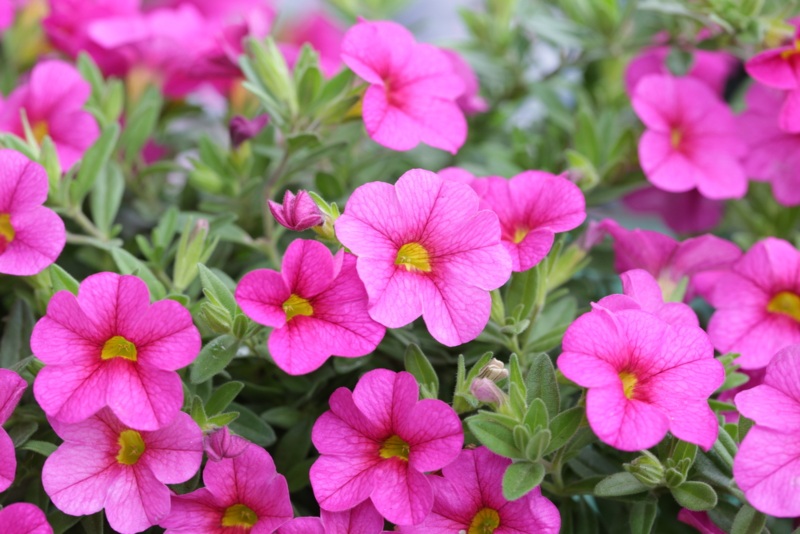 During the summer months, petunias bloom almost nonstop. Traditional petunias prefer cooler weather and require ongoing deadheading to continue to bloom. Today, though, you can find options like Million Bells and Calibrachoa that don't require as much maintenance or ongoing care.
Creating the Perfect Garden Border
As you can see from the information here, there are more than a few annuals that will make great border options for your garden bed or container. Consider adding one or more of these to your design to create a beautiful garden area that you are proud to show off and that helps to increase your home's curb appeal.
Remember, there's no wrong way to create an annual border, so use your imagination to create something unique.