Springtime doesn't just bring May flowers; the unfortunate truth is that it brings a whole lot of weeds as well! Weeds are hands down the most irritating part of gardening. And when weeds start to infiltrate your sanctuary of a garden, it's time to arm yourself with the best weed puller tool to dig them out!
Weed pulling can be a hassle of a job, but if you are equipped with a durable, sturdy weed puller tool, you can get the job done and feel good about it!
Choosing the right weeding tool may seem overwhelming with so many gardening tools available on the market. And some gardeners may despise the idea of dealing with weeds because they've had horror stories using the wrong type of tools.
Keep reading to discover the 3 best weed puller tools to buy in 2021! We've put together a comprehensive list along with a review for each, features to consider before making your purchase, and answer some frequently asked questions about weed pulling!
3 Best Weed Puller Tool to Buy in 2021
Best Weed Puller: Reviews
What's so great about the CobraHead Weeder tool?
One of the best handheld weed puller
Very highly rated
Built by gardeners – developed from years of hands-on gardening experience
This easy-to-use tool is great for gardeners of all ages!
The curved head will harrow through even tough soil
Has a comfortable universal grip that is made for right or left-hand use!
Why should you choose the CobraHead Weeder?
CobraHead is a reputable and trusted brand, making reliable gardening tools since 2002. This original weeder hand tool is an ergonomic weed puller tool that is made with a tempered steel blade designed to break through any type of soil – even clay. It's lightweight and is multipurpose great for weeding, cultivating, digging, and planting.
This weed puller tool is a top contender. It's specifically made by gardeners for gardeners. Only other gardeners that have gone through the strenuous task of weeding a garden will know what features to include to make the job easier and less frustrating!
This weed puller hand tool works great at uprooting weeds with the root still intact. Because of this, weeds won't grow back again and infest your garden! If you like getting up close and personal and doing the nitty-gritty work to see the fruits of your labor, this weeder is perfect for you!
The Downside…
The CobraHead comes with such an impressive and durable steel blade that can easily slice through hard ground. However, the plastic handle – despite its comfortable universal grip – doesn't have the same durability as the blade.
When you're dealing with tough, thick roots, be careful not to exert too much force on the handle or the plastic may break.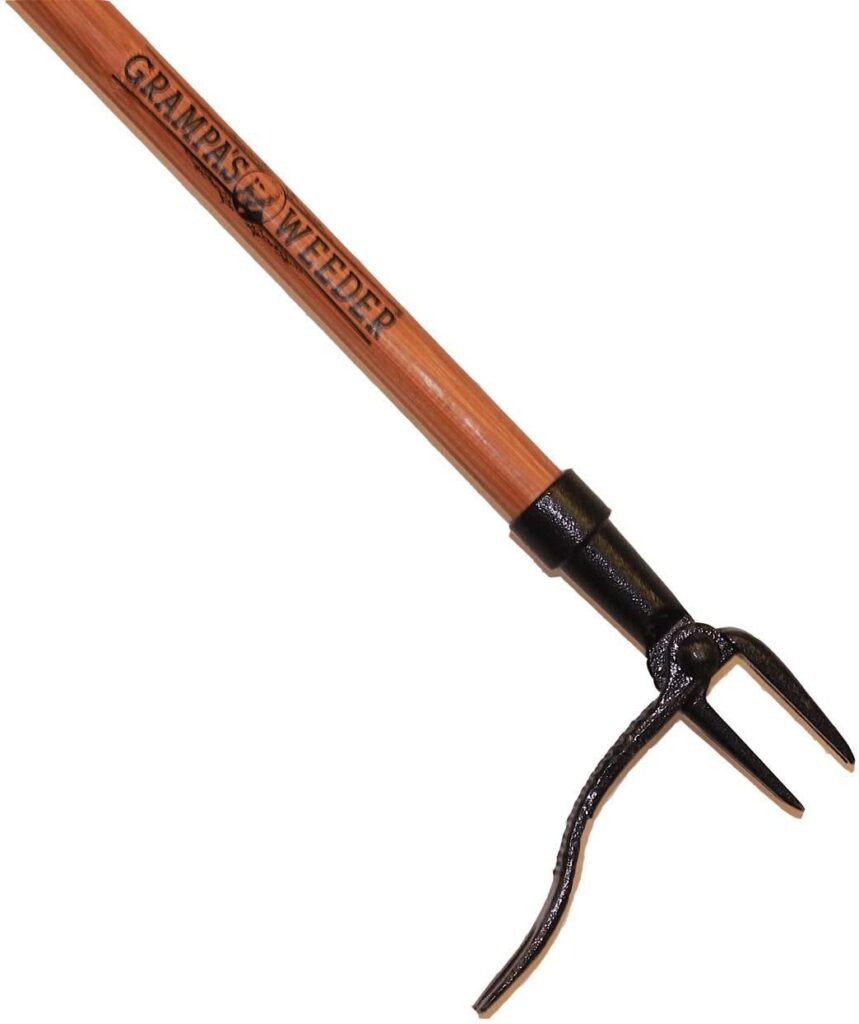 What's so great about Grampa's Weeder?
One of the best stand-up weed puller
Highest rated weed puller tools
It's the original garden weeder and has been around since 1913
Easy-to-use and saves your back and knees with a bamboo long handle
Steel 4-claw design works on all soil types
Why should you choose Grampa's Weeder?
Grampa's Weeder has been pulling out weeds and their roots for over a hundred years now! It was meticulously designed as a weed removal tool and quickly became a must-have weed puller for gardeners far and wide! It remains one of the most effective weeds and dandelion removers on the market today!
This weed puller tool doesn't require you to get down on your knees. It boasts of being the original "stand-up weed puller tool" which means lower back and knee pain for you! The claw on this tool will grapple the annoying weeds at hand and you can dispose of them wherever you must, without getting your hands dirty!
It's one of the highest-rated tools for getting rid of a taproot. If you prefer a weeding tool that doesn't require you to get down on the ground or use your hands, this is the ideal tool.
The Downside…
The Original Grampa's Weeder is incredibly sturdy and has been a lifesaver for gardeners everywhere. But the issue that some recount is that this weed puller usually snaps the root instead of pulling the entire thing out. So even if you have this tool and tackle a larger area of weed, you may need to use a handheld tool to dig out the entire root of some stubborn weeds.
What's so great about Wilcox Lawn Weeder?
One of the best dandelion weed puller
Infamously known as "the dandelion weeder"
It's a one-piece design that features a sharp "V-end" and extra-long handle for additional leverage
Strong enough to dig tough weeds, dandelions, and thistle
Why should you choose Wilcox Lawn Weeder?
The Wilcox All Pro Lawn Weeder has been a go-to weeding tool for gardeners for a very long time because of its durability, and it's built to last. A common problem seasoned gardeners must deal with is that they purchase gardening tools that appear to be durable but break when put to the grueling task of weeding.
The Wilcox Lawn Weeder will not give you that problem because it features a stainless-steel blade that can slice through even the toughest soil surfaces without breaking!
The Downside…
It is a great weed puller tool that can tackle most weeds, but realistically, it's not ideal for weed-pulling jobs in a large area. It's only suitable for spot treatments in weed or dandelion issues in your garden.
It is best for getting down on your knees and dealing with few pesky weeds in your garden bed.
Features to Consider
Before you go ahead and make your purchase, you should consider some features and factors of a weed puller tool. There are a few specifics to keep in mind when you make your choice. Considering the following and making an informed decision will make or break your tool when you bring it out into the battlefield of weeds.
Types of Weed Puller Tools
There are three different types of weed puller tools. People usually buy one that is recommended to them by another gardener. However, they do not fully consider if it's the best choice for them. It's best to study the different types and decide which one suits your needs.
Handheld Weed Puller
This tool has a short handle which means you will either be bending or kneeling to get your weed pulling done. The handheld weed pullers are made to be closer to the ground.
Not everyone is a fan of getting on the ground or getting their hands dirty, but this weed puller is ideal for precision weeding and giving the maximum amount of control when you dig out tough weeds and their roots. You won't get the same level of accuracy with any long-handled weed pullers.
Check out the Best Handheld Weeder: CobraHead Original Weeder
Stand-Up Weed Puller
This tool has a long handle which offers gardeners comfort for their backs and knees when digging out pesky weeds. Long handle weed pullers allow you to tackle any weed issues in your lawn without getting on your knees or bending down for extended periods.
It's the most ideal for anyone with chronic back pain or elderly veteran gardeners. Despite being so helpful for body pain, extended handles reduce your precision level and control. You won't be able to dig out an entire root as efficiently as if you were to use a handheld tool.
Check out the Best Stand-Up Weeder: Grampa's Weeder
Dandelion Weed Pullers
This tool typically has a short handle and specifically tackles dandelions. Come springtime dandelions are in full bloom all over precious lawns and gardens. The main issue with dandelions is that it's a deep-rooted plant. It makes them quite difficult to dig out.
Freeing your lawn from dandelions requires a special tool with long blades to destroy them with the root intact. Weed puller tools that are designed to remove dandelions have specific features such as a sturdier handle and long, sharp blades to slice and uproot deep-rooted weeds. This tool is best if you want to tackle dandelions in your garden or any other deep-rooted weeds.
Check out the Best Dandelion Weeder: Wilcox All Pro
Choosing the best weed puller is a difficult task with all the different options and styles available on the market. Gardeners make the mistake of choosing the wrong tool and then blaming the tool when they don't get their desired result – but the actual error was selecting the wrong tool for the specific job they have at hand.
To prevent this mistake, here are some factors to consider when you're making your decision on which weed puller to buy.
Factors to Consider
Like it or not, soil type will affect which weed puller is best for your gardening job. If the tip of your tool has a sharp blade, it will most likely slice through soft and hard soil. Despite being suitable for hard grounds, pronged tools or tools with a claw design will not work on clay soil.
If your soil type is hard or dry, this will require more control. You may need to exert a lot more force to tear through. It means the best weed puller tool for the job is a handheld weeder. So, consider your soil type and choose a weeder tool that will help you out the greatest.
The Area you Want to Cover
Consider the mass of land you want to cover before making your purchase. Going for a tool just based on popularity or recommendation might not be the best thing to do for your gardening problems.
If you have to tackle weeds that have infiltrated your entire lawn, going for a highly praised handheld weeder is not going to give you your desired result. You are going to be exhausted and regretting your choice. The best weeder to tackle a larger area of weeds is long-handle weeders or a propane tank weeding tool.
If you have few pesky weeds in your garden bed that have long, deep roots, you won't achieve your desired result with a long-handle weeder. You will get the best outcome with a weed puller that is handheld with a long blade. It will enable you to dig deep and slice roots.
Before you make your final purchase, consider the area you want to cover and go for the tool that will cater to those needs.
With so many weed pullers available for purchase, it's important to understand that they are not the same. Some styles and designs are best suited for weed types. To choose the best one that meets your demands, you need to identify what types of weeds are infesting your garden or lawn.
Deep-rooted weeds require weeder tools that have long, sharp blades to penetrate the soil to catch the root and help you take it out. But weeds that grow around your precious plants in your garden will require a level of accuracy so that you don't damage anything you don't want to.
A weed puller that has enclosed blades would be the best choice to tackle weeds around delicate plants. So, identify the size of weeds you must get rid of and choose a weed puller tool accordingly.
There are a plethora of gardening tools and specifically, weed puller tools. It means it comes in different styles and designs. Some weed pullers have a knife of blade edges that are designed to penetrate the soil and slice even the harshest weeds and roots.
You will also be able to find hoe-shaped heads that are famed for being a multifunctional tool in your garden shed. They can act as both weed pullers and soil tillers. You will also come across digger heads which are designed to combat very deep-rooted weeds such as dandelions and thistles.
This digger head would be the most ideal in pulling out entire weeds, uprooting them completely.
A gardener's best friend is a weeder tool that is long-lasting and effective. Durability is the stand-out feature for all gardening tools. Finding a weed puller that is designed to last long and can undertake the toughest, most stubborn weeds is a savior for green thumbs far and wide.
A weeding tool's sturdiness depends on whether it's made with high-quality materials or not. Stainless steel weed pullers are the best option for your tool's head because they are strong and ideal for rough use time and time again. Buying a cheap weed puller made of other materials will not serve you a purpose and you'll soon be looking for a new tool to tackle your weeds.
So go for a weeder that boasts its high-quality material and durability. It will save you time, effort, and money in the long run!
The ease of use and comfort of a weed puller depends on how comfy it is to hold the handle of your weed puller tool. If you plan on tackling many stubborn weeds in your garden, opt for a cushioned grip and non-slip rubber. It will allow for extended use and minimize wrist or hand fatigue.
Look for handles that are ergonomic as they improve your grip and increase precision and control for any weeding job that requires detailed work.
FAQ about Weeding Jobs
Q: What is the easiest way to pull weeds?
Weeds are the easiest to remove when soil is soft and moist. Try not to treat your weed-infested garden when it is wet because it will lower the quality of the soil. Examine what type of weed it is (long-rooted or new shallow-rooted). For long-roots, choose a tool that has a long blade to get deep into the soil and uproot. Make twist and pull motions to take the root out completely.
Q: When is the best time to remove weeds?
Removing weeds when it's fresh and new is the best course of action. Putting it off will cause the root of the weed to expand and grow. So by the time you try to pull it out, taking out the roots will prove to be a tedious and difficult task for you.
Q: Are weed pullers any good?
Weed pullers are a weed removal tool that works quickly to remove both the plant and root so that the weed won't return. There are different types of weed pullers to tackle different types of weed jobs.
Whether you like to have precision and control – a handheld weeder is perfect for this – or want to forgo back pain – a long-handle weeder is best – you will find the perfect weed puller to cater to your needs.
Q: How do you permanently stop weeds from growing?
Many weeds have root systems that spread and plant firmly under the ground. To remove this type of heavy-rooted weed, you need to work with individual's weeds.
Locate the puller at the base, just above the soil line. When you find it, give the base a tight hold and twist it to loosen the root. Twisting avoids snapping the root while you pull the weed up.
Grabbing the plant from its growing source ensures that you will leave no roots behind – which means it will stop growing in the future. Pull out the weeds up and out after twisting.
Q: What to do after pulling weeds?
The best option is to add pulled weeds to a compost bin where the internal temperature reaches at least 145 degrees F or 63 degrees C to kill any weed seeds. This is the most eco-friendly option.
Final Thoughts
Weeds are a pain to get rid of, even for veteran gardeners. Weed puller tools were made to aid you in the grueling task of weeding your beautiful garden. There are many options to choose.
Ultimately, the best weed puller tool to buy in 2021 is the one that meets all your needs. Consider the factors stated above and choose the aptest weed puller to deliver the results you expect.
Weeding your garden doesn't have to be such an arduous task if you're equipped with the right tool! Hopefully, this guide cleared up any questions you had and has helped in making your decision for the best weed puller for your garden!