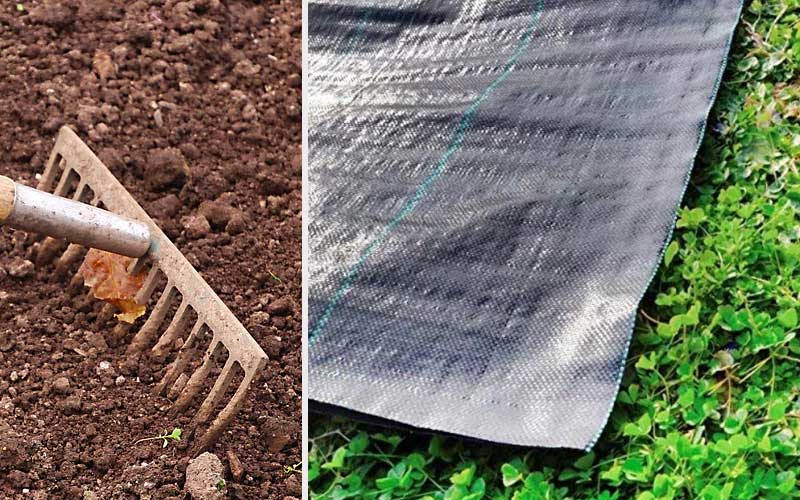 I have always had trouble with a lot of weeds growing in my garden. Clearing weeds is an annoying part of gardening that would be great to minimize. I tried several things, and a friend of mine told me to try weed barriers because they had worked for her.
In this guide, we are going to take a look at five excellent options to consider, but before we do, let's look a little more at weed barriers in general.
How Do Weed Barriers Work?
A weed barrier is a piece of cloth that is most often made out of polypropylene or polyester. The material is placed in your garden around your plants, and then it is covered with mulch, which will help to keep the sun from getting to the weeds that you don't want in your garden. In addition to blocking the sun, these barriers will also help to keep the soil that is under the barrier moist so that your plants can grow.
What are the Benefits of Using Weed Barriers?
When you decide to use a weed barrier in your garden, there are a lot of benefits that you can experience by having one. Some of the benefits of using this type of protection include:
The number of weeds that grow in your garden can be significantly reduced. In fact, they could even be eliminated completely.
Purchasing a weed barrier can be very cost-effective. The material is durable enough to last for years at a time, which means that they will not need to be replaced often.
If you are eliminating weeds using a cloth, then you will not need to consider using weed killer and other chemicals to get rid of the weeds in your outdoor space.
Since this is a fabric material that is somewhat porous, water and nutrients will be able to reach the roots of the plants through the barrier. A plastic barrier would prevent this.
Since the ground will be covered, the water that seeps under the barrier will not be evaporated. With that being said, it is likely that you will not need to water your plants as frequently.
This type of fabric weed barrier can also offer some protection against the erosion of the soil during heavy rain.
How to Choose the Best Weed Barrier for your Plants?
Before you settle on a weed barrier that you are going to want to purchase, there are a few things that you will need to consider.
Breathable Materials: If the material that you choose is not breathable, then air and water will not be able to penetrate it so that the plants can grow properly. This means that you will need to avoid material that is plastic. In addition to hindering your plan's growth, this option will also be bad for the environment as well if a piece of the material rips.
Durable and Attractive: When you use a weed barrier, you are going to want it to last for several years before it needs to be replaced. If the fabric is not durable enough, it could easily get torn in a storm or because of an animal walking across the garden space. Also, when it comes to the fabric, you are going to want a barrier that is difficult to see under the mulch. Most weed barriers are black or brown so that they blend in better.
Size of the Roll: How big is the size of the space that you are attempting to cover? If you have a garden with a large width, you are going to want a more significant roll of fabric so that you do not have to have multiple layers in the same row.
Easy to Install: Since this material comes on a roll, you are going to need to have an option that can be installed with ease. Typically, installation is very straightforward, but it does take a little bit of effort.
Weed Barrier Reviews
The first weed barrier that we are going to look at is by Dewitt. It comes on a roll that is three feet wide by 250 feet in length, so it will give you quite a good amount of coverage. This fabric is polypropylene that has puncture holes in it to make it even more breathable. In addition, the material is black on one side so that it can effectively block the sunlight and prevent the weeds from growing.
What We like:
The fabric is very durable.
The barrier is easy to install.
What We Don't Like:
The price is a little steep.
This weed barrier option is a little bit larger at a width of five feet and a length of 300 feet. The fabric is actually woven so that it is more breathable, and there is a set of lines across the material that will make it easier to manage the positioning of your plants. This material is also very good for erosion control, especially since it is designed to last for years.
What We like:
The fabric is protected against UV deterioration.
The barrier has a straightforward installation.
What We Don't Like:
The material can be slippery to walk on when it's wet.
This is a very good weed barrier to purchase, especially if you are looking for a convenient design that is eco-friendly. It comes in rolls that vary in length. They can either be three or four feet wide, and the length can range from 50 to 250 feet. The durable fabric is designed to last, and it is very breathable, which will help your plants thrive without allowing the weeds to grow.
What We like:
It's easy to install.
The material is very thick and durable.
What We Don't Like:
Smaller weeds seem to pop through the material easily
This is an option that you can use to control weed growth with ease. The roll is 3 feet wide and 150 feet long, so it can cover quite a bit of ground. It is durable so that material will last for years, and it will be able to help protect your yard from erosion as well as weeds. This barrier only comes in black so that it can prevent the sun from getting to the plants.
What We like:
It does a great job of taming the weeds and stopping their growth.
This barrier is rated to last 25 years.
What We Don't Like:
The water does not go through the barrier as well as it could.
The final weed barrier that we are going to look at is a Hoople product that is 4 feet in width and 180 feet long. The fabric is thick, durable, and long-lasting; in fact, there is a guarantee from the company that states that the barrier will last five years under direct sunlight. It is also black in color so that it prevents the sunlight from reaching the weeds underneath the barrier.
What We like:
This fabric is very porous.
The barrier is quite durable.
What We Don't Like:
The thick material makes it difficult to cut into smaller sections.