A hoe is a hand tool used in the garden to cultivate the soil and remove any weeds. Fun fact: it's an ancient agricultural tool that was used to remove weeds and shape soil in ancient Egypt – which means it predates the plow and other farming tools!
The best hoe garden tool for you probably depends on the type of gardening task you have planned. If you've used a hoe before and found that you were better off using your hands, you probably weren't using the proper type of hoe. There are many garden hoes on the market that best serve different purposes.
Read on to discover the best hoe garden tool options for tending to garden beds. After that, read a short guide about the different types of hoes and their usage. It will help you to choose the perfect fit for you!
Best Hoe Garden Tool Options
This garden tool is a draw hoe. The hoe's high reviews reflect the popularity of the product and its durability. It is made with a fiberglass handle. It has extra thick 12-gauge steel. This 56" inch garden hoe is perfect if you are planning to do some heavy digging or chopping large weeds.
Pros:
Durable fibreglass handle
Head is made from a thick 12-gauge steel
Cons:
Head may come loose after multiple heavy uses
May be too heavy for smaller people or seniors
Large and long blade not intended for use in small areas
This garden hoe tool is a multi-purpose hoe. It's double-sided, built for specific gardening actions in mind. One side has a weeder that will help you weed in tough places. The other side is an old-fashioned hoe for any lawn care needs like tilling or cultivating the soil.
You can count on this design to help you dig, plant, or weed. Just be wary that it has a short handle. It's built more for any gardening you do on your knees.
Pros:
Comfortable non-slip grip
Rust resistant
Multipurpose to dig, plant, and weed
Cons:
Can be sharper
Double-sided so will take up space in shed
This hoe garden tool is a type of scuffle hoe. Its unique diamond shaped head with four sharpened edges will slice through weeds. It can nick even the smallest of weeds from hard-to-reach areas.
With a handle that is 5 ft and 2 inches, this scuffle hoe will help you reach around plants and is much easier to use than weeding by hand. Be mindful that this tool is used for loosening up the soil and getting rid of small weeds.
Pros:
Blade is sharp to cut through any weed
60-inch handle means no bending down is needed
Works better than other hoes to get to tight spaces
Easy and durable grip
Cons:
Won't work well to cut deep roots
Hard to use on packed or dry soil
Handle may bend with repeated heavy-duty use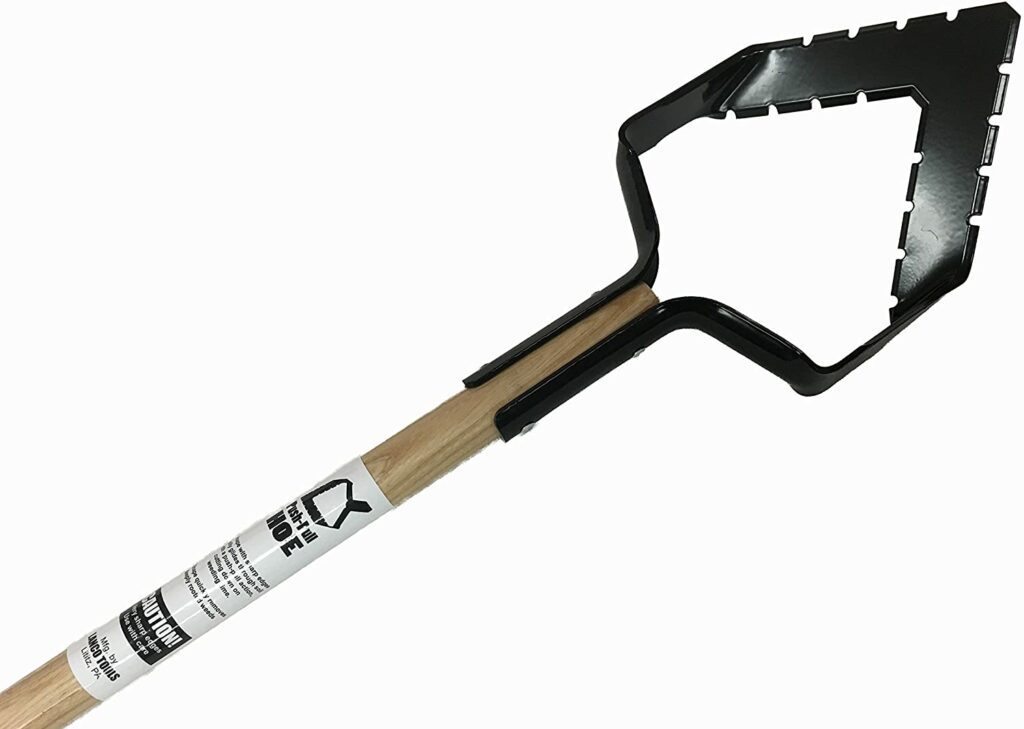 This garden hoe is a type of enclosed-blade weeding hoe. It has tempered steel, sharp V-shaped head that will take out tough garden weeds. It's great for use around drip irrigation lines – the V-shaped head will easily slide under drop lines without nicking the tape!
You can use this to weed closer to any precious plants without worrying about damaging them! The enclosed blades will allow you to navigate around the plant stems without any risk of cutting them!
Pros:
Enclosed blade gives added security to nearby plants
Useful for weeding, loosening soil and spreading fertilizer
Cuts off weeds at the roots
Easy to use and light weight
Very high and genuine reviews from impressed customers
Cons:
Expensive
Manual, short-handle tool so you have to bend and get on knees
This garden hoe tool is a type of stirrup hoe. It has a looped steel blade that is ideal for cultivating the soil around plants and for weeding. You must use a push-pull motion to slice weed roots off.
It's heavy-duty and will last you a long time if you use it for the perfect type of gardening. Just make sure to avoid using this tool on any heavy or hard soil. It will preserve the hoe and add to your gardening collection for a long time!
Pros:
Durable looped steel blade
Slices roots below soil surface
Long wooden handle helps reduce back and joint pain
Cons:
Blade could be sharper
Not intended for use on hard soil and tough use
Weeds and grass get clogged in the looped blade easily
This garden hoe tool is a type of warren hoe. This gray-steel head will hoe weeds up by the roots. It is lightweight, and its triangular head will not only dig out weeds, but it will also help you easily plant seeds into tilled soil.
Pros:
Strong and durable even after many uses
Sharp blade will cut small and large roots
Handle has a good grip
Cons:
Expensive
Handle could be longer for best use
Takes more effort when tackling hard ground
This hoe garden tool is a type of swoe hoe. It's created to be pushed backward and forwards beneath the soil's surface to cut through weeds and dissolve clumped-up soil. The steel blade slips easily into any tight spaces to pull out tough weeds.
With its long handle, you can dig deep and uproot even the harshest of weeds. It has collected high reviews praising its durability and efficiency. It makes it a must-have in your gardening shed!
Pros:
Stainless steel head is strong and durable
Sturdy and won't rust easily
Easy to manoeuvre around surrounding plants
Cons:
Metal can be sharper
Can be hard to use if proper technique isn't employed
What are the Different Types of Hoes?
Draw Hoe
This garden hoe is used by chopping it into the soil, then pulling the head towards yourself to break up any clumps. It's a popular choice but save it for any large-scale garden work and not fine detailing.
Best for:
Digging and moving dirt
Breaking up large soil areas for planting
Chopping out big weeds
Multi-Purpose Garden Hoe
It is a must-have tool for gardeners! This hoe is one tool but serves many purposes. It has a unique curved blade which makes moving soil easy. The sharp point makes it easy to weed in difficult places like any cracks or between plants.
Best for:
Moving soil from a large area quickly and efficiently
Weeding in tough places like sidewalk cracks and between plants and fences
Scuffle Hoe
Scuffle hoes are made to cut under the roots to eliminate weeds. They venture under the surface of the soil and trim off small weeds in soft soil. It is a good tool to have to get rid of small weeds frequently before the weeds get large with longer roots. You use it with a push-pull action, and it slices off the weeds in both directions.
Best for:
Weeding in tight spaces
Getting rid of small weeds
Loosening up soil
Enclosed-Blade Weeding Hoe
It is a scuffle hoe with an enclosed-blade head that is used when dealing with mature or growing plants – without the stress of trimming off any leaves.
Best for:
Weeding very close to any precious plants (the sides of the blade will prevent you from accidentally chopping it off)
Stirrup hoe
This hoe's head is held to the handle to allow cultivation in either direction. Stirrup hoes are used to cultivate or destroy any small weeds on the surface of the soil.
Best for:
Works best in soft to medium soils (not intended for heavy soil)
Open areas that need cultivating or weeding (not near any wanted plants)
Warren Hoe
A warren hoe is lightweight with either a triangular or arrowhead shape. The pointed ends can easily dig into tilled soil and can plant seeds in rows effortlessly! The pointed prong of a warren hoe can cultivate small areas with a chop and pull motion.
Best for:
Planting seeds into tilled soil
Digging small holes for individual plants
Digging out weeds with roots that spread
Swoe
This garden tool can slide under weeds that form runners to uproot at the mass. Then, you can lift it, shake off any soil and remove the entire plant – including the root. It has a pointed top on a wedge-shaped head. This makes it easy to slip into pavement cracks to eliminate any weeds.
Best for:
Weeding or cultivating between established plants
Side can weed in tight spaces or between pavers
Frequently Asked Questions about Garden Hoes
How often should you weed or hoe a garden?
Come springtime the garden will start to look like a weed fest! It's best to start early and keep it up frequently. As soon as you start seeing some weeds, arm yourself with your favorite garden hoe and start weeding! New weeds are easy to remove so, if you spend a few minutes every few days, you will save yourself from battling large, hard-to-remove weeds!
When is the best time to hoe a garden?
The best time to hoe a garden is when the soil is dry and soft. Your gardening hoe will not be able to move dirt and cut a weed's root if the soil is too wet.
How do you maintain your garden hoe?
After every use, clean any dirt and mud from your hoe blade. Prolong your garden hoe's life by storing it in a closed space garage or shed.
How long do garden hoes last?
A well-maintained garden tool will last longer and perform better in the long run. A garden hoe will last a very long time if you use it for what it's built for. For example, if you use a stirrup hoe to move heavy soil, you will break the hoe easily and wonder why it was so flimsy. Search and purchase a garden hoe that will best serve the purpose you desire.
Final Thoughts
Garden hoes are a gardener's best friend for various reasons. Hoe garden tools help you eliminate weeds, cultivate and break up soil for garden beds, and planting seeds.
You may need more than one type of gardening hoe to do different tasks in your garden. The best overall garden hoe would be the Hoss Tools Push/Pull Hoe if your mission is to tend to your garden bed. It will make sure you don't damage any of your existing plants, will remove weeds, and navigate efficiently around your garden.
This guide broke down the different types of garden hoes that are available on the market and suggested the best pick for each type. Carefully consider what gardening purpose you need a garden hoe for and choose the one that best fits your needs!
Go out there and hoe to your heart's content! Happy gardening!