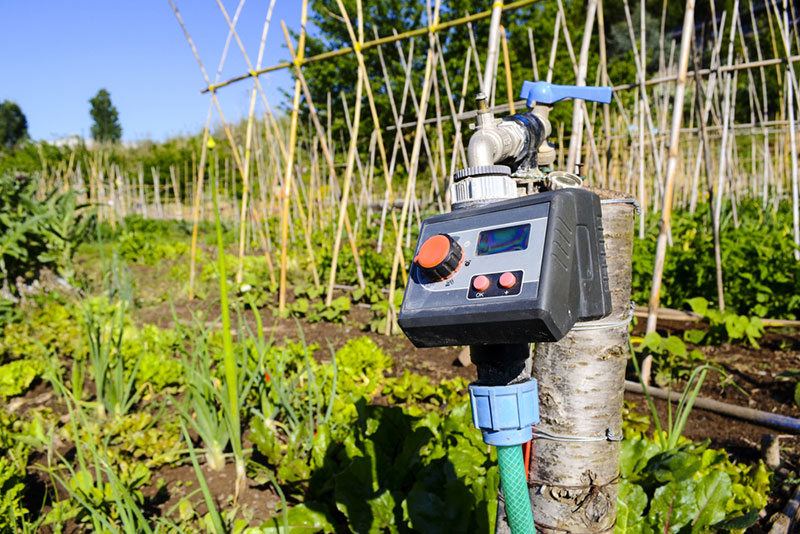 No matter what you choose to grow in your garden, every plant requires the proper amount of water. A garden hose timer is essential to make sure that each of your flower beds, vegetable gardens and your lawn receives the ideal amount of water to flourish.
Choosing the Ideal Garden Hose Timer
When it comes to gardening, you likely take a lot of joy in pride in the final product. The blooming flowers and tiny vegetables beginning to flourish can't help but bring a smile to every gardener's face. The process of planting and delicately tending to your plants is all part of the intricate process that yields a beautiful, thriving garden.
However, there's one part of gardening that is absolutely essential, yet is by far one of the least interesting aspects of growing a great garden: keeping it well-watered. Making sure your garden and your lawn are properly watered can be a pretty dull task, yet it is crucial to keeping everything fresh and growing strong through all the seasons!
Thanks to some of the latest and greatest garden hose timers, you can forget the dreaded task of dragging out the hose every few days and standing out in the heat while you spray your garden. Using a basic hose or a sprinkler is an easy way to over-water or, more likely, under-water your prized garden. This mundane task becomes amplified if you have multiple gardens around your home and yard. The best way to develop a watering "routine" or "system" is to consider different areas of your lawn and garden as their own "watering zone."
This is one of the reasons why finding a garden hose with the proper timer for your needs is absolutely essential to building the perfect watering routine for your plants to thrive.
Know your Plants, Know your Garden Hose Timer
The first thing you need to understand to make sure you purchase the best garden hose time is what exactly you intend to water. For example, do you have a large vegetable garden that needs regular moisture throughout the day? Do you have a prized flower bed that requires a good soak every morning? Choosing the right garden hose timer is all about what the plants you are watering require in order to grow and thrive.
Features to Look for in a Great Garden Hose Timer
Analog or Digital Timer? – A standard garden that needs to be watered one or two times a day would do fine with a basic analog system. This is the least expensive type of garden hose timer, also perfect for watering entire yards. They are controlled by a simple timer-style mechanism and have less chance of malfunction over time.
Digital systems are a bit more complex, but they are excellent for gardeners with a more complex watering routine. For example, digital systems are great for a gardener that will be watering their entire lawn once every few days, a flower garden once each morning, a nearby vegetable garden a few times a day, and a unique wildflower garden during the hottest part of the afternoon. The digital timer systems generally have LCD displays and instructions that enable you to set specific times for a foolproof watering routine.
Top 5 Garden Hose Timers
Raindrip Automatic 3-Dial Water Timer
This solid, well-built water timer contains three separate dials to coordinate the watering time intervals, frequency and run time.
Pros
• Can be set to water multiple times throughout the day
• Easy to program
• Attaches to any outdoor hose
• Solidly built product
• 3 separate automatic dials
Cons
• Requires manually setting the first time
• The program will not retain if batteries are not replaced within 15 seconds
Instapark Waterproof Digital Automatic Timer with Manual Control
This is a very well-priced digital automatic water hose timer that offers a waterproof LCD Display and a wide variety of timing options to properly water multiple gardens and lawn areas.
Pros
• Marketed as "foolproof" to operate
• Weather resistant
• Easy-to-read, bright LED Display screen that alternates time, water timer status and battery levels
• Built-in rain delay for 24, 48 and 72-hour setting delay plus manual delay options conserve water without affecting the timer's set watering schedule
• Attaches to any outdoor garden hose
Cons
• Timer-setting options jump from five minutes to one hour with no intervals in between
• Customer concerns about the valve's impact on water pressure
Claber Evolution Digital Water Timer, Dual Outlet
This digital water timer is perfect for a multi-tier watering system. It has the ability to vary watering schedule based on specific days of the week and is highly customizable.

Pros
• Ability to program by day of the week
• Can water on a split schedule
• 15-minute manual preset mode with the ability to extend up to 60 minutes
• Contains 2 independent lines that have a range of watering duration spanning 1 minute to 23 hours and 59 minutes (just under a full day)
• Comes with a 2-year manufacturer warranty
• Attaches to any outdoor garden hose
Cons
• Must follow the available settings programmed by the manufacturer
• Limited manual options
Instapark Outdoor Garden Automatic Shut-Off Mechanical Water Timer
This mechanical water timer is very easy-to-use and comes with a maximum run time of 120 minutes, making it perfect for simple watering systems and schedules.

Pros
• Watering time can be set to any time (similar to an egg timer), and is marked in 15-minute intervals with the ability to set for anytime from 1 minutes to 2 hours
• Auto-turnoff of up to 120 minutes (2 hours)
• Easy-to-read and easy-to-use mechanical dial
• Works well with a variety of water pressure ranges
• Attaches to any outdoor garden hose
Cons
• Depending on the location of the hose's faucet, water flow can be slightly restricted
Orbit Programmable Hose Faucet Timer, Single Outlet
Pros
• Oversize print makes the timer easy to read
• Digital screen
• Intervals range from 6 hours to once a week
• Manual override switch for flexible watering
• Heavy-duty weatherproof build
• Run time of up to 4 hours
• Attaches to any outdoor garden hose
Cons
• Requires two AA batteries to function (not included)
• Lack of clear low battery indicator