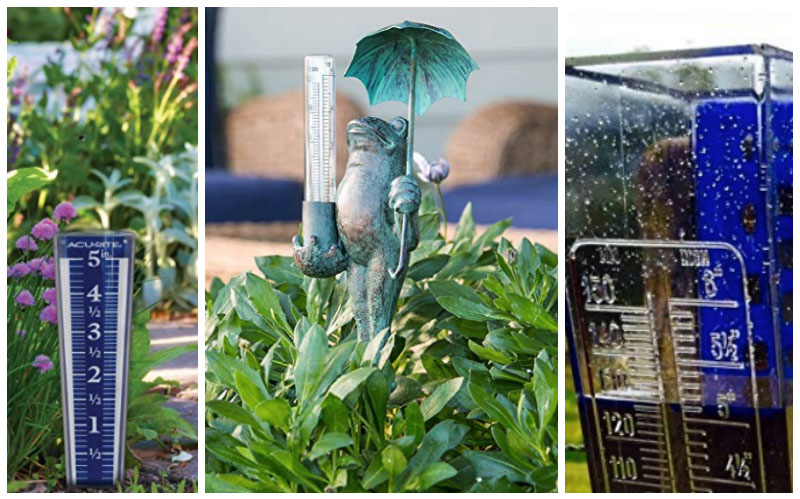 Rain is essential for any garden, so if you find yourself watering your plants a lot, you can use a rain gauge to measure the precipitation that falls in your area. Having an accurate idea of how much water your plants are getting will help you determine whether or not they need more.
In this guide, we are going to take a look at eight different rain gauges that you can consider for your garden as well as some of the benefits and the features to look for when you are making your purchase.
Benefits of a Garden Rain Gauge
Some of the advantages to purchasing a rain gauge that you can place in your garden is the fact that you will be able to easily collect the rain that falls with ease and get an accurate measurement of what you collect each time it rains. Over time, you will be able to tell how much rain the area receives on an average week, month, or year. With these gauges, you will be able to collect real-time data without waiting until it is done raining. With some of the rain gauges on the market, you will be able to check the temperature during the rainfall as well.
Most of these rain gauges are designed to be low-maintenance, which means that once you put them up, you are not going to need to do much to them other than check to see how much rain is in the container. If the gauge requires batteries, they will also need to be changed from time to time, but for most of these types of gauges, you will not even need to worry about a battery.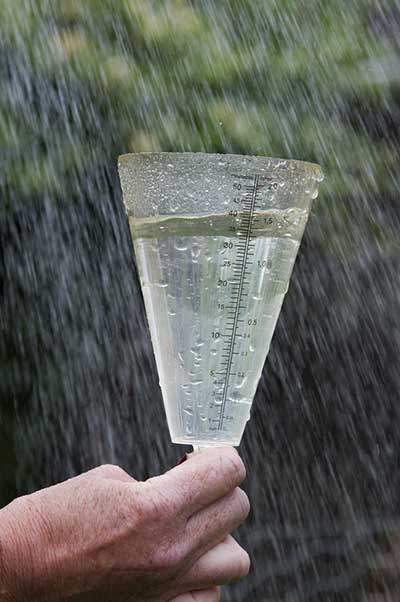 What to Look for When Purchasing a Garden Rain Gauge
When you are purchasing a new rain gauge, there are going to be a few things that you will need to consider that you may want your rain gauge to have. Some of the considerations to make include:
The size: The size of the rain gauge that you are looking into purchasing is going to be very important, especially if you are trying to get an accurate measurement in a location that rains a lot. In an area like this, you may want to have a larger rain gauge to use.
The material: Not all rain gauges are made out of the same type of material, which means that you will need to decide whether you want a plastic model that is made of polycarbonate in your garden or a more durable option that is either made of stainless steel or aluminum. Also, make sure that the gauge is designed with UV protection so that the water cannot evaporate and give you an inaccurate reading.
How it is mounted: Some rain gauges are designed to be placed in the ground, some can be mounted from a tree, and others may have other ways to assemble and secure them in your garden. In general, a rain gauge will be the most accurate if you can position it about 1.5 meters from the ground, but depending on your garden setup, you may need to find an alternative way to mount it.
Garden Rain Gauge Reviews
1. Stratus Precision Rain Gauge with Mounting Bracket
If you are looking for a simple rain gauge that can easily attach to a fence post or a stake in your garden, then this is a great option. It measures rain to 1/100th of an inch, and the measurements are straightforward to read, even from a distance. The material of the gauge is a polycarbonate plastic material that is very durable. It has a UV-Resistant coating on the surface to help protect it from the sun.
2. Taylor Jumbo Easy-to-Read Rain Gauge
This is a rain gauge that is designed to hold up to five inches of rain at a time. It is clear plastic; however, the measurement markings are a bright yellow color, which allows them to be seen from up to 50 feet away. There is also a small funnel at the top of the gauge that makes it easier for the rain to go into the tube. It also comes with a way to mount it on a wall or in the ground.
3. Cute Metal Frog Statue Holding a Rain Gauge
This is a very cute rain gauge that you can easily put in your garden as a decoration without much effort. It is designed to look like a frog who is holding a rain gauge in one of his hands and an umbrella in the other. The gauge itself can measure in inches as well as centimeters; the tube is made of glass, so be very careful with it.
4. AcuRite Self-Emptying Rain Gauge
If you are looking for a simple rain gauge that will require very little maintenance from you, this model from AcuRite may be ideal. It can measure the rain in both inches and millimeters. If the rain cup gets too full, it will empty by itself, and when the rain may result in flooding, an alarm will notify you. Any data that can be seen on the screen like the time, the temperature and the amount of rain will be updated every 16 seconds.
5. Garden Gnome Rain Gauge
This next rain gauge is a charming little garden gnome that will look great in any outdoor space. The gnome is designed to be weather-resistant, which means that the hand-painted finish on the polyresin will not fade or chip off with time. The gnome is about eight inches tall, and he has on a little green hat that will match most plants in your garden. The tube for the rain gauge can hold five inches of rain before it needs to be emptied.
6. Solar-Powered, Butterfly Rain Gauge
This is a rain gauge that you can easily push into the ground in your garden. There is a tube in the center of the gauge that can easily capture the rain as it falls. There is a cattail on one side of the tube, and a purple and yellow butterfly on the other. This is a solar-powered gauge that will capture the sun when it is nice and turn the power into LED lighting that illuminates the gauge as it rains.
7. AcuRite Magnified Rain Gauge
This is another AcuRight rain gage that you can consider, but this one is ideal for individuals who may have a difficult time reading the smaller print on some of the other models that we have looked at. The numbers on the gauge are magnified by 35 percent, and they have white markings that you can see from quite a distance. There is a hole on the gauge that you can use to mount it, or it can be placed directly into the ground.
8. Outdoor Home Mountable Rain Gauge
This rain gauge, which is manufactured by Outdoor Home, is a great option that is simple to install. It has a scale that can take measurements of the rain in inches and millimeters as well. The installation of this rain gauge is rather simple, and when you need to empty it, all you need to do is lift it off of the bracket. Ideally, it will work best on a deck or a fence post that you already have in your garden.