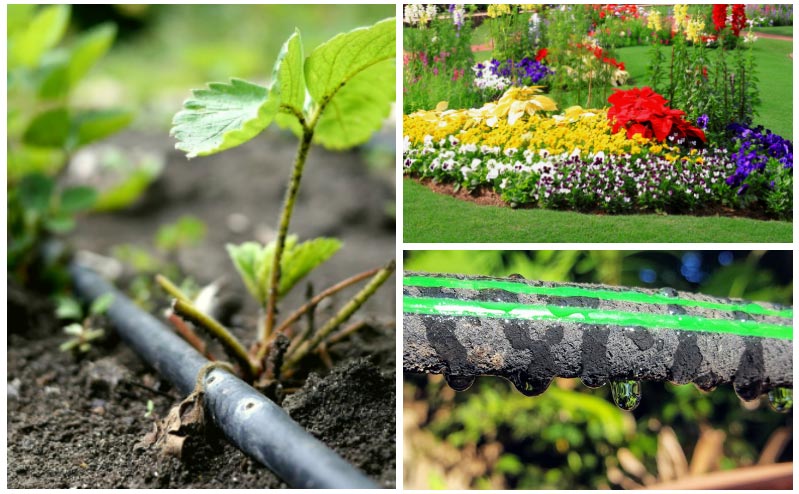 Watering your garden can be difficult, especially if you have a small watering can or a narrow hose that simply does not do the job. Since water is going to be important for you to have a lush garden, you will want to have a soaker hose to make the process a simple one.
In this guide, we will take a look at six options that will work for any garden, but before we get to the reviews, let's find out a little more about soaker hoses.
What is a Garden Soaker Hose?
It is a type of hose that is typically made out of recycled material. The hose is designed with small holes through the rubber, which allows water to get to the roots of the plants in your garden more quickly. This also protects the leaves of the plant and keep them from getting wet, which is ideal for more sensitive plants.
What to Consider When Purchasing a Soaker Hose
To make sure that you get the right hose for your needs, there are certain aspects to consider. These include:
Material – This is a very important consideration to make, and it will help ensure that you purchase a durable hose that will last for years. Many of these types of hoses are made out of recycled tires, which will be a very durable option; however, some are made out of other materials as well. These include vinyl and polyurethane.
Flat or Round – The design of the hose is also important, but both can be good options to consider, depending on your garden needs. Flat hoses are more pleasing to the eye, and they are designed to point the water where you need it to go. Round hoses are designed to be a little more durable, so you can easily bury the hose if you want to create an irrigation system.
Length – The length of the hose that you get is going to be critical as well because if you purchase a hose that is too short, you will not be able to reach all of your garden. These hoses come in 25-feet, 50-feet, 75-feet, and 100- feet lengths, so decide which one you prefer. Anything longer will decrease the water pressure too much.
Pressure – Ideally, for this type of hose, you are going to want the pressure to be about 10 PSI so that the water drips out of the hose slowly. If the pressure is too high, it will become a sprinkle, which can easily provide your plants with too much water.
Flow Rate – You need the water to come out of the hose at a certain rate. The longer the hose is, the lower the flow rate will be. In most situations, you want the hose to release about a gallon of water each minute.
Top 6 Best Soaker Hoses
1. Gilmour Flat Soaker Garden Hose
This is a 75-foot hose that is designed to be flat so that it can easily be positioned to weave in and out of your growing plants. The hose is black in color, and it is made out of 100 percent recycled vinyl, which is designed to be good for the environment. It is a clog-resistant fabric that will ensure that your plants are watered when you need them to be, and the hose even comes with a seven-year warranty that will cover the cost of any defects in the material.
2. Melnor Flat Soaker Garden Hose
This flat hose from Melnor is a great option that is extremely flexible. It is also durable enough to be placed under a thin layer of soil to create underground irrigation. The flat design makes it easy to fold up and store away, and the connection on the end of the hose is designed to connect multiple hoses. It is rustproof as well, and the hose comes with a two-year warranty that stands behind the construction of the hose and the materials used to make it.
3. Rain Bird Drip Irrigation Tube Hose
This Rain Bird Hose is the first tube hose in this list, and it is a great option, especially if you want a longer option. It is available in 50 feet, 100 feet, and 250 feet, but remember, the longer it is, the lower the water pressure may be. It is designed to be a very flexible option that will e kink-free when you use it, which makes it easier to use under the ground. It is also designed to be a durable option that is resistant to UV damage and chemical damage.
4. Taisia Tube Soaker Hose
This Taisia Hose is an option that is 75 feet long with a diameter of ½ of an inch. This design is ideal for saving water, and the slow release aspect of it can save 70 percent. It can also distribute liquid fertilizer in addition to water. It is made from 70 percent recycled rubber, and 30 percent polyethylene. The lightweight combination of materials is also designed no to crack, which makes it more durable in adverse weather conditions.
5. Dramm Premium Soaker Garden Hose
This Dramm premium soaker hose, which is 50 feet long, is another great option to consider for a smaller garden. The hose itself is made from a recycled material that is designed to have a thick, durable wall. This will not only keep it from getting damaged, but it will help to prevent the hose from spraying too much water at once. It also comes with a lifetime warranty in case there are any defects in the hose.
6. Teknor Apex Soil Soaker Hose
This is a 100-foot hose that is designed to be placed under the soil to give you a proper irrigation system that does not take a lot to manage. There are several different pores on the hose so that you get the soak that you want for your plants, and even with all of the flexibility of the hose, it is design to be durable and crack-free. It comes with a seven-year guarantee as well.