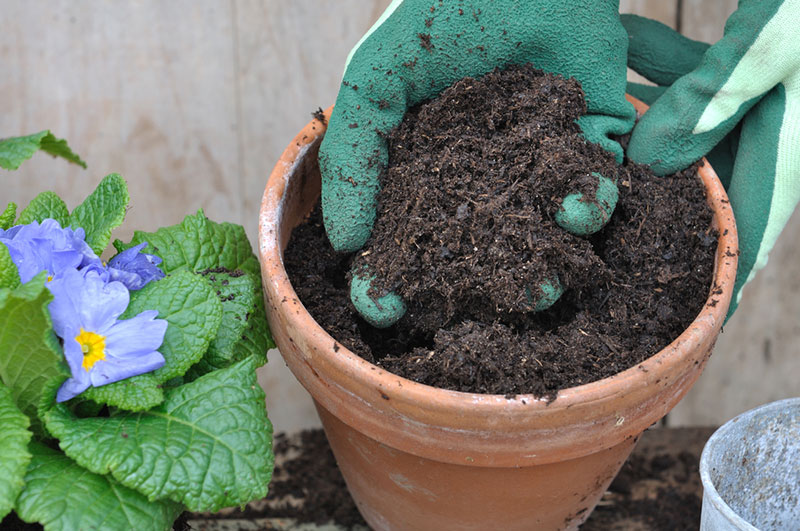 Choosing the best potting soil mixes is not an easy task. The best business that creates quality potting soils or soil-less mixtures often only ship within short distances. Soil mixtures vary in terms of quality and ingredients. The best and most prudent option is in using a localized product.
To make an informed decision, increase your knowledge in various types of potting soils- know the pros and cons of each. Every gardener tends to have their personal preference based on experience and location. However, there is one thing experts in this area agree on: avoid the Miracle-Gro product line.
Despite Miracle-Gro being a quality product, the company is a Monsanto supporter and exclusively distributes their product, Round-Up. People dedicated to using only organic materials may not appreciate a business (despite having an organic line) supporting a company that utilizes chemicals.
For some individuals, this ideology of having a foot in both worlds is unconscionable. You are either for organic materials or against them. It creates confusion about what values the company subscribes to and generates the sentiment that they do not care how they earn a profit.
In other words, they do not care for the environment. Their heart is in capitalism.
Finding a Reputable Brand
In trying to find the best organic potting soil mix, consider the following:
Research Good Sources Locally. Great places to start are local garden shops, community gardens, or farmers' markets. These places are dedicated to promoting ethically responsible brands.
Examine the Ingredients. Good organic potting mixes contain matter like compost, manure/mushroom compost, seaweed, bone meal, bat guano, soybean meal, greensand, fish meal, soft rock phosphate worm castings, and blood meal. These introduce nutrients into the soil. Be wary of non-organic mixtures which contain slow-release chemical fertilizers. Avoid perlite, vermiculite, rice hulls, chicken grit, wood chips, or sand. These increase drainage and prevent soil from being compacted. Coir or peat absorbs water. You may want to avoid these as well.
Lift the Bag. While this seems odd, there is a science behind this. A heavy potting soil bag filled with cheap fillers/compost will be heavy for its size. It may be acceptable for the ground, but these dense ingredients will prevent air circulation in the soil and easily packs down. Inevitably, things will rot.
Soil that is too light can be laden with vermiculite, perlite, peat, and low on anything nutritional. These are all ingredients that promote good plant health. In the end, you should choose soil that feels right for its size. It offers the best balance.
Select the Best Seed-Starting Mixture. Select a brand-specific to for seed starting. Regular potting soil ingredients are diverse. Large pieces can impede seedlings from pushing up in the soil. Seed starting mixes retain better moisture and are light enough to promote proper drainage.
Best Organic Potting Soils
This soil contains plant food that generates bright flowers and tasty vegetables/herbs and is great for raised gardening beds and containers. Growing mix nourishes plants immediately. A slow-release plant food feeds plants for three months.
It uses coconut coir which is a renewable and sustainable resource. It maintains moisture between waterings.
It is OMRI listed for its organic usages.
In purchasing the best potting soil, choose one specifically for your plant's location. Is it an indoor or outdoor plant?
Check to see how light and fluffy the potting soil is. Preference tends to be toward lighter soils according to the sized bag. However, some structure is necessary to keep plants rooted.
Soil should retain moisture. How well does this soil maintain moisture? Does it dry out quickly? Is it too muddy? Soil should be moist after it is hosed but not soggy.
The potting soil should retain nutrients essential to promoting plant growth. Check the soil's nutrient formulation. It should have nitrogen, phosphorus, and potassium. These are vital to plant health.
What is the Difference Between Potting Soil and Potting Mixes?
Sometimes the terms are used interchangeably. There are, however, some differences.
Potting soil has dirt. Potting mixes are soil-less and used to improve the soil for container gardens. They both can be completely organic and endure long periods.
Organic potting mixes are ideal for seed starting, while potting soil is better for long-term growth.
There are many things to be considered when it comes to selecting the correct organic potting soil mixture. Gardeners want to avoid using perlite, vermiculite, rice hulls, chicken grit, wood chips, or sand. This strip the soil of the moisture necessary for their sustainable growth.
Gardeners either water their plants, or they will simply die. Water is a key ingredient in how plants generate food. To deprive them of it means that they are unable to grow properly.
To successfully grow plants, they require the perfect amount of sun, proper airflow, moisture retention, and nutrient-rich soil.