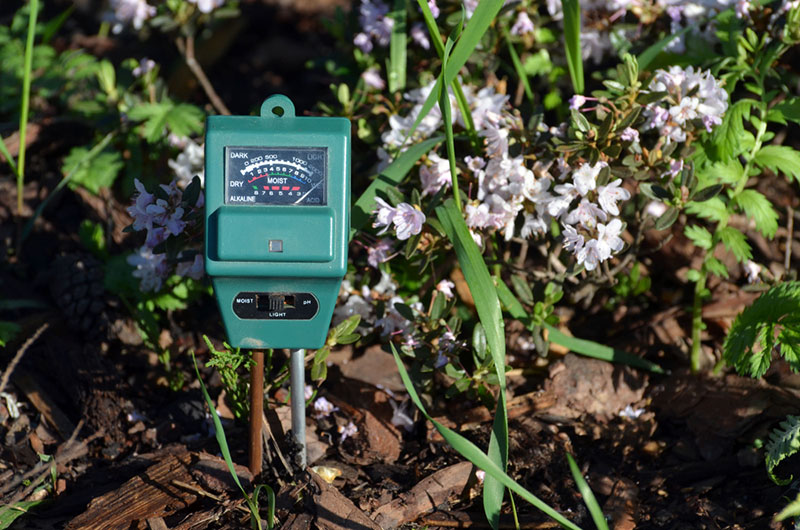 Different Types of Soil Test Kits
Chemical tests
A chemical soil test is normally used to determine baseline nutrient levels within a soil. After sufficient data has been gathered, recommendations on cover crops, fertilizers and amendments can be made. Soil type can be determined by a chemical soil test. Both pH and organic matter testing are examples of chemical soil testing. Certain crops require very specific soil types in order to thrive. Timing is important when using these tests, and many opt to apply the test when deficiencies are noticed in order to help in crop output maximization. As soils high in organic matter are heavily reliant on manure and other high nitrogen inputs, testing prior to and after fertilization may ensure that the crop is adequately fed while runoff is mitigated to some degree. If your agricultural endeavor is seeking Organic Certification, a chemical soil test is required. Most chemical tests are either conducted or approved by the Soil Science Society of America.
Digital tests
Your basic digital soil test is going to determine whether you are at surplus, sufficient, adequate, deficient or depleted for each of the three macronutrients N, P and K (nitrogen, phosphorus and potassium). Many will also test pH in the middle ranges, and more comprehensive tests will be able to determine pH to greater extremes. This type of test normally includes four test tubes, a test tube dock, patented digital soil test module, plastic dropper and color coded nutrient test capsules.
Analog
An analog test consists of four small sized containers as well as corresponding color coded test capsules for nitrogen, phosphorus, potassium and pH. sample of soil is gathered and a very small amount is added to distilled water, the corresponding color coded capsule is added to the container, and a color comparison meter is read by a person who sees color and matched to determine levels of each macro nutrient as well as pH.
Professional
Profession tests are a good option for those who don't want to skew their results. A sample of soil is placed into the jar provided, and mailed into the lab to be tested professionally via a prepaid envelope. The results are available online. There is also an option for the results to be emailed to you.
Luster Leaf 1847 Rapitest Digital Plus Soil pH Meter
The digital output of the meter makes it convenient to use and super accurate. Because of its design, users also get an instant visual readout with precise calculations.
Gardeners find that it is a must-have tool, with its included database of plants. Browse and compare soil levels to make sure your plants are getting the best possible conditions. The user manual gives more precise information and helpful advice.
It is also designed and produced in the USA, with the batteries included.
Things we like

Great for gardeners with its included database of popular plants
No chemicals needed, simply use the digital design to get a readout
Luster Leaf 1880 Rapitest Tester Electronic 4-Way Analyzer
This analog test measures soil pH, moisture, fertility and also sunlight. Its four-in-one design makes it easier to create a better environment for your plants. Its purple chromatic filter helps identify the correct light for plants. It also does not require a battery, for fast and easy results. It will determine if soil is acidic or alkaline. You also can help to stop over watering of plants with water moisture levels. Measurements of N, P and K will figure out if N,P, or K needs to be adjusted.
Things we like
Multiple measurements for ease of use
No battery needed
Soil Savvy – Soil Test Kit
This is a general soil testing kit with professional results available to the public. Receive advice tailor-made for your specific soil. Its detailed analysis contains a soil profile with 14 essential minerals and nutrients. See levels of nitrogen (reported as Total N, nitrate (NO3-N) and ammonium (NH4-N)), phosphorus (P), potassium (K), calcium (Ca), magnesium (Mg), sulfur (S), sodium (Na), iron (Fe), manganese (Mn), zinc (Zn), copper (Cu), boron (B) and aluminum (Al).
Testing the soil is an easy three-step process. Simply fill the sample jar with soil, ship it with the pre=paid postage kit and receive results within 7-10 days with email.
Things we like
Receive fertilizer recommendations specifically for the soil tested
Results come from a lab based in the United States
Whitetail Institute Laboratory Soil Test Kit
The results of this test can be mailed directly to you after being tested in a laboratory. It is a "no-sweat" approach to testing the soil, and you know that the results are accurate as it is handled externally by professionals. You may learn new information about your soil when using one of these tests.
Results are mailed in, and you receive the results in as little as a week. It tells you the pH of the soil as well as the levels of phosphorus (P), potassium (K), calcium (Ca), and magnesium (Mg)
Things we like
Fast and accurate results
Ensures best food plot performance.
Rapitest Premium Soil Test Kit
This test measures values for nitrogen, phosphorus, potassium and pH. The test is affordable and you get immediate results.
Things we like
Fast
Easy to use
Affordable