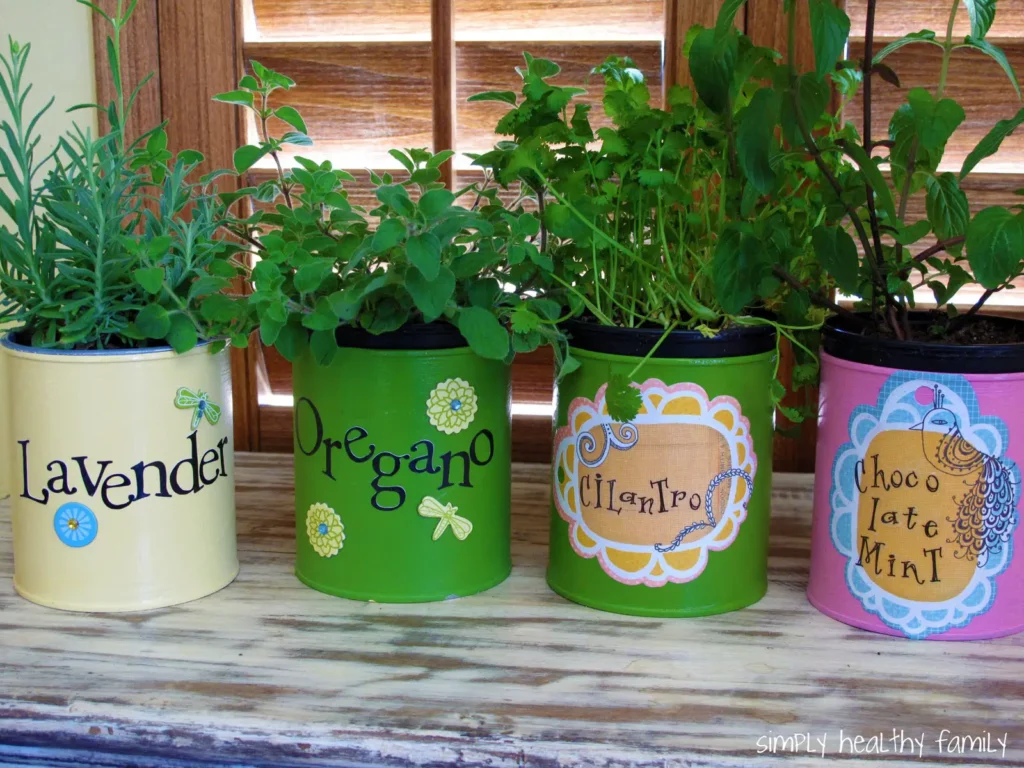 Herb gardens, whether yours is indoors or outdoors, are a great way to begin gardening. They're easy to take care of, don't take up a lot of space, and can be customized to whatever you desire.
Gardening is hard work, particularly if you have a sore back or knees. Many of the projects, if not most, in this collection are designed for you to place on tables, countertops, or hang on the wall, saving you from bending or kneeling to take care of your new garden.
Look for conveniently sized container garden ideas if you need to place your garden indoors, or you simply don't have a lot of gardening space outdoors. If you need to move your herbs indoors during inclement or cold weather, consider an option with wheels, or that can easily be carried into a shed, greenhouse, or into your home.
Most of all, find a project that speaks to your sense of style. If you want color, pick color! If you dig a rustic design, find a rustic project! But as always, have fun with your project, and start enjoying food made with fresh herbs from your own garden!
1. Herb Wheel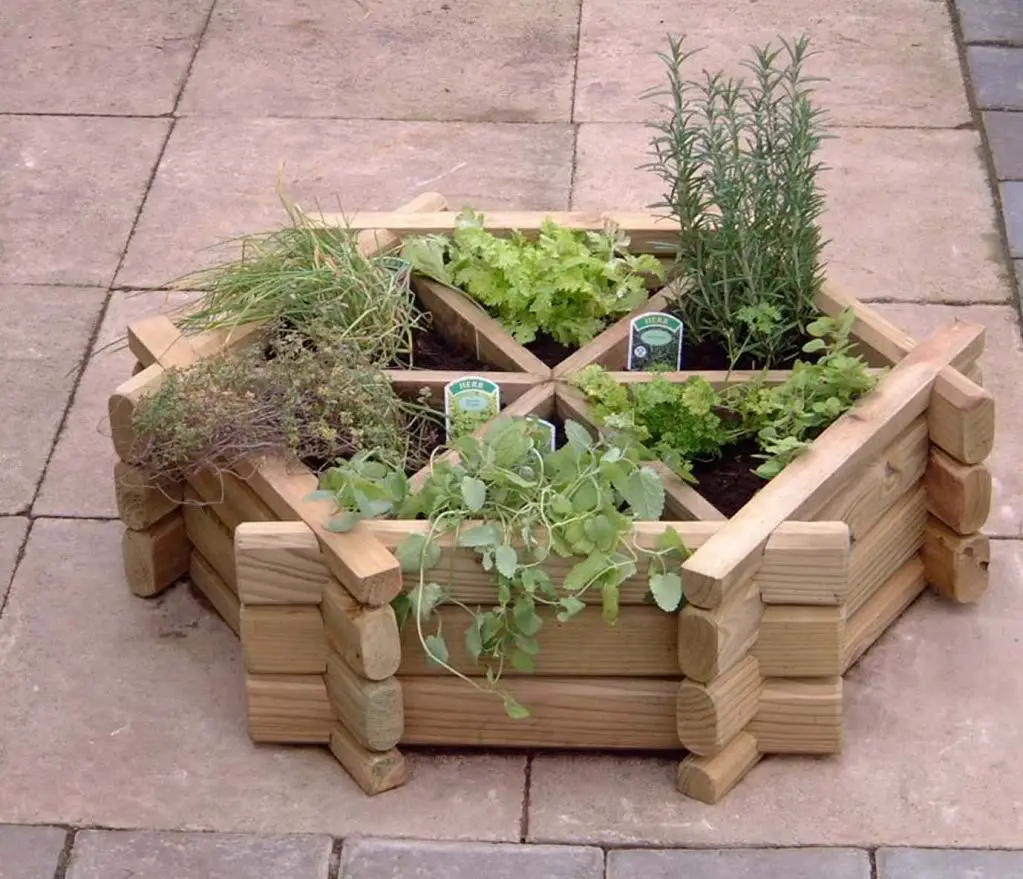 A simple, yet rustic and quaint hexagonal planter is split into six sections to keep your herbs separate, but all within reaching distance. This design can easily be magnified to suit your needs.
2. Paint Can Herb Garden
Painting an old paint can, adding some decals and the name of the plant is an easy way to make unique, colorful, and stylish containers for your herbs, and they're perfect indoors or out!
3. Spiral Herb Garden
Build a spiraling open planting bed by stacking common bricks in an ascending pattern. Plant drought resistant plants at the top, and plants that need more moisture at the bottom.
4. Wagon Wheel Sunken Garden
An old wagon wheel is a perfect way to keep your herbs separated neatly in a garden. It also looks great in a rustic-themed garden.
5. Upcycled Hanging Herb Garden
Source: Crafty Kitchen Winery
Indoor herb gardens can be kind of a hassle to keep on the countertop, so why not try a hanging garden as a space-saving option? Use bright fabrics to keep in line with your design scheme.
6. Tiered Hanging Basket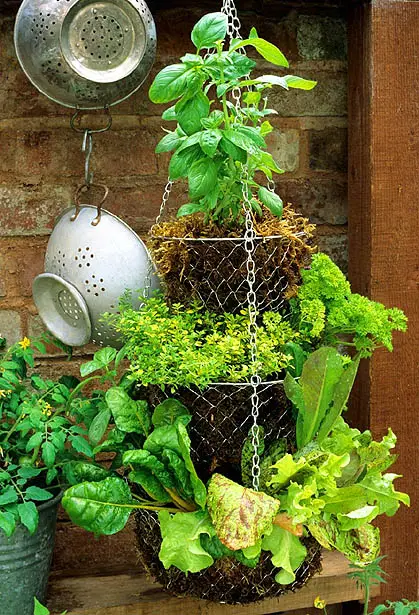 Source: The Telegraph
An old fruit-keeper is another awesome way to create a hanging herb garden. You might want to keep this one outside though, as soil might occasionally slip though, along with moisture.
7. Wooden Box Tabletop Herb Garden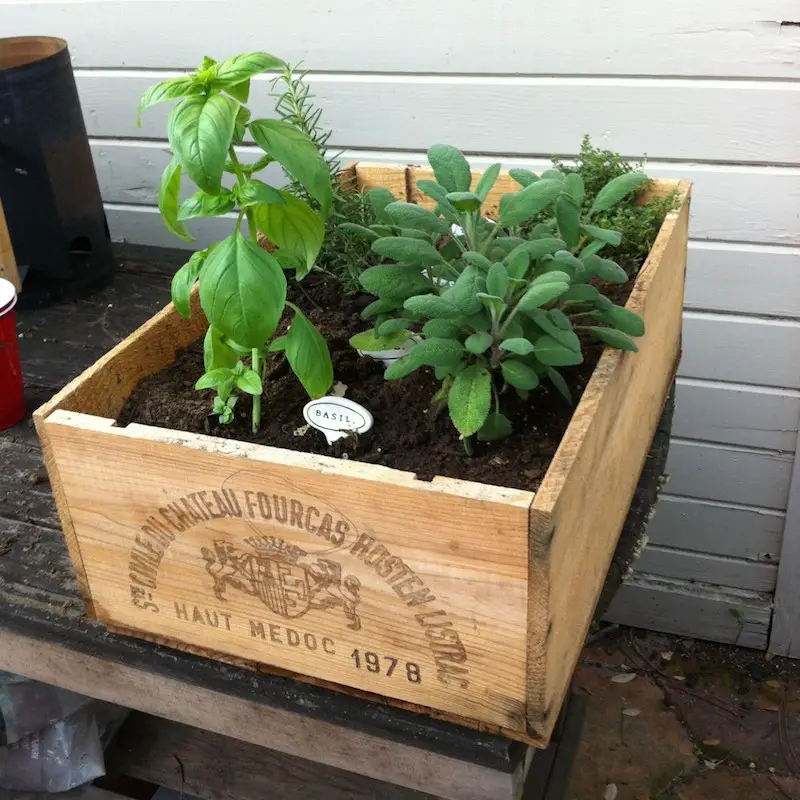 Decorative wooden crates are a unique way to create a tabletop herb garden for gardeners who aren't looking for a massive herb garden. Keep these at the right height to save your back and knees.
8. CD Tower Herb Garden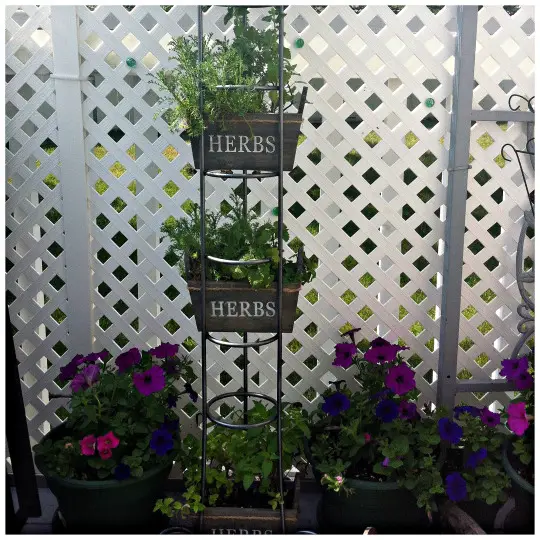 An old CD tower can be repurposed as a tiered stand for herbs. Add a few cute planter boxes like the ones shown above and you've got a unique herb garden!
9. Fork and Cork Herb Markers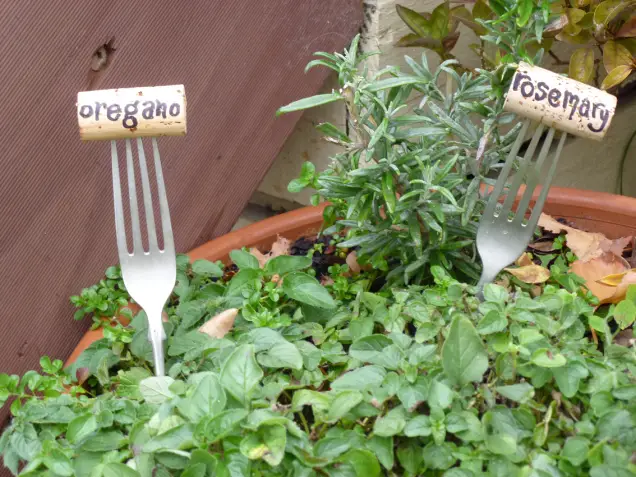 Source: Being Fifty Something
Old wine corks can be inscribed with the name of your herb and placed on top of a fork as markers in any herb garden.
10. Table Top Minimalist Indoor Herb Garden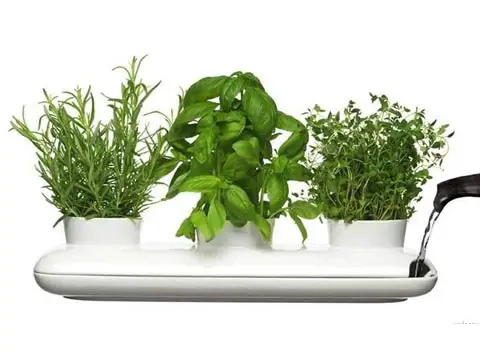 This awesome minimalist herb garden planter is meant to be indoors, right on your table or countertop. A small hole in the side is the right side for watering.
11. Coffee Cup Herb Container Garden
Pick up a few old coffee mugs at a thrift store and place them clustered in a tin bowl inside another wicker bowl. Plant your herbs in their own cup and place a spoon marker in each one!
12. Rain Gutter Hanging Herb Garden
Rain gutters make for great hanging herb gardens. They don't take up a lot of space, and their shallow beds are perfect for herbs.
13. Upcycled Pallet Vertical Garden
Image Source: Pink When
An upcycled pallet makes for a perfect container herb garden holder. Paint the names on the bar below to ensure you don't forget which is which!
14. Wooden Tub
Like galvanized tubs, these old wooden tubs are perfect for creating an elevated herb garden. If you want to move this big planter around, try placing empty and clean two-liters in the bottom, before you add soil.
15. On-The-Fence Vertical Herb Garden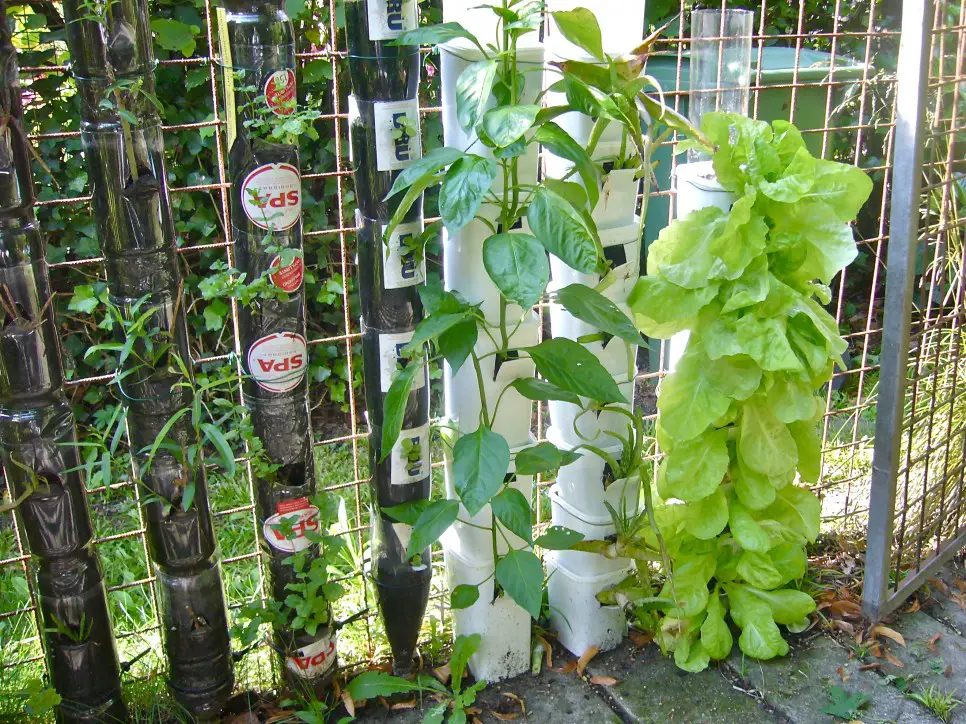 Recycled plastic bottles can also be hooked together and attached to a fence or trellis and used to grow herbs or other plants, like strawberries.
16. Wheelbarrow Herb Planters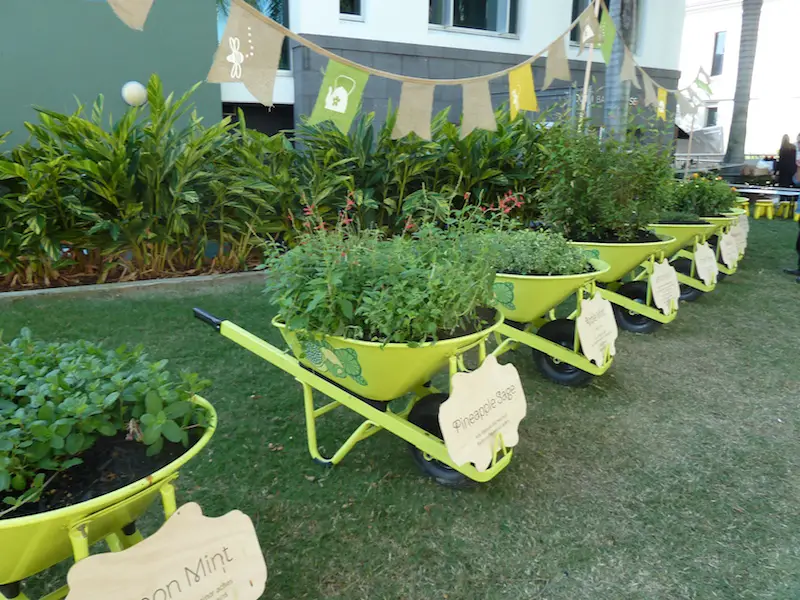 Source: Seasonal Pursuits
An old wheelbarrow with a fresh coat of paint and a stencil or two makes a great portable herb garden. Place a decorative sign on the front if you need to differentiate between multiple wheelbarrows. For more wheelbarrow planter ideas, check out his article here.
17. Wine Rack to Herb Garden
An IKEA widget originally meant to hold wine bottles works just as well to hold your herb garden!
18. Sunken Planters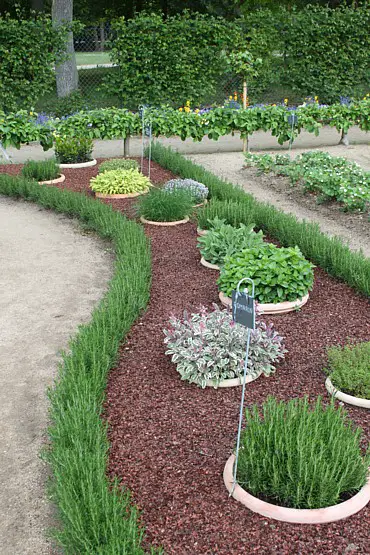 Source: The Garden Glove
Dig a hole and place your taller planters into it, giving the illusion of a traditional garden without worrying about your plants spreading where you don't want them to.
19. Rustic Wagon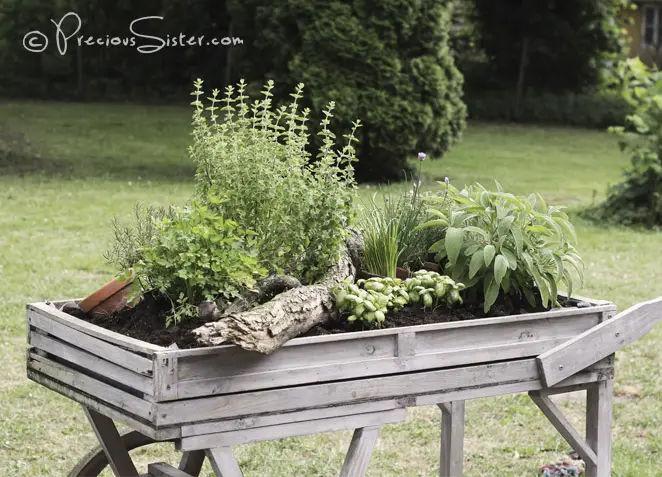 Source: Precious Sister
An old wooden wagon is another good rustic solution for a waist-level garden that's easy on your back and knees. Plus, the wheels allow you to move it wherever your heart desires!
20. Tiered Tub Backyard Herb Garden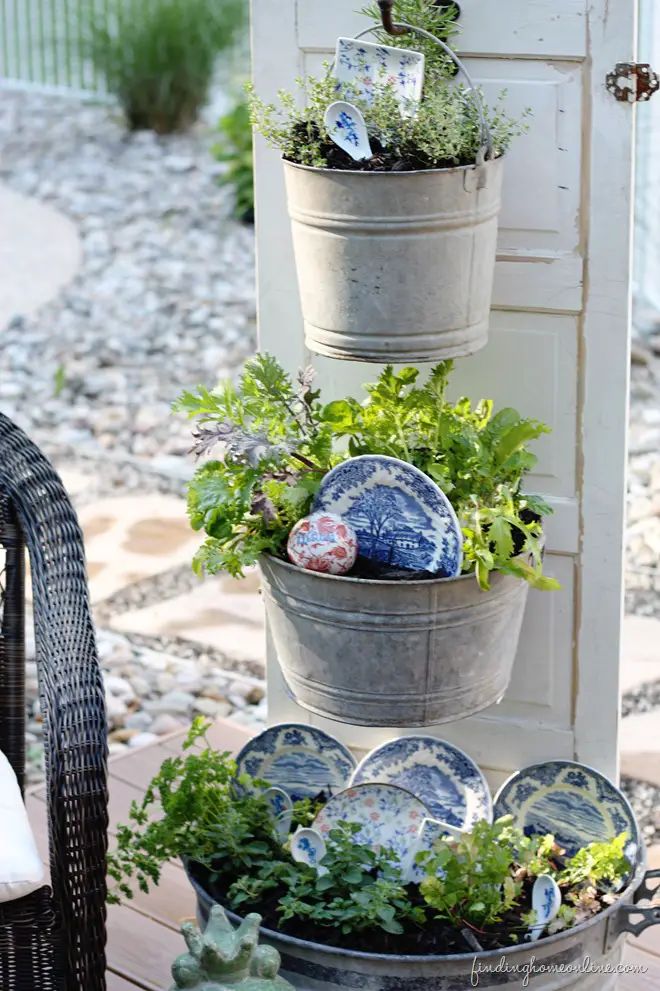 Source: Finding Home Online
Aluminum buckets and tubs can easily be fixed to an old door or panel and used as a vertical garden. Place a few pieces of china from a yard sale or thrift store in the display to add visual interest and color.
21. Wicker Baskets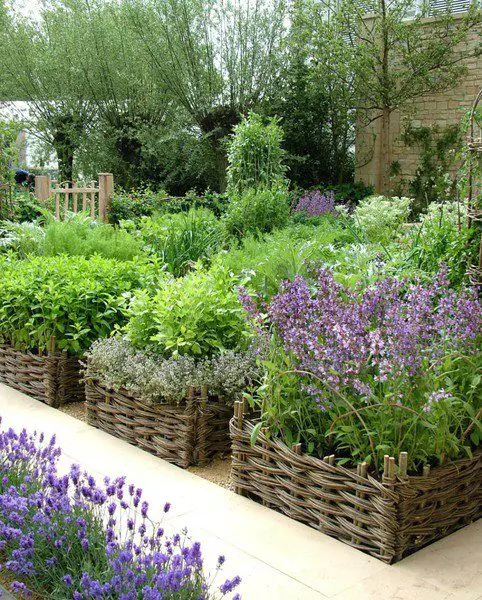 Source: The Garden Glove
Wicker baskets are perfect containers for herb gardens–with a liner of course. You can easily keep your herbs separate and it looks fantastic as well!
22. Topsy-Turvy Terra Cotta Planters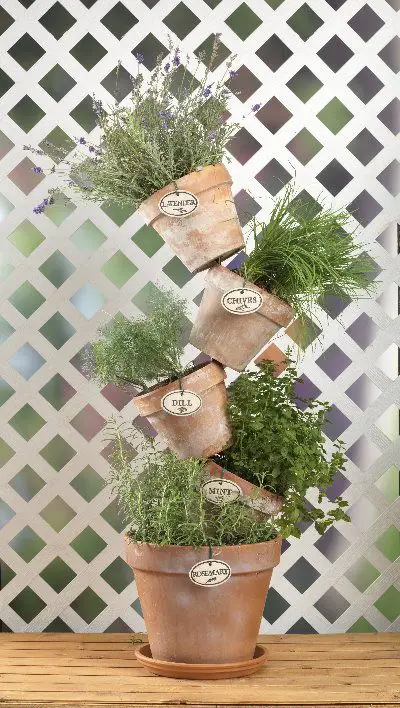 For a more whimsical herb garden, create a topsy-turvy planter and plant a different herb in each tier.
23. Teacup Herb Garden
Source: Intimate Weddings
Tiny mismatched teacups purchased from a thrift store are perfect for the gardener who only needs enough to cook with.
24. Teakettle and Gear Herb Garden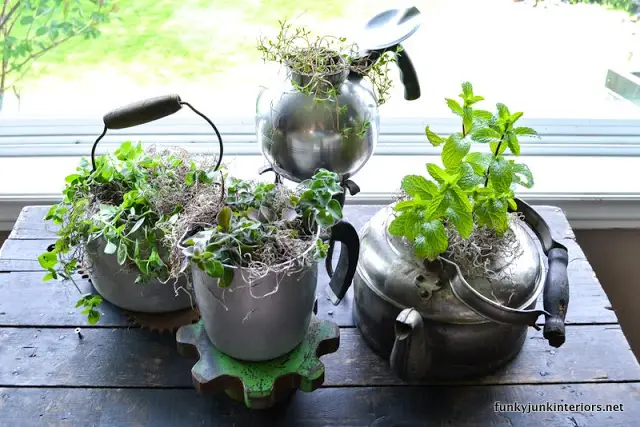 Source: Funky Junk Interiors
Old aluminum cookware are also perfect planters for an herb garden. Just be sure to create drainage holes!
25. Antique Tea Tins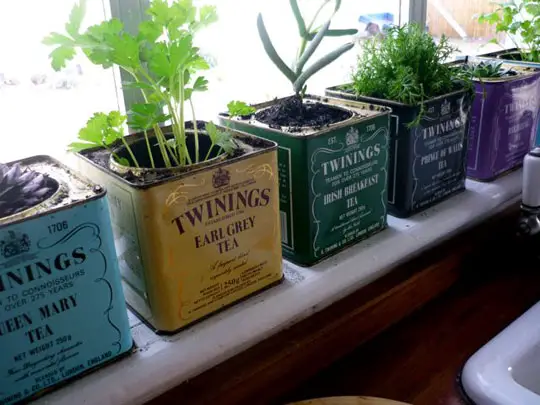 Source: Apartment Therapy
Antique tea tins are beautifully decorative and are the perfect size to sit on your kitchen windowsill.
27. Sunken Kitchen Countertop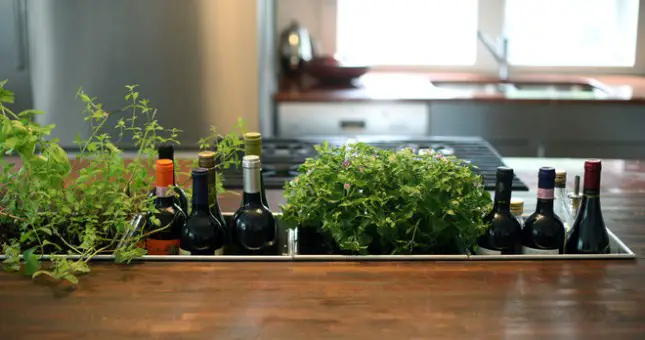 Source: Houzz
Sink an aluminum tray into your countertop or table and use it for whatever you wish, including herbs or as a wine holder!
28. Urban Garden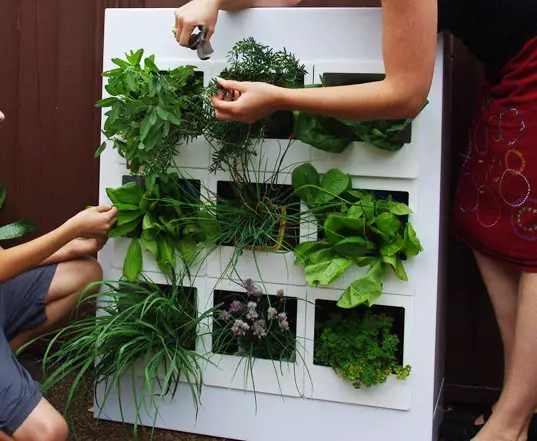 This clever vertical garden is made for small urban spaces, and works well on the ground or hung on a wall.
29. Lavender Hedges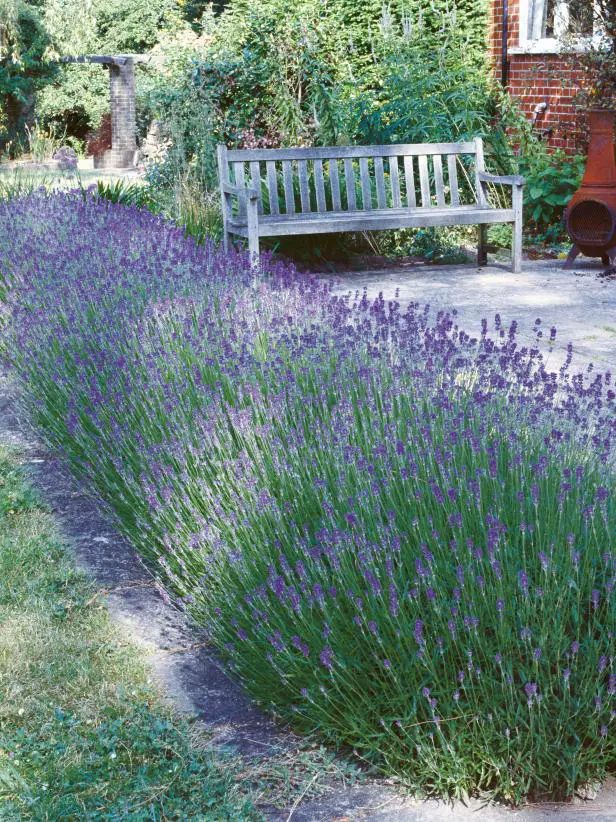 Source: HGTV
Lavender is not only a wonderful herb to cook with, but it's also a beautiful bush that will add color and dimension to any garden.
30. Chicken Wire and Stone Spiral Herb Garden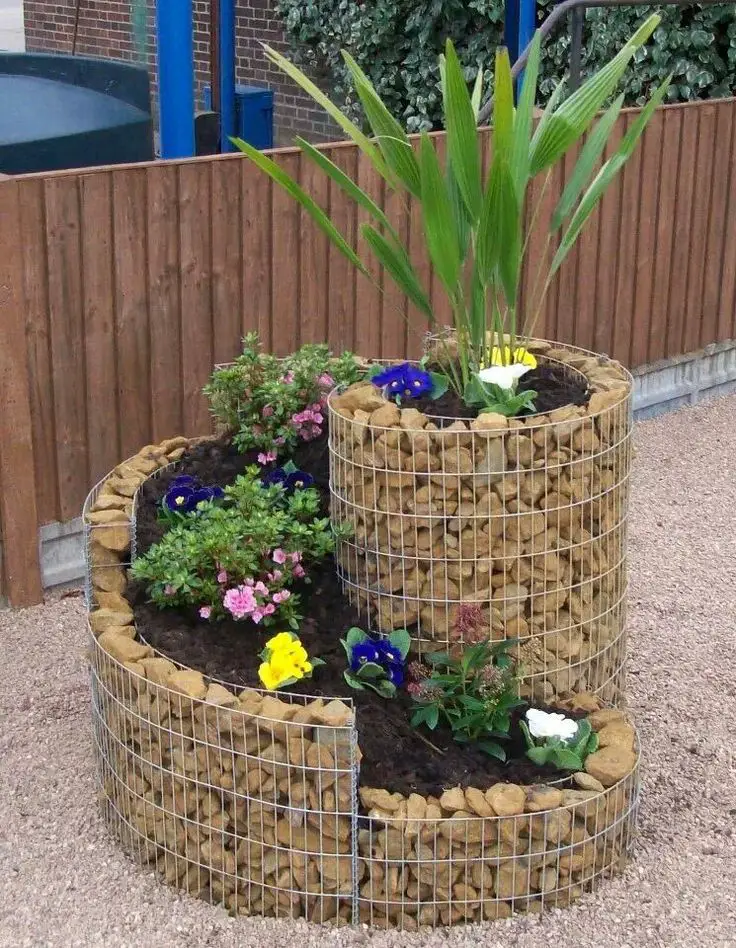 This type is another take on the brick spiral garden from earlier. Instead of stacking bricks, form the spiral out of chicken wire first, then fill with landscaping rocks.
LIKE THESE IDEAS?
YOU'll LOVE THESE OTHER IDEAS!
>> 15 Grand Ideas For Gardening With Antiques
>> 35 Incredible Garden Design Ideas of All Styles
>> 10 Fantastic DIY Garden Projects