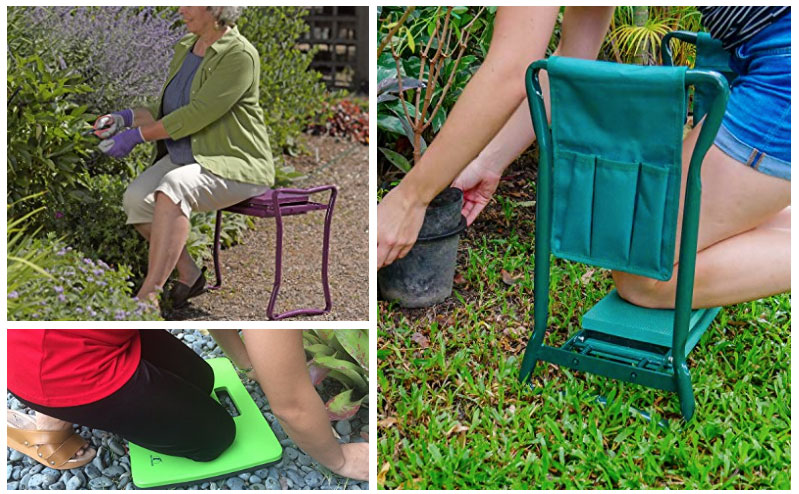 One of the thing that irks me the most about gardening is how sore my knees and back get from bending up and down constantly to tend to my plants. If I kneel in the soil, then my knees can suffer as well, so what is a better alternative?
In this guide, I am going to talk about five of the best kneeling pads and seats for gardening to give you some ideas that will make gardening much easier to manage.
What to Look for in a Kneeler
As with anything that you are purchasing, you are going to want your kneeler to have certain things that will help you out. These features are not required, but they will make your life much easier. Considerations to make include:
Durable Material – You are going to want to find a kneeler that is made using durable material that will last you for years of use. The last thing that you will want is a kneeler that takes a lot of abuse and gets worn out quickly.
Portability – If you are having troubles with your knees and back while you are gardening, chances are that you are having issues with your body at other times as well. Having a gardening kneeler that is easy to move around will make traversing your garden much simpler. Does the product have wheels on the design that will make it easier to move?
Support Weight – Have you ever felt like a chair that you were sitting on was not strong enough to hold your weight? This is a problem that many gardeners face, especially if they have a seat that is less stable than they are used to. Try to get a kneeler that is designed to hold additional weight so that you do not have to worry about it.
Storage Options – When you are gardening, having tools that are easily accessible is a great option that will help you tend to your plants quickly. Most of these products have a place where you can keep shears, a water bottle, and anything else that you may need.
Additional Features – Can the kneeler be flipped and used as a bench? If so, then you can easily sit in the garden and take a small break while you are working.
Garden Kneeling Pad Reviews
1. Ohuhu Garden Kneeler and Seat

The Ohuhu garden kneeler is a great option that can be used when you are kneeling in the dirt or as a seat that you can sit on in your outdoor space. It has a weight limit of 330 pounds, so the majority of people who will want to have a tool like this for gardening will have no issues using it. The frame is made from durable stainless steel, so it will not rust in the rain or take damage easily. In addition, the unit folds up into a more manageable size, and it only takes a few seconds to clean up. For storage purposes, the product also comes with two gardening tool pouches that can be attached to the chair and used at your convenience.
2. Gardener's Supply Company Green Folding Kneeler
This next kneeler is available in both green and purple, so you can choose the color that best matches your personality. The kneeler is designed to be about 30 percent wider than many of its competitors, and the pads on the seat and the kneeling side are quite efficient. This unit has a weight limit of about 250 pounds, which makes it less durable than the first option that we have looked at in this guide, but it is still a great choice that you should consider. The legs of the kneeler are also designed to fold up, which will make it much easier to navigate the streets with it. Weighing in at roughly nine pounds, it is a very lightweight option that you will easily be able to manage.
3. Navy Penguin's Kneeling Pad
If you are looking for an option that will save your knees without costing a fortune, then this option from Navy Penguin could be a great choice to consider. It is a pad that you place down on the gravel where you are working. The green side is an elastic EVA foam that has a density that is 15 to 20 degrees, and the black side is much denser at 38 to 40 degrees. It is designed to be a comfortable size that can accommodate a child's knees to an adult's. It is a lightweight option that you can easily carry, and it comes with a lifetime warranty that will replace it if anything happens. The only downside of this kneeler is that it's not an option that can be transformed into a seat.
4. Heavy-Duty Foldable Garden Kneeler (Holds up to 330 Pounds)
The next option that you should consider is a heavy duty kneeler that can handle the weight of 330 pounds. It is green in color, and it can easily be flipped over on the other side of the legs to turn it into a bench that will give you enough support to make it through the day without experiencing a bunch of pain. When the kneeler is in the seat position, it is about 20 inches from the ground, which makes a comfortable seat that you can consider. It also folds flat for easy storage options and to make it easier to transport it to any place in the garden space.
5. Miracle-Gro 4-in-1 Garden Stool
The final kneeling pad for gardening that we are going to look at here is one that is designed to provide you with a sturdy seat that can hold a weight of up to 225 pounds. It is only about 4.4 pounds in weight, and it is built to be a durable option that can easily last for years. The product can also be flipped over and used as a kneeling pad, which can make gardening much easier on your knees. In addition, there is a storage space that is designed to sit on wheels so that you can quickly move it around your garden. This product is also easy to clean, and it is UV-resistant so that the sun exposure does not fade the material or cause it to crack over time.