Annuals make for a vibrant addition to your garden, especially in the summer months. From pretty poppies to baby blue eyes, California is home to multiple species of annuals in its gardens.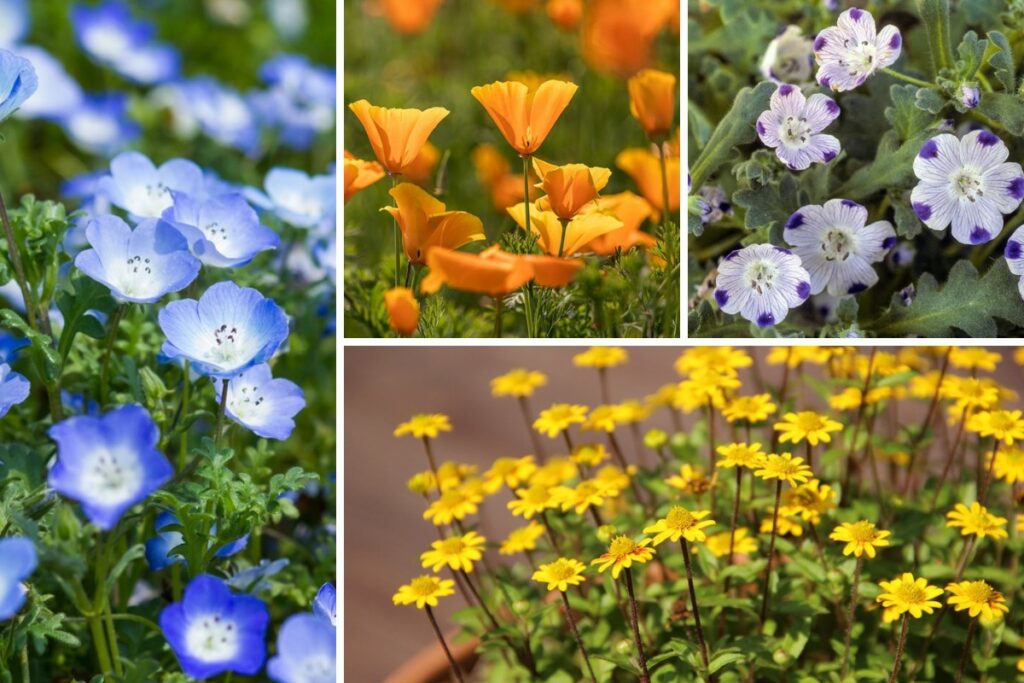 These darling flowers are ideal to cover up any empty spots in the garden. Plus, they're relatively convenient to keep, cheap, and versatile. Stick around to learn more about what the Golden State has in store for its annual flower options.
1. Arroyo Lupine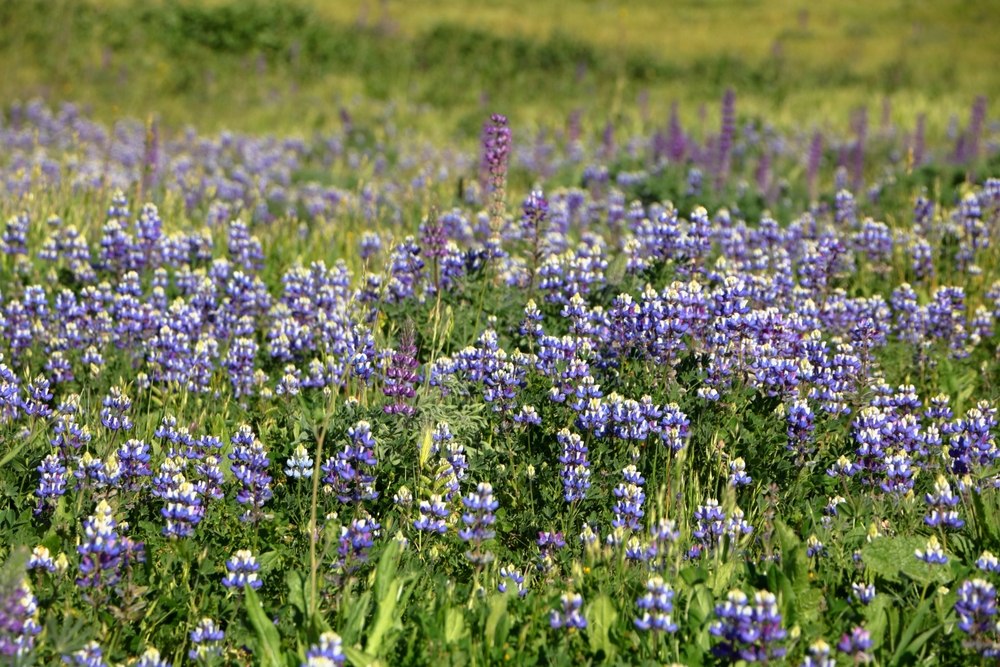 At first glance, you may think you're looking at a patch of lavender. Nevertheless, it's the Arroyo Lupine. These annuals are tall wildflowers with small teardrop-shaped purple and blue petals.
In terms of size, the flower can grow up to two to four feet tall and three feet wide. It blooms around April to May. The Lupine's USDA growth zone ranges between 7 to 10.
When caring for this lavender-colored flower, you need to provide it with either full sunlight or partial shade. The flower also prefers well-draining soil.
2. Baby Blue Eyes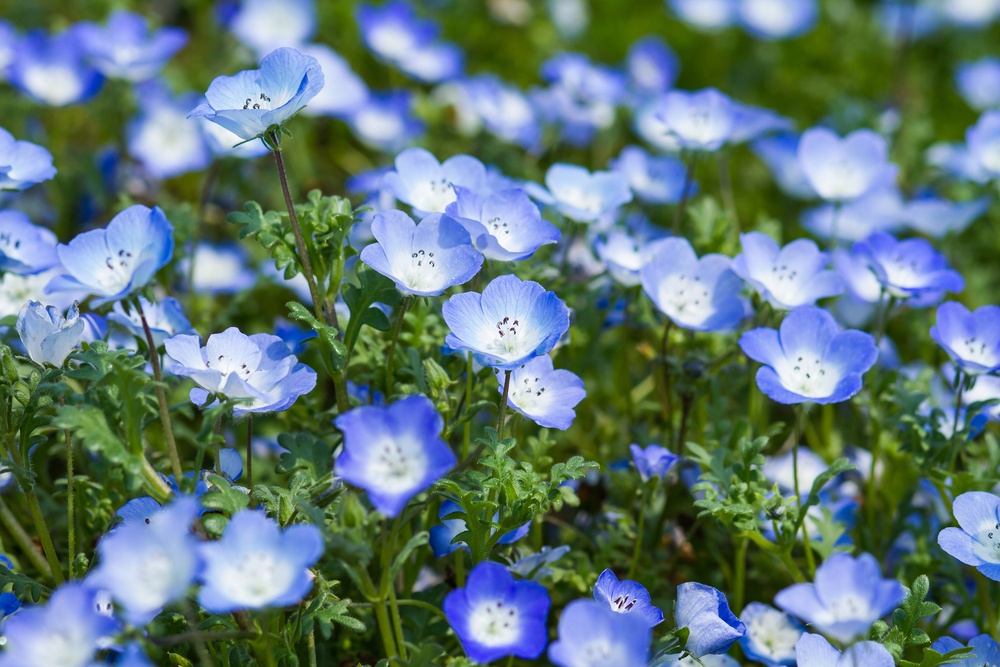 Baby blue eyes almost seem like they mirror the blue sky color above them. The flower is adorned with five thick petals and a white interior.
It also contains about five white, dark-ended anthers in the middle. The vibrant flower blooms around springtime. It can span up to six inches in height and about a foot in width.
The sky-blue flower prefers partial shade or full sunlight. Additionally, we suggest watering the annual only if its soil feels dry to the touch. Aside from that, the flower's growth zones fall between 7 to 10.
3. Globe Gilia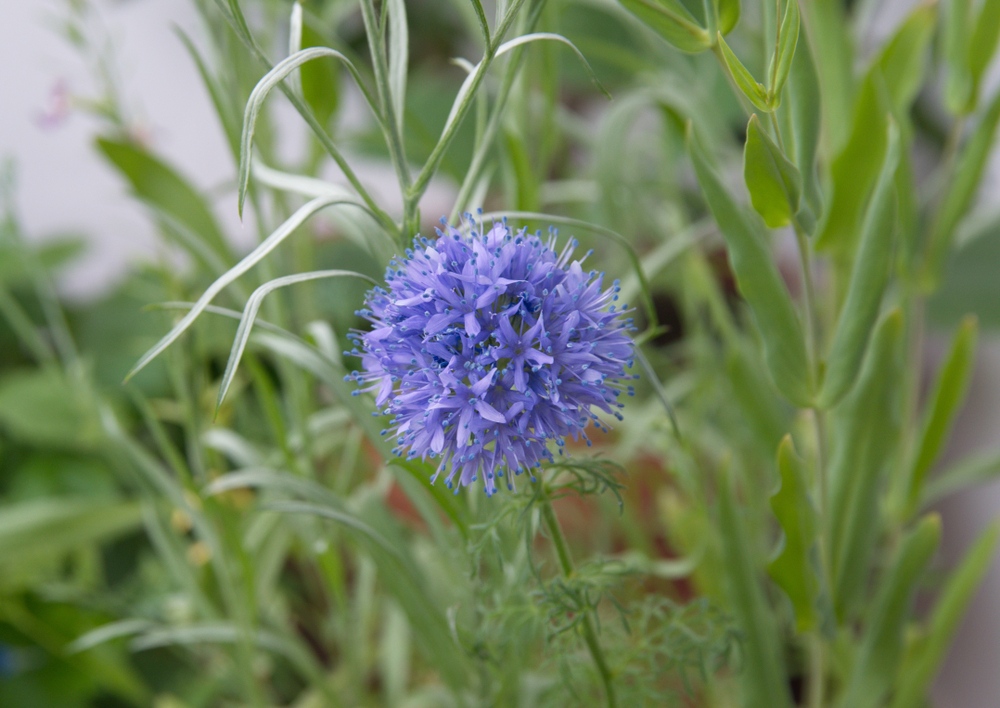 Globe Gilia are ideal for dotting your garden with stalks supporting blue clustered flowers. The flower petals jut outwards to create a ball-like appearance.
The Gilia can grow around 6 to 24 inches in height and 9 inches wide. Care-wise, you only need to water this annual a couple of times per month during the summer. It prefers well-draining soil as well as full sunlight exposure.
Apart from that, you can plant Gilias in USDA hardiness zones 6 to 10. With the right care requirements met, your gorgeous Gilias can bloom healthily during the period between late spring and mid-summer.
4. Golden California Poppy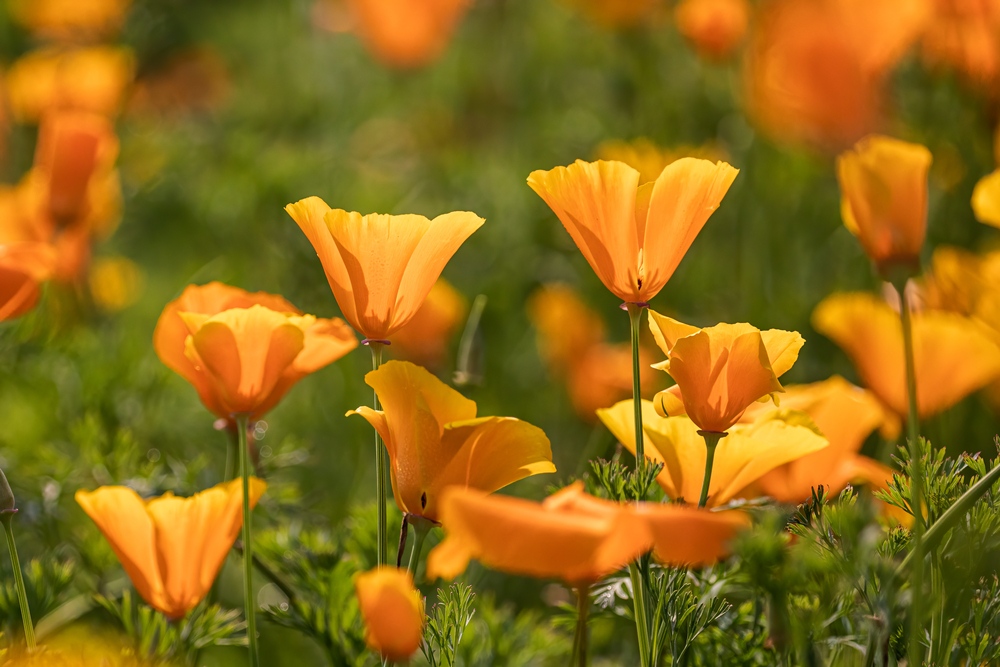 We couldn't complete this list without mentioning California's signature poppy flower. The annual is decorated with four orange-colored, thin-edged petals. Poppies in California usually bloom during spring to early summer.
Unlike some annuals mentioned, the poppy grows in bushy foliage up to a couple of feet wide and tall. Interestingly, the state of California banned poppy picking on a state or private property.
If you're out and about for the most part, then poppies could be your best bet for a maintenance-free flower.
As a drought-tolerant plant, it usually gets its water from rainfall. They're also not picky when it comes to soil. Overall, California poppies thrive in growth zones 5 to 10.
5. Five-Spot Nemophila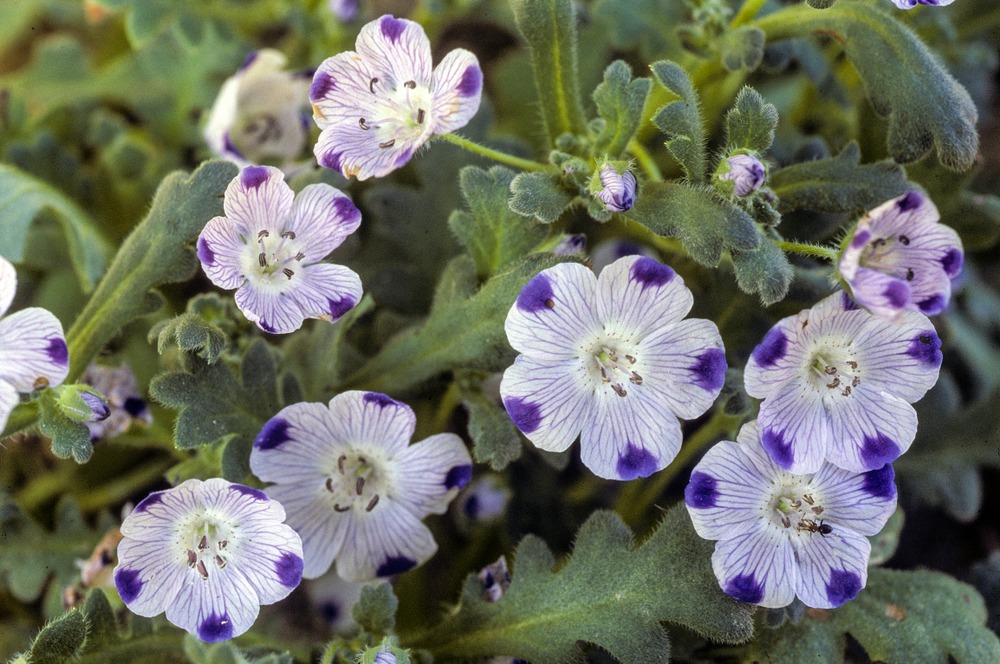 If you're looking to add eccentricity to your garden's aesthetic, this Five-spot wildflower could be your next purchase.
The flower's base color is white and it contains distinctive five dark purple spots on the mid-edge of each petal. Additionally, you may notice traces of blue veins on the five petals. The unique-looking annual usually blooms between mid-spring and mid-summer.
It can grow around 6 to 12 inches in height and width. Caring for the Five-spot nemophila requires a lot of water since it's drought intolerant.
The wildflower blooms best in well-draining and fertile soil as well. In terms of placement, try to keep it in either a sun-rich environment or partial shade. The nemophila has a wide growth zone reach spanning between 3 to 10.
6. Mountain Garland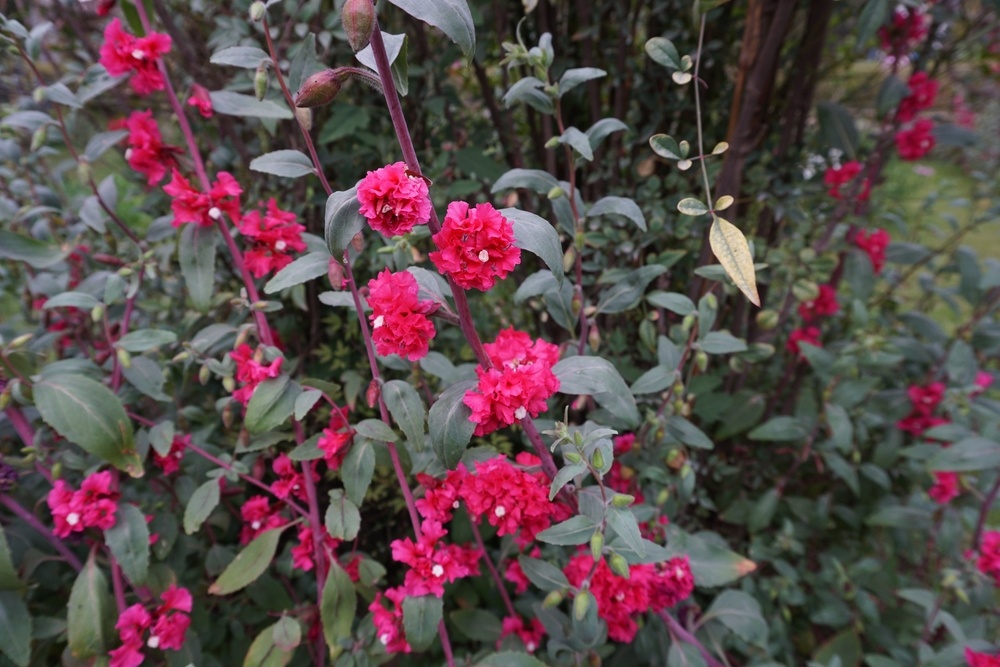 Mountain Garlands are fitted in tall wax-textured stems. The compact blossoms grow in several rose and purple-tinted shades ranging from salmon to pink.
The flower can grow around 24 inches in height and about 8 to 10 inches in width. Garlands can bloom in spring, summer, and fall.
Mountain Garlands favor full sunlight, moderate watering sessions, and pH-neutral soil. The flower's growth zone ranges from 1 to 11.
7. Slender Sunflower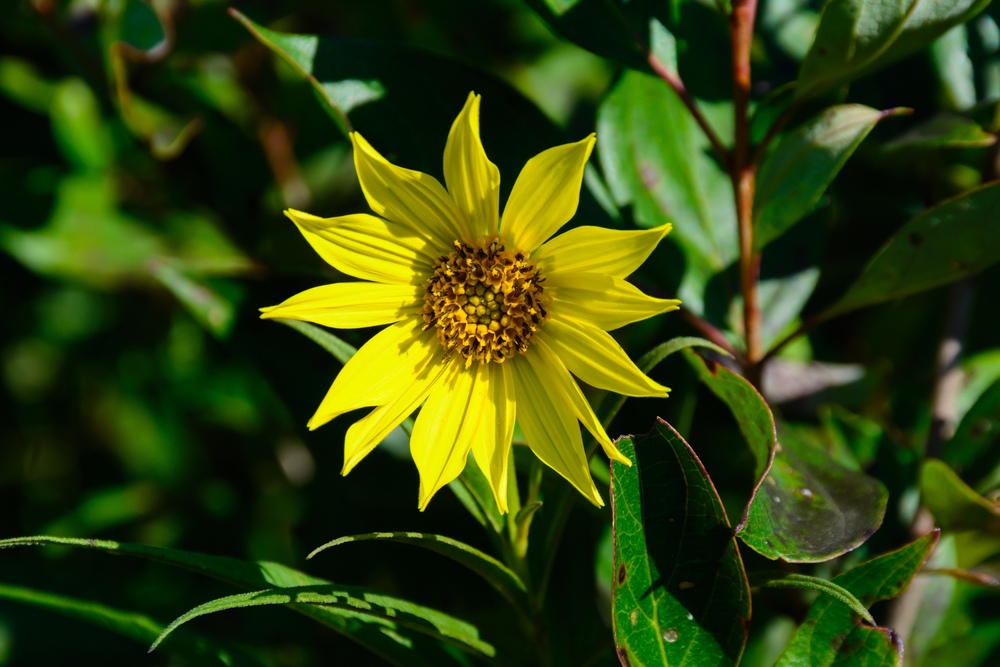 Growing from a single stem, this flower species resembles a miniature sunflower. The slender sunflower can brighten any garden with its vividly yellow thin petals.
The annual can grow approximately two to six inches lengthwise, and three to six inches in width. The blooming window of slender sunflowers opens between May and October.
Slender sunflowers flourish in a sunny landscape. When kept indoors with optimum light conditions, you can water it with 0.9 cups of water every week.
For sufficient draining, we recommend adding perlite. Besides that, the best growth zone for the mini-sunflower is 7.
8. Godetia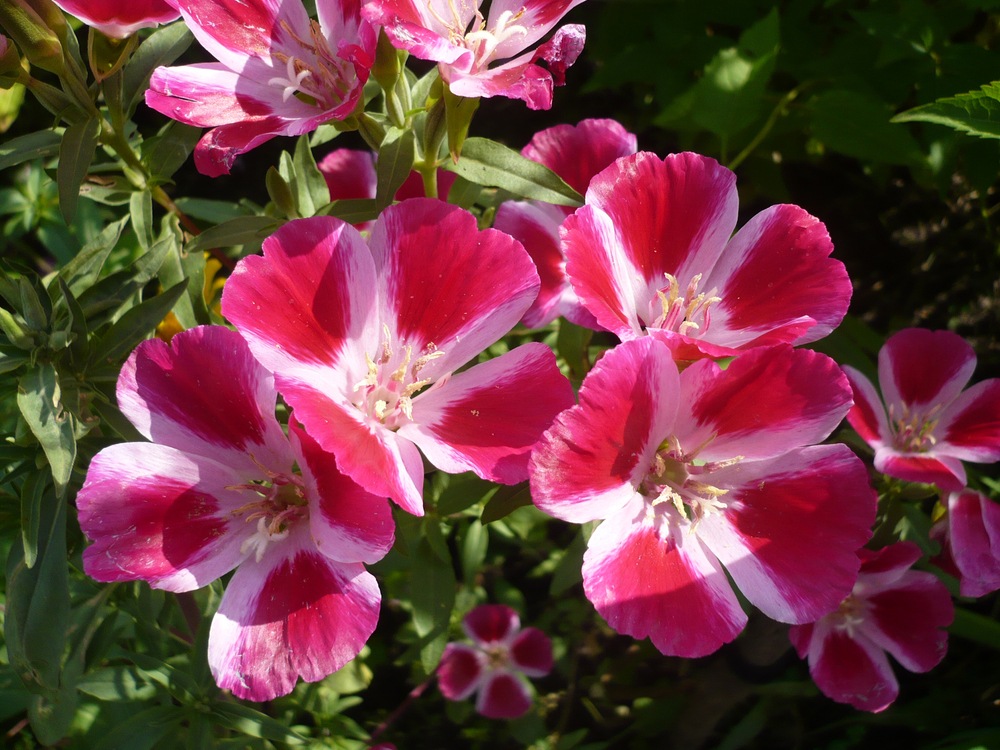 Godetias are fitted with satin-like thick petals that come in a variety of shades. Some of these include pink, purple, white, and red. The annuals can also appear with two color blends such as a white-tipped option with a deep pink interior.
These flowers grow in clusters and grow around a couple of feet tall as well as one foot wide. Godetias generally flower from June to July.
To care for Godetias, you'll want to provide full sunlight or partial shade and well-draining soil. When watering the flower, be sure to check the soil if it's damp or not.
Otherwise, puddling the flower will risk overwatering and wilting. The colorful annual can grow in USDA hardiness zones 3 to 10.
9. Desertbells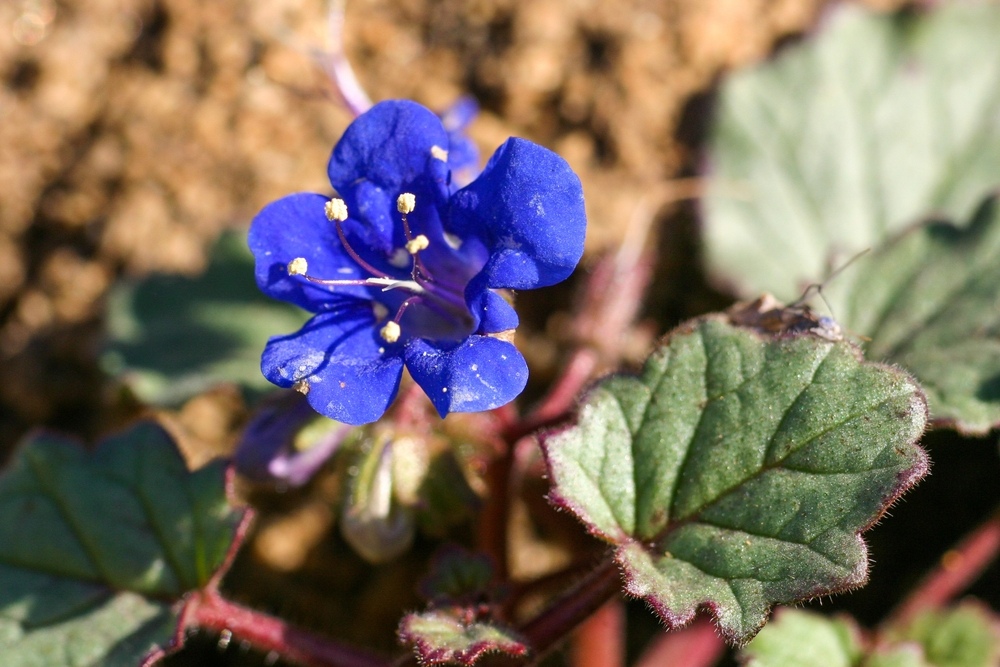 For a touch of royal blue in your garden, you can't go wrong with a few desertbells. The flower is dressed up with five rounded blue and purple petals and a few white-tipped anthers sticking out.
The clustered flower can grow around one to two feet tall and wide. Its boom time can range between winter and spring.
Desertbells prefer full sunlight and sandy soil. In turn, they're exceptionally drought tolerant and may only need watering during the absence of rainfall. That being said, the annual's USDA growth zones go between 9 to 10.
10. Red Ribbons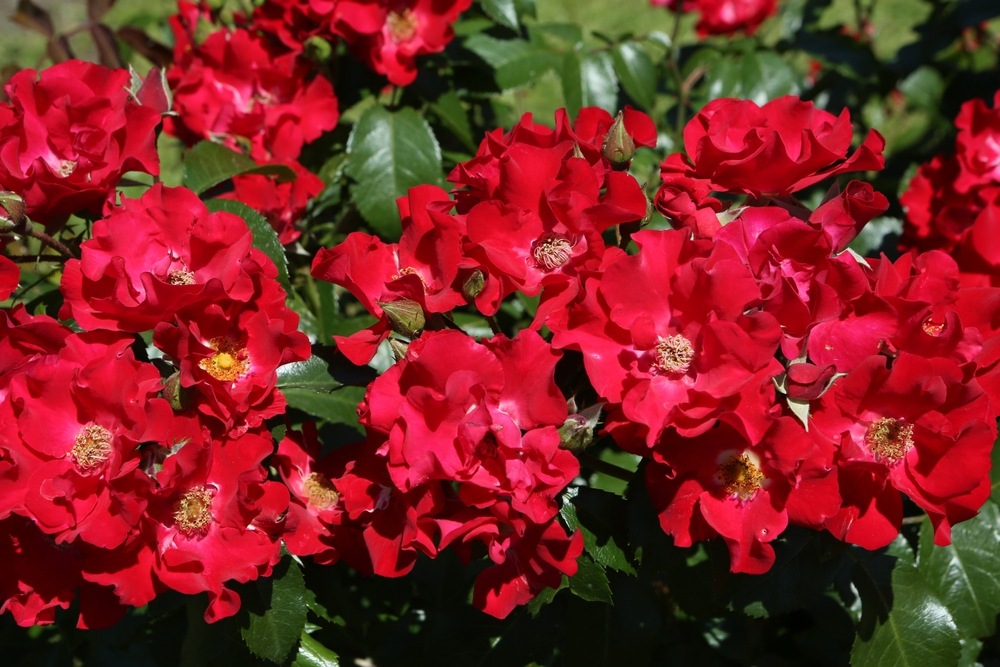 For a more exotic jungle aesthetic, Red Ribbons could be your first choice. These flowers come in bright pink and purple shades. The annual has four thin, fringed petals.
Each petal contains about three extending prongs. The flower also has distinctive white strokes blended in the midsection.
The annual can grow around a foot in both length and width. It usually blooms during the spring and summer months.
Luckily, the care requirements for Red Ribbons are moderately easy to follow where you need to provide full sunlight or partial shade.
Plus, the pronged flower may require a bi-weekly watering session in loam soil. Having said that, Red Ribbons flourish best in USDA zones 4 to 9.
11. Seep Monkey Flower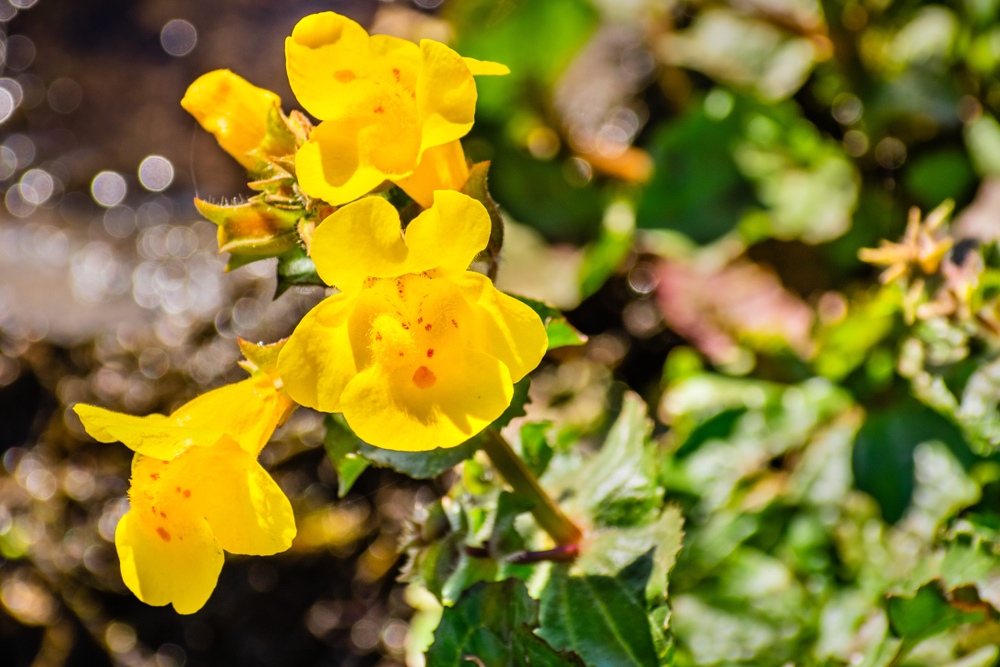 The Seep Monkey flower offers an appearance reminiscent of snapdragons with its tubular-shaped petals. The yellow petals are divided into two at the top and three at the bottom.
Its lower petals are, for the most part, covered in orange spotting as well. The hairy-leafed plant extends about two to five feet in length and 0.6 feet in width.
The yellow Monkey flower blooms during spring and winter. Keeping the flower's soil moist is your top priority as well as providing full sunlight or partial shade. In addition to this, you can grow this annual in USDA growth zones 3 to 9.
12. Elegant Clarkia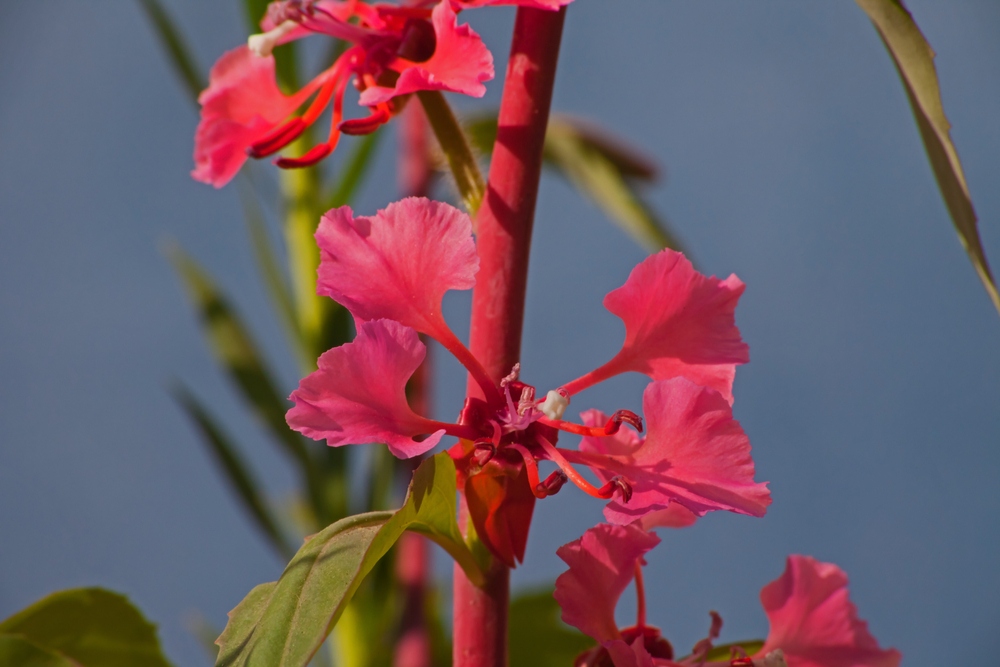 The Elegant Clarkia is almost spindly in appearance. The annual is fitted with four thin paddle-like pink or red petals. The flower can grow up to three feet tall and wide. It also blooms during summer and fall.
When it comes to care requirements, well-draining moist soil and full sunlight or partial shade are the way to go. In terms of growth zones, the annual thrives in 9b to 10 regions.
13. Sticky Phacelia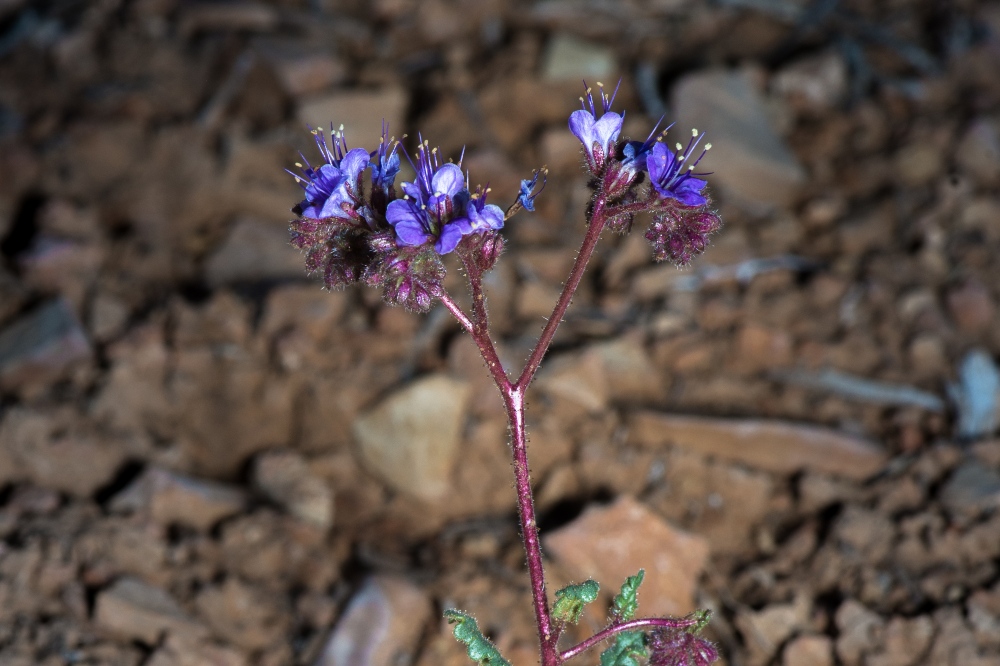 As its name suggests, Sticky Phacelia is indeed coated in a sticky layer. Apart from that, the royal blue annual has five round petals attached to it as well as white-tipped anthers. The flower's mid-area has an intriguing almost lacy white pattern.
Stick Phacelias can grow a couple of feet tall and wide. Plus, they flower during springtime. The good news is that the vibrant flower requires little watering care and enjoys basking under full sunlight.
14. California Goldfields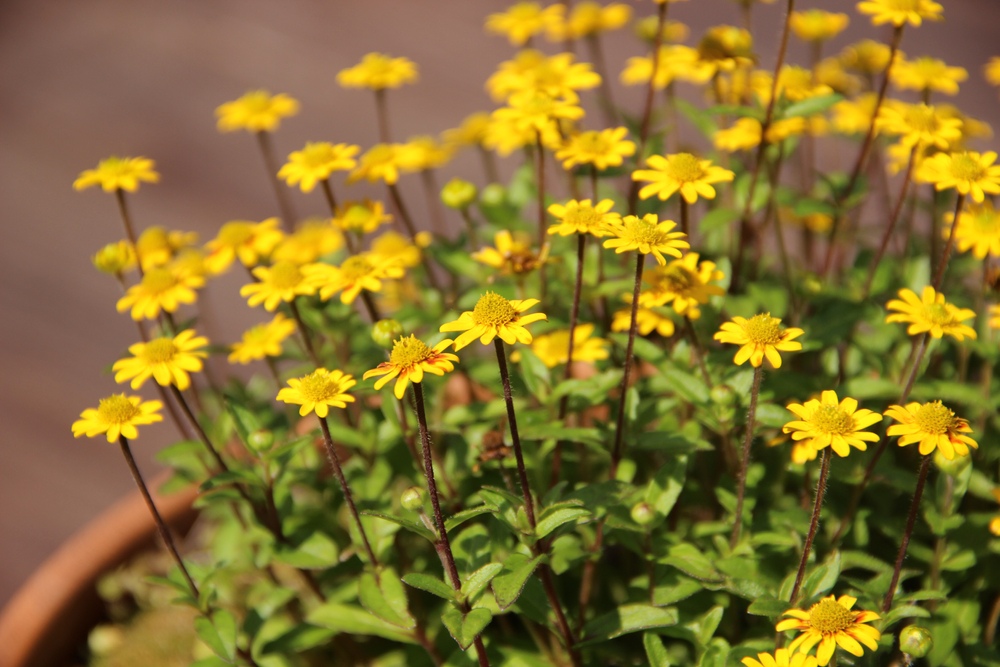 If you're looking to spark joy in your garden landscaping, California Goldfields will brighten any passerby's day. The resembles a daisy, except it's all yellow-colored with thicker petals. Plus, it has a slightly darker yellow fuzzy disc mid-section.
The annual can reach approximately 0.5 to 1 foot tall and 0.5 feet wide. Besides that, it flowers in winter and spring.
California Goldfields are relatively easy to care for since they mainly collect water from rainfall. Aside from that, the lovely Goldfields thrive best in USDA growth zones 6 through 11.
15. Common Tidy Tips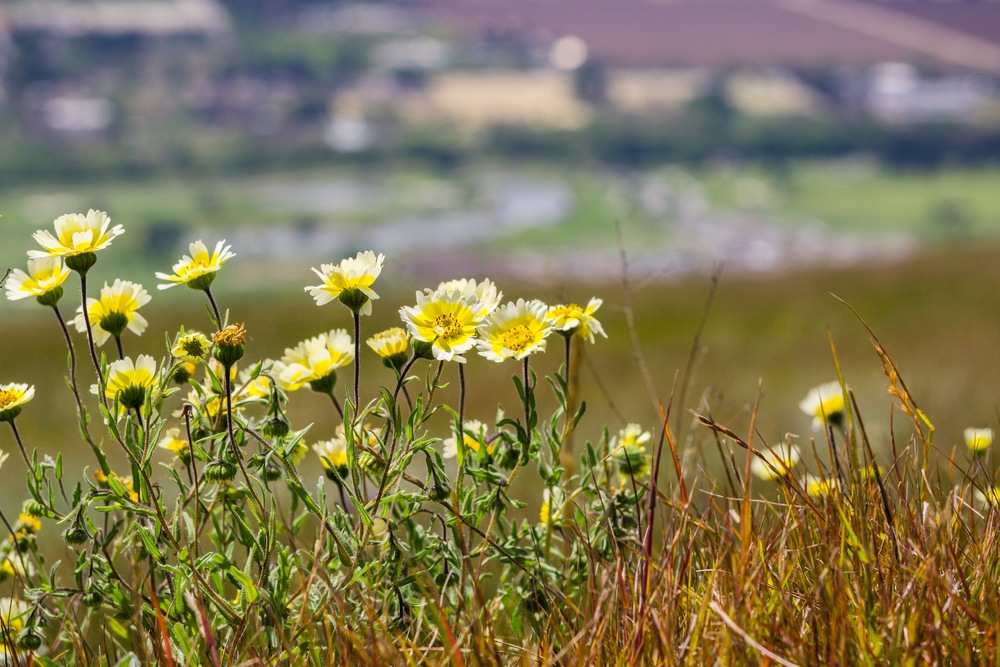 Like California Goldfields, Common Tidy Tips also bear some resemblance to daisies. Tidy Tips have centered yellow disc flowers that extend to multiple yellow-colored petals. Right at the edge of every petal, there's a white tip.
The annual can stem up to 0.5 to 2 feet tall and wide. Tidy Tips can bloom around spring and winter. They're generally not fans of hot and humid weather. Additionally, the flower can grow in full sunlight conditions and well-drained soil. Overall, the flower can germinate best in USDA zones 3 to 10.