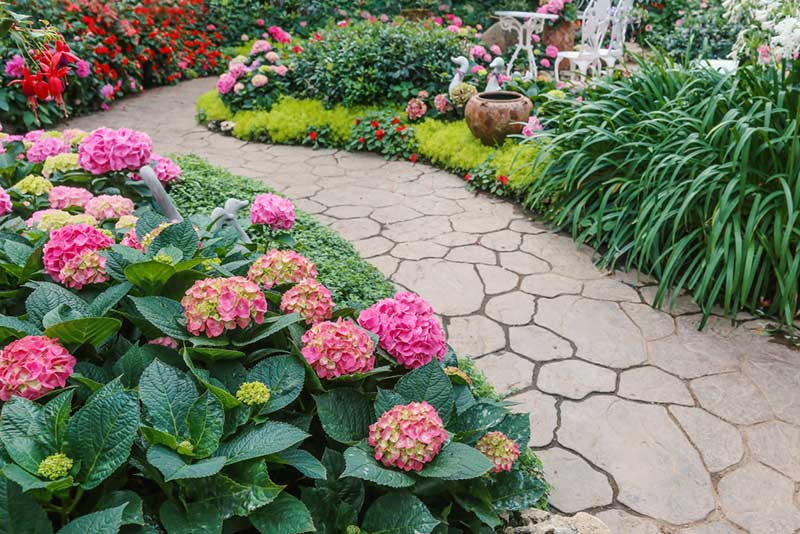 Nothing is more inviting than a beautiful plant-lined walkway. If the walkway is in the shade, it will need to be created using plants that don't require much if any sunlight.
When flowering plants such as impatiens, geranium cranesbill, and primrose are placed in front of green backdrops, their colorful blooms create a striking effect.
Ferns, known for their graceful green fronds, are a perfect choice for backdrops.
Foliage plants come in a variety of shades of green, so they can also be used to add color. A pleasing walkway can be created by mixing bright green foliage with olive green, light green, or even variegated foliage.
And for narrow border areas, bluish-green foliage creates the illusion of depth. Using different leaf forms and textures is another way to add a little excitement to a shaded border. For example, place delicate foliage such as that of ferns beside plants with larger, rounded leaves such as coleus for an impressive effect.
Tall flowering plants such as hydrangeas with their massive blooms or nicotiana with fragrant, trumpet-shaped flowers can be planted in groups for a dramatic effect or used as specimen plants throughout the border area.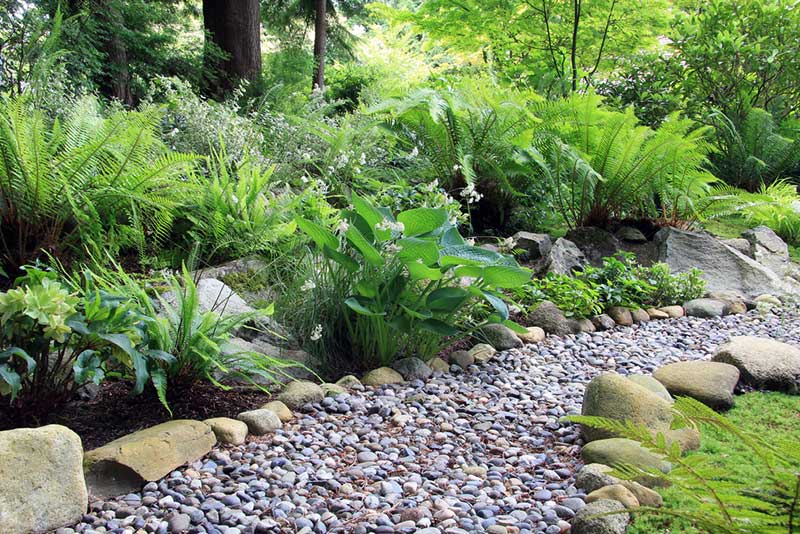 Plants such as astilbes and coral bells provide both showy blooms and lovely foliage. Despite their name, dead nettles bring the border to life with both attractive foliage and pretty blooms creating a gorgeous tapestry beneath trees and other plants.
The following plant descriptions will help you decide which plants are right for your shaded walkway.
Hydrangea
For a stunning walkway, Hydrangea is a perfect choice. Hydrangea is considered a shrub and they bloom in the spring and summer. They can reach up to 15 feet in height and grow really quick.
Nicotiana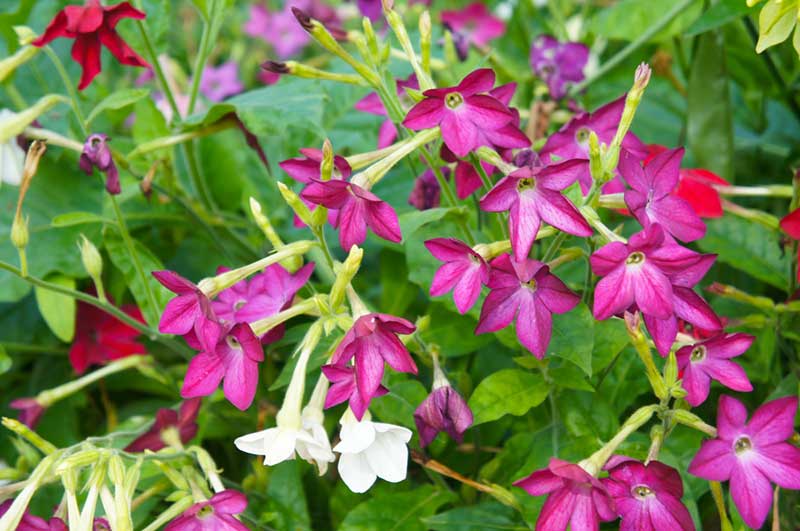 Nicotiana will add really pretty colors to your shaded walkway. Nicotiana plants grow from a few inches to up to 5 feet tall.
Ferns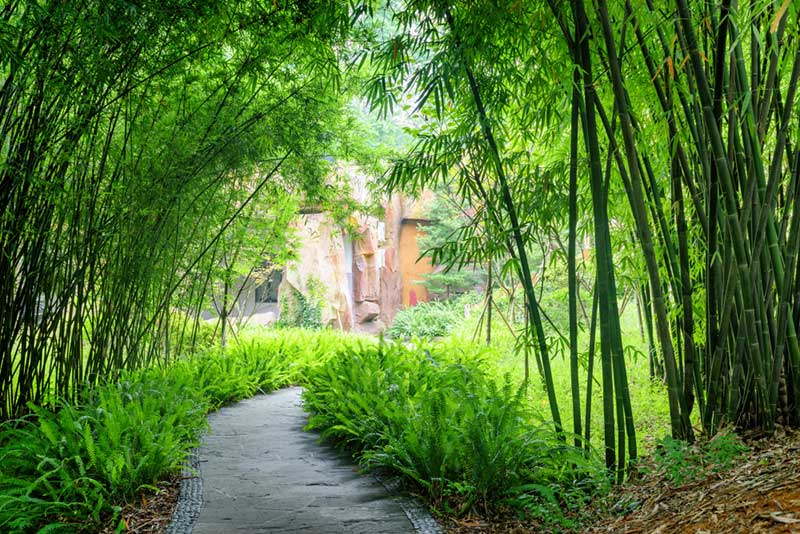 Ferns are perfect for a full to part shade walkway. They thrive in slightly acidic, moist soil. Ferns are also known to be deer resistant.
Impatiens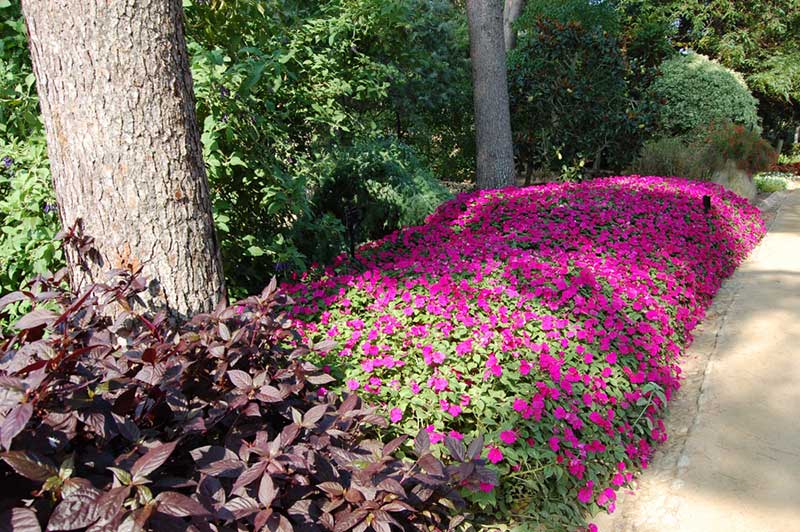 Impatiens is an excellent choice to plant along a shaded garden walkway. They bloom in the summer and fall and grow between 6 to 30 inches tall in zones 10 and 11. You can find Impatiens in orange, pink, white, red, purple and yellow. They are also known to attract birds in the summer.
Coral Bells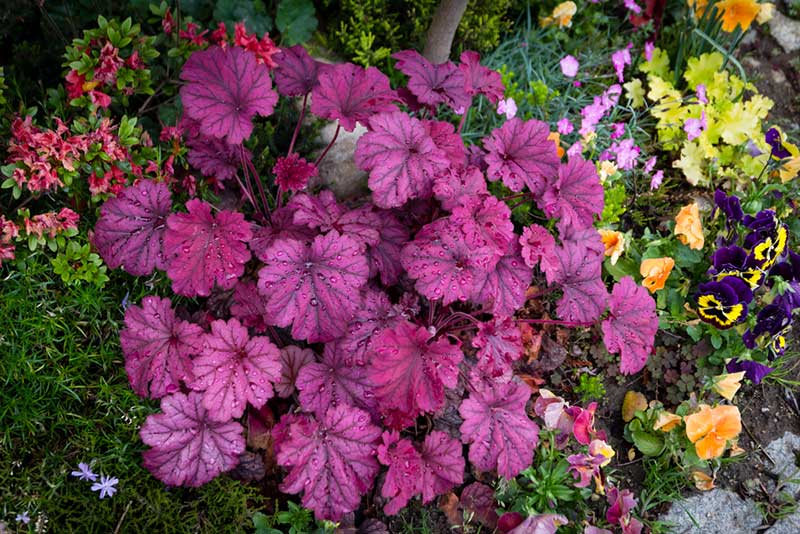 Coral Bells are perennials that can grow in part shade and perform best in medium moisture soil. Coral Bells are low-maintenance and they can grow 1 to 3 feet tall. They thrive in zones 4-9. Great choice to plant along pathways!
Coleus
Coleus is a great plant to use as foliage along a shaded pathway in your home and garden. They come in a variety of colors.
Geranium Cranesbill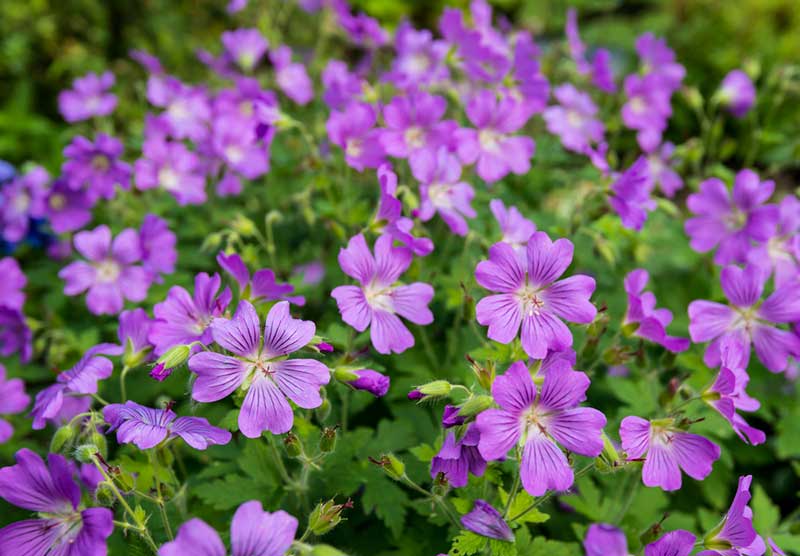 Cranesbill is simply a beautiful flower that would look amazing planted along a walkway. They require very low maintenance and thrive in moist soil. Cranesbill is known to be resistant to deer and rabbit. Plant them in zones 4-9
Primrose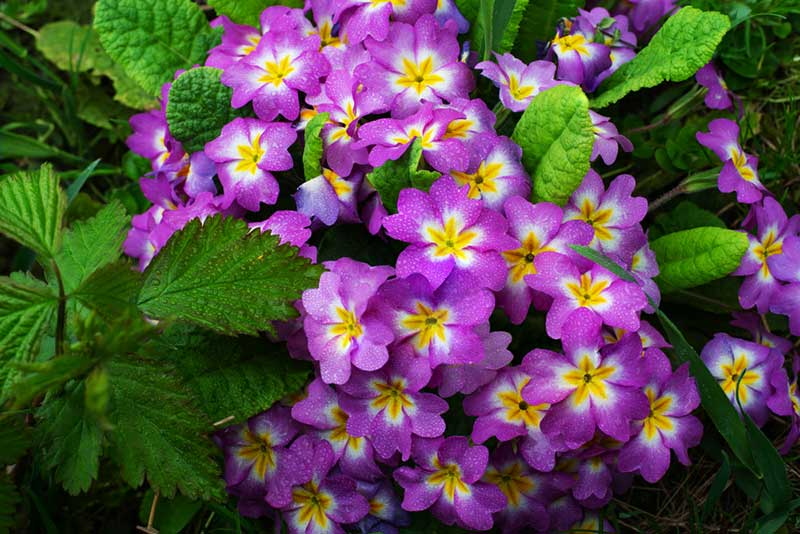 Primrose is versatile and can be grown in part sun to full shade. An excellent choice for beds, walkways, and under trees. They can grow to be 3 feet tall. Primrose grow best in moist, drained soil. Use mulch to maintain soil moisture around plants. Check out the different varieties of Primrose here
Dead Nettle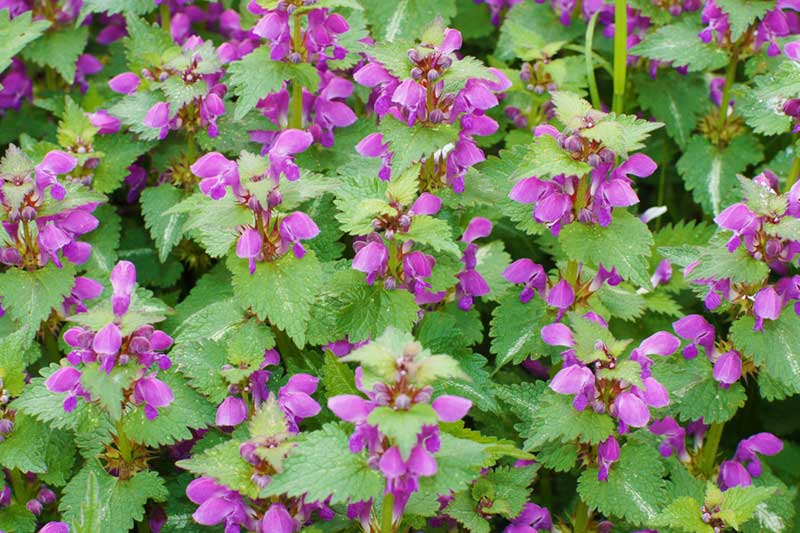 Dead Nettle is an excellent plant to grow in a shade garden. They flower in beautiful white, pink and magenta. Dead Nettle can grow 4-8 inches tall. Grow in hardiness zones 3-8.
Astilbes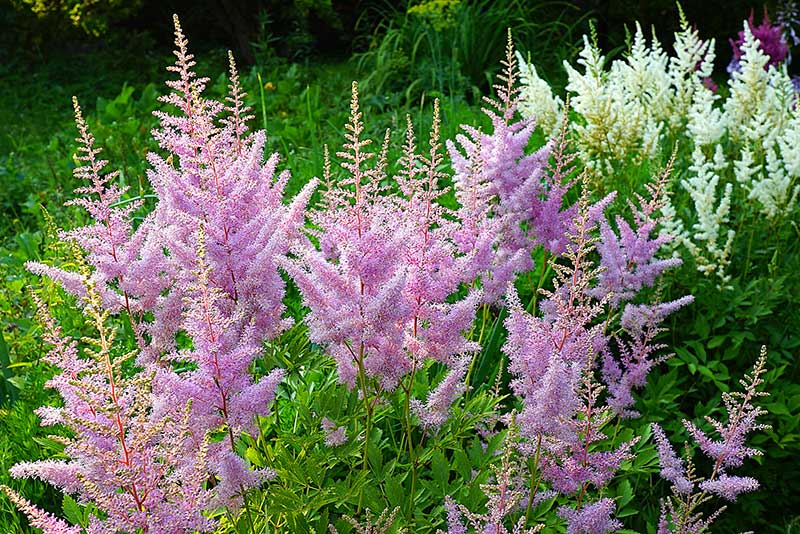 Astilbes are beautiful perennials that thrive in shade. They prefer moist soil that is slightly acidic to neutral. Astilbes bloom in spring and summer with beautiful white, pink and red flowers. As long as you keep the soil moist these gorgeous plant will be a great choice for a shaded walkway.
Related Articles: