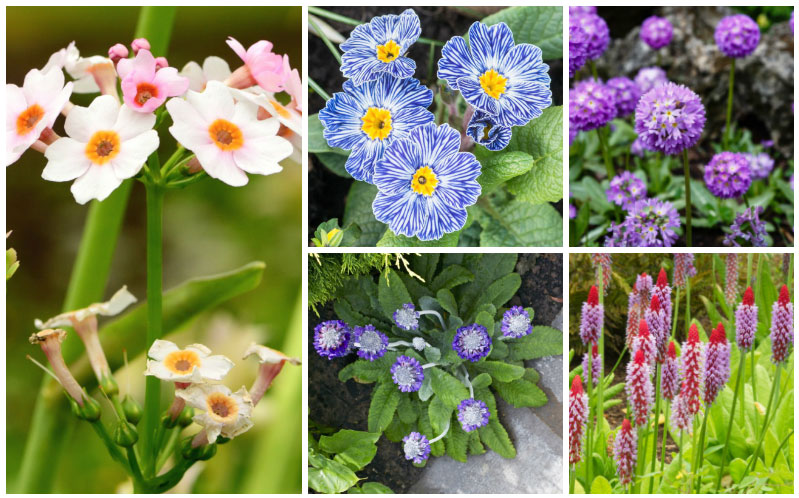 Plants from the Primula Family, or Primroses, are famous perennials known for their bright flowers that grow in various shapes and colors. Primroses are staples in cottage gardens as they can grow in various conditions. In this article, we talk about 17 types of Primroses that you can add to any gardening space.
Types of Primrose Plants
The flowers of the Primula Family usually bloom from early spring to late summer. However, some of them might bloom in winter or fall. When you choose and mix the right varieties, you can enjoy almost 12 months of bright colors in your garden or patio. Here are 17 types of the Primrose Plant.
1. Oenothera Speciosa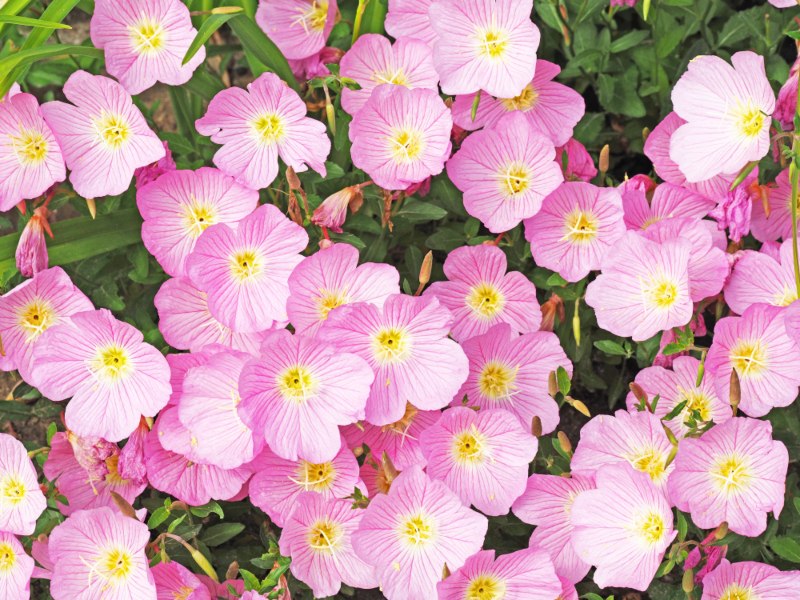 The Evening Primrose grows in hardiness zones 4 to 9 and blooms from spring to fall. The bowl-shaped satiny white flowers are fragrant and age to show pink veins. They open in the evening and stay open till late in the morning. The oil of the Evening Primrose has therapeutic benefits.
If you have alkaline soil, then growing the Evening Primrose might work for you because this plant is very tolerant of less than perfect soil conditions. It's grown as a ground cover and attracts birds.
2. Primula Baltic Amber
The lightly fragrant amber-orange double flowers bloom from mid to late spring and grow in zones 3 through 8, with the plant reaching a maximum height of 6 inches. This plant is very versatile and can be grown in any soil with full or partial sun exposure.
3. Primula Belarina Cobalt Blue
The rich-blue double flowers of the Belarina Cobalt Blue will bloom throughout spring. They're best grown in containers or at the front of borders due to their unusual color.
The blue flower loves the sun but can tolerate partial shade. It grows in hardiness zones 4 through 8 but needs some attention as it can easily get infected with aphids, slugs, leaf and bud eelworms, and leaf-minting flies.
4. Primula Vialii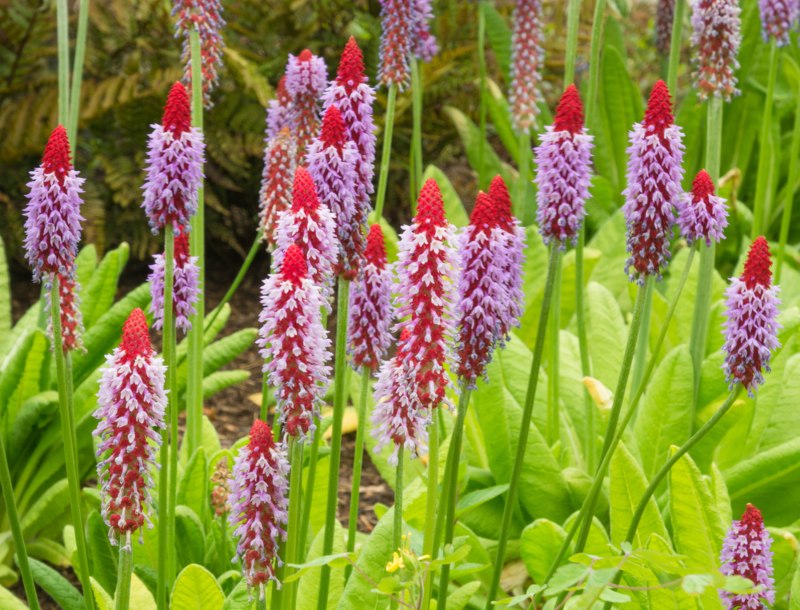 Also known as the Orchid Primrose, this plant grows unique spires of tiny pinkish-purple flowers. The flowers are likely to last throughout the summer and add a special effect to your garden or patio when grown in groups.
The Orchid Primrose is short-lived but it will self-seed when the growing conditions are satisfactory. It grows in zones 5 through 8 and prefers partial shade.
5. Primula Denticulata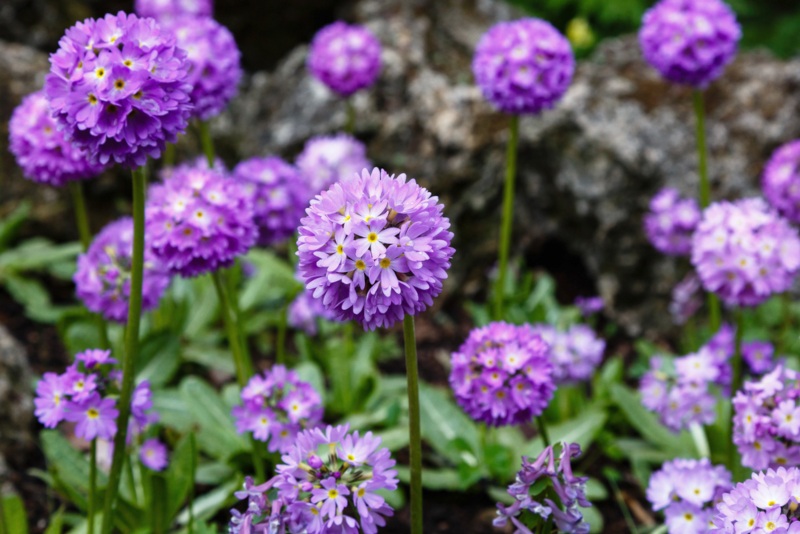 The Drumstick Primrose is an attractive perennial that grows in hardiness zones 2 through 8. It grows rounded flower heads with several flat flowers in shades of purple, blue, lilac, white or pink that have golden eyes in the center. Primroses love partial shade and can be grown in patios, flower beds, and containers.
6. Primula Gold-Laced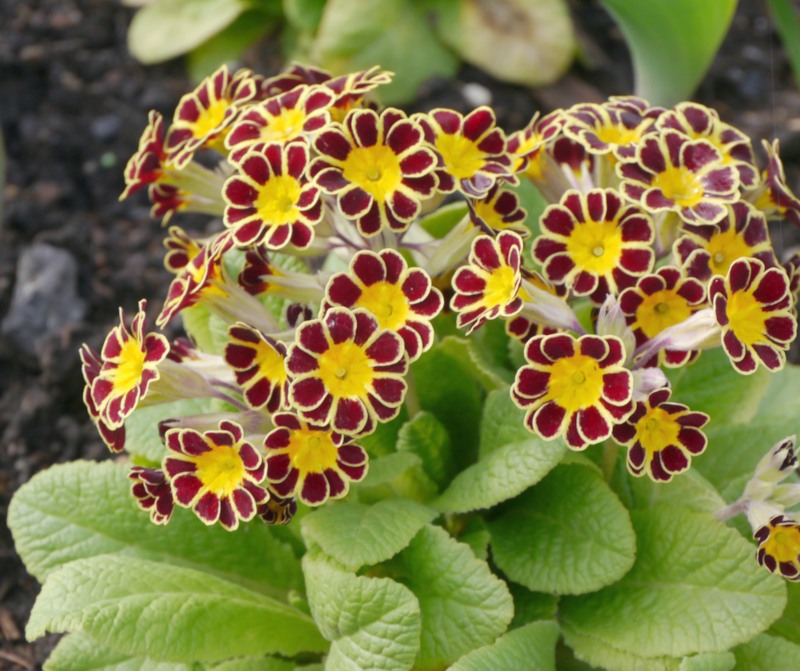 The green leaves of this plant form rosettes and produce flat flowers that have golden centers and edges. The petals are usually very dark red and this is why people usually choose to grow them at the edge of flower beds. They bloom in spring and prefer partial sun. You can grow the Gold-Laced Primrose in zones 5 through 8.
7. Primula Romance
The Romance Primrose plant forms a rosette of dark green leaves covered by bright pink double flowers. The bright pink petals are lined by a white ribbon, making them great cut flowers.
Romance Primroses can be grown in containers, beds, borders, as well as gardens and patios. This plant is tolerant of several soil types and grows in zones 4 through 8.
8. Primula Auricula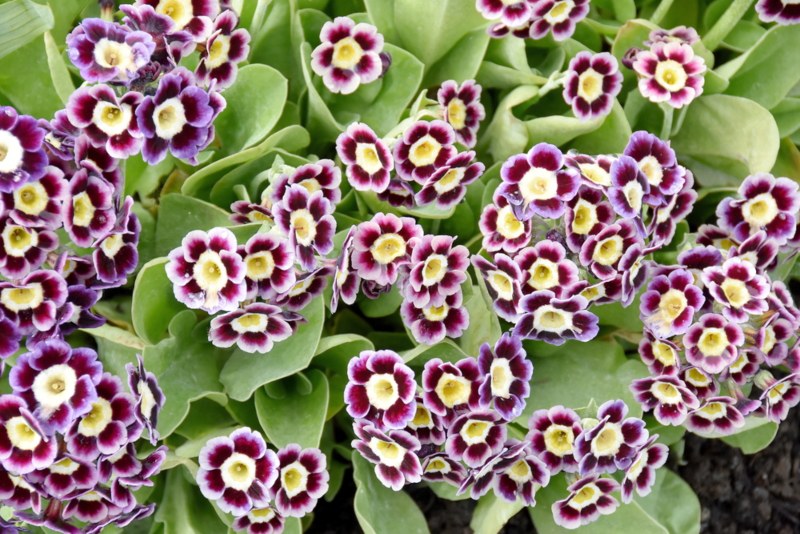 This prolific flower grows in hardiness zones 3 through 8. Also known as Adrian Primrose, the rosettes of leaves support clusters of rich purple flowers that feature lighter petal tips and a creamy center.
These perennials prefer partial sun in rock gardens and containers and will bloom throughout spring. Deadheading is necessary to promote new growth.
9. Primula Veris
The Common Cowslip grows in zones 5 through 8 and has large umbels of yellow, orange, and coppery red flowers. These fragrant flowers love partial shade and will bloom in spring. They're versatile and can be used in edging or grown in containers. The flowers attract butterflies.
10. Primula Zebra Blue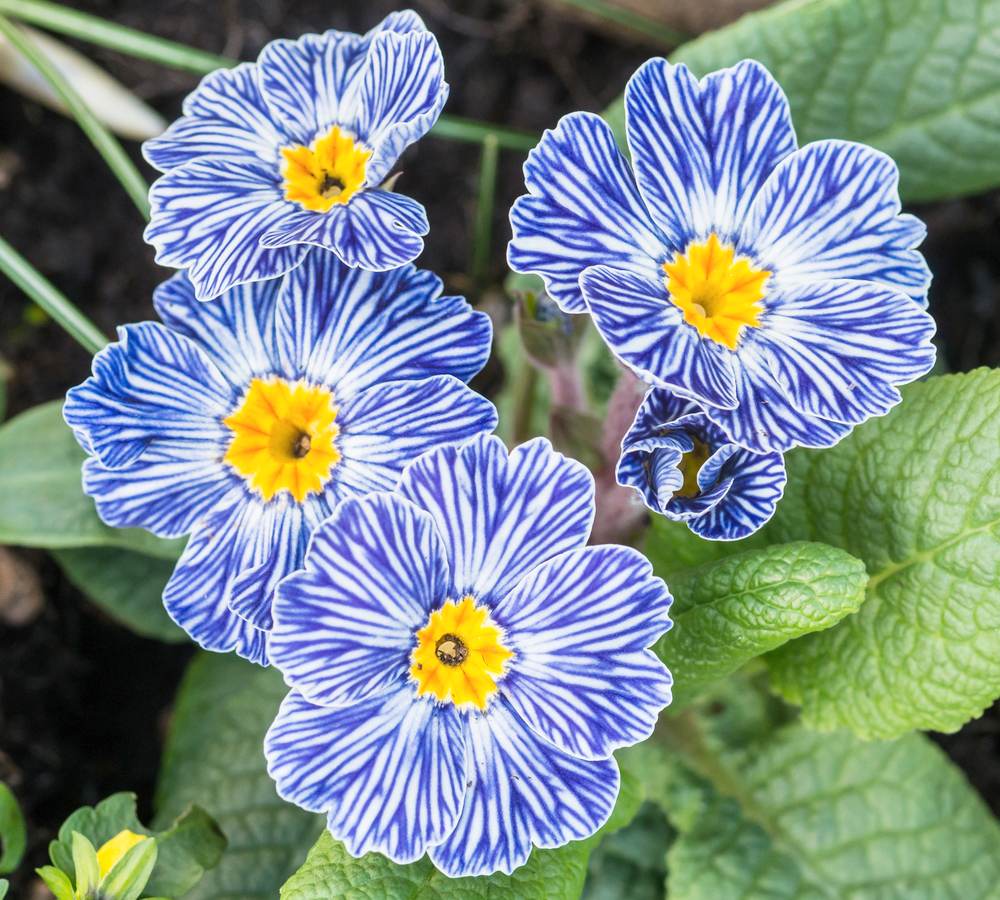 These big flowers have striped blue and white petals that grow on top of dark green leaves, featuring yellow golden centers. The exquisite combination of colors makes these flowers excellent bouquet and cut flowers.
The Zebra Blue Primrose grows in zones 4 through 8 and loves partial sun. The flowers have a long blooming season that begins in late winter and lasts until the end of spring. They're perfect for underplanting shrubs.
11. Primula Bulleyana
This semi-evergreen perennial is also known as Candelabra Primrose and grows in shady damp environments from late spring or early summer. Each stem grows a cluster of 5 to 7 golden-yellow flowers that open from orange buds.
This flower loves the sun but tolerates partial shade in zones 5 through 8. The plant can reach a height of 24 inches and can be grown around ponds because it can tolerate wet soil.
12. Primula Capitata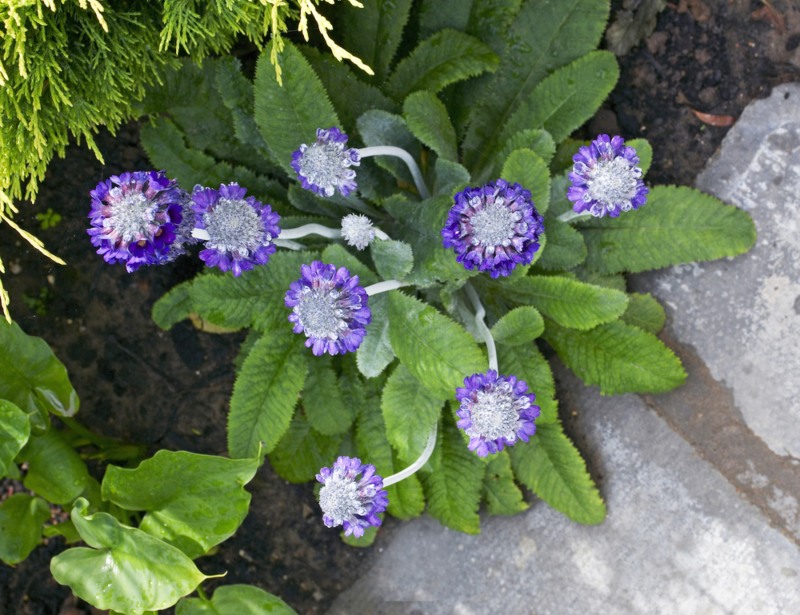 The Round-Headed Himalayan Primrose grows clusters of tubular blue or deep violet flowers from late spring until early fall. The green stems are covered with silvery-white farina which contrasts with the color of the flowers. The flowers love partial shade and grow in zones 4 through 8.
13. Primula Japonica Apple Blossom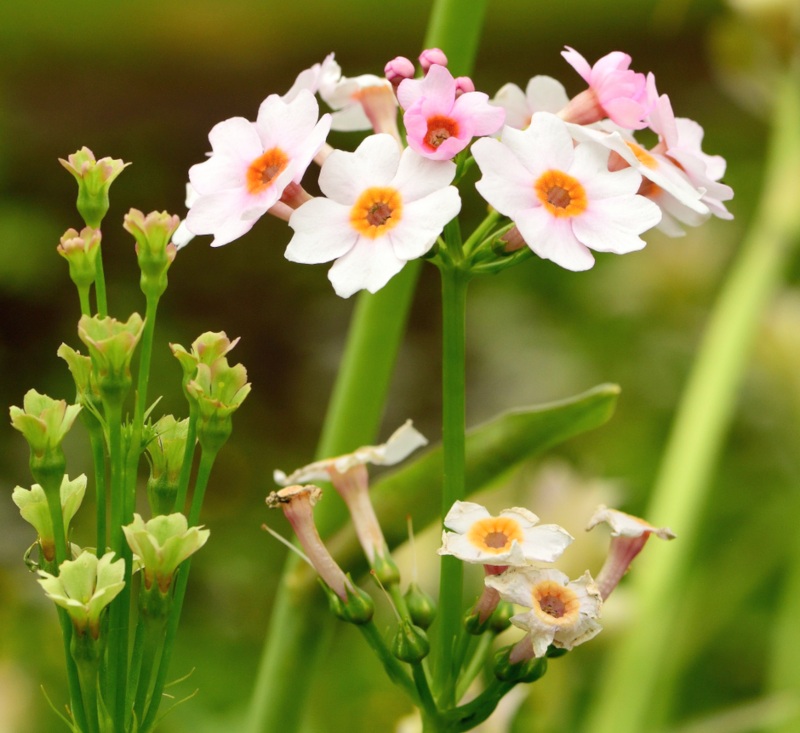 The Japanese Primrose or Apple Blossom grows in whorls of 10 eye-catching pink flowers that have red centers. The stems grow on top of basal rosettes of lettuce-like pale-green leaves.
This flower is tolerant of wet soil so it can be grown around ponds and streams, in addition to beds and borders. It prefers partial shade but can tolerate full summer as long as the soil remains moist. The Japanese Primrose can grow in hardiness zones 4 through 8.
14. Primula Elatior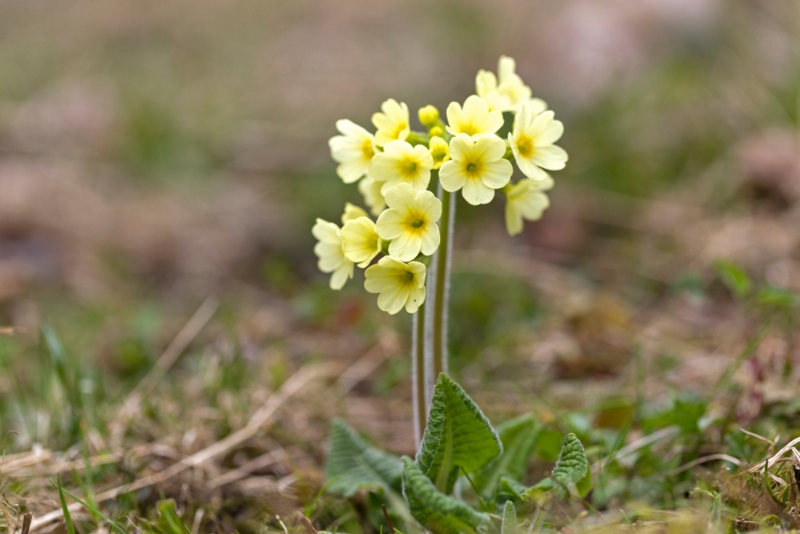 The Oxlip Primrose grows in hardiness zones 4 through 8 and is a gardeners' favorite, especially in shady gardens. The soft yellow flowers bloom from mid-spring until early summer and feature dark centers, emitting a soft and pleasant fragrance.
These flowers are perfect for a woodland garden or other naturalized areas. The stems reach a maximum height of 12 inches.
15. Primula Marginata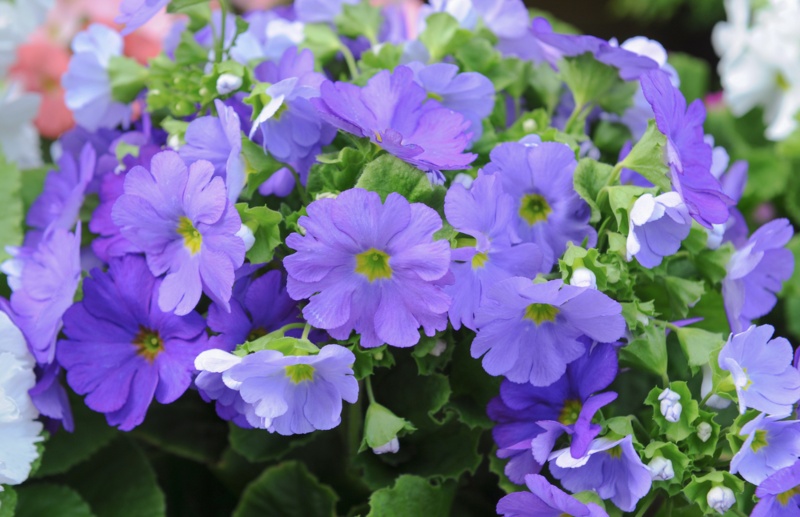 The Silver-Edged Primrose has silver-lined toothed leaves that form rosettes and grow beautiful funnel-shaped blue flowers. The flowers have a nice smell and bloom from early spring until winter. These flowers grow in zones 3 through 8 and should be well-protected from the winter rain.
16. Primula Polyanthus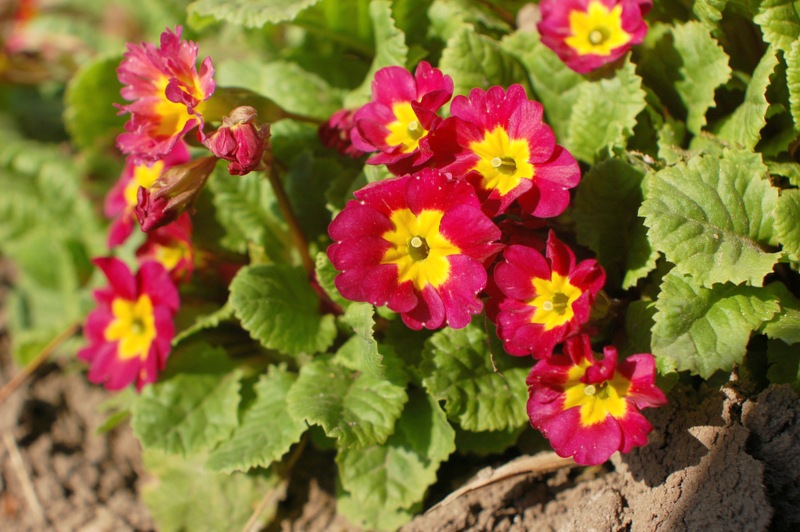 The bright eye-catching colors of the Crescendo Bright Red Primrose are the reason why gardening enthusiasts love to keep them in patios and gardens. The yellow centers and the red petals create a vibrant addition to any gardening space.
The flowers are low-maintenance, growing in zones 5 through 7, as long they're kept in partial shade. Deadheading is needed to keep them healthy.
17. Primula Francisca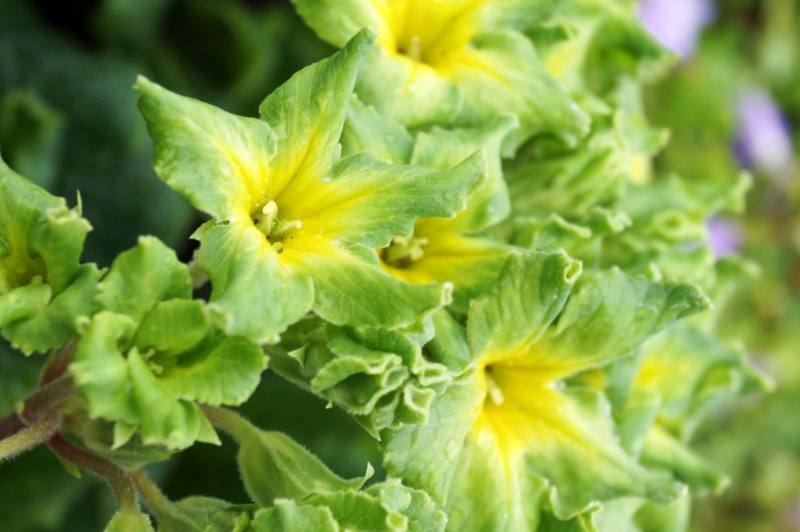 These flowers bloom in early spring and remain healthy for several months until the end of summer. They're pale-jade with yellow centers and make excellent cut flowers as they can last up to a few weeks in a vase. The Francisca Primrose grows in hardiness zones 4 through 8.
Primroses look very good with roses, ferns, and other types of plants. They work for almost every garden arrangement and are among the first flowers to bloom. They usually have a dense full look so they will bring life to your gardening area.