Indoor herb garden kits have gained popularity over the past several years. No longer is a backyard or outdoor box required to grow fresh herbs. An indoor herb garden kit allow users to grow herb everything from basil to cilantro to thyme anywhere in the house. The lights are adjustable and promote quick, healthy, natural plant growth.
An indoor herb growing kit addresses the issue of limited sunlight. High-watt LED lights to promote natural light to the herbs that simulate sunlight. You can set timers for various times according to the plant for ideal growing conditions.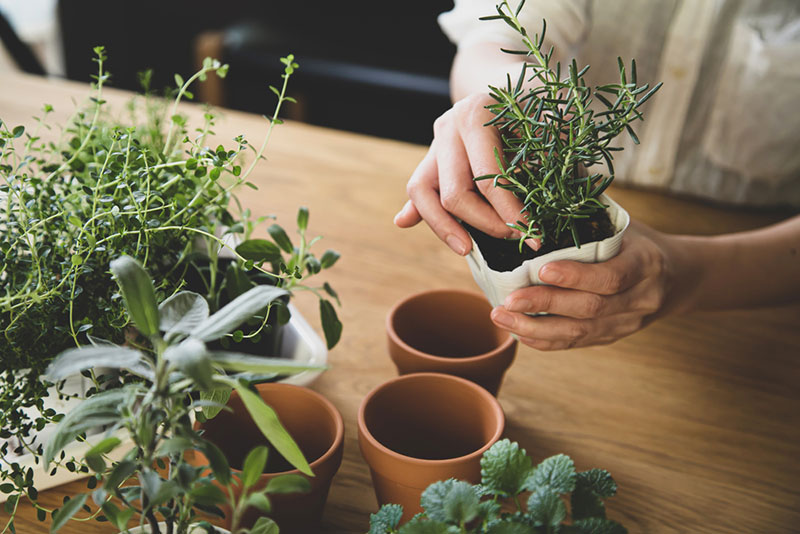 Experts say that the ideal indoor gardening kit is not overly complicated. They say to look for those you can place by the windowsill and water only once a week. Also, water timers are great as well for those that frequently travel or forget.
Knowing the different lighting requirements of each herb is essential to their proper growth. Each vegetable requires its amount of sun.
Additional Room for Green Growth
This hydroponic garden kit is great for seniors, children, or beginners. It has a relatively easy set-it-and-forget-it design. Children can learn about the various stages of plant growth, and seniors can grow healthy fresh herbs indoors all year.
This grow kit comes with a water circulation system that increases the amount of oxygen contained in the water. The 24-Watt LED lights generate sunlight enabling plants to engage in photosynthesis. Herbs can be grown in any weather.
The smart garden system has three modes for various plant growth stages. In normal mode, the light is 14 hours on and 10 hours off. It has red, blue, and white LED lights which promote germination, viewing stage and bloom. Grow mode is 16 hours on and eight hours off. Red and white LED lights for the viewing stage and bloom.
Finally, enjoy mode is 12 hours on and 12 hours off. Only 50% of the red and white lights are on. This setting is ideal for germination, viewing stage, and bloom. In this state, the lights are less pronounced.
The two water pump circulation methods ensure moisture retention in the herbs. The water pump is on for 30 minutes and off for 30 minutes in normal mode. You can put the pump into sleep mode by pressing on the pump switch for five seconds. The pump will shut off for 12 hours, then return to the normal cycle.
The hydroponic system is height adjustable as the herbs grow and can contain the plants at varying heights. Up to seven plants can be grown in this system.
Elechome Hydroponics Growing System enables natural and healthy plants. It has no soil technology, no contaminants resulting from the soil, no pesticides, metal contaminations, or antibiotics. This hydroponic gardening kit holds up to 10 indoor plants.
A 30W LED high-efficiency light enables plants to grow quickly. It dials into the needs of plants creating increases in growth and quick harvesting times. An example is that lettuce and mint grow in 4 weeks.
This kit can be used anywhere in the house and will produce year-round. It even has an easy-to-use automatic control system with grow lights that shut off after 18 hours and sleep for six.
There is a water pump located in the water tank. Users only have to add nutrient solution and water at regular intervals. The pump enables a circular flow, ensuring plants receive enough nutrients.
The light extends up to 12 inches, has a 2.4L water tank capacity, pollution-free organic fertilizer, and turns on with a one-key switch.
The only complaint was the breaking off of a piece when unboxing. One person had variations in germination.
This system includes a hydroponic planter and grows light. It is easy to use with three smart lighting settings.
It is a soil-free design and can hold 18 plants. The wattage on this system is not as bright as the others. It is only 8W.
It is a great starter kit for anyone interested in learning how to grow their vegetables. It has an indicator to indicate low water levels.
The only cons were that instructions were difficult to read, and it did not come with seedlings.
Fresh herbs beat frozen food any day of the week. By cultivating your seasonings by using an indoor kit, you can grow them in all seasons.
People are no longer at Mother Nature's whims. You can set an LED light to circulate on-off times, which is especially helpful when dealing with different herbs as they may require various degrees of sunlight.
Automatic watering and nutrient systems make it exceptionally easy to grow herbs in the comfort of your own home. Boxes can be placed anywhere and are quiet enough to place anywhere, even in the bedroom, for growth.
Not only are the kits a fresher and healthier alternative, but they also provide a great educational opportunity for children.