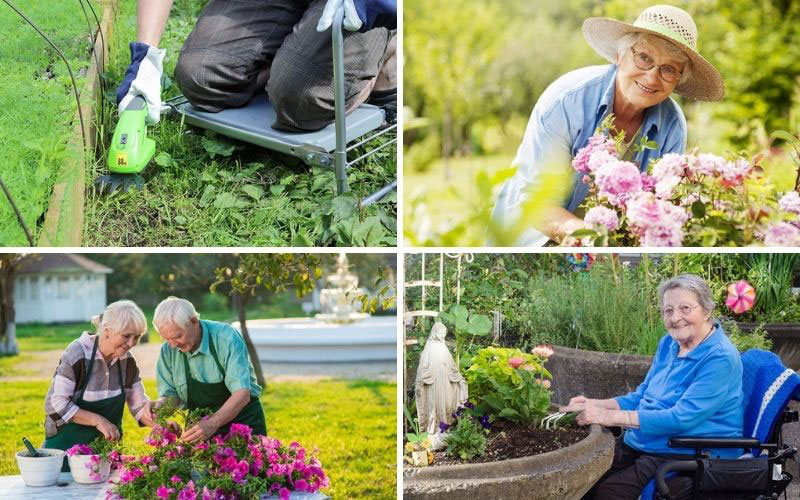 Whether you are a life-long gardener or have taken up the hobby in your golden years, some gardening tasks can pose a challenge to those with limited mobility or a decline in strength and stamina. While it can be annoying to discover you can't do what you used to do, it is no excuse to give up on gardening. There are several things you can do to ease your difficulties while still enjoying the art of gardening and reap the many health benefits it provides.
Don't Give Up
It may be tempting to simply give up when gardening tasks become too difficult or painful, but that's not the answer you should be striving for. Gardening is good for anyone but there are some studies that show gardening is especially good for seniors. Before you consider throwing in the shovel and giving up as tasks become more difficult, consider these amazing benefits you get from gardening.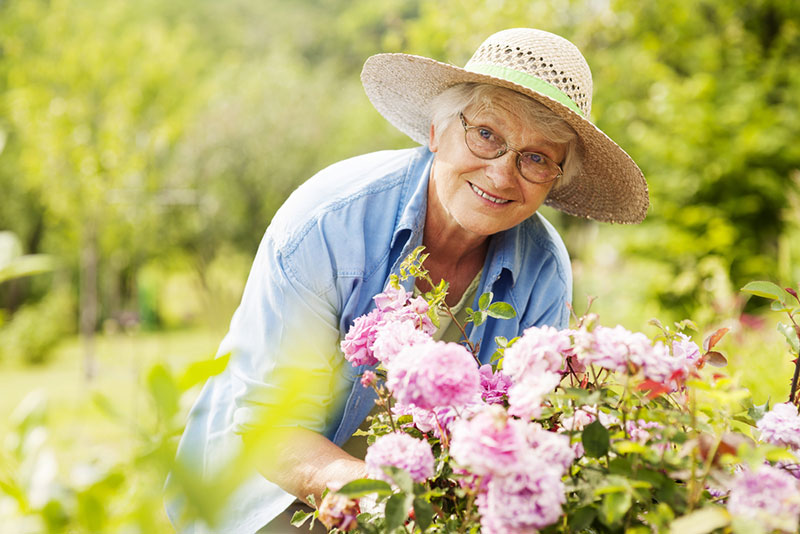 Increases Mobility
The daily exercise gained from gardening engages a host of muscles which will help you build strength and stamina and ultimately increase your mobility. Strengthening seldom used muscles helps with balance, alleviates pressure on ailing joints and can even improve your range of motion, too. In other words, gardening itself will make gardening tasks easier.
Reduces Stress
Gardening lowers the level of cortisol (the stress hormone) in your blood. This leads to less stress-related illnesses like depression, anxiety and high blood pressure.
Promotes Brain Health
Gardening shows promise for reducing your chances of Alzheimer's and other forms of dementia.
Improves Heart Health and Reduces Stroke Risks
Gardening may reduce your chances of heart attack stroke by up to 30% for people over 30 who garden for 2 1/2 hours per week, says Life Line Screening. It is more effective than walking and is often used as a rehabilitation technique for stroke victims.
Adapt Gardening Tasks
It isn't always easy to change the way you have always done something, and gardening is no exception. If you are finding common gardening tasks more of challenge as you age, it may be time to adapt the tasks to meet your needs.
Landscape fabric
Use landscape fabric under plants or to line walkways to suppress weeds. Not only will this make gardening easier, but it is also good for your garden too. Landscape fabric helps to retain moisture giving your fruits and veggies the water they need to thrive.
Raised beds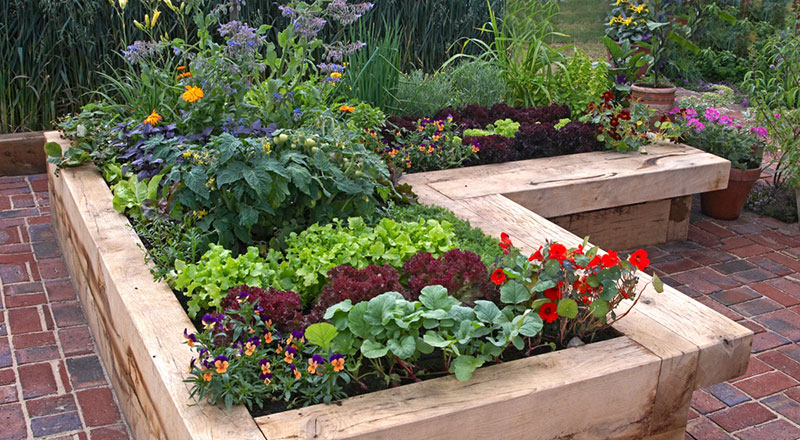 Raised beds can be built to any height, making them an ideal adaptation for gardeners with limited mobility. They can even be built so those in a wheelchair can access them easily. If you struggle with stooping and bending, or can no longer kneel in the garden, raised beds may be the answer for you.
Container Gardens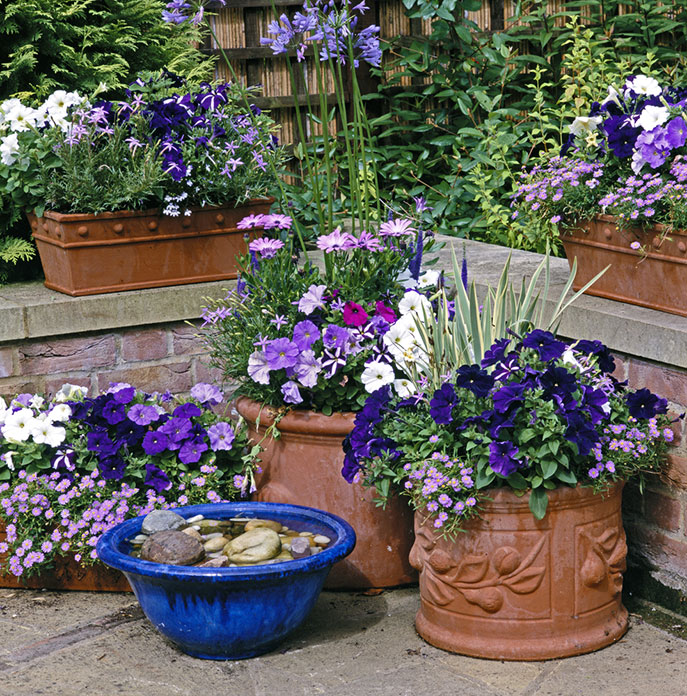 Like raised beds, container gardens can be placed in easy to reach areas to allow you easy access. Think tiered steps with big pots or place containers on the deck so you can garden at your leisure.
Mulched pathways
Pathways in the garden can sometimes be a challenge, especially if the soil is uneven. Level the soil in pathways (or hire someone to do it for you) and mulch the area to keep it free of weeds. Natural mulch is great for the garden, but if that doesn't work for you, use landscape fabric to cover pathways to keep weeds at bay and make walking easier.
Use the Right Tools
Just because you've used the same garden tools for years doesn't mean they are still right for you. Evaluate the tools you have and how well they work for your current needs.
Ergonomic Tools
If you suffer from arthritis in the hands or are prone to carpal tunnel syndrome ergonomic tools may be the answer for you. These tools are designed to put less stress on your wrists and hands while getting the job done. Clippers and pruners often feature ratcheting action to take the stress off your hands. Garden tools with softer and larger handles make gripping them easier, too.
Lightweight Tools
Some tools just weren't designed with weight in mind. If that massive wheelbarrow you used for years is a bit more than you can handle, get a smaller one, or get a rolling cart instead. Likewise, ditch heavy tools and equipment that no longer serves your purpose.
Smaller Tools
If you are growing flowers and veggies in raised beds, smaller garden tools will make the job easier for you. Look for short-handled rakes, trowels and shovels that are just the right size for a raised bed and easier for you to handle, too.
Grow Vertically
Vertical growing is all the rage and can be done nearly anywhere from tall trellises erected in the garden to covering a wall with easy-to-reach pots overflowing with lush greenery. Growing vertically is ideal for those with difficulty bending and stooping.
Vertical growing is also a great way to get vines off the ground where you may trip and fall harvesting the fruit. Cucumbers, melons, squash, pumpkin, pole beans and peas can all be grown on a vertical wall or trellis making harvesting them a breeze. Herbs, flowers and other small veggies can be grown in pots or containers suspended on a wall or even in plant towers.
Have a Seat
Placing a decorative bench or garden chair near the garden adds charm to the garden while providing you with a comfortable spot to rest for a while. Position seating in areas that are easy to reach, preferably in a shady area. Seating in or near the garden won't look out of place, and it will give you a relaxing area to rest when you need it.
Adapt Your Schedule
Gardening isn't a marathon sport, and you shouldn't treat it as such. Learn to garden in short segments instead of trying to do it all at once. Spending a few minutes in the garden several times a day will get the job done without tiring you out from work.
Watch Out for the Sun
Many seniors are sensitive to the effects of the sun, either due to medications or simply from aging. If you get lightheaded or experience exhaustion in the sun, take measures to protect yourself. Wear a hat, keep a bottle of water with you and garden in early morning or late afternoon when the rays of the sun are gentler.
Ask for Help
There is no virtue in struggling to do tasks that are simply too much for you even if you have always done them yourself. Learn to ask for help when you need it to alleviate the stress of thinking you need to do it all yourself. Gardening isn't an either-or activity. You can continue to garden while getting help from others too.
If enlisting the help of family members isn't an option, there may be help available from your local school as many allow students to help the elderly or disabled as part of their community involvement curriculum. Otherwise, consider hiring someone to give you a hand. There is no shame in having the bed tilled and prepared for you so you can get on with the important work of growing your garden.
Getting older doesn't mean you need to give up the things you love. By making a few changes to your gardening habits you can continue to garden for years reaping the health benefits and getting some fresh veggies from your labor, too.