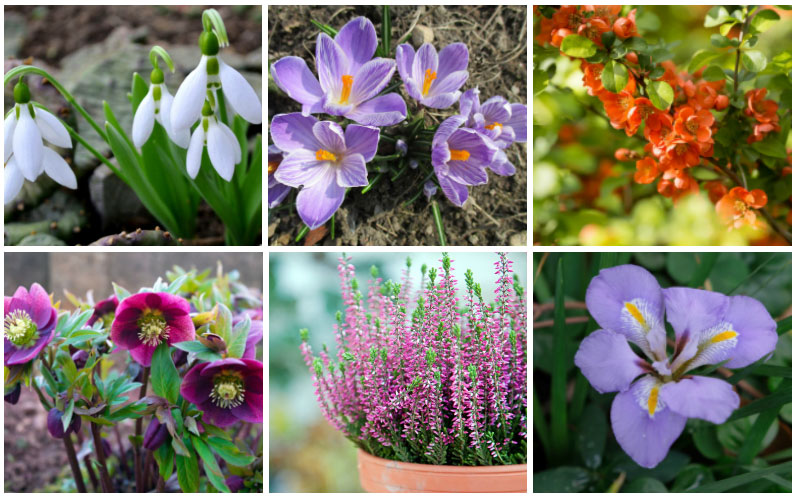 As winter approaches, gardeners often believe it must mean it's time to say a sad goodbye to their beautiful, blossoming gardens and to watch while they become replaced by bare bushes and relatively barren gardens.
Don't give up just yet! Believe it or not, your garden can still contain a variety of blooming plants throughout the winter and early spring seasons.
Of course, the farther south you live, the greater your options for winter blooms.
This winter, don't give up on your joyful garden. Here are 12 winter-flowering perennial options.
Winter-flowering Heather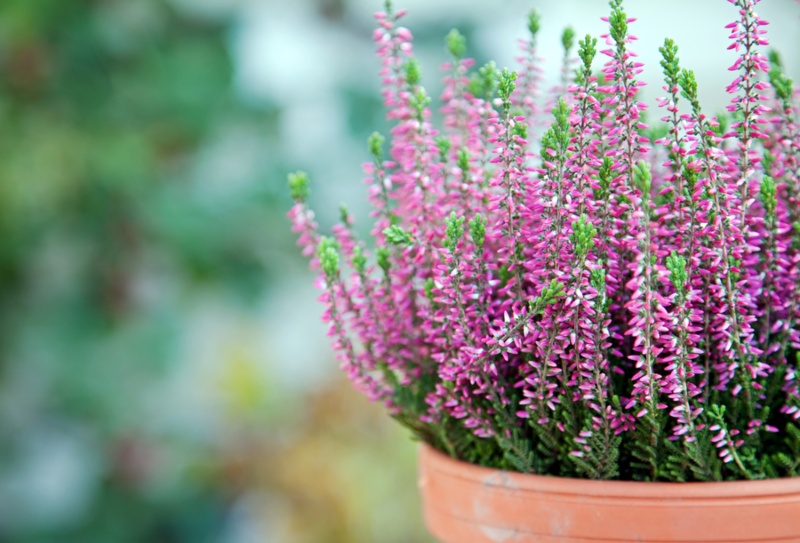 These low-growing evergreen plants will bring a lush deep green burst of color to your gardens even during the coldest time of year. Because of its rich, deep green color, winter heather makes any color juxtaposed against it "pop" in an incredible way, making that color look even more vibrant. Winter-flowing heather grows best in zones 5-7, but some types can survive zones 3 and 4.
Japanese Quince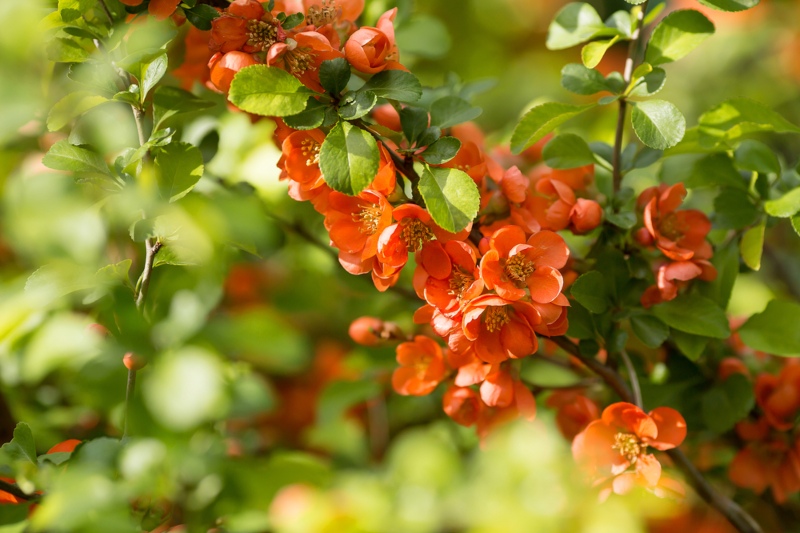 This elegant shrub is native to Japan as the same suggests. It produces blooms that are reddish-orange in color but can often appear as a creamy white. The flowers of this shrub will last just under two weeks and are then followed by the production of tiny fruits in the shape of mini apples. Gardeners love Japanese quince because it is exceptionally easy to grow, requires little watering, and needs minimal care. Japanese quince will grow about 2 to 3 feet tall and will garner the most blossoms when it receives full daily sunshine. These shrubs bloom best in hardiness zones 5 through 9.
Hellebores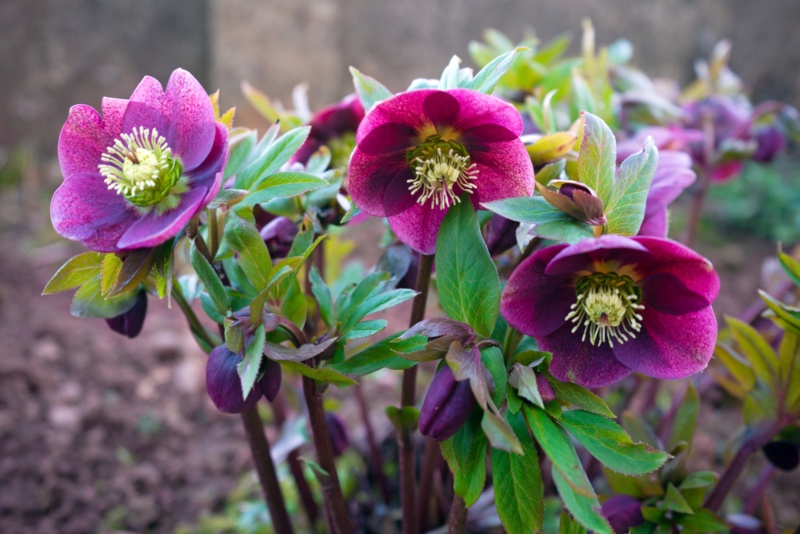 The common name for these rose-like hybrid flowers is the Christmas rose or the Lenten rose. Their blooms emerge in February and will typically last until May, even in very cold regions. They grow best in areas such as hillsides that can appreciate their downward-facing flowers, although they do well in many growing conditions. The Helleborus Christmas rose does best in zone 7 or higher. Blooms will typically last for about a month.
Cyclamen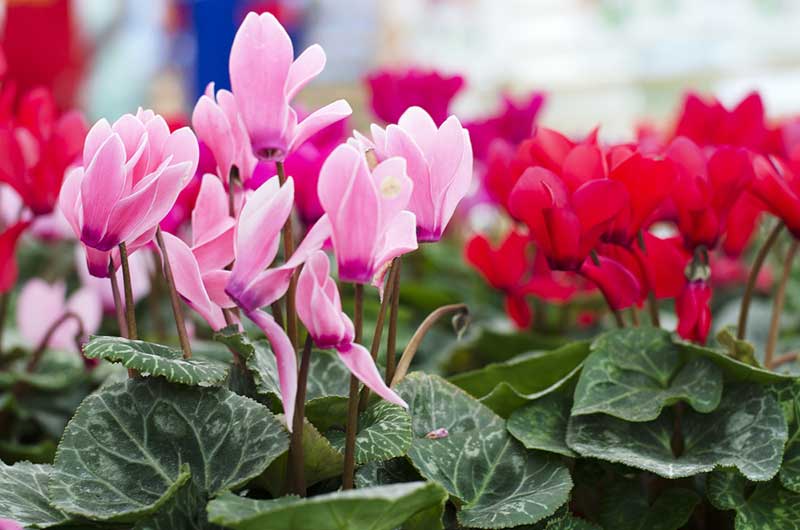 These sweet-scented tiny blossoms spring forward in shades of pinks, reds and violets on long stems that have heart-shaped leaves. The foliage of Cyclamen has a marbling effect that makes it especially attractive. Cyclamen is a popular indoor potted plant, but will also provide color in your garden during the colder months. This hardy species tends to thrive best in hardiness zones of 5 through 9.
Mahonia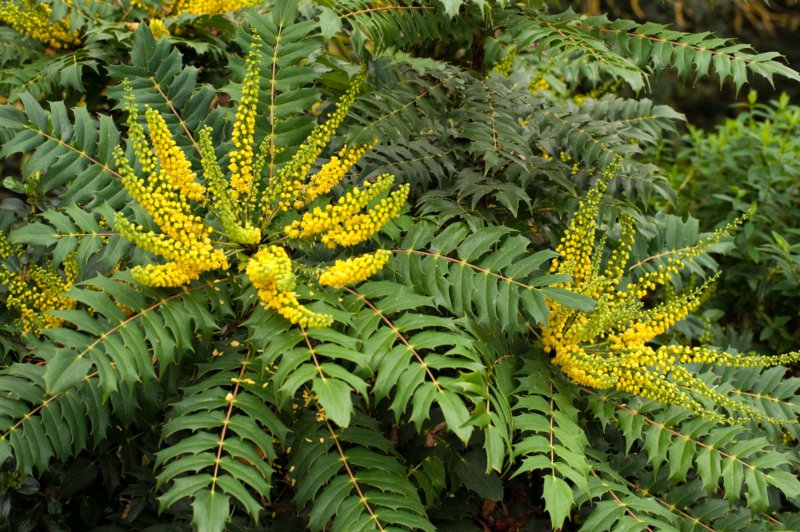 Mahonia is a plant that is comprised of close to 70 species that is technically considered a wildflower. It is a lush, evergreen shrub that bursts with cheerful, bright yellow blooms that appear in small clusters They are known for attracting birds and other wildlife during spring because of their small berries, but still provide color during the colder months. Mahonia will grow most successfully in hardiness zones of 5 through 10.
Snowdrops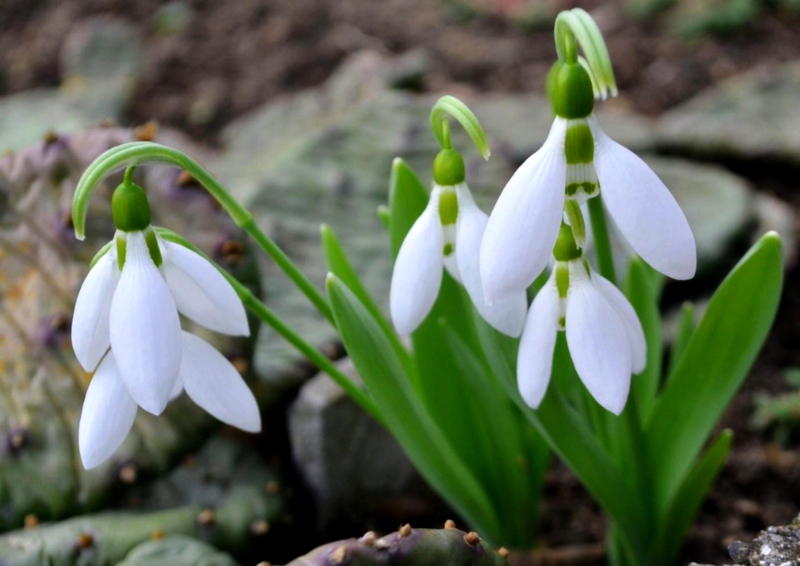 As the name suggests, snowdrops are actually best suited to be planted in colder hardiness zones. They are named for their small blooms that hang downward on thin green stems. These blooms generally begin to appear in February, matching the white snow that may be on the ground. They can grow in many soil types and will do best in full sun or receiving partial daily shade. Snowdrops will grow wonderfully and thrive in zones 3 through 7.
Winter Cherry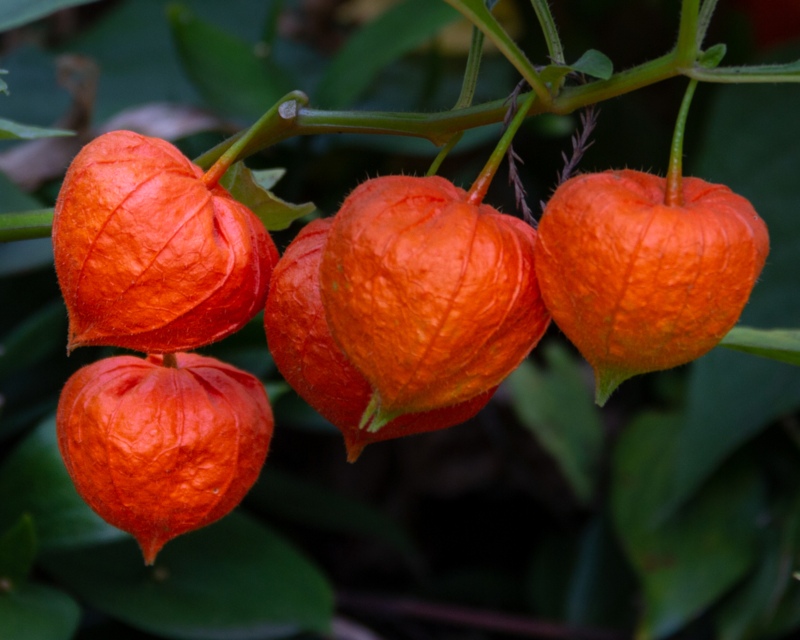 This dreamlike flowering plant, also known as the Jerusalem Cherry, is well known as an ornamental plant that is frequently seen during the holiday season, sold in stores or given as a gift. It has small, star-shaped blooms that are typically very white. The delicate blooms are followed by small berries that turn from green to red or orange, and are toxic when consumed. Winter cherry will do best in zones 8 through 11.
Crocus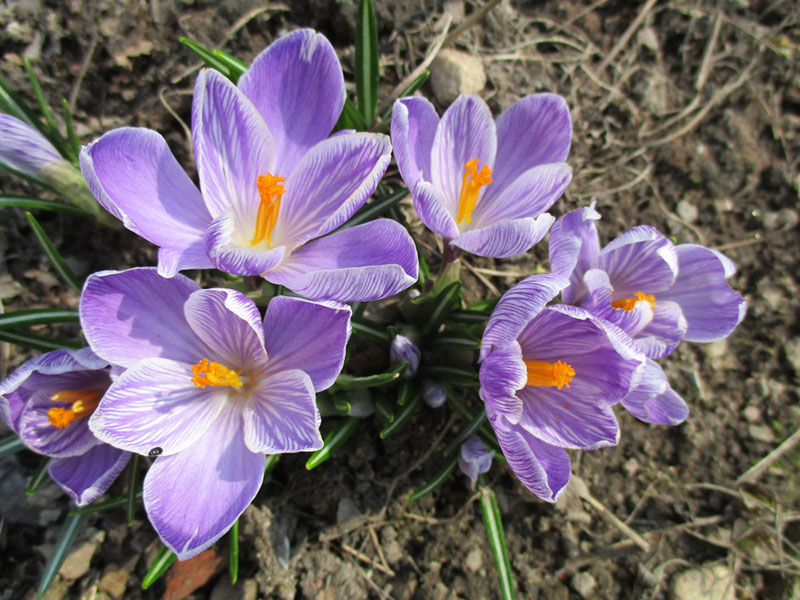 The crocus is best known for its bulb-looking blooms that peek up through the last of winter snowfalls in a royal purple shade. They grow naturally in many woodland areas and have become a garden favorite, signaling that winter is in its ebbing phase. Crocus will be a reliable bloomer in zones 3 through 8.
Clematis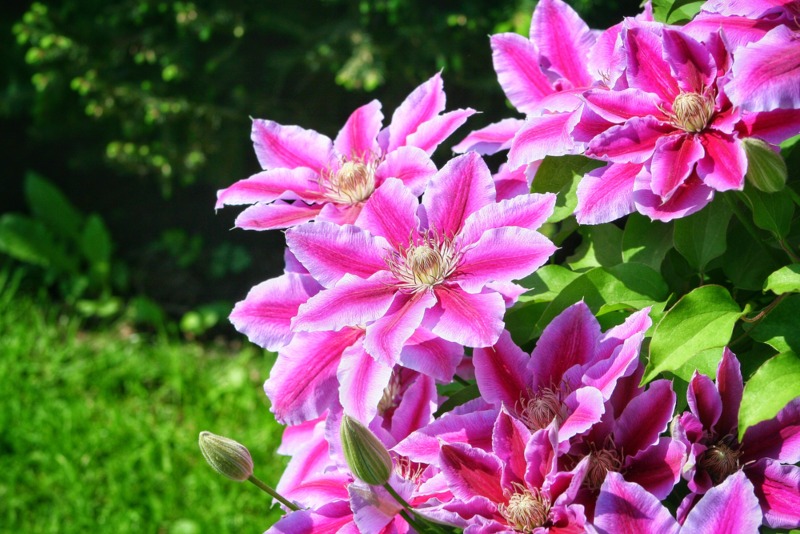 Clematis is an exceptionally popular blooming vine, with grows at a vigourous rate and showcases deep, rich purple flowers. It is a lovely garden decoration and can be commonly seen trained to grow and bloom up a mailbox post. It grows best in soil that is moist and fertile and will thrive in full sunlight and in hardiness zones 4 through 9.
Algerian iris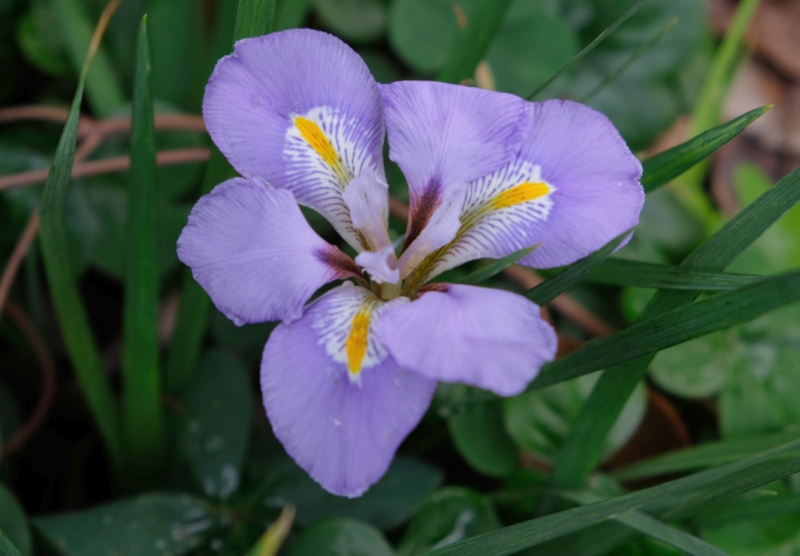 This fabulous flower is beloved for its winter blooms that last anywhere from very late fall to the early springtime. Its flowers have a sweet scent and are blueish lavender in color. It is a favorite for cottage gardens, garden beds, and walkways. This particular iris grows best in full sunlight in any hardiness zone above 4.
Witch hazel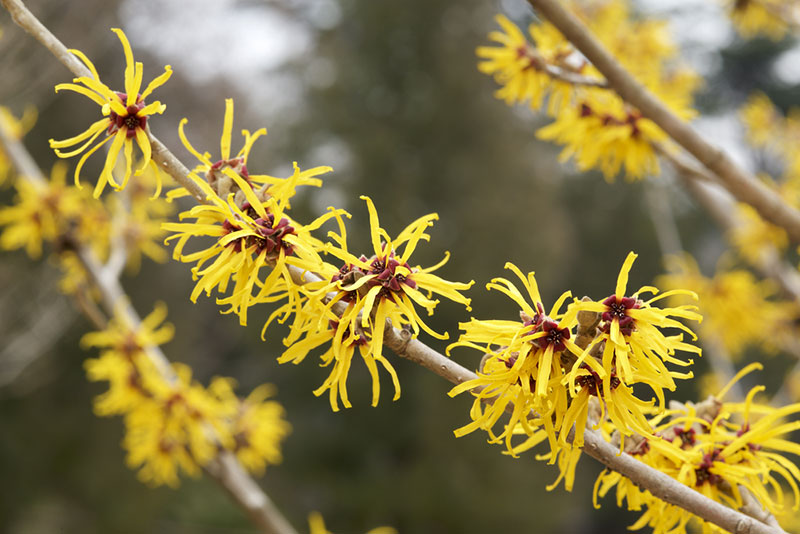 These flowering shrubs have bright yellow-ish blooms that are loved by gardeners because of their four-season landscape qualities. The flowers have a warm, spicy scent and with very earthy elements. Witch Hazel shrubs grow in a shape that mirrors a common vase. . Witch hazel will grow best in zones 5 through 8.
Chionodoxa luciliae
The delicate flowers of this flower are joyful lilac-blue in color around a white central ring. The blooms spring upwards out of grass-like foliage that makes their pale, lovely coloring stand out especially well. This flower is nicknamed Glory of the Snow because if its blooms often arriving through melting snows. Chionodoxa lucilia grows best in zones 3 through 8.