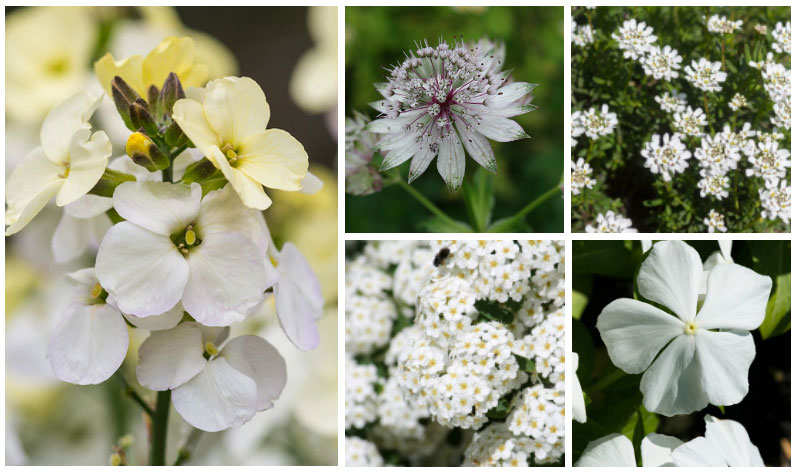 White is a delicate, lovely color that is associated with purity, goodness, innocence, and perfection. White is also said to go with absolutely everything. This may be one of the reasons why white flowers are prized by gardeners, with their delicate blooms naturally making every other shade of flower appear brighter and more vivid next to the white hue.
White perennials also make great garden additions because many white perennials have rich, green foliage that lasts long after the flowers fade.
We've put together 10 of the most beautiful white flowering perennials that are sure to add an element of elegance to your garden this year.
Trillium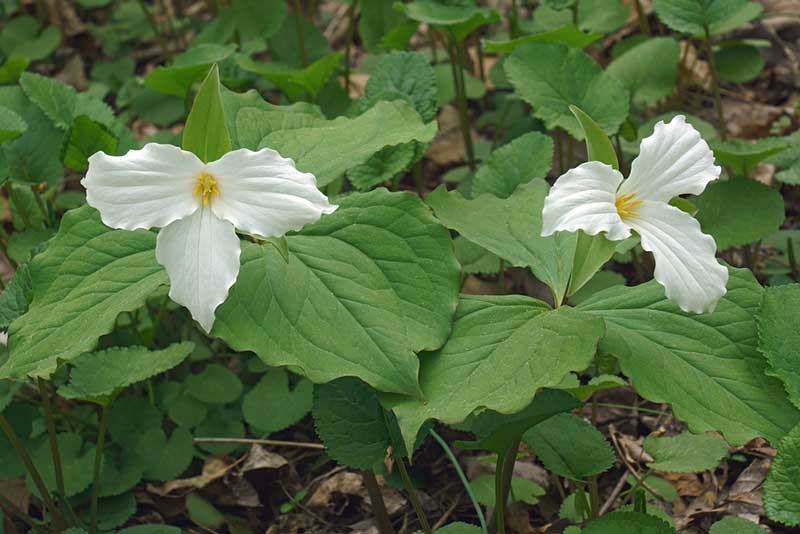 Also known as a wood lily, these graceful white flowers are one of the most well-known and beloved spring wildflowers around. While they are native to rich woodland areas and often grow deep within heavy forests, they make the perfect addition to a variety of gardens. Trillium is known for stout blooms that delicately perch atop almost naked green stems. They require full to partial shade and they bloom best when they are grown in semi-moist soil in zones 4-8.
Lamium
With green or golden foliage and dainty white flowers, these low-maintenance perennials have a lovely fragrance and attract a variety of small birds. They prefer shaded gardens or containers in zones 4-8 and their flowers have long-lasting blooms that make it a desirable ground cover in shaded corners.
Lilyturf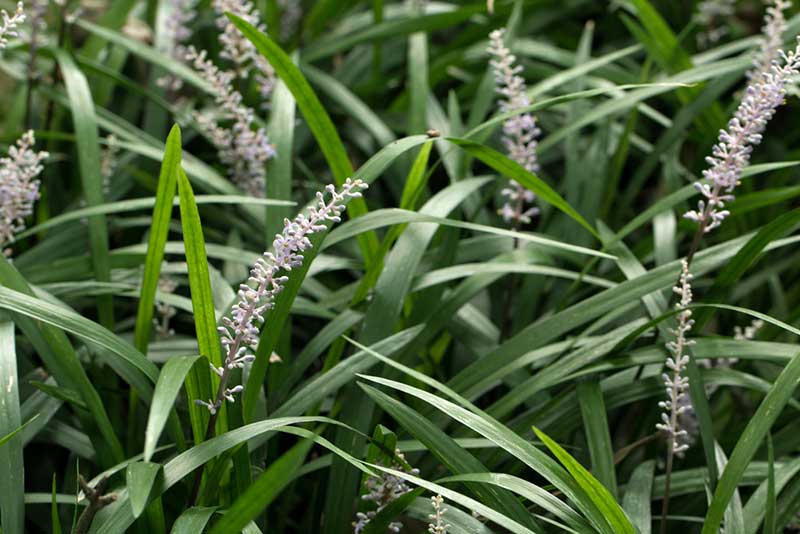 Also called lilirope, these Asian natives have stalk-like flowers that bloom through fall in areas that offer moderate sun with partial shade. They typically grow from 12-18" and have slowly-expanding clumps of tube-like flowers that grow atop evergreen-colored foliage in zones 5-10.
Saxifraga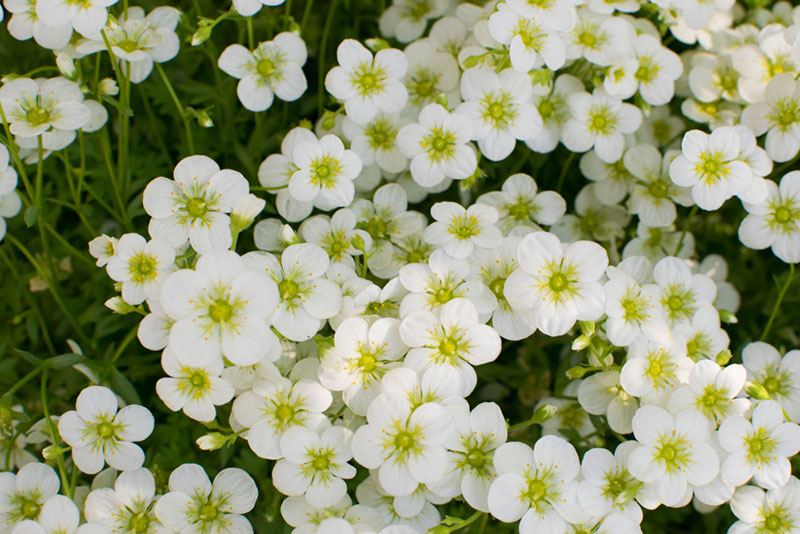 These yellow-white rosette blooms grow up to a foot in height during the summer months and burst upward from deep, silver-evergreen foliage that is often found in rocky areas. They prefer zones 5-8 and will not do well in humid or exceptionally hot climates.
Vinca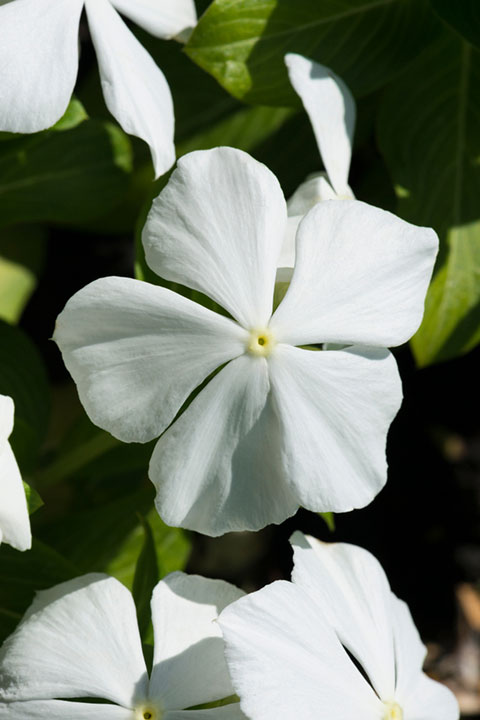 Commonly known as periwinkle or creeping myrtle, these whitish-blue flowers are commonly grown as ground cover for their enchanting evergreen foliage that will stay rich and lush all year long. They prefer zones 4-9, with some varieties of vinca growing best in zones 7-9.
Yarrow
These delicate white blooms grow in sprigs atop thin stems and are excellent additions to flower beds and herb gardens. Yarrow is often grown for its uses as a medicinal herb, aiding in the treatment of muscle cramps and minor wounds. It also has been used as a facial wash or astringent. Yarrow grows naturally in prairies and meadows and will thrive in zones 3-9.
Erysimum (Wallflower)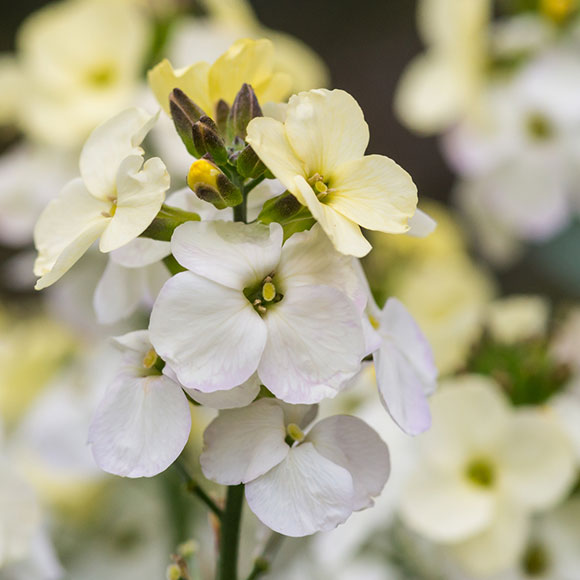 These easy-to-grow flowers are prized for their blooms that last from mid-spring to early fall and make a perfect border edge for any garden, looking especially dazzling cascading overtop a rock border. Wallflower prefers very sunny spots and gardeners appreciate its ability to attract hummingbirds and butterflies. These lovely white flowers grow best in zones 6-9.
Masterwort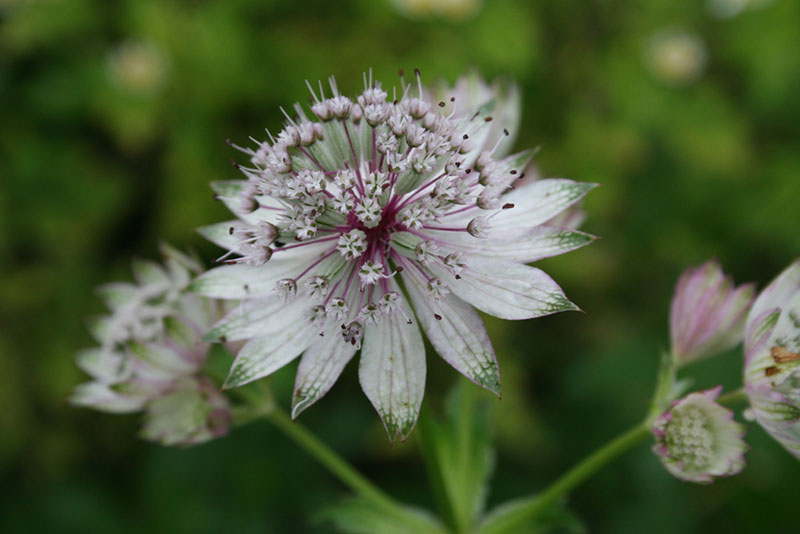 These sparkling, star-like flowers are ivory white and flush with varying shades of pink, wafting a sweet scent from their blossoms. Their pinkish-white petals are both stunningly beautiful and very unique in color and shape. They grow from 1-2' and will thrive in growing zones 4-9.
Meadowsweet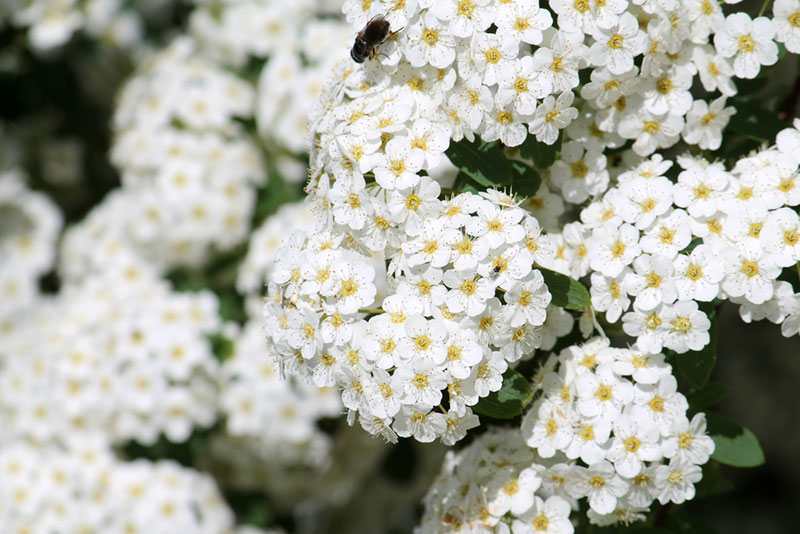 Commonly called Queen-of-the-meadow, these whitish-yellow flowers show in a rosette peppered with small, lace-like blooms that have a very delicate fragrance that has often been compared to an almond-like smell. Meadowsweet has been used for a variety of medicinal purposes, including aiding in the treatment of colds, upset stomach, heartburn, ulcers, and stiff joints. Meadowsweet has even been used as an herbal painkiller for common pains and aches. The dense, clusters of meadowsweet can blossom up to 3' in height and grows best in zones 3-9.
Candytuft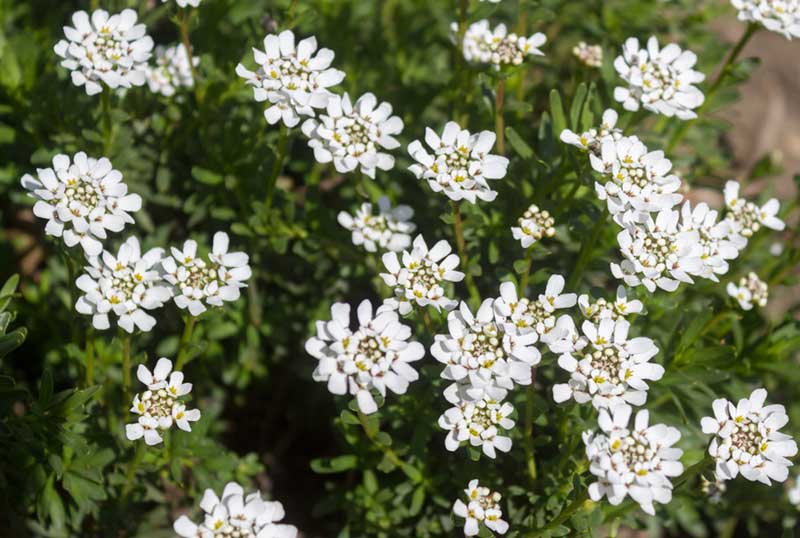 This European native is a stunning garden beauty that is well-named for its pure-white petals that look almost candy-like in appearance. Candytuft prefers a sunny location and grows well in gravelly soil, making it the perfect addition to a rock garden. The blooms burst to a height of over a foot, yet once the flowers are gone the foliage will remain through late summer and will often re-bloom in early fall. Candytuft is a favorite of butterflies and should be grown in zones 3-8. This plant makes an excellent ground cover and the foliage actually benefits from snow covering its roots during the winter season.