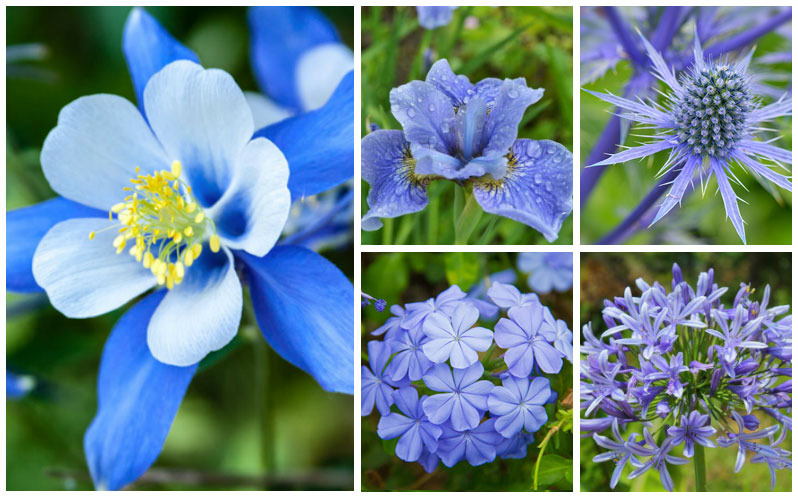 Blue is a soothing color that evokes a feeling of calm, tranquility and elegance when added to any garden. Blue is the most common color chosen as a favorite shade by both men and women, yet blue flowers still remain fairly rare, making them a treasure for any gardener.
The beautiful perennials below will add dynamic blue blooms and decadent green foliage that will dazzle on their own and also help all other colors "pop" within your spring and summer garden.
Columbine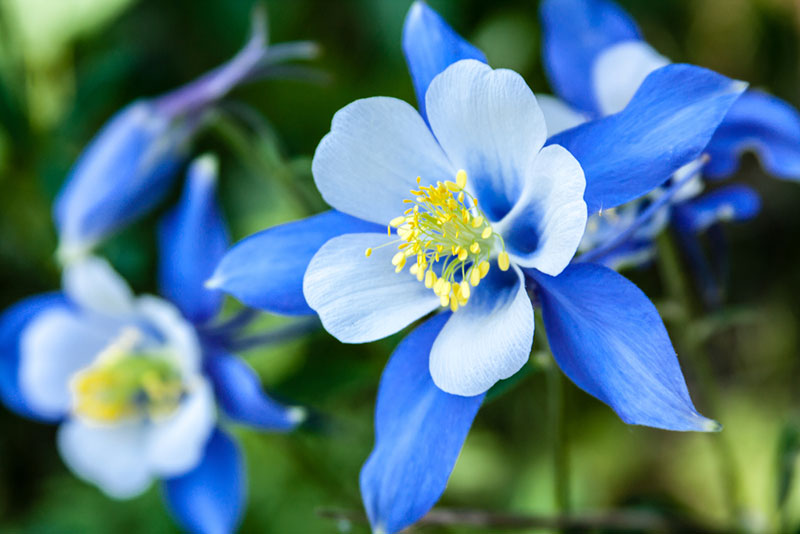 These dainty little flowers are often described as "foolproof" to grow in the average garden. Even the most novice gardeners will be astonished by the simple blossoms that dangle in the garden from spring through late summer. Columbine blooms are often two-toned and come atop delicate stems of leaves that look similar to small ferns. Columbine is very popular for cottage gardens and container gardens, growing well even in small spaces. They also attract both butterflies and hummingbirds and grow best in zones 3-8.
Periwinkle, Vinca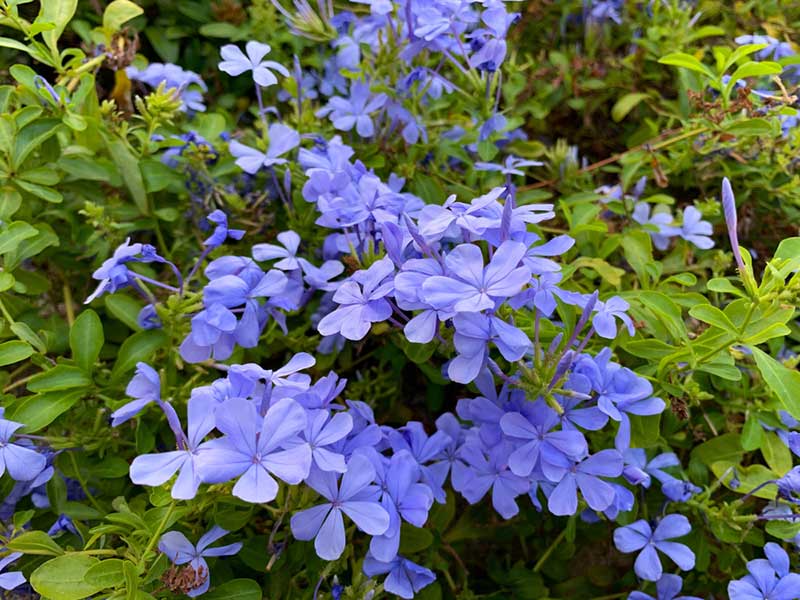 Also called creeping myrtle, these broad, blue-violet flowers peppered through rich green foliage make stunning groundcover. Periwinkle should be trimmed back after the first major bloom to prevent overspreading. These flowers grow around 3-6" tall and are the hardiest when grown in zones 4-8.
Plumbago, leadwort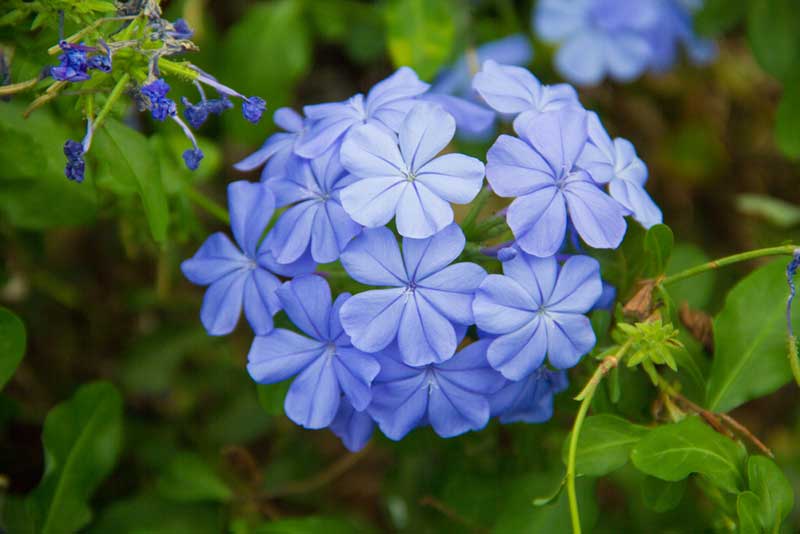 Native to South Africa, Plumbago is a delicate, pale blue flower that is prized for its showy clusters of blooms that pop against the plant's backdrop of evergreen-colored foliage. Plumbago grows best in zones 8-11 in very fertile, well-drained soil. This perennial will grow best with periodic pruning and will re-bloom multiple times throughout the summer.
Bellflower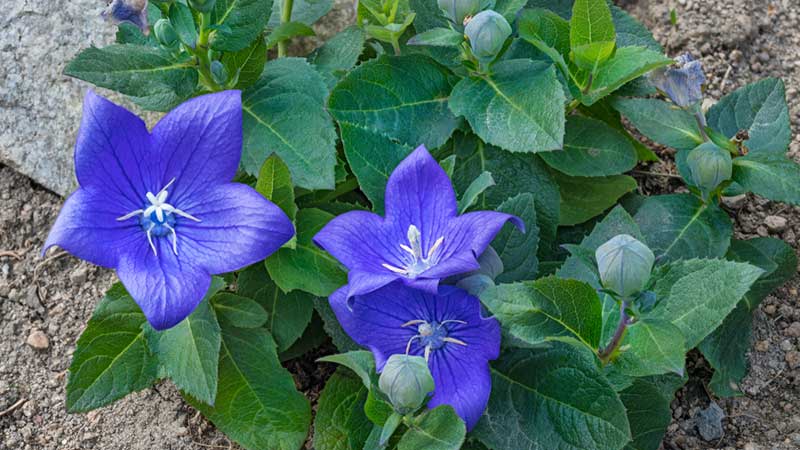 Also known as Campanula or bluebell, these cheery blue flowers are treasured for their nodding blooms with five pointed petals. Bellflower appreciates temperate climates in zones 3-9 with moderately cool nights and will bloom heaviest during June and July, with some blooms lasting well into the fall season. Bellflowers are low maintenance flowers that are perfect for cutting and bringing indoors.
Ajuga, Bugleweed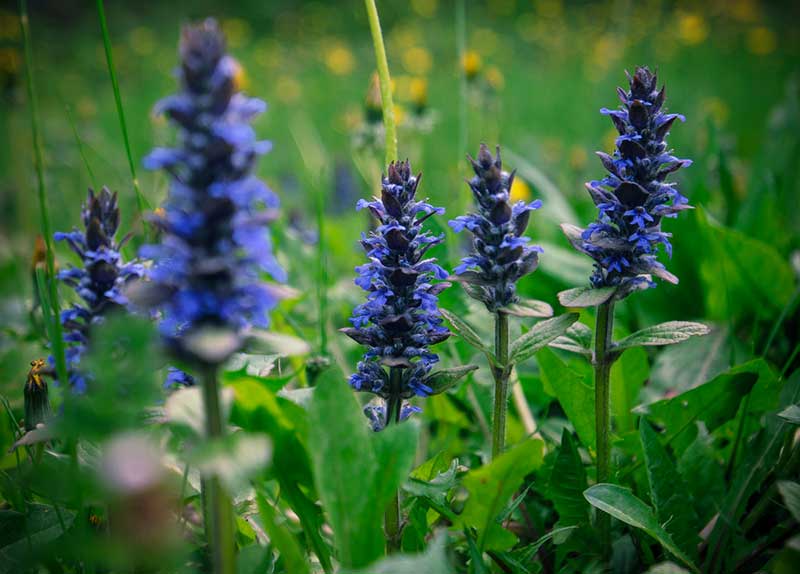 This rapidly-spreading ground cover plant features whorls of blue flower springs that bloom against shiny, dark green leaves during mid to late spring. Many people who grow Ajuga are more focused on the shimmering foliage than the actual petals. Ajuga is an excellent ground cover for choking out garden weeds and will do well in zones 3-9.
Viola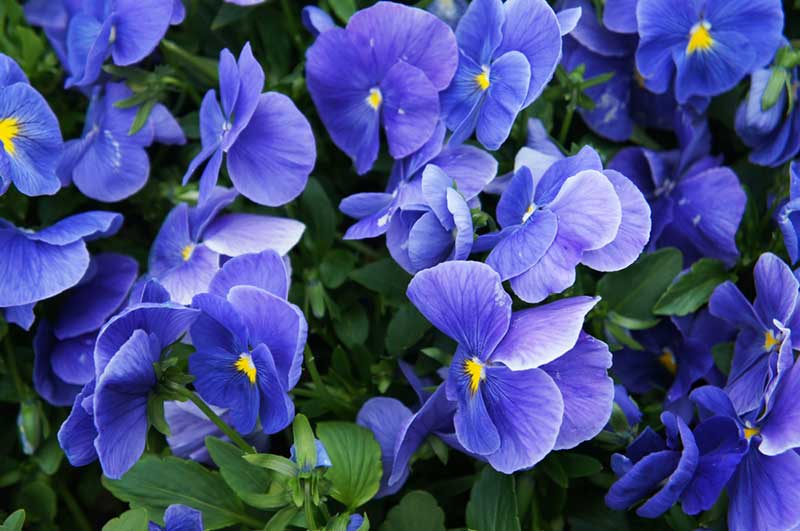 Violas are often one of the earliest risers for your garden's spring blooms. They are often found in the wild and produce dainty, delicate blooms of a jewel-like shade of bluish-purple with a bright yellow center eye. They grow well in zones 3-8 when planted together in a large portion of the garden or in potted containers indoors. Viola's edible flower heads are also used as surprising, playful garnishes for spring and summer dishes.
Pulmonaria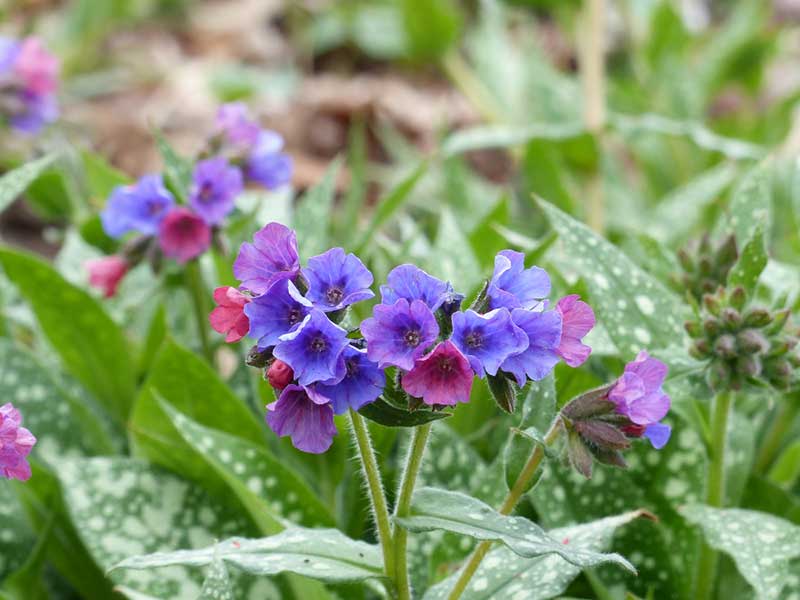 These shade plants are similar to hostas and are often referred to as lungwort due to the previous belief by medieval herbalists that they could be used as a remedy for lung issues. Pulmonaria showcases striking, cobalt-blue blooms during the spring blooms. Similar to Ajuga, these perennials are often grown for their attractive foliage that lasts all season. Pulmonaria grows best in zones 4-9 and should be planted in an area that received partial to full shade.
Brunner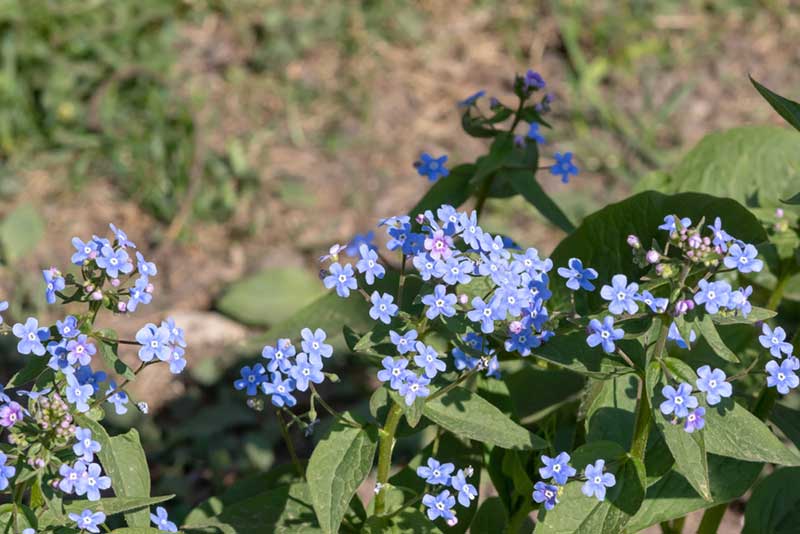 This shady plant springs delicate forget-me-not-like blossoms in ice-blue with yellowish-white center eyes above a cluster of heart-shaped, dark green foliage. The flowers last from spring to early summer, but the gorgeous foliage lasts throughout fall. These low-maintenance flowers make an excellent ground cover and will thrive in zones 3-8 when grown in partial shade.
Lupine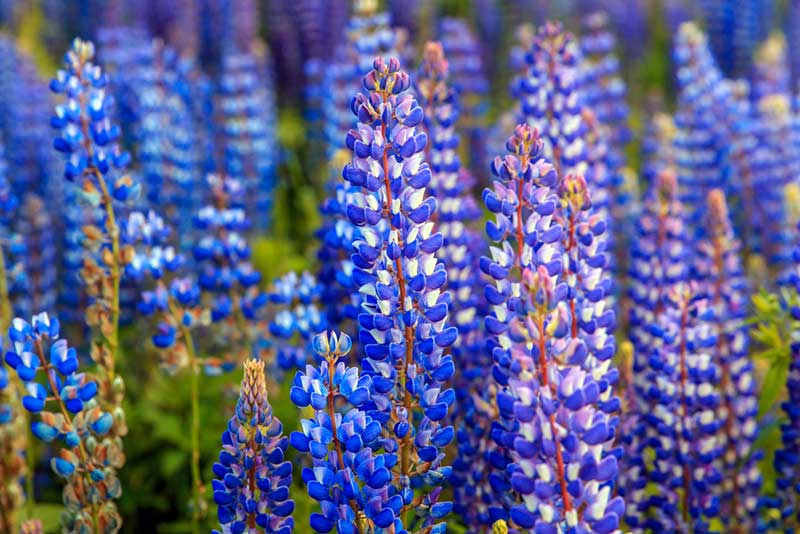 These cheerful, attractive flowers bloom in hues of blue and blueish-white on spires that typically grow from 1-4 feet tall. Lupines are sometimes found growing as wildflowers and they are prized because they serve as hosts that protect the larvae of some species of butterflies are endangered. They will have more blooms when fertilized with additional plant food that is high in phosphorous levels. These stunning flowers grow best in zones 4-8 and prefer a sunny home.
Forget-Me-Not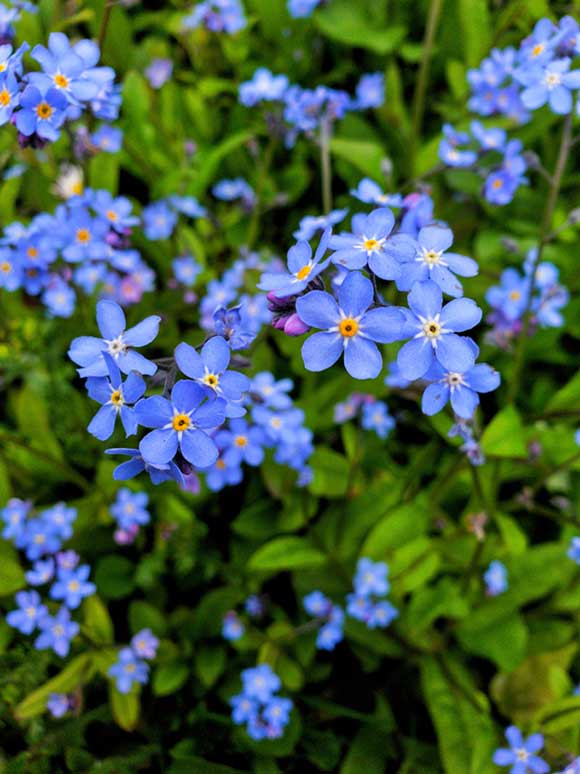 This treasured flower is beloved for its charming, five-petal sky-blue blossoms that seem to explode from the plant's hairy green stems. Forget-me-nots can grow up to 2 feet in height and tend to grow naturally near brooks, streams and other places that are rich with moisture. These lovely flowers prefer shady areas because of their need to retain moisture. They will thrive in temperatures that tend to stay moderately cool such as zones 5-9.
Iris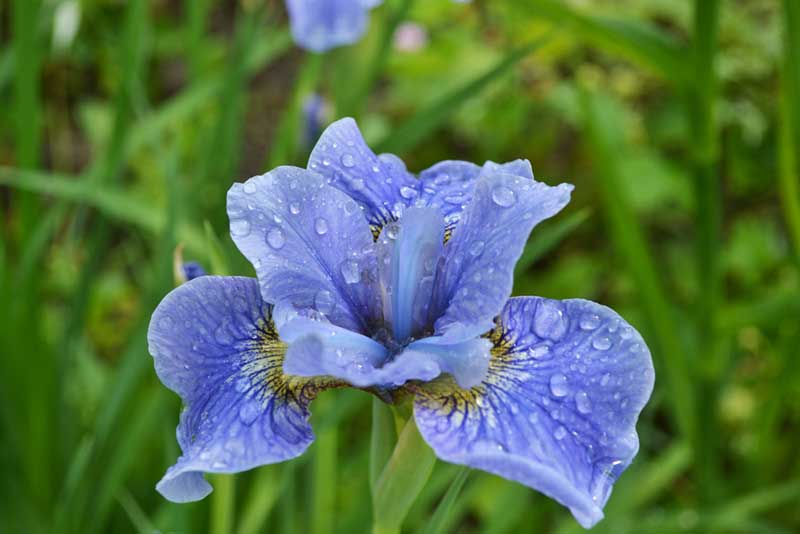 There possible couldn't be a flower more lovely than the beautiful iris. Named for a Greek goddess who was said to ride rainbows, irises are generally a rich violet-blue hue and contain outer petals that droop downward and three inner petals that stand upright. They require at least six hours of sunlight and thrive in zones 3-10.
Sea Holly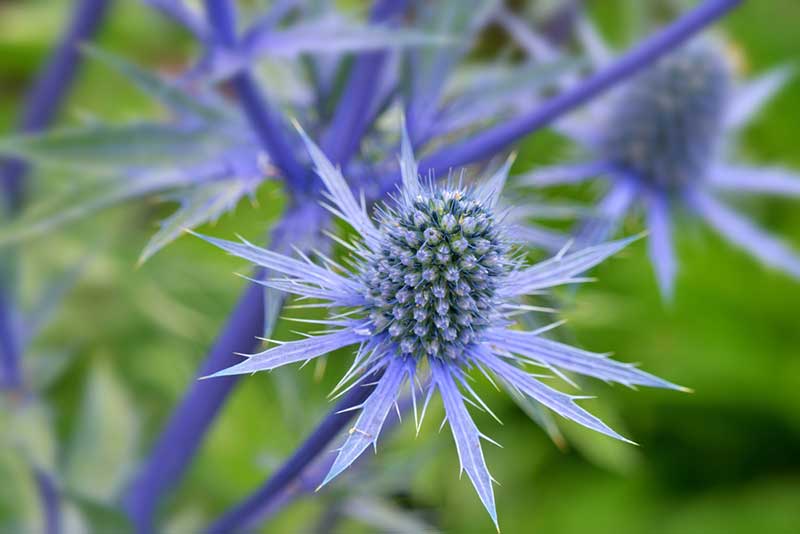 These interesting low-maintenance plants are known for the thistle-like petals of these purple-blue flowers. The colors of both the flower and the foliage often appear in a silverfish-blue, almost metallic shade, appearing as if they had been hand-painted. Sea holly was named because of its tolerance to dry climates and its ability to grow in sandy soil and withstand frequent sea spray, preferring zones 4-9.
Globe Thistle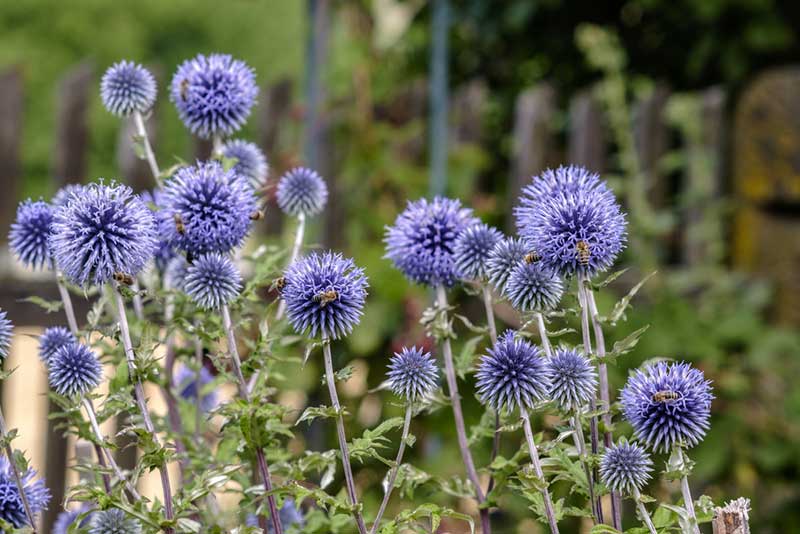 The exciting, deep purple and blue thistle petals of this flower come together to form a globe-shaped bloom that glimmers under direct sunlight. While they are prickly when they make contact with skin, their creative shape makes them an irresistible addition to any garden, especially a wildflower garden. They need a decent amount of sun and grow well in zones 3-9.
African Lily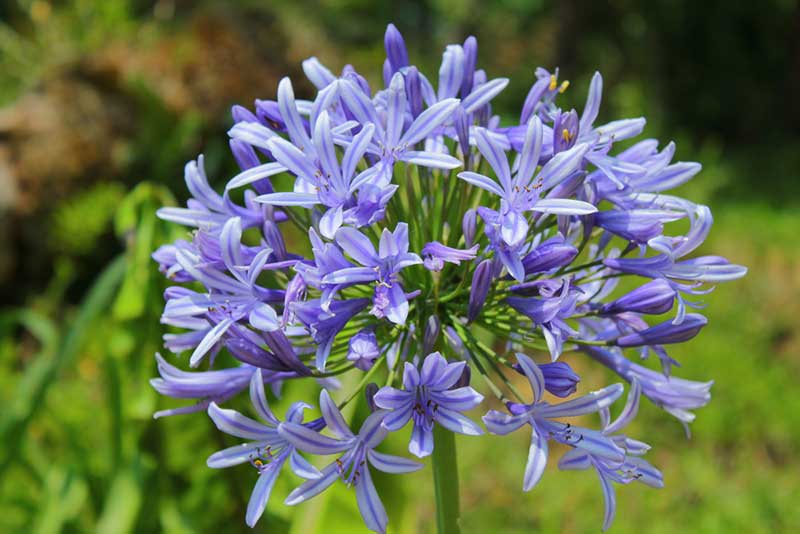 Also called, lily of the Nile, these flowers are native to Africa and are treasured for their clusters of large, spherical blooms that are typically blue, violet or white. African lily has sword-shaped, dark green leaves that resemble thick blades of grass and is a common attractor of butterflies and hummingbirds. African lily is a moderately fussy flower, growing well only in zones 8-10.
Baptisia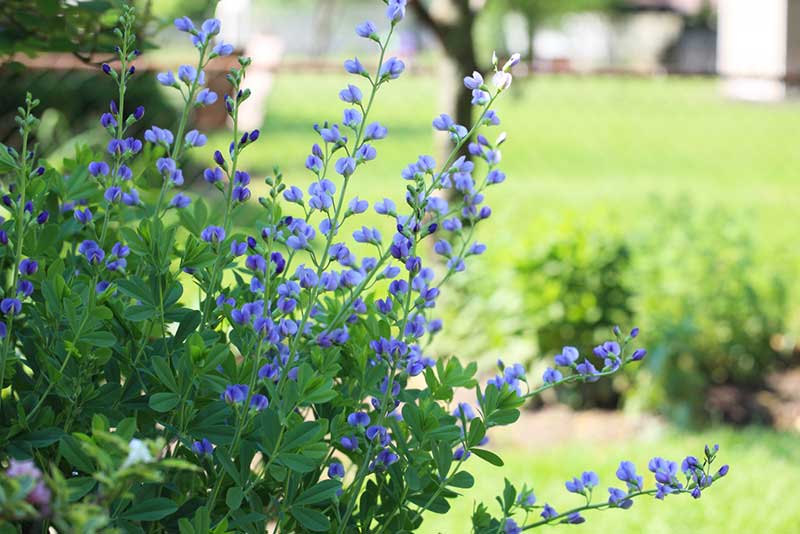 The indigo-blue flowers grow upright on lupine-like spires that bloom during the spring season. They occur in nature as wildflowers along streams and riverbanks and make an excellent addition to a wildflower garden or anywhere a gardener seeks to attract butterflies. Baptisia is a low-maintenance flower that should grow well in zones 3-9.
Phlox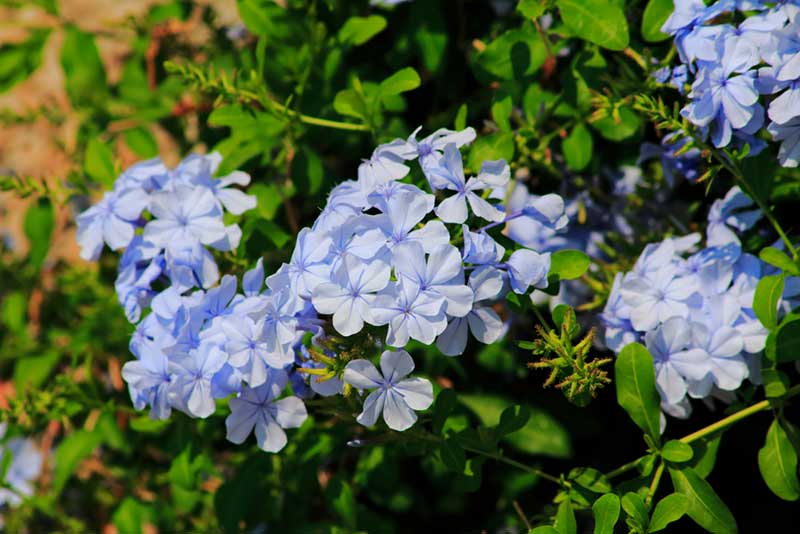 This darling, star-shaped wildflowers are a favorite choice to add some colorful beauty to any garden. They are low-growing and make for a perfect backdrop or a gap-filler between taller plants in the garden. They enjoy consistent moisture and well-drained soil in zones 4-8.
Lobelia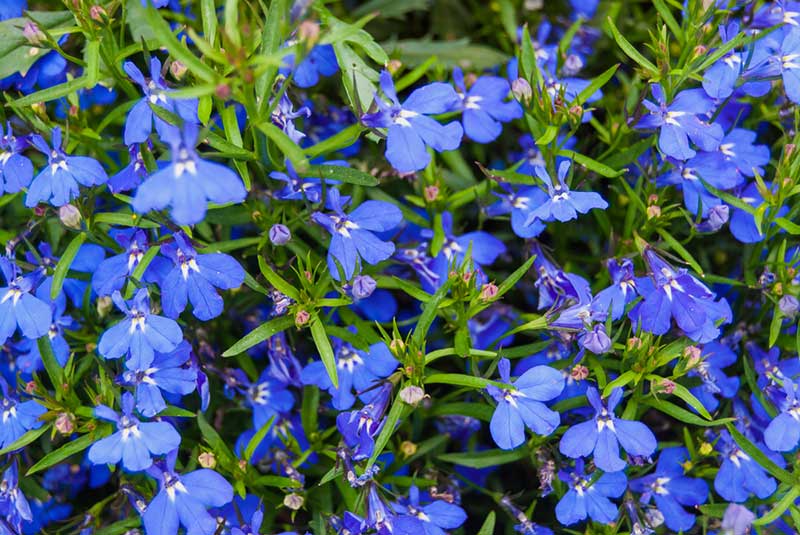 This easy-to-grow plant is a summertime bloomer that will sprinkle blue-violet blossoms freely in cool weather. These herbs are wonderful border flowers and also look lovely in hanging baskets and containers. They are moderately hardy and should be grown in zones 4-8.
Aster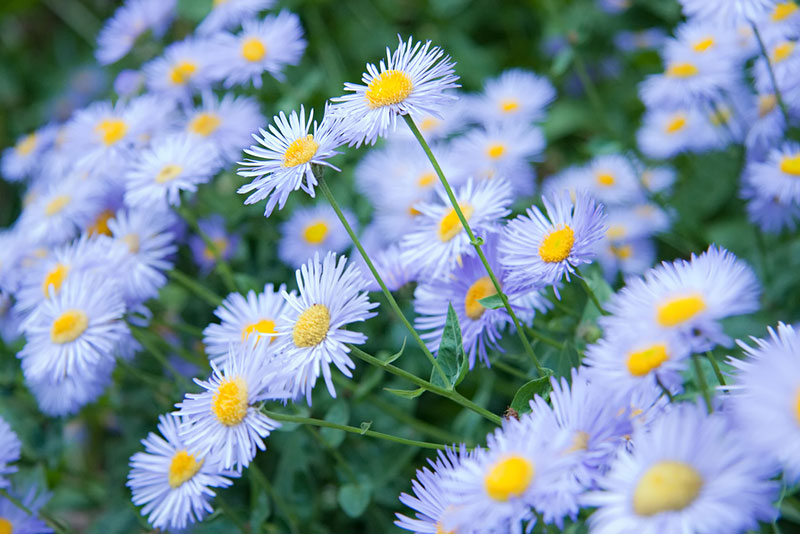 Asters (Symphyotrichum spp.) bring the garden to life in early fall, just as other perennials are beginning to fade. These sometimes-frilly daisy-like flowers come in delightful shades of white, pink, blue, and purple. Foliage is lacy and attractive and is often mounded, creating a solid mass of color when it blooms. They prefer slightly acidic to neutral well-drained soil but will adapt to nearly any soil as long as it drains well. Size ranges from 12 inches to massive six-foot plants, depending on the cultivar. Asters are hardy in zones 3 through 8.
Hyacinth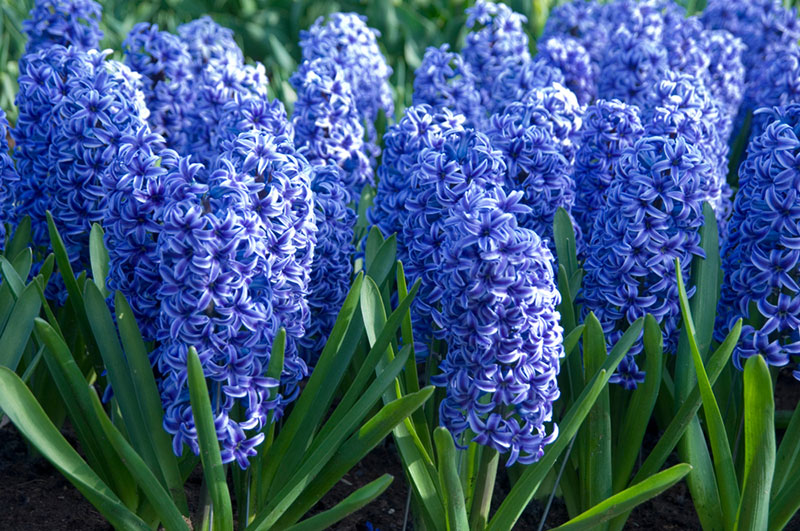 Hyacinth (Hyacinthus orientalis) is a spring-blooming bulb prized for its heady fragrance and brightly colored flowers. Individual, star-like blooms envelop a short stem creating a tubular cluster of blooms. They range in color from pink, purple, and blue to pure white and dramatic reds. Hyacinths thrive in moist, well-drained soil that is slightly acidic to neutral. They grow to heights of 6 to 12 inches, depending on the cultivar. Plant hyacinths in full or partial shade for a showy display of color in early spring. They are hardy in zones 3 through 8.
Hydrangea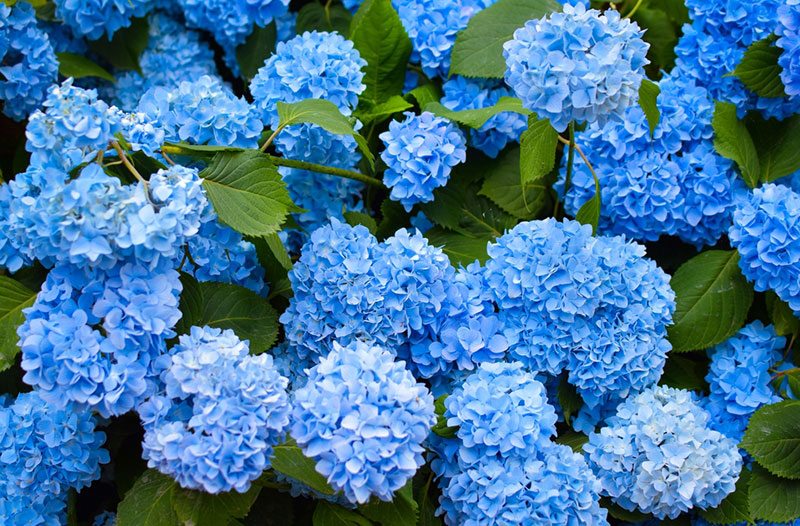 Hydrangeas (Hydrangea spp.) are a group of perennial shrubs that includes many varieties. Still, there are five species commonly grown in home gardens in the U.S. These include 1) Climbing hydrangeas, 2) Oakleaf hydrangeas, 3) Smooth hydrangeas, 4) Panicle hydrangeas, and 5) Mophead hydrangeas. While each variety differs in appearance, they all share the same growing needs.
Grow hydrangeas in full or partial sun in average well-drained soil. They are not picky about the pH, but it will affect the color of the blooms in many cultivars. Typically, a soil pH below 6.0 (acidic soil) produces flowers in shades of blue or lavender, while a pH above 7.0 causes blooms to turn pink or red.
Hydrangeas are hardy in zones 5 through 9 and are toxic to humans and pets.