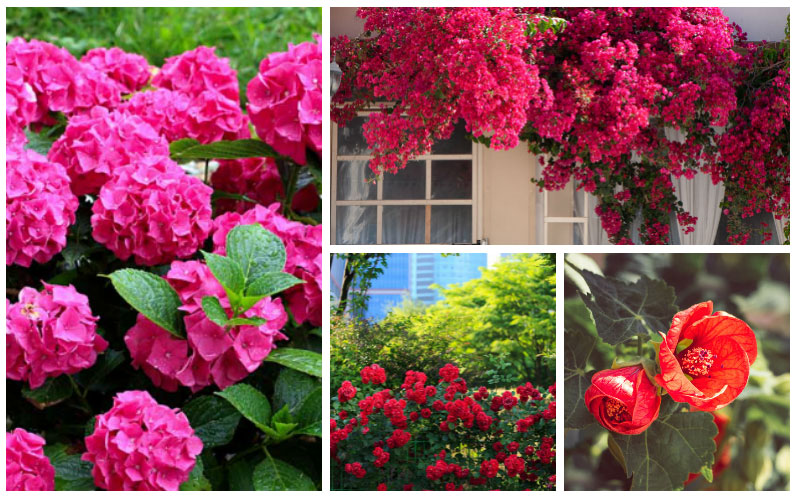 Red is a stunning, eye-catching color. Red is the color of energy, vitality, and passion. That's one of the reasons that red plants are so incredibly popular. Red also tends to go very well with most house colors, making red shrubs a perfect accent for the home gardener.
If you are looking to make a truly bold statement at your home or in your garden, a red shrub is an excellent way to draw the eye to your garden.
We've compiled a list of the 10 best red flowering shrubs that would make the perfect addition to your garden or home.
1. Red Azaleas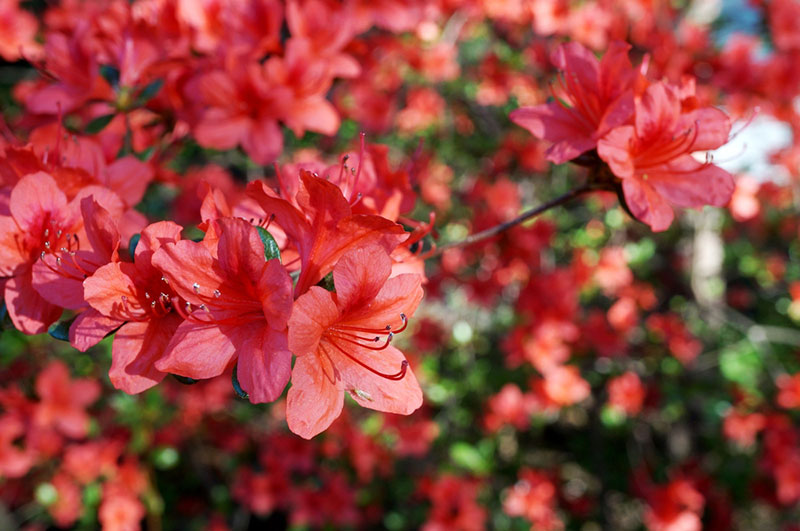 Azaleas are one of the most popular blooming shrubs. Azaleas come in many colors and offer an incredible burst of color in the early spring to summer. While they bloom for just 2-3 weeks, their color is so stunning that it is absolutely worth it. Some azaleas flower again in a smaller manner in the fall. There are many specialty red azaleas such as the Bloom-A-Thon re-blooming azalea. These are absolute showstoppers. They have the slightest fragrance and attract hummingbirds and butterflies. Azaleas will grow well anywhere from zone five and above.
2. Flowering Quince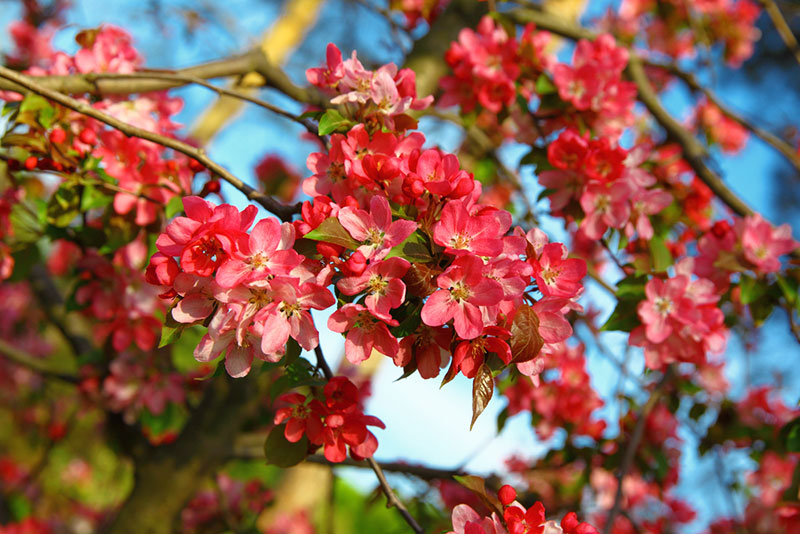 Flowering quince is a lovely plant that is technically a member of the rose family. They are usually one of the first bloomers of the spring season. They are hedge-like with eye-popping bright red coloring. They usually grow between 1-3 meters in height and have slight fruit on it that tends to not be very flavorful. They prefer to grow in soil that is slightly acidic and thrive in zones 4-10.
3. Bougainvilleas with Red Flowers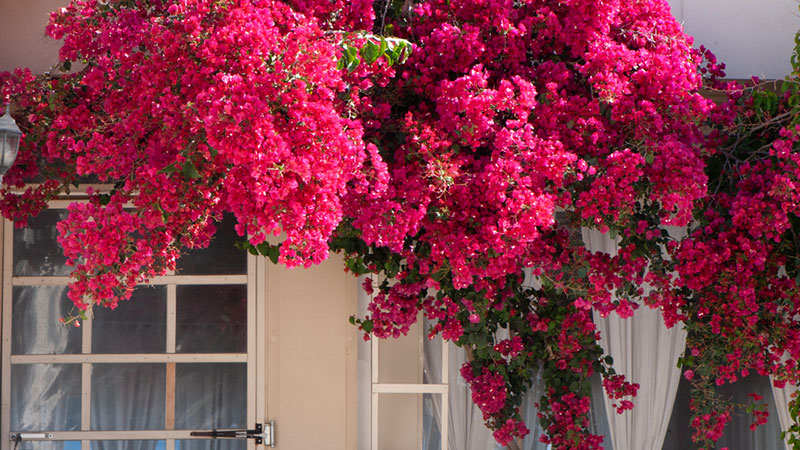 These shrubs are absolute blooming machines that provide an explosion of color. They prefer to be planted in temperate climates and the bright shade of red is truly a floral fiesta of color. There are a wide variety that varies widely in size. Bougainvilleas love to bask in the warm sun. They tend to grow quite quickly and will do well in zones 9-11. They are native to South America and also thrive in the Mediterranean.
4. Grateful Red Hydrangea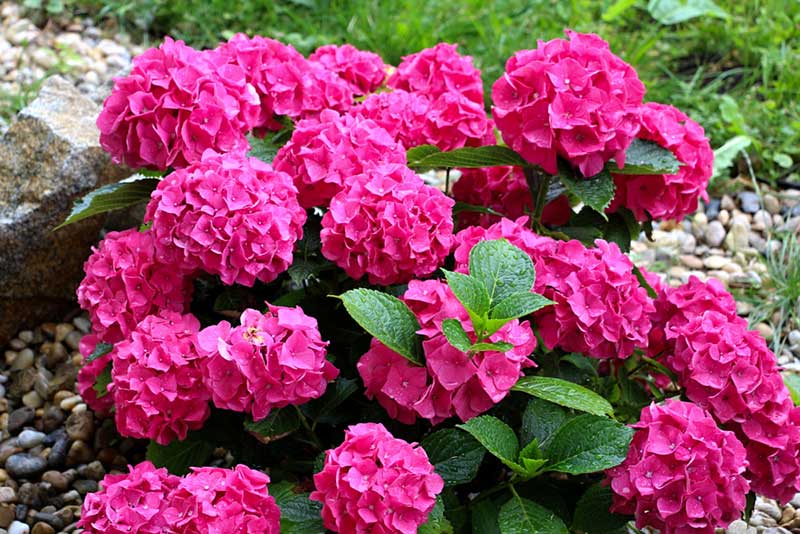 The grateful red hydrangea is a designer hydrangea bush that is specially crafted to ensure a mass of rich, red blooms. It is known for having oversized blooms that will come in for the majority of the summer if the bush is planted in the shade. The Grateful Red Hydrangea prefers alkaline soils and will turn a lovely purple color as the cold weather approaches. It grows well in zones 4-9.
5. Flowering Maple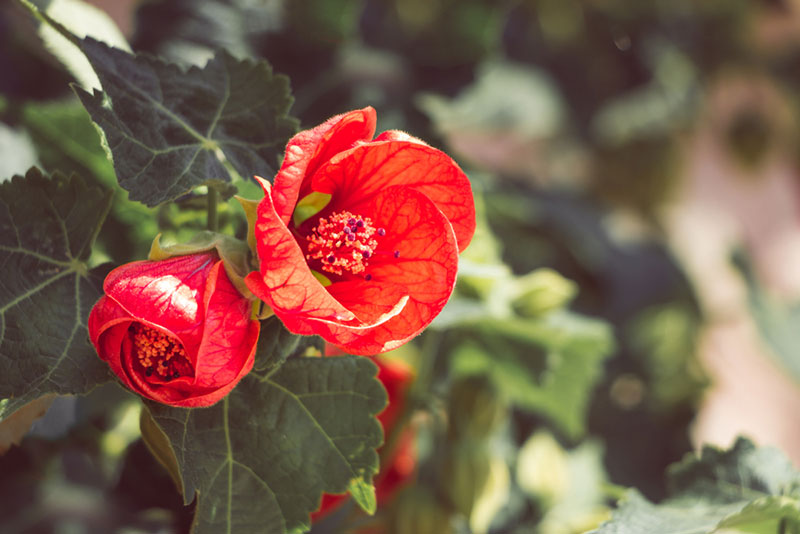 The flowering maple is known for its interesting, ornamental-looking leaves and red patterned flowers that hang gently. The plant got its name from the maple shape of its leaves. It will thrive in zones 8-10 and will require partial sunlight. Ideally, the plant will grow best with a layer of mulch that is around two inches.
6. Mexican Bird of Paradise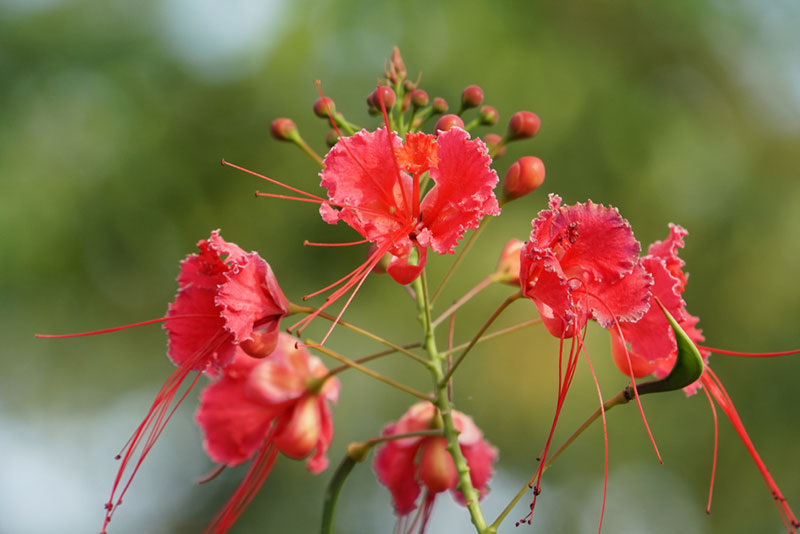 This lovely shrub has all of the feisty colors you would expect from the name. Flowers are generally a mixture of red and yellow and can grow as large as 15 feet. The plant will require a good amount of watering until it becomes well-rooted in the ground. It will thrive in zones 9-11, but it can also sometimes grow decently in zone 8.
7. Scarlet Rosemallow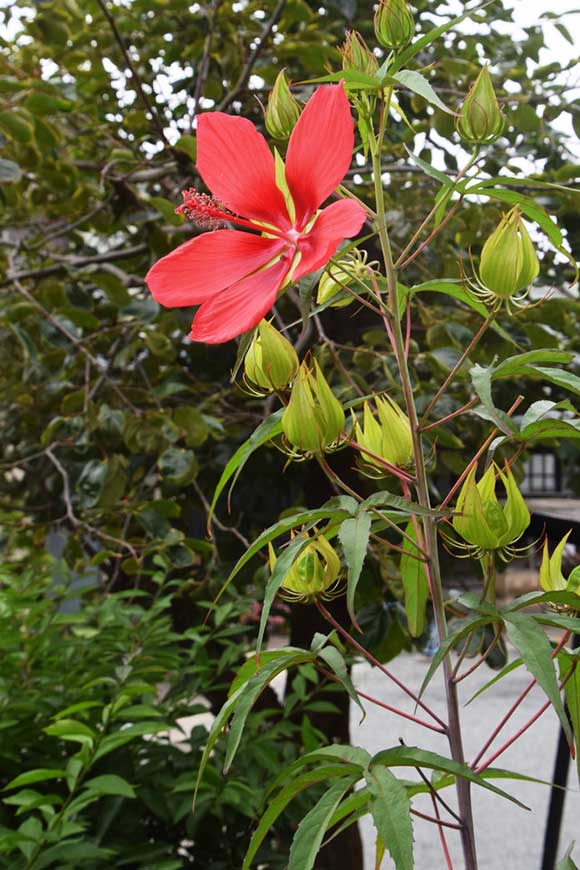 This hibiscus tree is a very striking tree that is also sometimes called a swamp hibiscus or wild red mallow. It is generally only found in Southern states. It has very large flowers that are a deep crimson color. It is a showy plant that requires a bit of careful cultivating. It blooms throughout summer and can be found in nature in swamps and marshes. It will grow well in zones 6-9.
8. Crimson Bottlebrush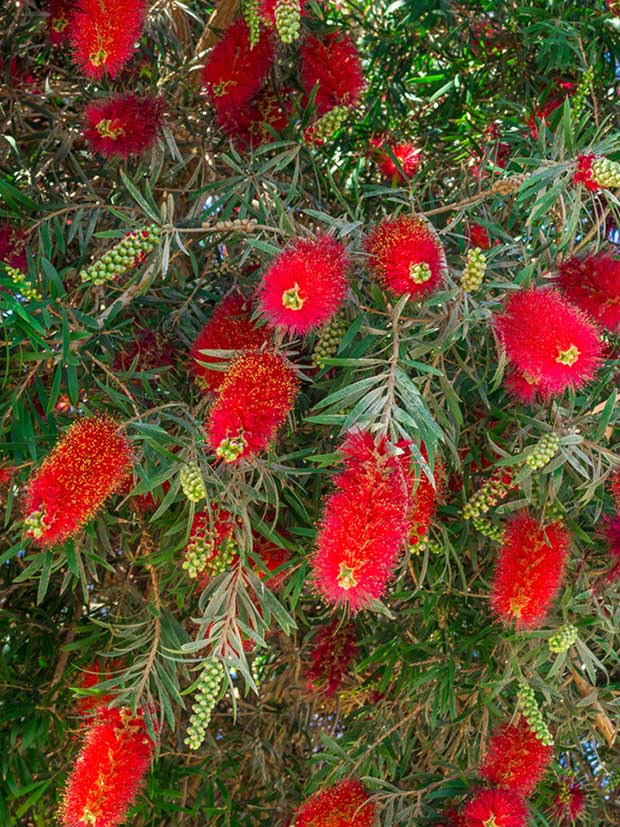 Also known as lemon bottlebrush, this plant is a member of the myrtle family. It grows anywhere from 8-14 feet in height and it is in leaf all year but flowering through the majority of the summer months. It will grow best in hardiness zones 8-11.
9. Lantana Shrub
The blooms of this radiant shrub are typically a rich, red-orange hue and often have tinges of yellow coloring. These are perfect to add red to your garden with a vibrant splash. The lantana shrub will thrive during the hottest months of summer at a time when many flowers may wilt or wither. This is an excellent accent shrub for a garden. The lantana shrub grows best in zones 9-11 and only requires the occasional watering that the natural rainfall usually generates.
10. Rose Bush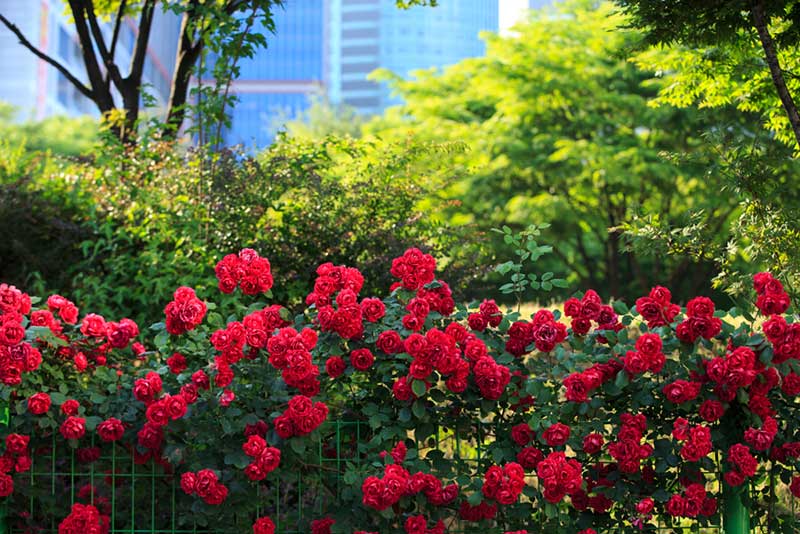 Last, but certainly not least, the common rose bush is one of the most classically stunning bushes with red color. Its color is deep red and these are perfect for cutting and displaying around the house or giving as gifts. The rose bush will come back every year and grow hardily with a lot of blooms. Rose bushes should be consistently pruned in order to encourage re-blooming and for the bush to continue to grow to its full potential. These can be planted in most zones throughout the country.