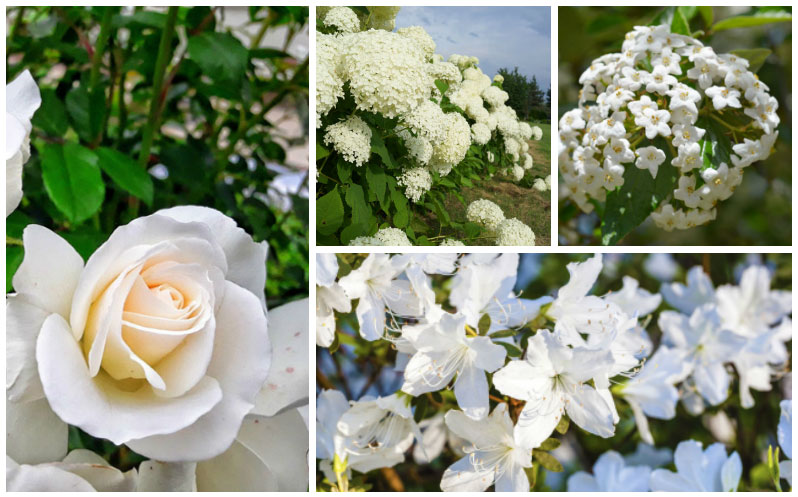 The color white is associated with innocence, purity, light, and overall goodness. The beautiful connotations with the color white may be one of the reasons that gardeners love to nestled white blooming shrubs within their gardens. As an added benefit, white blooming shrubs help to make every other color of flower to "pop" in an incredible manner.
We've collected a list of 10 stunningly gorgeous shrubs that present with beautiful white blooms. The white blooming shrubs below offer blooms of various sizes and their gorgeous flowers present in many ways.
From full, bushy blooms of the Annabelle Hydrangea, to the stem-style blossoms on the white lilac, there are white blooming shrubs to match any style of gardener's preference.
Here is a list of 10 of the most gorgeous shrubs that contain white blooms that are perfect for every garden!
1. Korean Spice Viburnum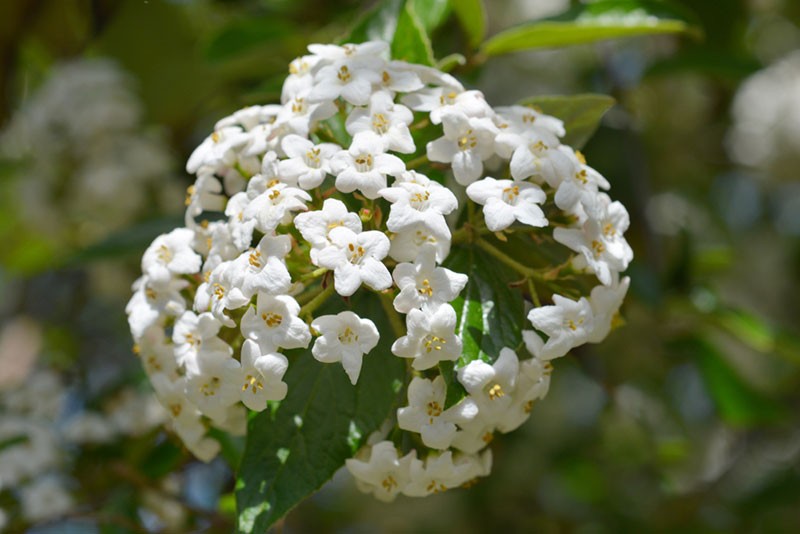 With flowers that look similar to lilac and have an early-spring bloom, this shrub got its name due to its unique scent that gardeners love. Although most flowers will be pure white, there is often a light pink tinge to the blooms. Viburnum grow best in zones 4-7 and many gardeners choose to plant it near windows or patio doors in order to enjoy the unique, spicy scent this shrub produces.
2. Common Lilacs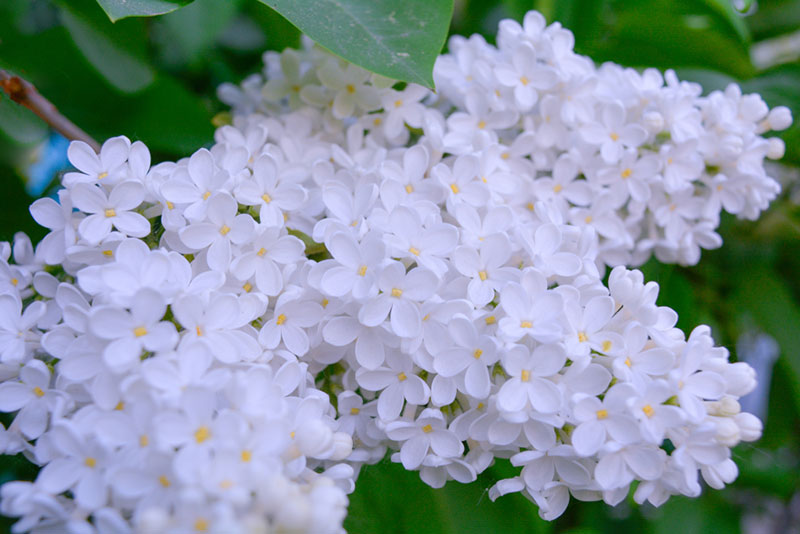 Like all lilacs, the white lilac has an absolutely enticing scent. It will bloom in late spring and gardeners looking for white lilacs should ensure the chosen shrub is truly white. It produces spectacular flowers and will do best in zones 3-8.
3. Annabelle Hydrangea
This lovely summer bloomer will flourish with dozens of large, bushy blooms that are comprised of a multitude of smaller, delicate blooms, typically of any hydrangea. The Annabelle hydrangea is beloved by gardeners due to the fact that its blooms are quite large and last from early summer all the way through autumn. They bloom well in zones 3-7.
4. Andromeda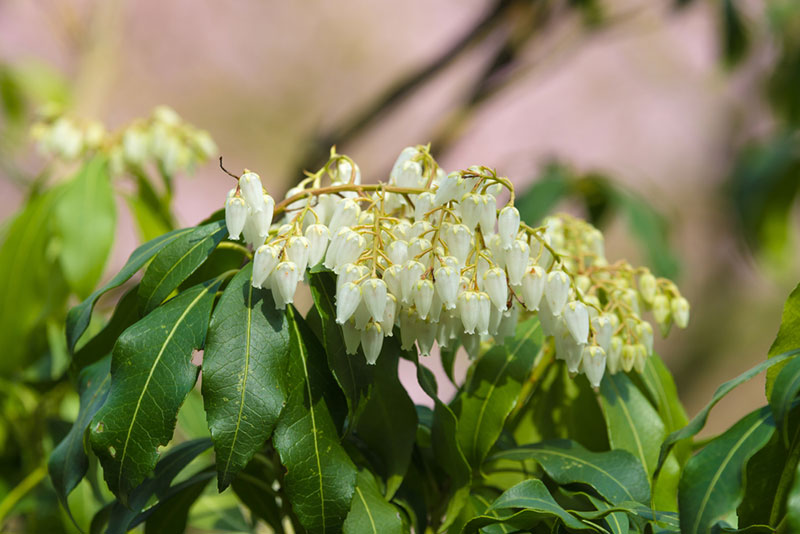 This flower is known for having quite a strong scent. It is recommended to check out the scent prior to adding it to your garden. It has bushels of tiny, bell-shaped flowers and deep green foliage. It will bloom as early as March or early April.
4. White Roses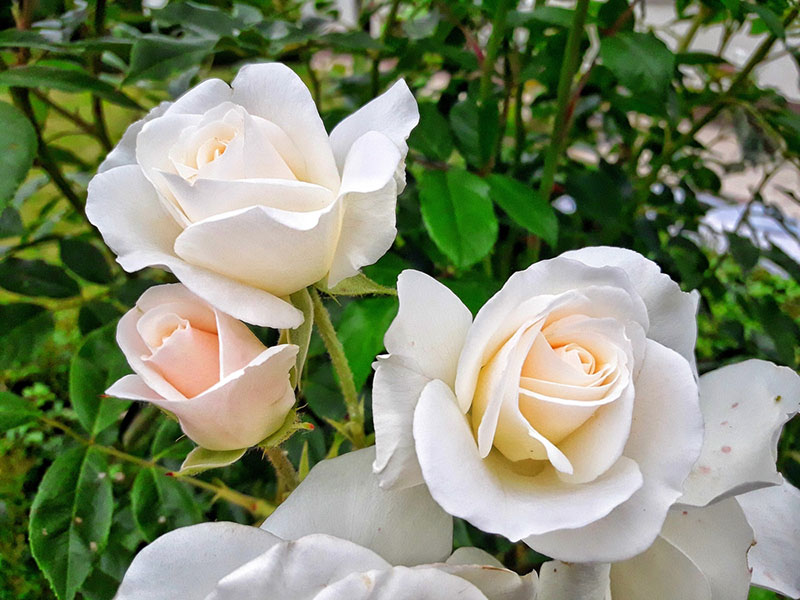 As you know, roses come in a large variety of colors that often have a specialized meaning. The white rose is a symbol of reverence and kindness. Like most roses, white roses have a lovely, rich fragrance and will bloom in late spring to early summer. White roses should be pruned frequently during early bloom in order to gain a fuller bloom in summer. White roses grow best in zones 5-9.
6. Snows of Kilimanjaro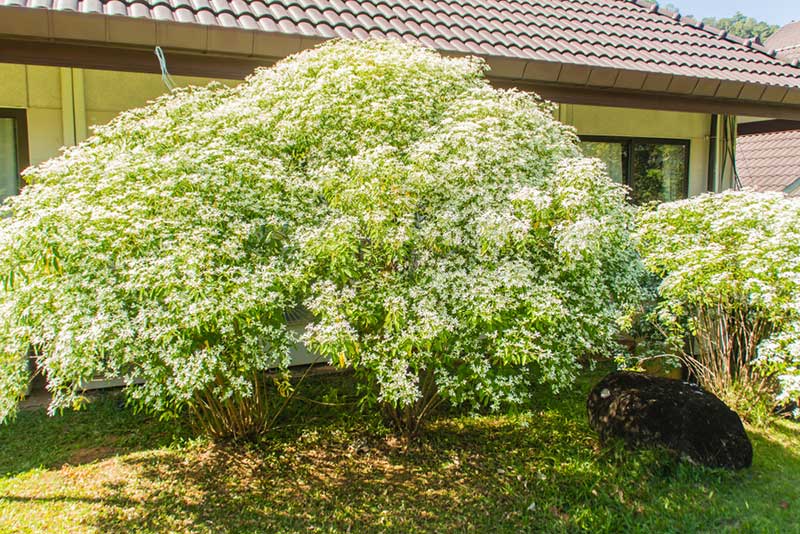 This lovely shrub is tropical in nature and will bloom with literally thousands of small, delicate white flowers that contain several small petals. It truly lives up to its name, looking like a fluttering of a snowstorm in the winter. It is closely related to the poinsettia and is nicknamed the "little Christmas flower." Its flowers have a sweet fragrance and the blooms will thrive best if the shrub is heavily pruned in early spring. This shrub is best suited to grow in zones 10-13 and will do best in full sun or minimal shade with very well-drained soil.
7. Spirea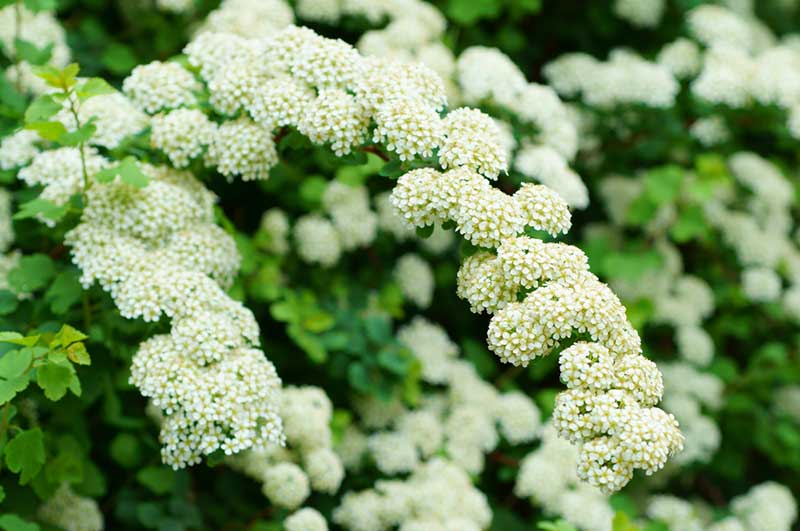 The Spirea is a close relative to the rose family and its blooms are made up of bushels of small, delicate white flowers with five petals and a yellow center eye. Spirea prefers to grow in full sun and will bloom in early summer, growing 5-8 feet in height. It will grow best in zones 3-8. There are many variations of Spirea that come in pink blossoms. If you are looking for a white shrub, make sure that it has the pure white blossoms of the Vanhoutte Spirea. It will grow best in soil that is kept well-drained but moderately moist.
8. Sweet Mock Orange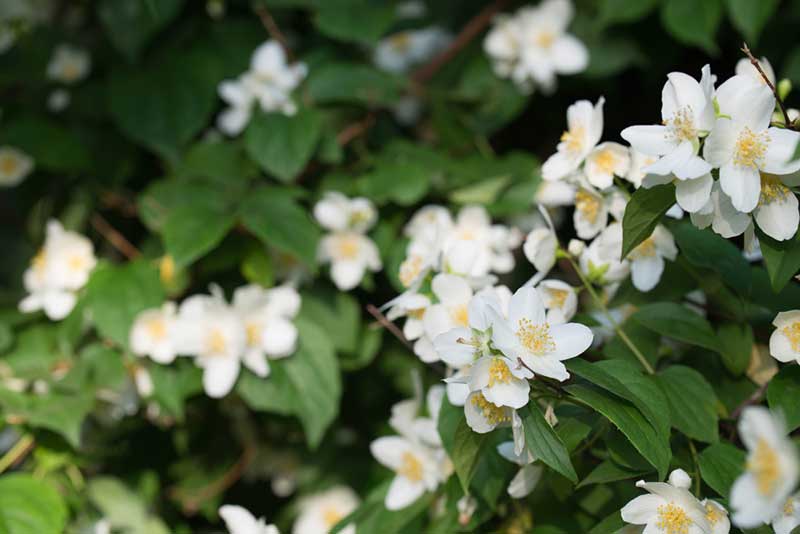 The sweet mock orange is prized by gardeners due to the lovely shape of its blooms. They look similar to roses, yet are more rounded in shape. It is known for its aroma that has a hint of citrus in its scent. Although it is a shrub, it grows quite large, also reaching 10-12 feet in height. It will grow best in zones 4-8 and prefers full sun and moist soil that contains some form of compost or mulch to encourage hearty growth.
9. White Azaleas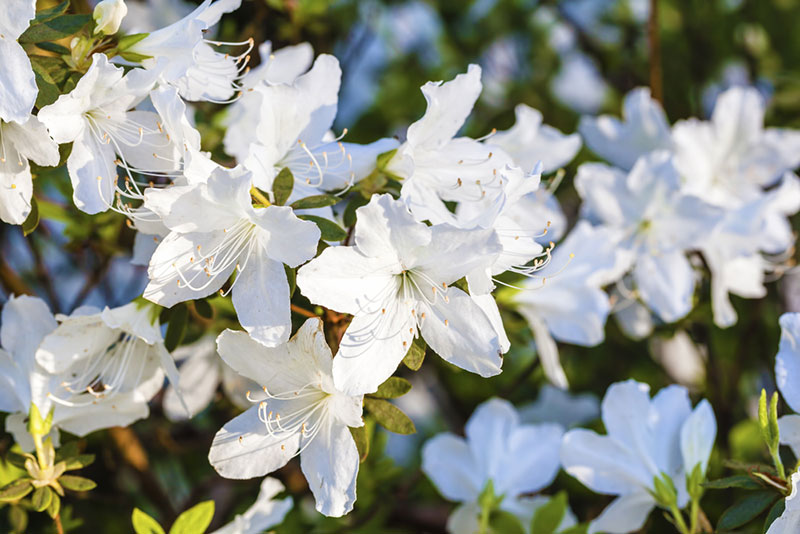 White azaleas are truly a showstopper in the garden, blooming in early spring in a massive outpouring of stunning flowers. It is prized by gardeners due to the huge outpouring of flowers that light up the garden. Like most azaleas, it will grow best in zones 6-9 and will bloom best in full sunlight.
10. Dwarf Deutzia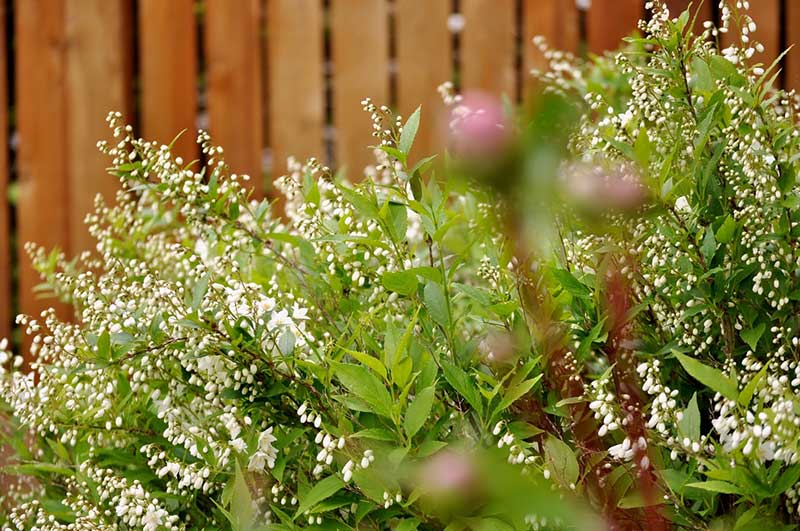 This shrub is often chosen to be used as a ground cover due to the fact that it is very short in height, typically staying under two feet tall. This shrub's flowers are quite small and hang off of stems in a bell-like shape. It will bloom in late spring and can do well in zones 1-8, preferring to have full sun to partial shade and moist, well-drained soil conditions.