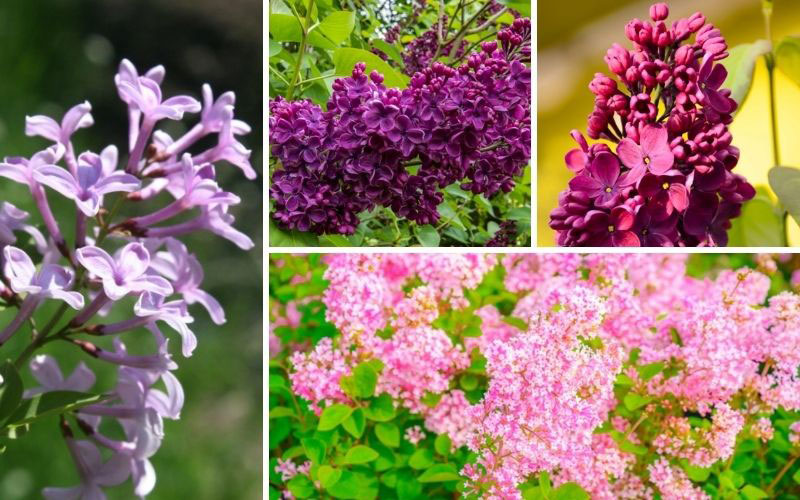 The lilac (Syringa) is a hardy domestic plant. Two of its variations derive from Europe, the rest from Asia. Lilacs do not naturally appear in the wild but need only time and nurturing to take root and thrive. These hardy shrubs have been documented upwards of a century old.
The lilac's many sub-variants have very similar needs. For most, buds require a solid cold spell to mature. Properly-timed pruning sets up for a successful flowering season. Full sunlight and adequate space between plants can help prevent powdery mildew (an aesthetic blight), especially if the sun can reach the base of the lilac.
Lilacs are among the hardiest of garden shrubs, with great variants for beginners and those that challenge experienced gardeners. There are types suited for any space layout, from the wee dwarf lilacs to the towering Madame Florent Stepman.
If you're in doubt about whether a particular type of lilac would be good in your garden, keep an eye out for lilacs you see in your area to see what works. You can also consult a landscaping or lawn maintenance service.
Albert F Holden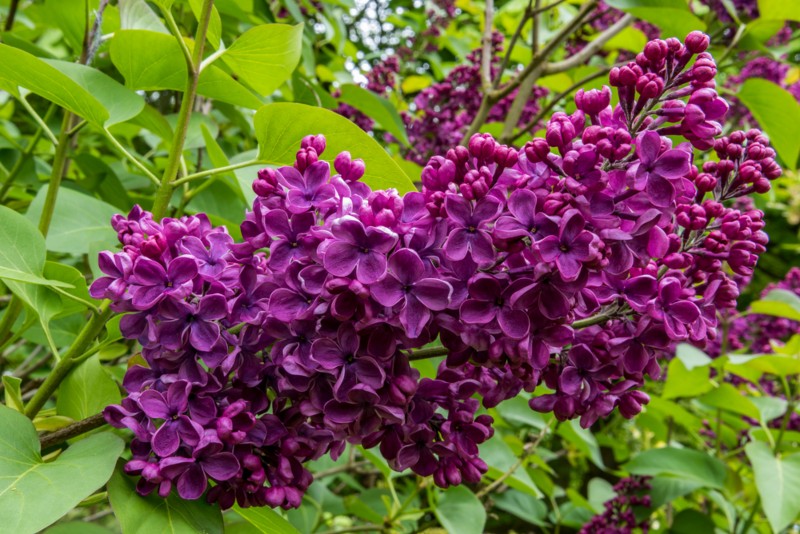 This lilac shows off duo-chrome blooms, rich purple inside, and silvery lavender on the outside. This common lilac is amenable to various types of soil, making it an easy choice for low-maintenance or beginner gardens.
Not only is it hardy, but it's a pollinator magnet, attracting bees, butterflies, hawkmoths, and hummingbirds. The Albert Holden common lilac can grow up to seven feet tall with an equally broad crown width.
Beauty Of Moscow/ Krasavitsa Moskvy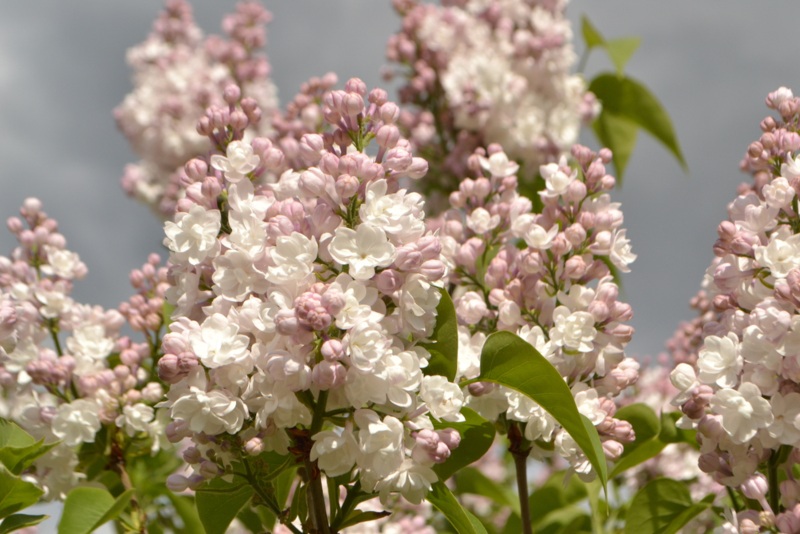 The Beauty of Moscow lilac boasts large fluffy white blooms with pink accents. This austere shrub grows rather quickly. It can reach eight to twelve feet in height before the age of ten. Beauty of Moscow lilacs bloom in May. They have a long blooming season and a unique fragrance. This hybrid was created from Belle de Nancy and I.V. Michturin lilac strains.
Ludwig Spaeth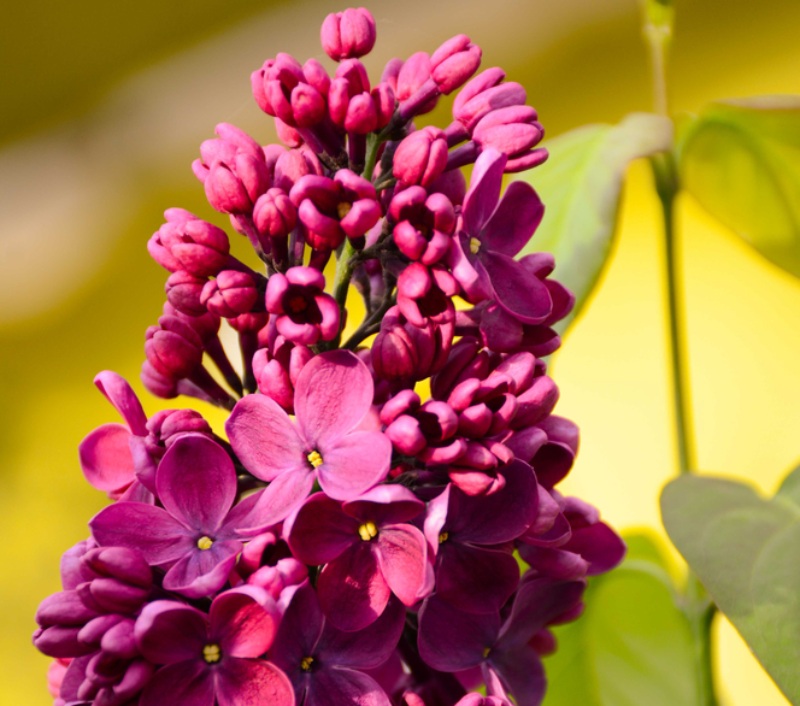 The Ludwig Spaeth lilac blooms later in the year than most varieties and is known for its rich burgundy tones. The Ludwig Spaeth lilac only grows about half as wide as its height. It can reach up to fifteen feet high.
This lilac variant has an increased susceptibility to lilac blight, so it needs more space. Less fertilization (and therefore less nitrogen) can help prevent blight bacteria from taking hold.
Madame Florent Stepman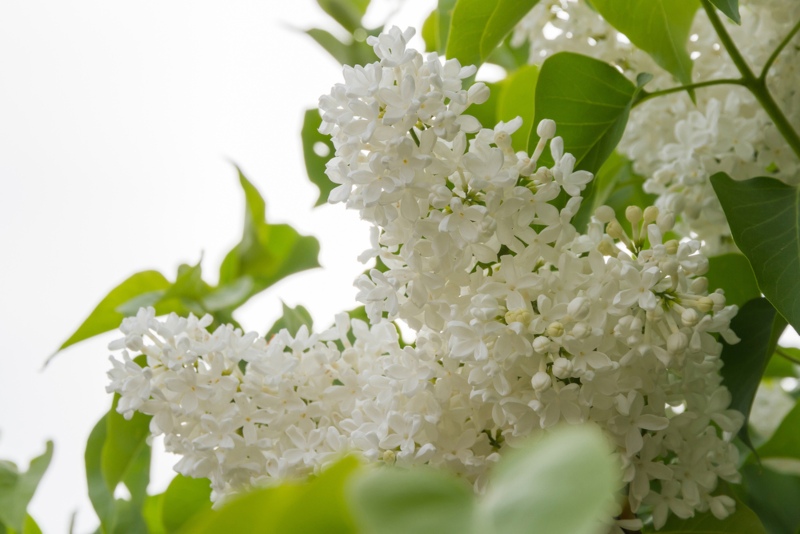 Madame Florent Stepman, a common lilac variation, stands out with its grand size. This French lilac is an easy-going plant, perfect for any gardener new to lilacs.
The only difficulties presented are size-related. Growing some twenty feet high and twenty feet wide, this variety can be challenging to prune back. The elegant Madame Florent lilac has creamy blossoms and bright green leaves.
Ivory Silk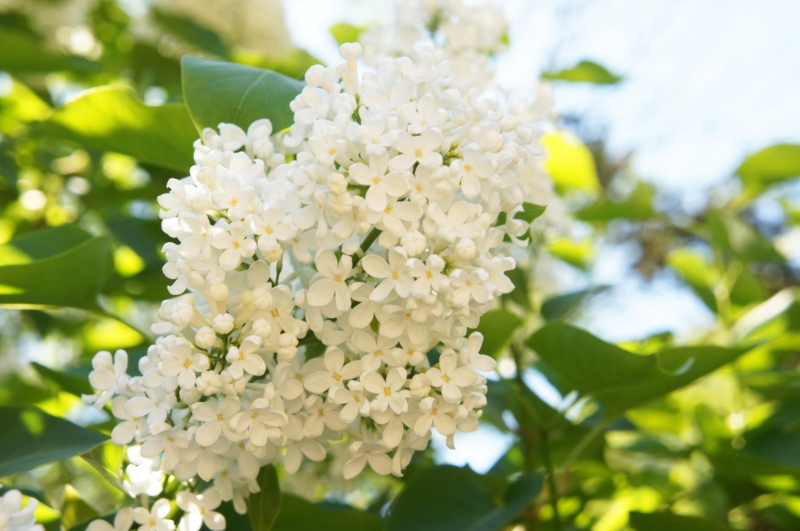 This variety of Japanese tree lilac grows about twenty to thirty feet. Its bark is glossy and copper-toned. Ivory Silk tapers in a delicate oval shape, with mounds of fluffy white flowers piled on broad dark leaves. This small tree requires space for maximum airflow. Regular watering is necessary in areas with extreme heat.
Golden Eclipse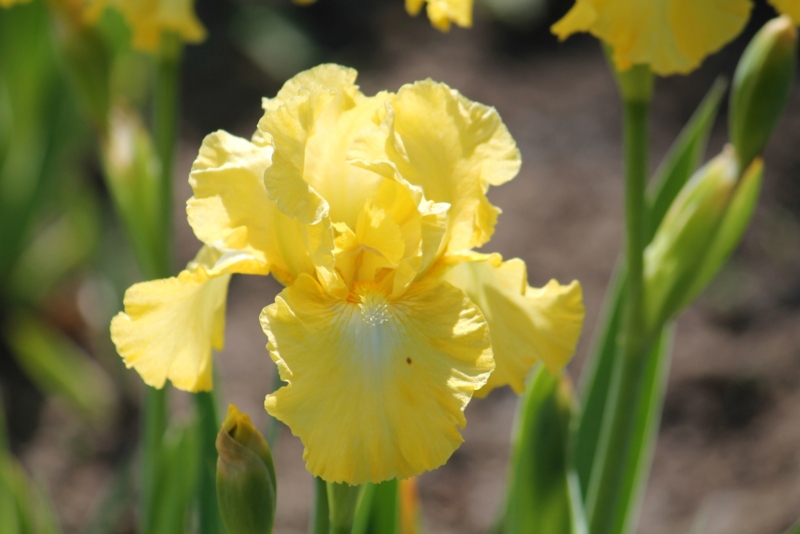 Another Japanese tree lilac, the Golden Eclipse, sports color-changing leaves during spring. The heavy blankets of white blooms develop a golden edge, giving the blossoms depth and a buttery tone. It grows about twenty feet tall.
Beijing Gold/ Zhang Zhiming/ China Snow (Syringa reticulata subsp. pekinensis)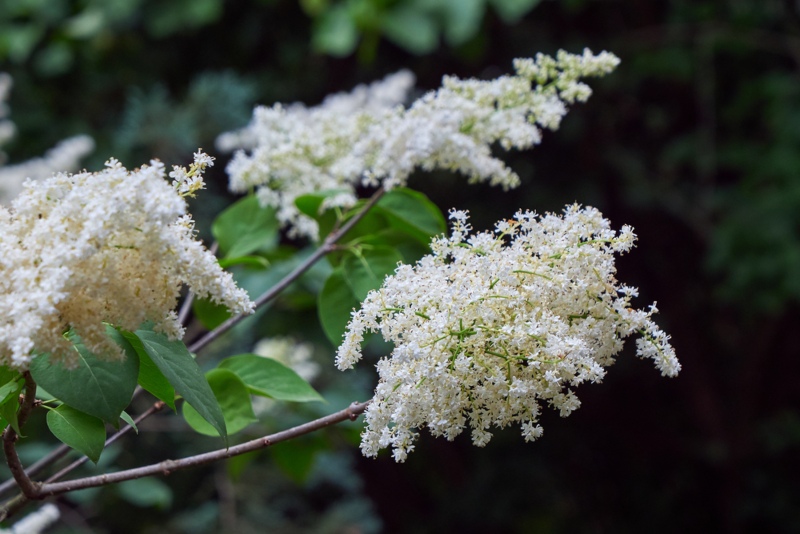 This S. reticulata variety, known as pekinensis, or the Chinese tree lilac, is breathtaking. Large, lacey boughs of pale yellow blooms adorn this small tree. Even its bark lends interest, being a textured deep brown. These trees, unlike other lilacs, need extra fertilizer applied once every spring.
Lilac Sunday/ Chinese Lilac (Syringa x chinensis)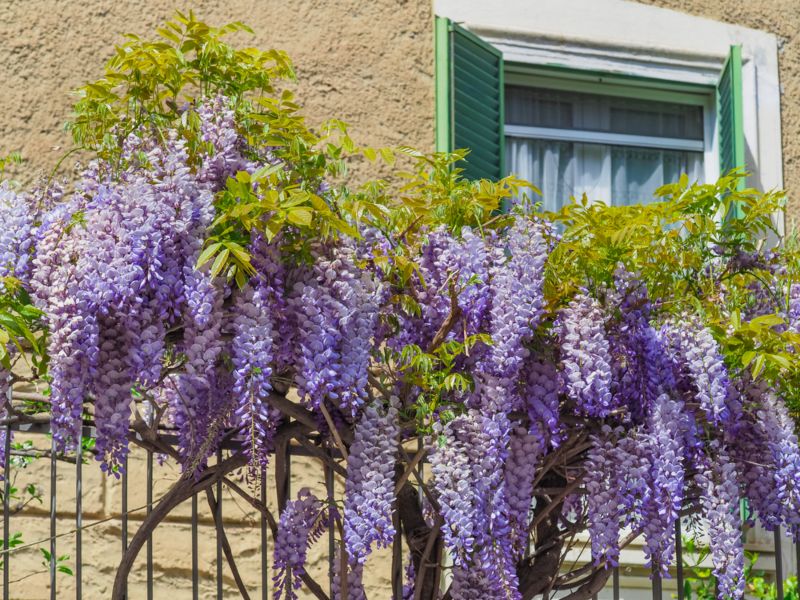 James Alexander hybridized this shrub, naming it Lilac Sunday after an annual event hosted by Harvard's arboretum. This classic lilac is half Syringa vulgaris and half Syringa persica.
The florets are clusters of warm lavender and cool blush. The blooms are so heavy that the thin, delicate branches arch beneath the weight. It's an impressive shrub, growing ten to fifteen feet high and wide. Lilac Sunday is particularly susceptible to powdery mold, so ensuring sunlight down to the base of the plant is imperative.
Early Flowering Lilac (Syringa x hyacinthiflora)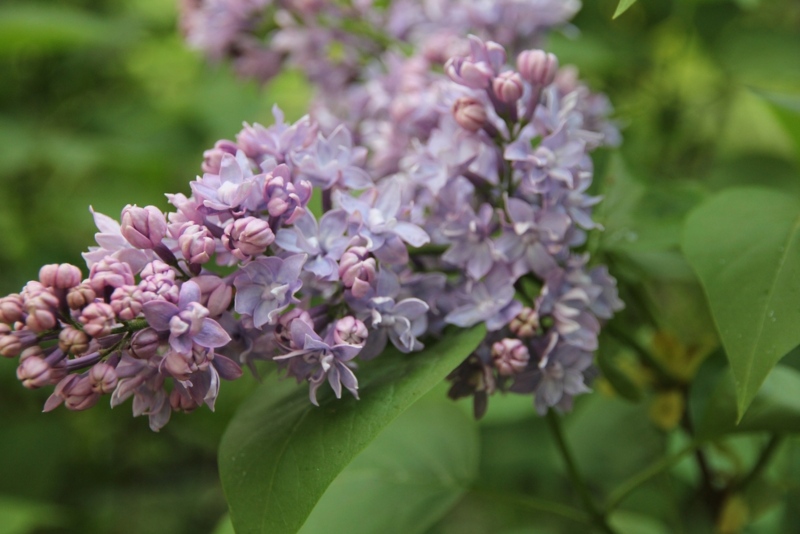 Syringa x Hyacinthiflora is a cross between Syringa vulgaris and Syringa oblata. Frank Skinner, famous for his lilac hybrids, cultivated hyacinthiflora for harsh prairie weather. Early flowering lilacs bloom about two weeks before most other lilacs.
There are a few subspecies of Syringa x hyacinthiflora, showcasing different colors. Pocahontas blooms the deepest shade, wine red with plum and magenta accents. Maiden's Blush blooms a creamy pink, some with peach and coral, others deep mulberry. Excel and Asessippi both reach silvery shades of pale purple.
Miss Kim (Syringa pubescens, subsp. patula)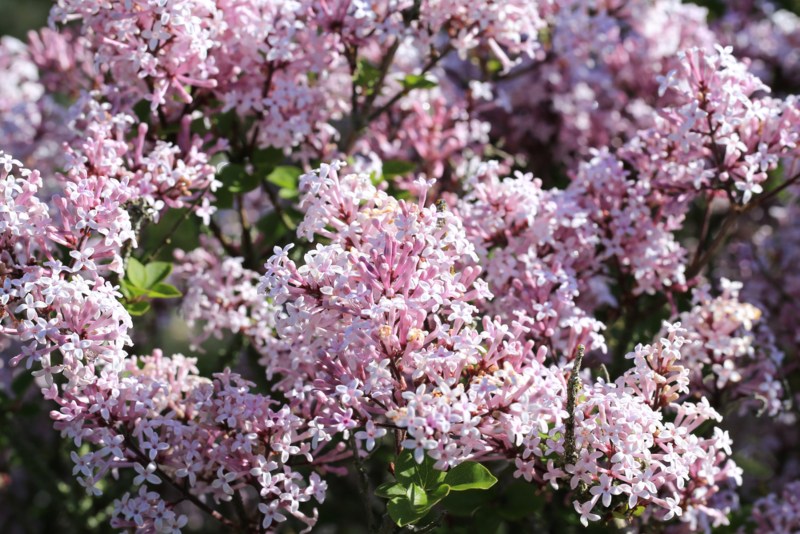 The Miss Kim lilac is a hardy variant that can tolerate both chilly and warm climates. It grows on the short side, giving a broader choice of placement. This lilac has excellent resistance to powdery mildew.
The Miss Kim lilac sports purple buds that open into icy blue flowers and bright green leaves that turn burgundy in the fall. While many lilacs bloom best on young wood, the Miss Kim blooms on old wood, slightly changing the pruning process.
Cutleaf (Syringa laciniata)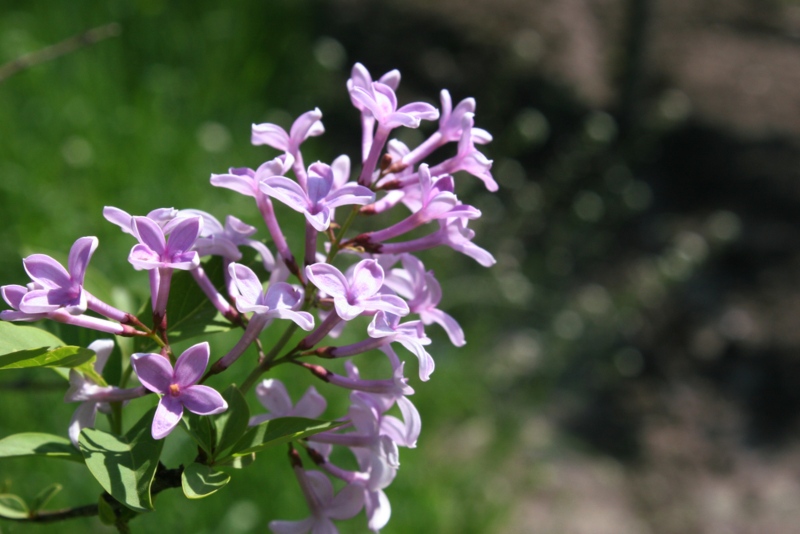 The cutleaf lilac differs from others in three ways. Its feathery leaves lend an air of delicacy to the plant.
Its other atypical characteristics give it more versatility than most lilacs. It can withstand hot and humid temperatures and thrive in partial shade. This variation, like the Miss Kim, is also mildew-resistant.
Superba Littleleaf (Syringa microphylla)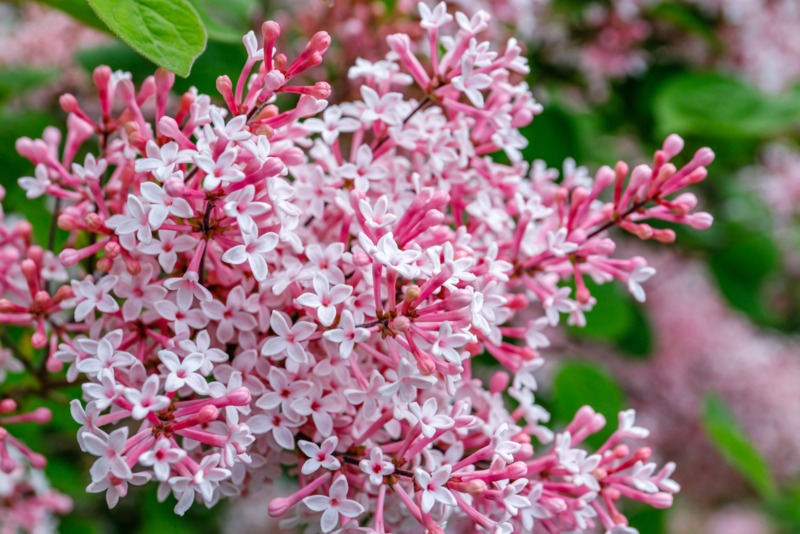 Another mildew-resistant shrub, the littleleaf stands out for its unique growth pattern. Dense, thin branches remain clustered at the heart of this medium-sized shrub. Its flowers reach out further than the leaves and look a bit like pink and red fireworks.
The littleleaf's pleasing shape and color make it a good choice for a hedge or border. Though the littleleaf tolerates shade better than most lilacs, full sunlight is still best.
Bloomerang Purple (Syringa pendula)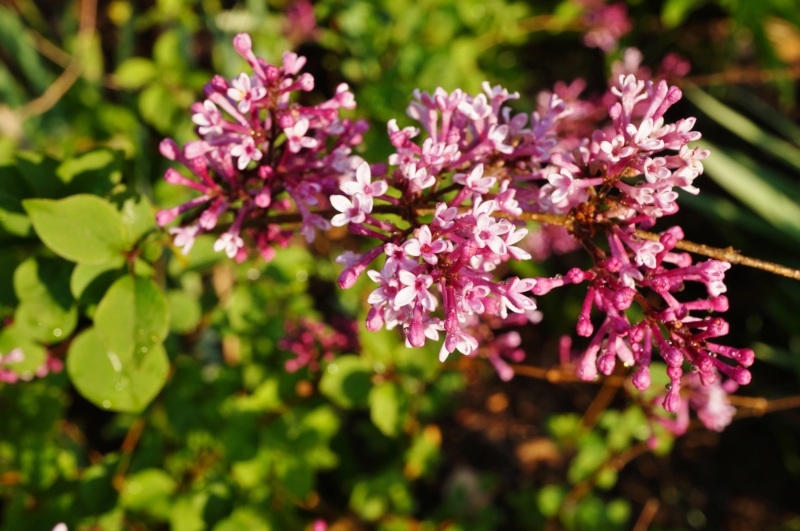 Bloomerang Purple lilac blooms with gusto in spring. It blooms again in the summer, though to a lesser extent. Fertilizing directly after the first thaw and after spring's first bloom will glean the best summer flowers possible.
Some serious horticulturalists turn their nose at reblooming, calling it an unnecessary trait. But many home gardeners appreciate reveling in the fragrance and blooms twice a year. The Bloomerang has magenta and lavender flowers and small leaves.
Korean Lilac/ Palibin (Syringa meyeri)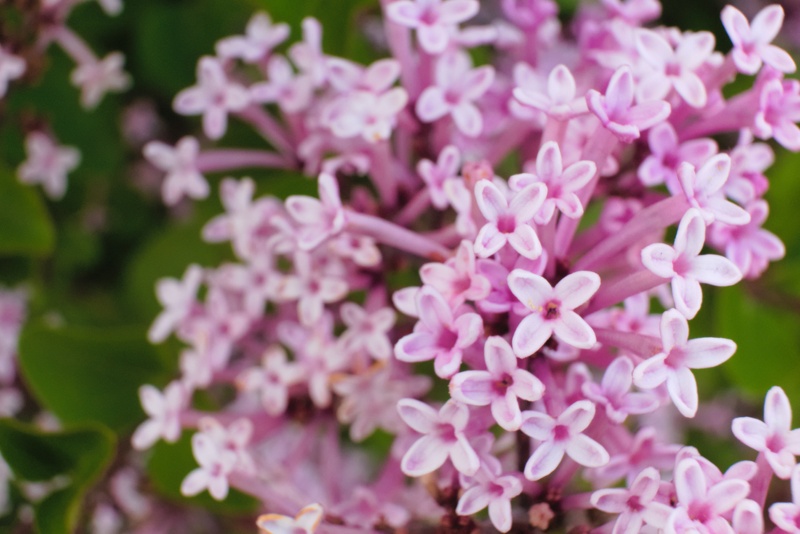 This delightful little shrub stands only about four to five feet in height and is roughly the same width-wise. Perfect for a garden with limited space, this easily cared-for dwarf shrub does not require maintenance pruning.
The Korean lilac bears glossy bright green leaves, heart-shaped with curly edges. Its blooms range in color from deep reddish-violet to pale lavender and white.
Tinkerbelle (Syringa tinkerbelle)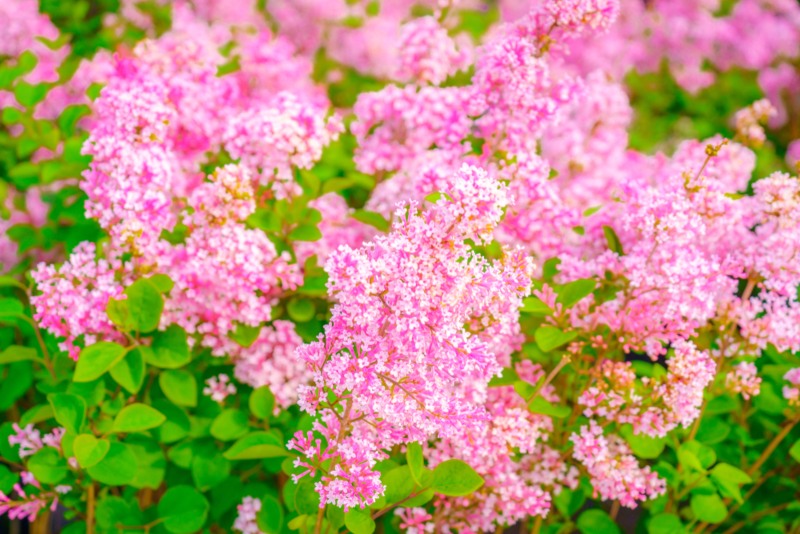 Like all dwarf lilacs, Tinkerbelle lilacs cater to modest space gardens. These hardy little dwarf shrubs tolerate light shade, allowing more options for placement.
Shades of wine and raspberry frosted with pale pink create an eye-catching contrast. Bailey Nurseries introduced the Tinkerbelle variety as part of the FairyTale variants. Others include Sugar Plum Fairy and Prince Charming.