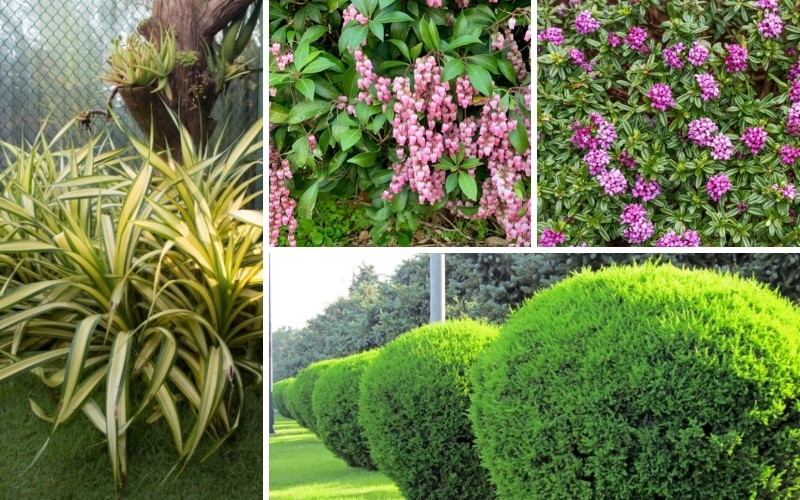 Even though deer are pretty common animals, we all still get a touch of excitement when we see one in our yard or on our property—that is, until we see it start to make a meal out of our favorite plants.
While landscape shrubs are not a deer's favorite food, a deer will snack on just about any plant. This is especially true if it's the dead of winter and other plants have died or gone dormant for the season.
If you're struggling with the deer in your neighborhood, try decorating your yard with these 12 deer resistant shrubs.
Juniper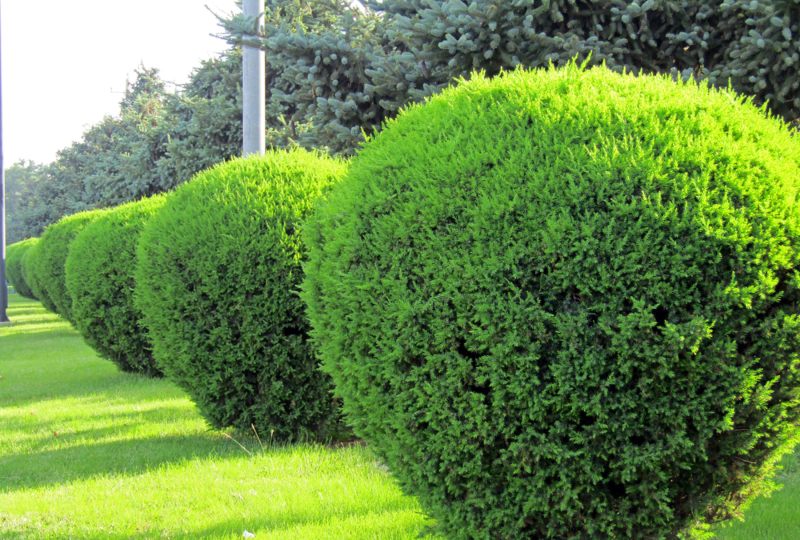 The Juniper Shrub is a prevalent ornamental garden plant. It survives through all four seasons, making it an excellent plant for any region.
Junipers come in up to 60 species and can range in size from 6 inches to 130 feet tall, so choose wisely! They sprout berries with a very bitter taste, so the deer are sure to stay away from them.
Boxwood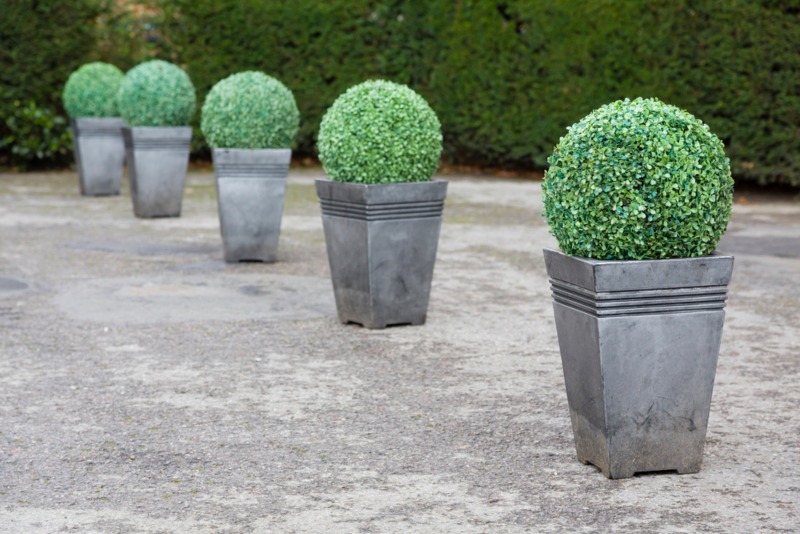 Like Juniper Shrubs, Boxwood Shrubs also come in dozens of different species. Most of the ones found in common gardens and landscaping hail from two different species: the common box and the Japanese box.
Boxwood plants enjoy full to partial sunlight and bloom early in the spring. They boast bright green leaves with creamy yellow, subtle flowers. Not only are these plants toxic to pets, but they don't taste great to deer.
Golden Sword Yucca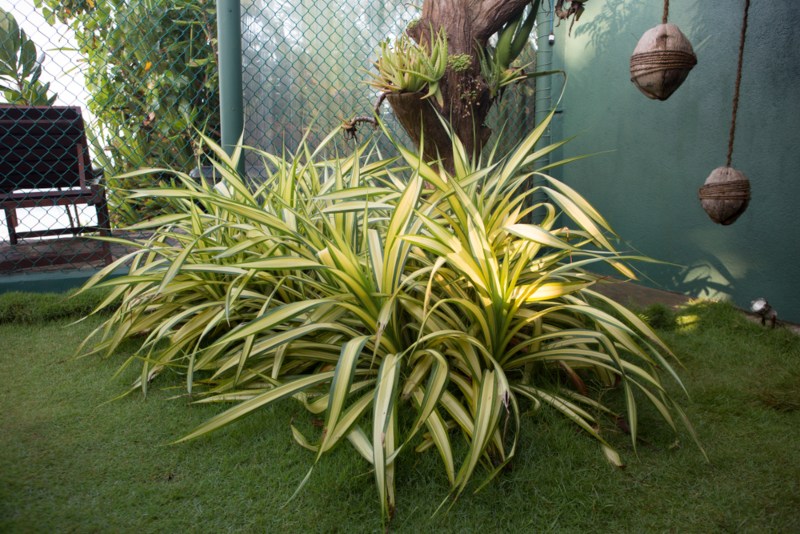 The Golden Sword Yucca plant is highly distinguishable due to its bold green and yellow striped leaves. The bottom of the plant sprouts several of these notable leaves, and the top makes it even more unique with tall, narrow blooms of ivory-white flowers.
The flowers are highly fragrant, which is something deer are not fans of. But you get to enjoy those blooms and the fragrance in your yard. These shrubs can reach 3 to 4 feet tall and up to 5 feet wide.
They bloom in the spring, though they are considered evergreen plants.
Evergreen Magnolia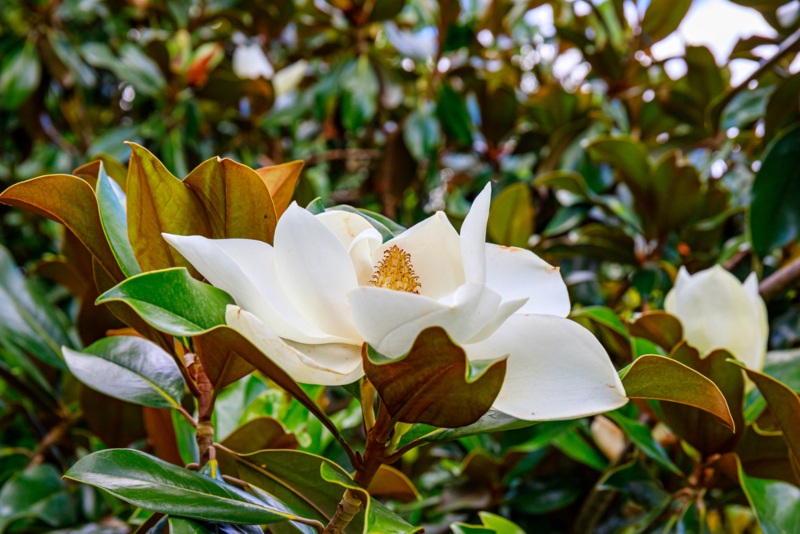 The word "shrub" doesn't exactly scream elegant, but the Evergreen Magnolia certainly does. This deer-resistant shrub adds a burst of bright white flowers to the monotonous green that typically accompanies the shrub family.
Yet another versatile group, the Evergreen Magnolia, comes in around 125 species. It's full of luscious green leaves that sport unique silver, red, and light green fuzzy undersides. These plants can grow as tall as 60 feet and work well with a wide range of landscapes.
Dwarf Alberta Spruce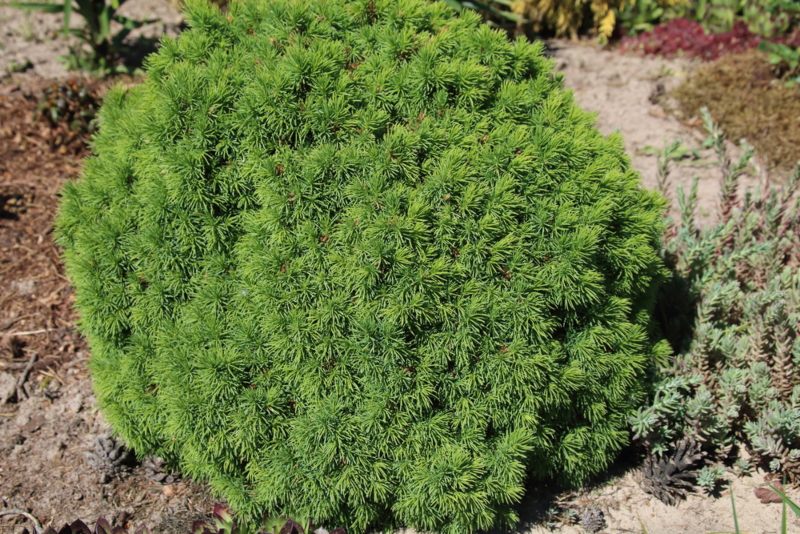 The Dwarf Alberta Spruce is a dense coniferous shrub that grows slow and thick. It has a classic evergreen look that will suit any landscaping. Due to its thick, bitter, and hardy greenery, deer don't particularly love to snack on this shrub.
You can expect this shrub to grow up to 12 feet high if left alone, but it takes quite a long time to get there. Because it grows slowly, it takes almost 30 full years to reach this height.
Bluebeard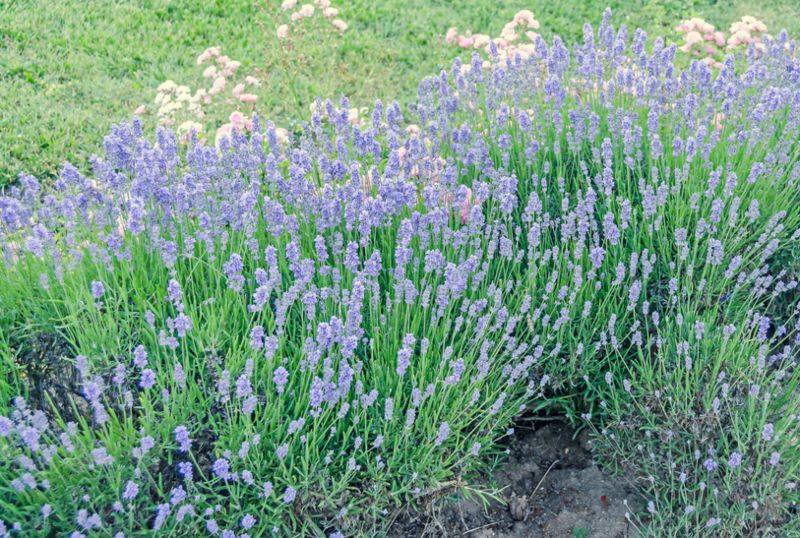 The Bluebeard plant is a relatively small shrub that grows in green and blooms gorgeous blue-purple leaves in the late summertime. While many flowers dissipate in the colder weather, the Bluebeard stays in bloom for much of fall.
This shrub is known as a deer-resistant plant, which might just solve your problems. At the same time, it adds a beautiful touch to your yard. While the Bluebeard isn't attractive to deer, it has a lovely fragrance and is wonderful for attracting stunning birds.
Arrowwood Viburnum
The Arrowwood Viburnum is another deciduous shrub native to the eastern United States. It's a large shrub that resembles a small tree with billowing branches and clusters of leaves. This shrub blooms tall and wide at 5 to 10 feet high, but its most notable feature is the clumps of small, white, flat-topped flowers that sprout in the spring.
The plant does best in well-drained soil with full sun. It especially loves to be near a water source, and its flowers are known for attracting butterflies, songbirds, and bees. However, it's not a favorite of deer!
Shrub Roses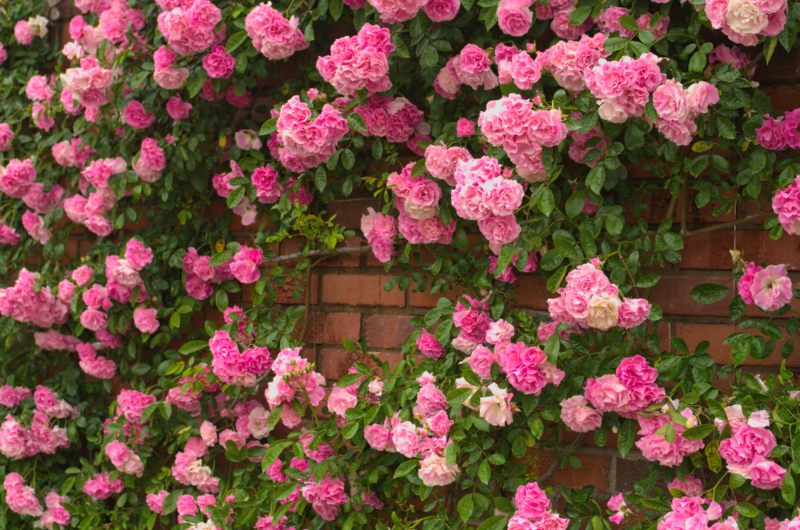 Shrub roses have all the beauty and splendor of a classic rose without the high maintenance of it. A shrub rose bush has lovely colors, flowers, and fragrances—which is why deer don't particularly like it.
Shrub roses can grow quite large, but you can also trim them down to size. They come in practically every color and transplant to pots very well, so you can clip them and keep some inside for decoration. These shrubs need full sun, and they can be susceptible to mildews, but they're also very resistant overall.
Russian Sage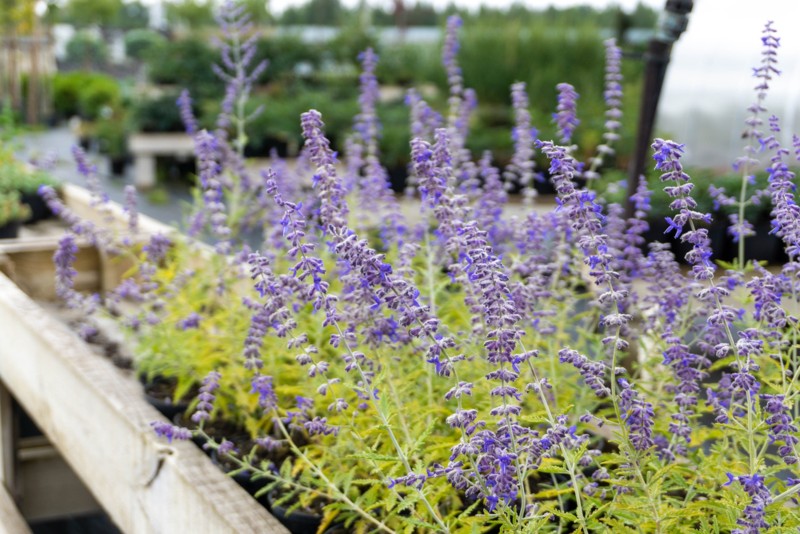 Deer-resistant, low-maintenance, and beautiful – what else could you wish for in a shrub to decorate your yard with? The Russian Sage is a great landscaping shrub. It's easy to take care of and has a long blooming period, during which you get to enjoy small, bluish-lavender flowers.
This perennial has gorgeous silver stems and feathery leaves and can grow up to 4 feet tall. They grow quickly and easily, withstanding warm weather and even periods of drought.
Andromeda
The Andromeda shrub, or the Pieris japonica, is a unique Japanese shrub that boasts bronze foliage and eye-catching flower clusters.
This broad-leaf evergreen is classified as a high-maintenance plant because it's prone to disease and pests, but at least the deer don't bother it. Just be sure to trim it occasionally and always water it enough to combat dry weather.
Daphne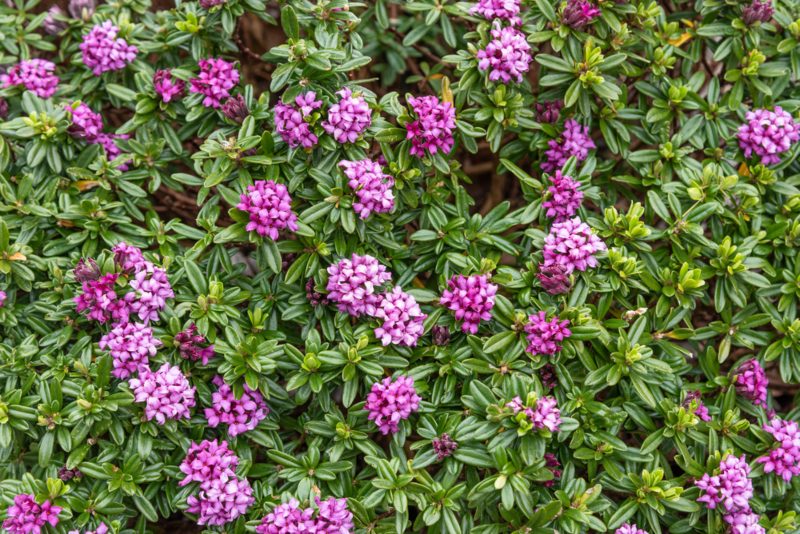 Daphne shrubs come in over 70 different species, many of which stem from Europe, Africa, or Asia. Just a small number of the shrubs are used commonly in landscaping, but the ones that are used are deer-resistant.
These small shrubs have white or light pink tubular flowers that bloom in the spring. After the flowers bloom, caretakers are surprised with small, bright red berries for more color. Daphnes are slow-growing and can take up to 10 years to reach maturity, eventually standing as tall as 5 feet.
Rosemary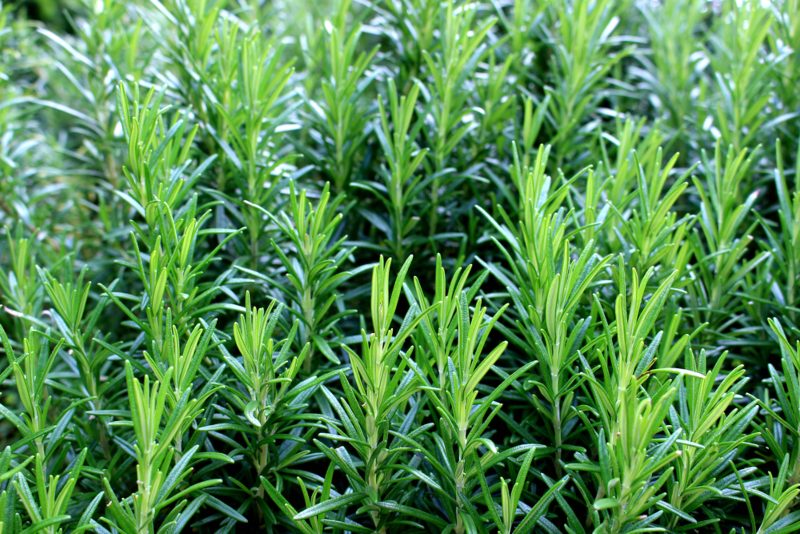 Rosemary is a plant that is typically kept pretty small, primarily due to its popularity for growth indoors. But Rosemary shrub has a moderate growth rate and can reach its mature height of 6 feet tall in just two seasons.
Because Rosemary is so fragrant and flavorful, deer don't really like it; they prefer bland, unscented plants to munch on. Rosemary blooms in the spring and summer and thrives in full sun. It looks great in your yard and functions well in your kitchen!