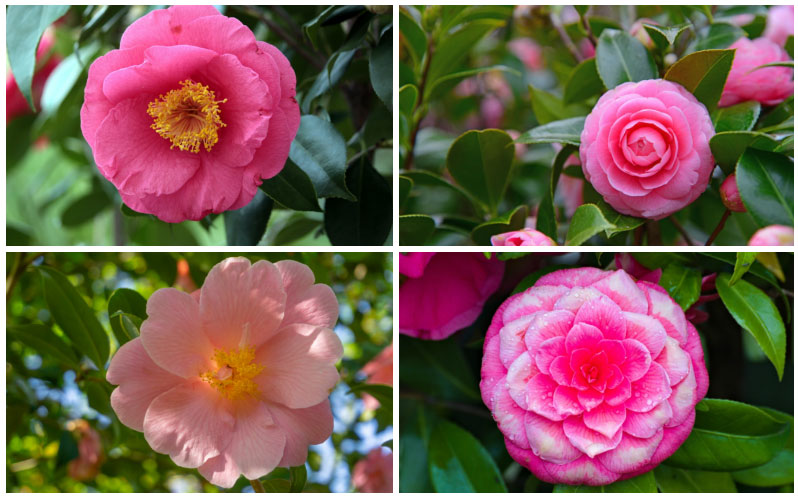 Camellia is native to eastern and southern Asia but is currently grown in different parts of the world for its beautiful blooms.
There's a controversy concerning the number of species available as scientists suggest they are between 100 and 300 different types of Camellias. Luckily, this means that there are more options to consider when you're thinking about adding a Camellia to your gardening space.
For more information and tips on growing camelia, see our camelia growing guide here.
Types of Camellia
Most types of Camellias are well-adapted to acidic soil. They usually grow very fast so they represent an interesting addition to your garden. Camellia plants grow in hardiness zones 6 or 7 to 10 and most of the flowers have pleasant fragrances.
The flowers usually bloom from early to late season; from November to April in the northern hemisphere and April to September in the southern hemisphere. However, not all the flowers bloom at the same time, so growing several types means that you can have a year-round of dazzling flowers. Camellias prefer partial to full shade.
Camellia flowers have 6 different shapes; single, semi-double, anemone form, peony form, rose form, and formal double. Here are 20 of the most outstanding varieties.
1. Bonnie Marie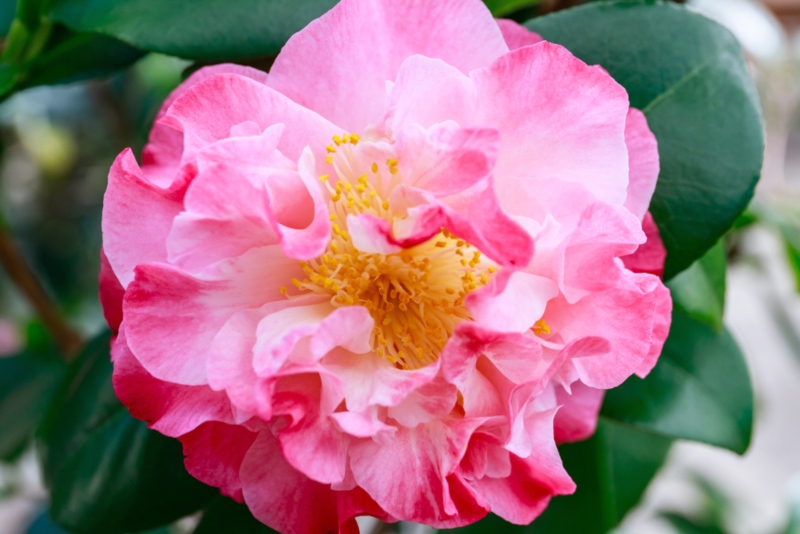 This flower can be either a semi-double or an anemone form with large petals. It is usually 3 to 4 inches wide and features pink petals with deep pink veins and golden stamens. The evergreen shrub grows to a maximum height of 10 feet.
2. Cinnamon Cindy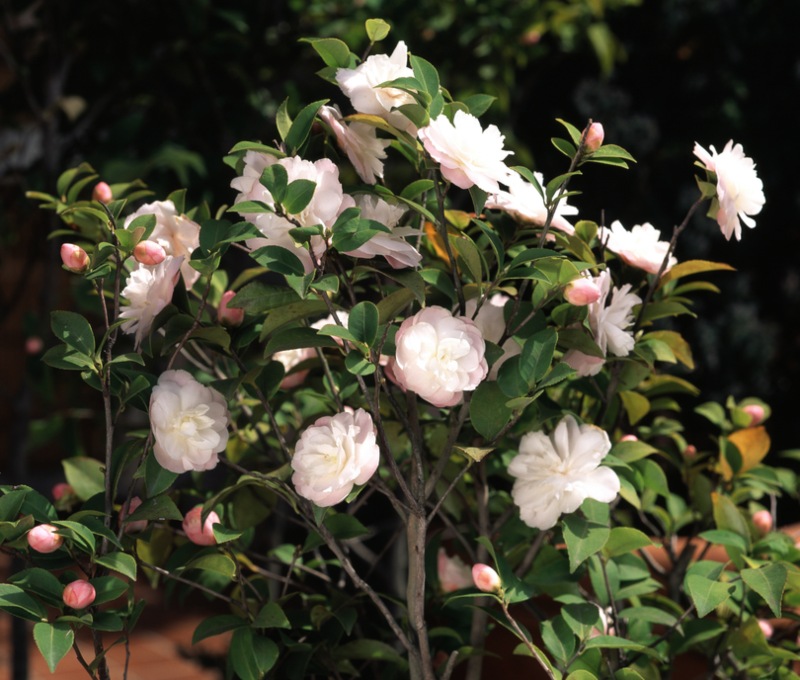 Featuring dazzling clusters of peony-form white flowers, the Cinnamon Cindy can grow between 2 and 5 inches wide. Each flower has a single stamen guarded by 22 smaller petals.
This shrub grows slowly reaching a height between 8 and 10 inches. The flower should be protected from the wind.
3. E.G. Waterhouse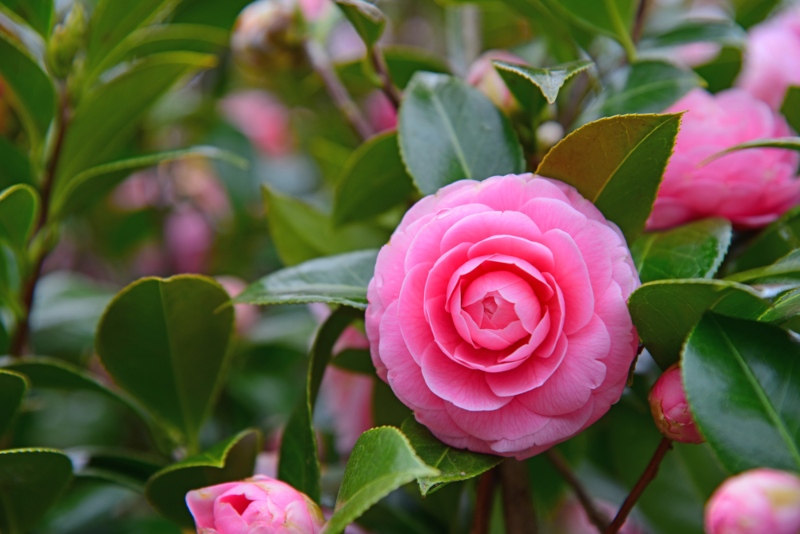 The formal double fuchsia-pink petals of this flower are arranged in several rows. The E.G. Water-house grows in zones 7 and 8 only in a narrow shrub with dark green foliage. The flowers bloom in mid to late season which is January to May in the northern hemisphere and June to October in the southern hemisphere.
4. Mine-No-Yuki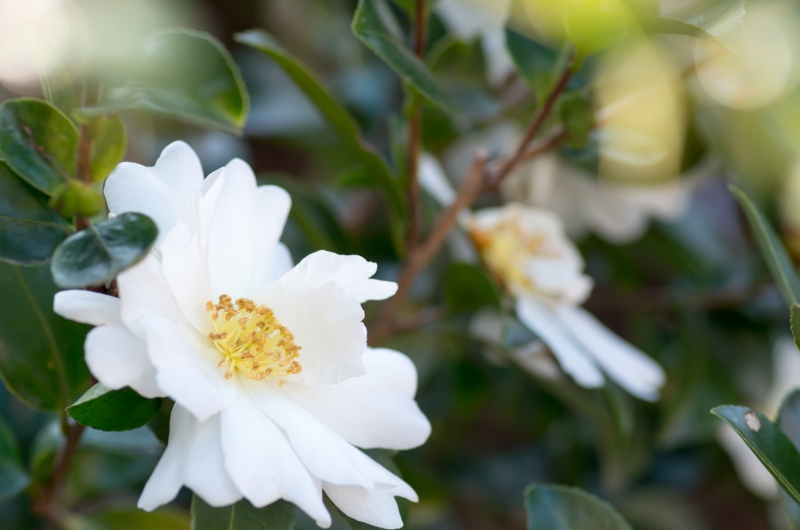 Also known as the White Doves, these are interesting staples in your fall garden with snow-white double blooms that open from pink buds. The foliage has arching and cascading branches that can reach up to 8 feet tall.
5. Setsugekka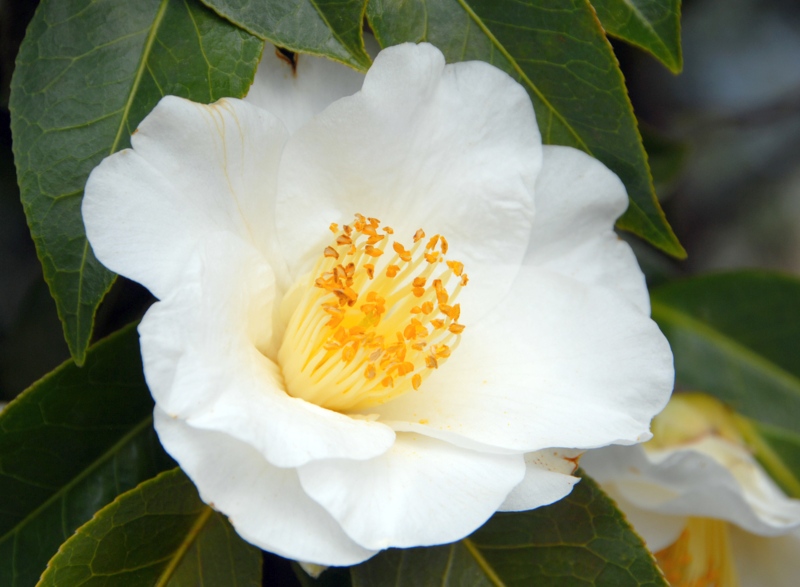 The Camellia Sasanqua Setsugekka grows sparkly white petals with golden stamens in the heart of the flower. The dark green foliage is an excellent choice for foundation planting and can be grown in walls and fences. This flower has a pleasant fragrance that adds life to your fall garden.
6. Pink Icicle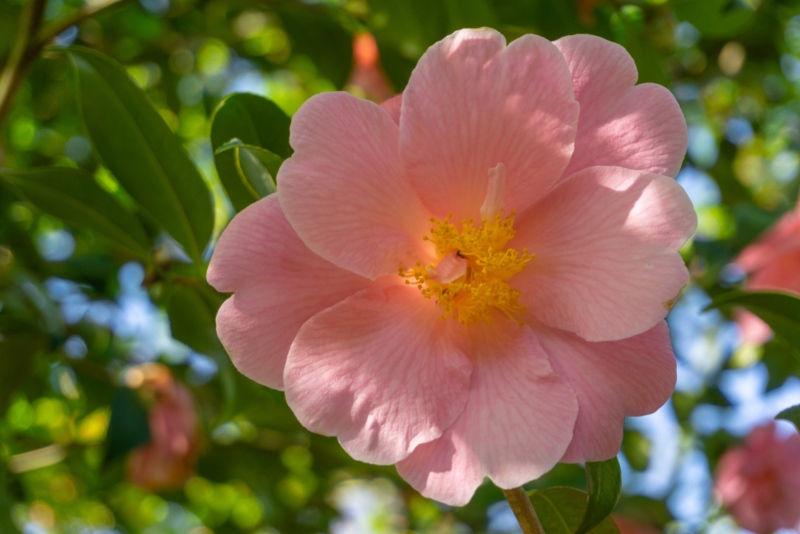 This flower is pretty large, reaching an average diameter of 4.5 inches wide. It has eye-catching shell pink rabbit-ear petals arranged in a peony-form. The foliage has glossy dark green leaves and complements the color of the flower when used in flower arrangements. The shrub grows pretty fast so can be used in screens and hedges.
This is one of the hybrids that can withstand cold temperatures so it can safely grow in zone 6b. Pruning is recommended to maintain the size and shape of the shrub.
7. Debbie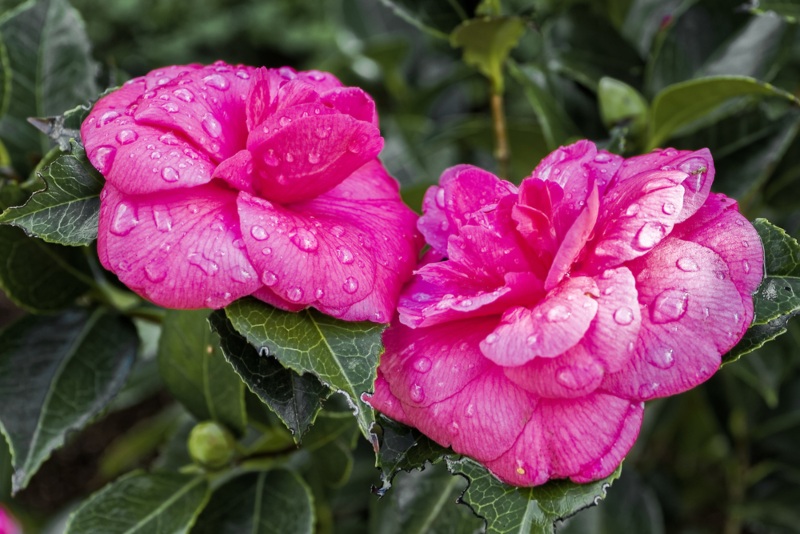 The Debbie grows bright rose-pink petals in semi-double or peony form, contrasting beautifully with the glossy green foliage. These flowers should be protected from scale insects and vine weevil. They can grow in wall-side borders.
8. Snow Flurry
This is another cold-tolerant Camellia that can grow in zone 6b. It starts blooming in late fall and will last for 4 to 6 weeks in winter. Each flower is 3 to 4 inches wide and has 12 snowy white petals that surround a center of petaloids and golden stamens.
This peony-form Camellia sheds its petals at the end of the blooming season, leaving only the dazzling leather-like glossy green foliage. The shrub grows densely, reaching a height between 5 to 7 feet. Protection from spider mites, aphids, and black mold is necessary.
9. Plantation Pink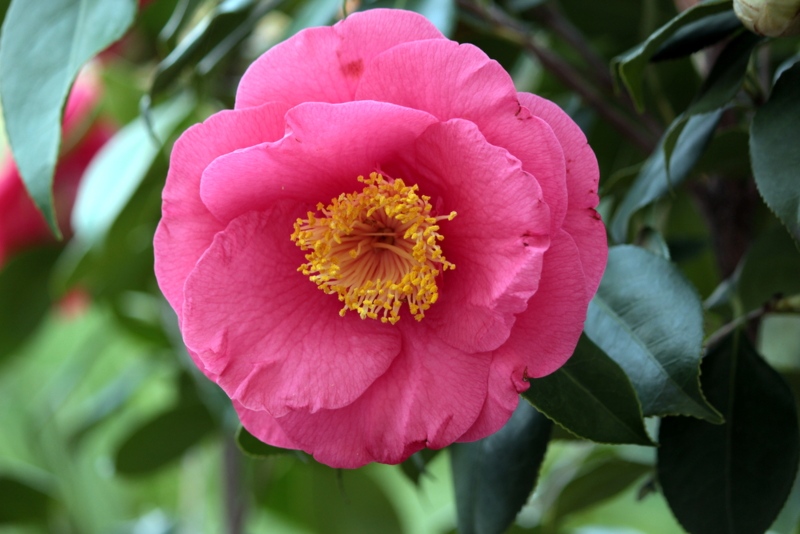 These semi-double flowers have a sweet pleasant scent emerging from the single to double blooms. The flowers have soft pink petals that surround the golden stamens in the center.
The flowers bloom over a long period in the early season which is October to January in the northern hemisphere and March to June in the southern hemisphere. The shrubs reach up to 20 feet high so they're perfect for wall-side borders and fences.
10. Winter's Star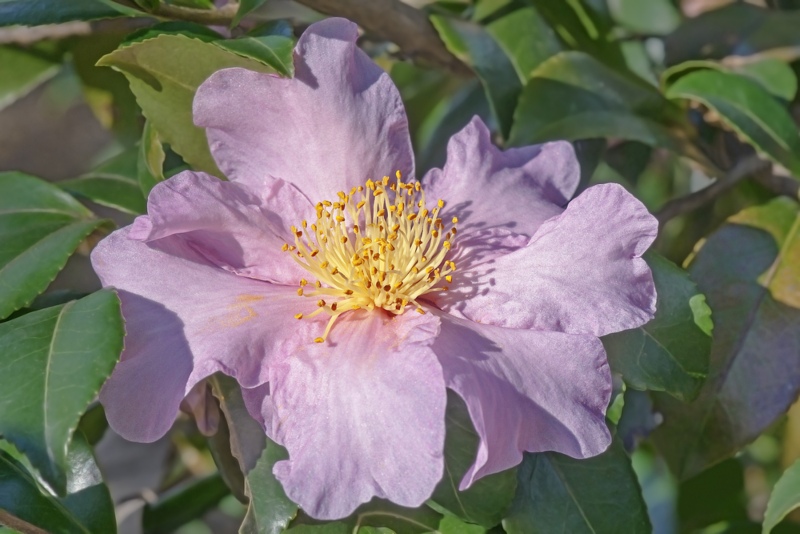 This flower is known for its cold hardiness, surviving in zones up to 6b. It blooms in the fall for up to 6 weeks growing pink-violet petals that surround the golden stamens in the center. These flowers are amazing cut flowers.
11. Water Lily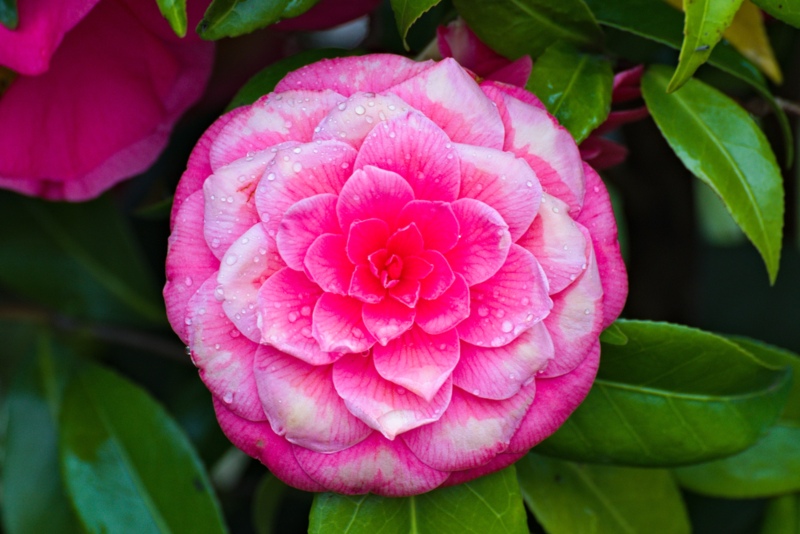 This is hybrid from Camellia x Williamsii has symmetrically fluted bright rose-pink petals. The flowers grow until they are 4 inches wide. The petals have darker edges.
The Water Lily has a long blooming season from early to mid-season. The shrub grows to reach a maximum height of 15 feet.
12. Spring Sonnet
This semi-double to loose peony form blooms are members of the Camellia Japonica family growing irregular mauve-pink petals over several months. The flowers add vibrant colors to your spring garden but they're not cold hardy.
13. Les Jury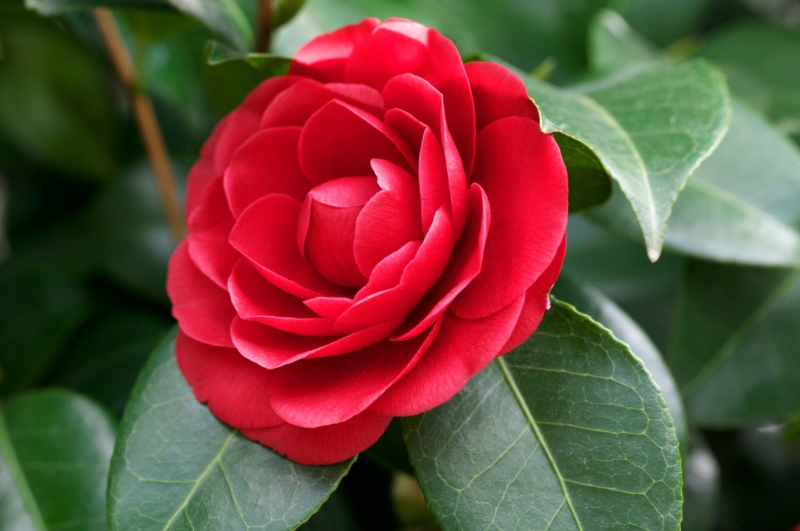 The deep crimson formal double flowers are usually 4 inches wide growing in the mid-season which is January to March in the northern hemisphere and June to August in the southern hemisphere. The evergreen shrub is bushy with bronze leaves that mature to become dark green all year long.
14. Desire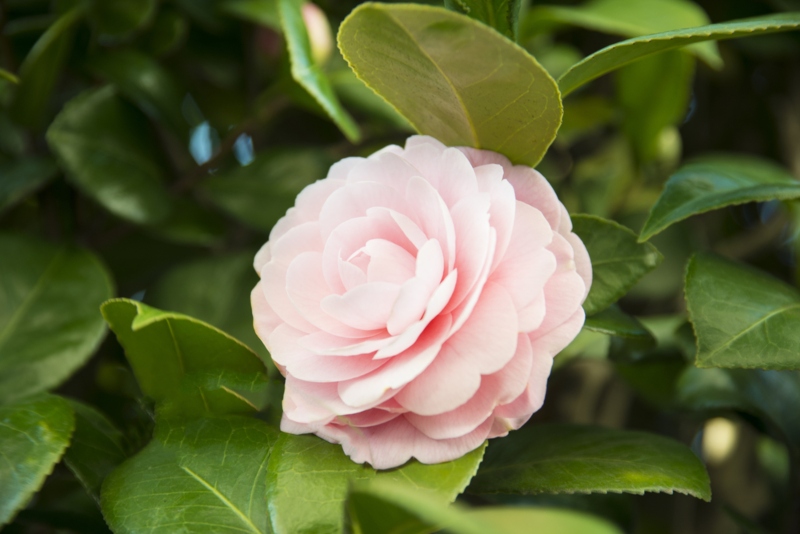 The Camellia Japonica Desire is a formal double flower with more than 60 petals. The petals are white to pale blush pink with deeper pink edges. The blooms are produced over several months from early to mid-season.
15. China Clay
This semi-double flower usually has 2 rows of white petals that might be pinkly flushed, surrounding a center of golden stamens. The China Clay flowers bloom in mid-season and are almost weather-proof.
16. Lavinia Maggi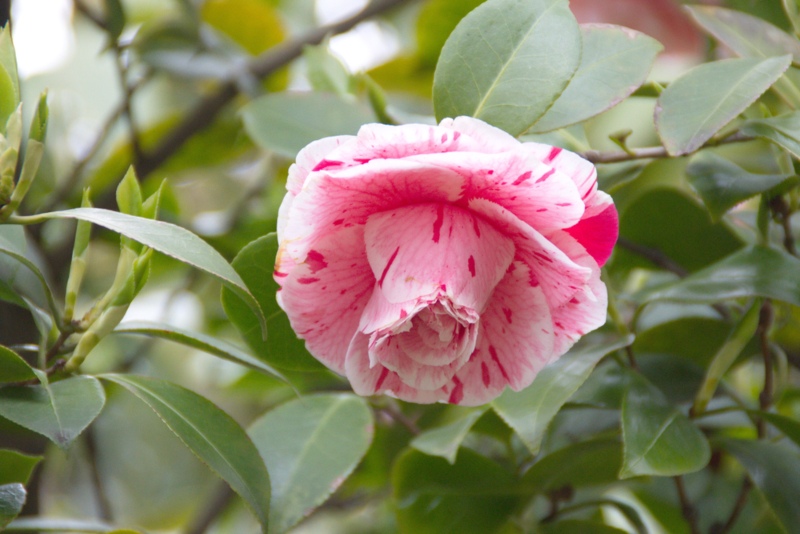 The formal double blossoms of the Lavinia Maggi open from big buds showing off petals that are almost white at the base showing pink stripes as they grow. The pointed glossy green foliage reaches a maximum height of 10 feet.
17. Spring Mist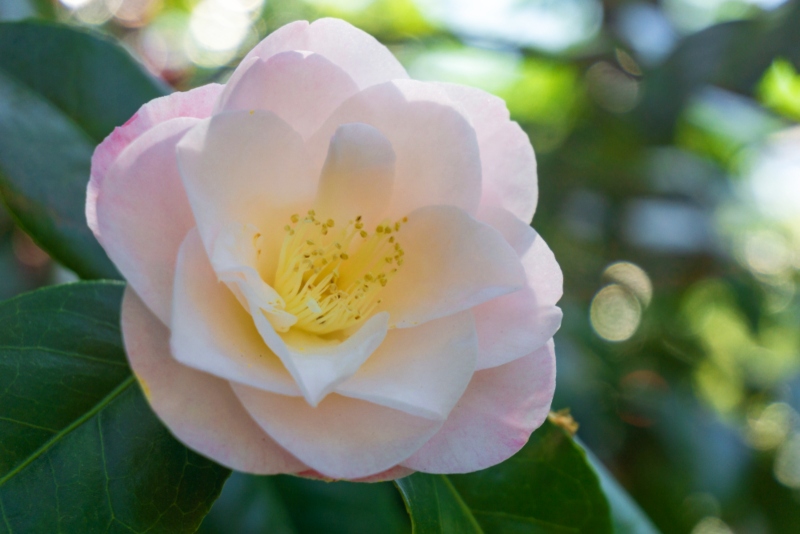 These small blush pink semi-double flowers reach an average size of 2 inches wide. They have creamy filaments in the center and the color of the petals fades gradually to be almost white on the edges.
They'll bloom for a relatively long period from early to mid-season; that's October to March in the northern hemisphere and March to August in the southern hemisphere. The glossy green leaves have some bronze shades.
18. Jean May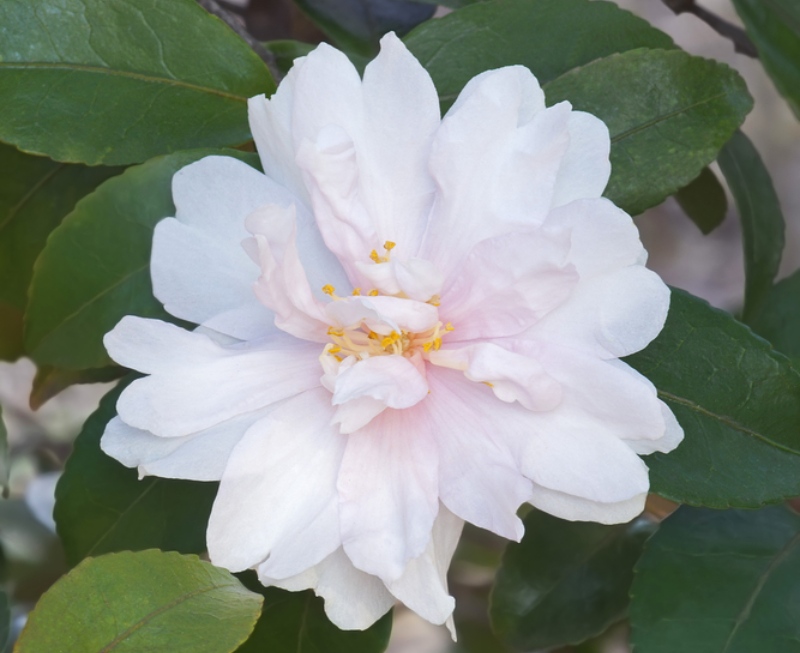 The shell pink flowers are arranged in a semi-double or double form with deeper shades of pink towards the center of the flower. The blooms are slightly fragrant and look exceptional in your winter garden.
19. Moonlight Bay
The semi-double orchid-like pink flowers reach a maximum width of 6 inches forming a spectacular display during mid-season. The shrub grows to a height of 8 to 10 feet and should be pruned after flowering.
20. Scentsation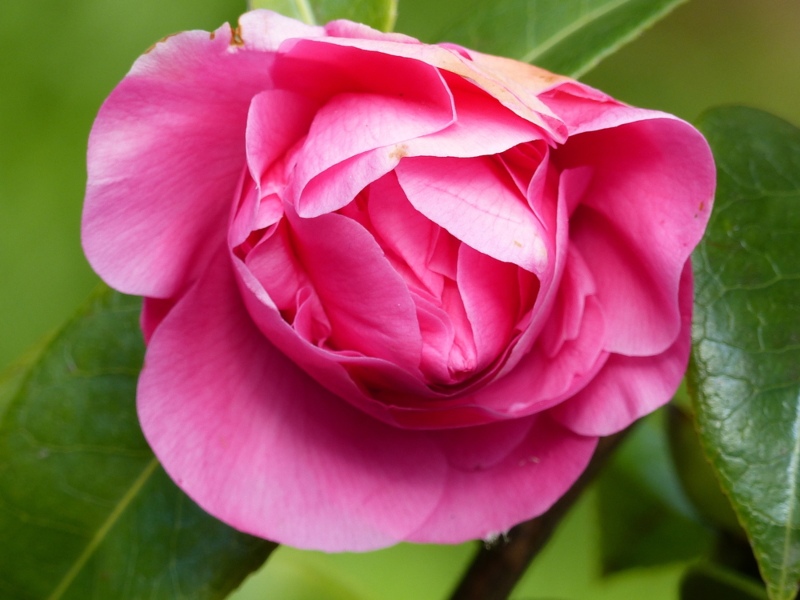 These compact flowers grow silvery-pink petals in a peony form revealing a center of golden stamens. When they're in full bloom during the mid-season, these flowers will make your spring garden look outstanding.
The shrubs are evergreen for an ornamental display. They're perfect for woodland gardens, hedges, and screens.
There are some wrong myths about Camellias. One of them is that they're difficult to grow. However, in the right circumstances, Camellias will bring unmatched beauty to your gardening space all year long.