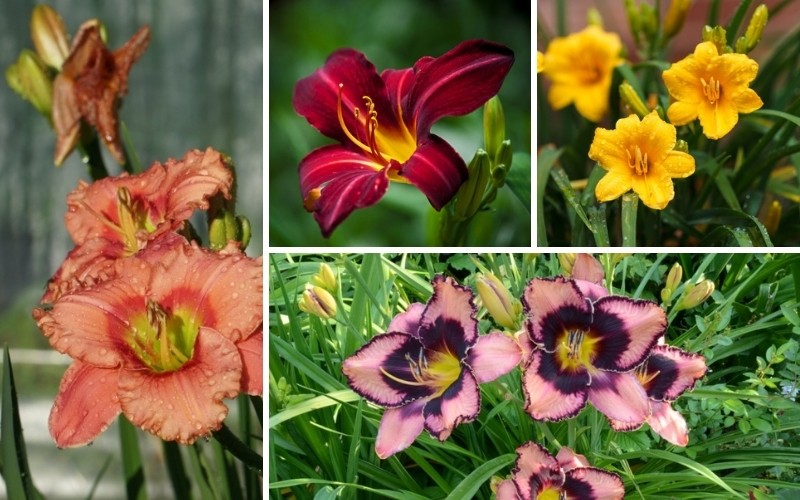 There are over 70 different types of daylilies, so deciding what type will work best and look terrific in your landscaping can be challenging.
Daylilies can be evergreen, semi-evergreen or deciduous, so decide when you want the plant's foliage to appear. These flowers are generally yellow, orange or russet-colored. Still, you can find options with blended or multiple colors, stripes and contrasting eyes or bands, along with options that bloom at different times.
You can also find options growing from 6-inches tall to over 5-feet tall.
Consider these top choices when choosing daylilies for your yard.
Black Friar Daylily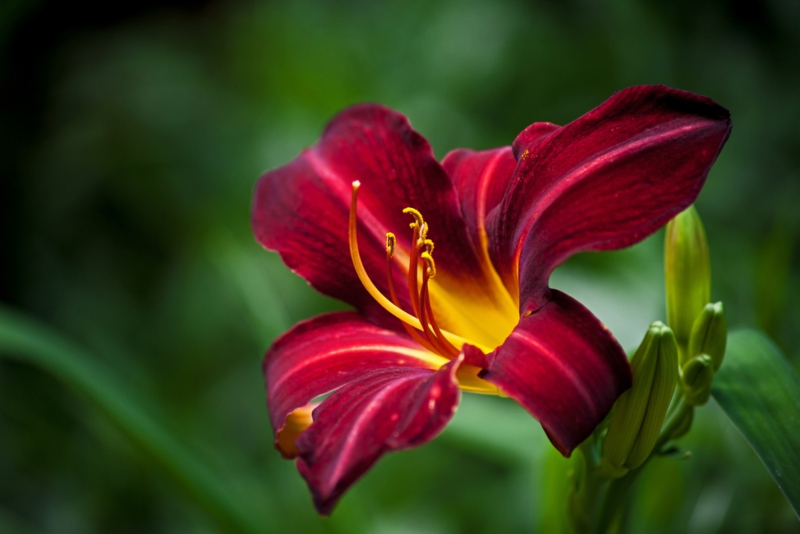 The petals on the black friar daylily are about the color of a black cherry soda, and they stand in stark contrast to the flower's large chartreuse throat. Adding to this plant's beauty, the petals are slightly ruffled. Flowers that are about 4.5 inches in diameter appear mid-summer on this plant that grows to be nearly 36-inches tall. This option prefers to be kept evenly moist, and it will thrive in the full sun or partial shade.
Caballero Daylily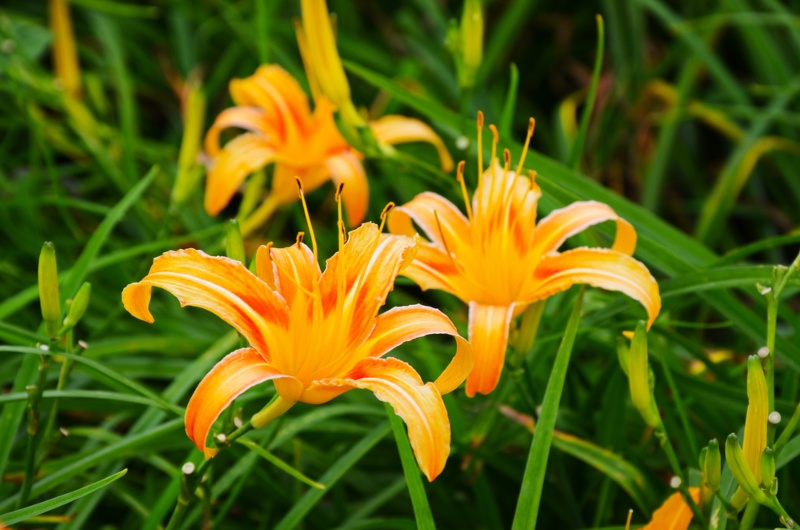 Since first being introduced to gardeners in 1941, many have fallen in love with the mid-summer orange and yellow blooms of the Caballero daylily. This option grows to be between 36-and-40-inches tall. This evergreen daylily is exceptionally fragrant. Plant this option in the full sun or provide it a few hours of afternoon shade. It needs about 1 inch of water per week. This plant is a repeat bloomer that may produce up to 25 blooms in a growing season.
Challenger Daylily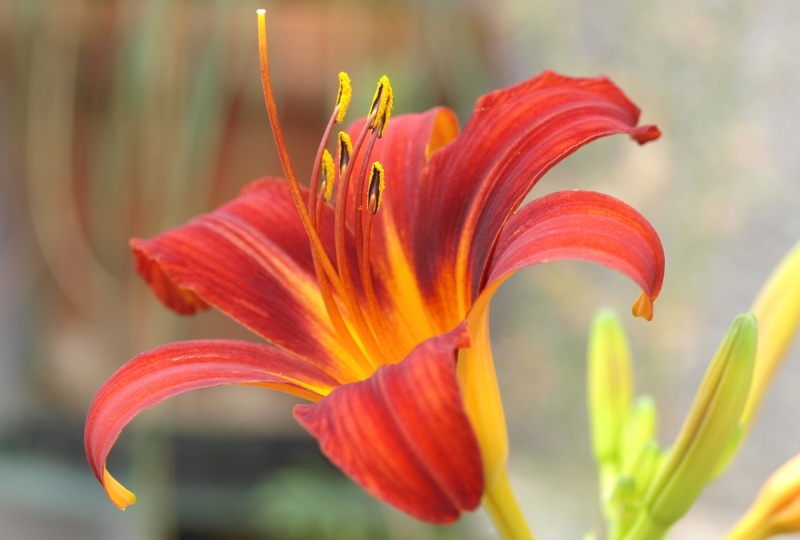 The brick-red challenger daylilies that are up to 5-inches across have a yellow throat. While the blooms on most daylilies last only a few hours, this option's blooms usually last a few hours longer. This plant grows to be up to 6-feet tall in full sun or partial shade. In order to keep it blooming, be sure to keep this evergreen daylily consistently moist. Choose a location that drains well for this early fall bloomer.
Circe Daylily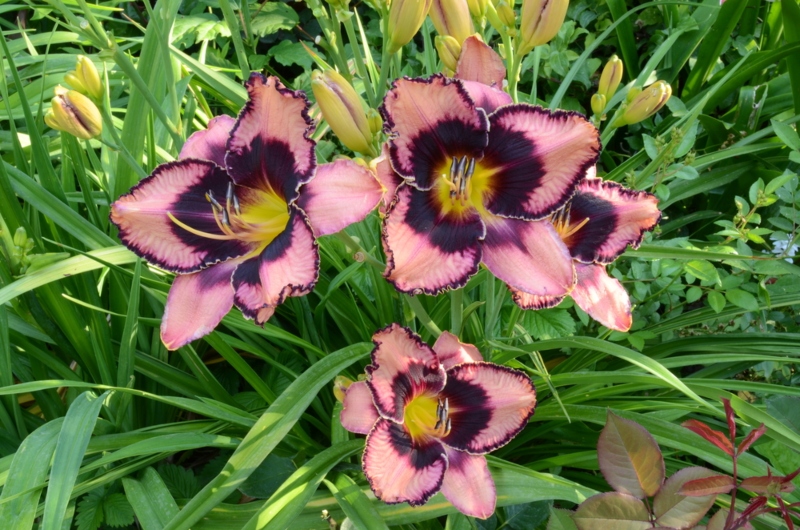 You are sure to fall in love with the soft lemon color of the circe daylily. The blooms on this option are more delicate and much more petite than on many daylilies. Plant this option in well-drained soil and watch it produce flowers lasting about a day throughout the summer. This deciduous daylily produces a grassy clump of foliage. Keep this option that grows to be about 34-inches tall consistently moist, especially while it is blooming.
Skywalker Daylily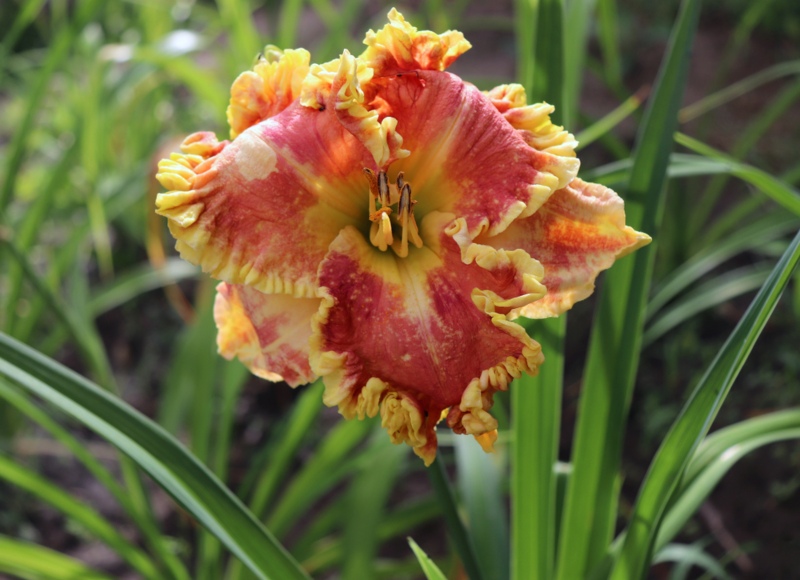 The long, thin, blue-lavender frost with soft blue-purple halo petals of the Skywalker daylily stands in stark contrast to its lime-green throat. The 6.5-inch diameter blooms will appear on stalks that are about 22 inches tall in the summer. If you forget to water your flowers occasionally, this can be an excellent option because it is more drought-resistant than most options. This option goes dormant when not blooming. Plant it in well-drained soil in full sun or partial shade.
Custard Candy' Daylily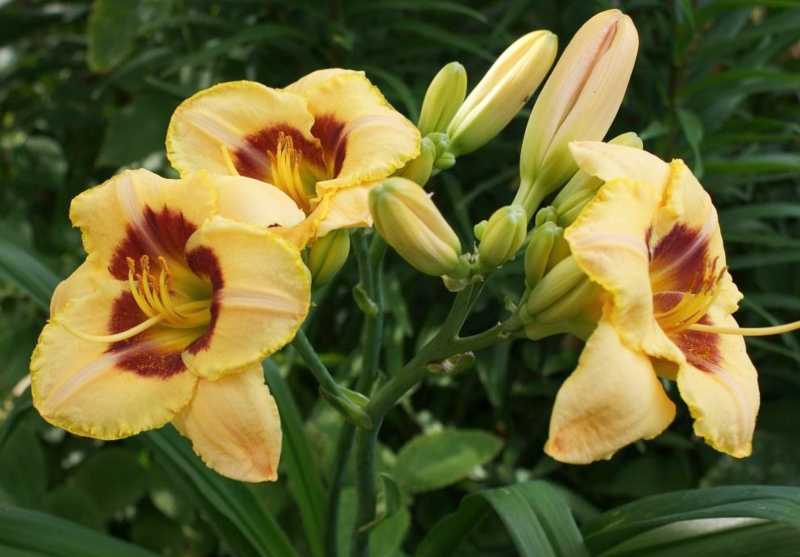 The custard candy daylily produces off-white trumpet-shaped flowers with buttery yellow overtones. Each flower has a yellow throat and a purple ring near the stem. This plant that will grow to be about 18 inches tall will come back annually for nearly 10 years. Plant this daylily where it gets some sun, but this plant is not picky about its soil conditions. Watch it bloom in the summer and enjoy its grassy foliage until the first hard frost.
Stella D'Oro Daylily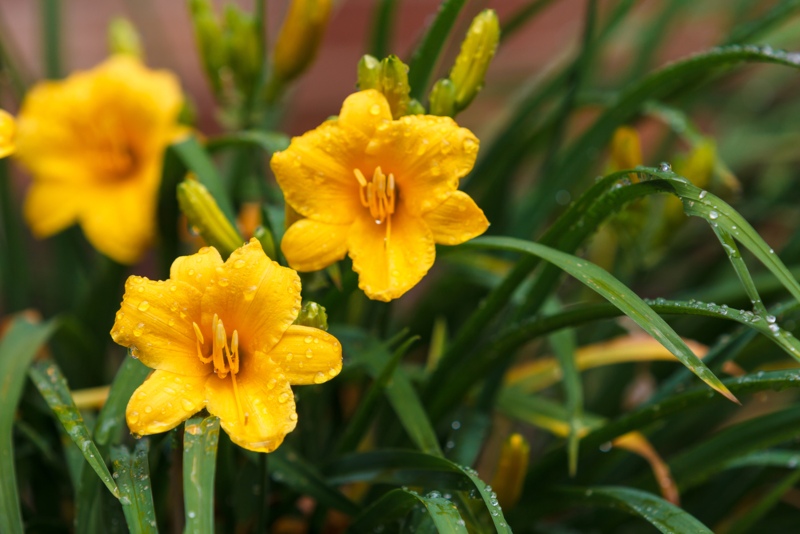 You are sure to love the bright yellow, trumpet-shaped blooms on the Stella D'Oro daylily. This option starts blooming in the early summer and blooms to fall. Unlike many daylilies, this option struggles to reach 12-inches tall, but its fragrant blooms can grow up to 6-inches tall on top of the stalk. This sun-loving plant does well in damp or drier locations. Its gently arching foliage remains green until the first hard frost.
Mighty Chestnut Daylily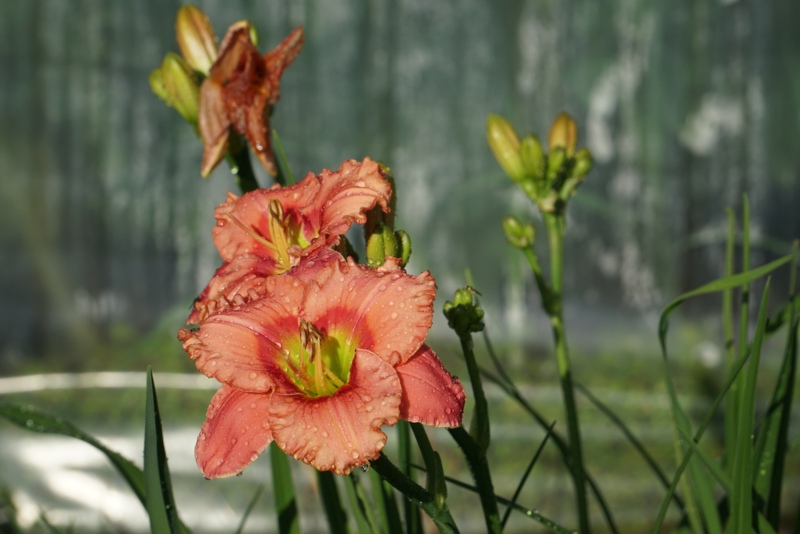 The mighty chestnut daylily is one of the boldest daylilies on the market because of russet-brown trumpet-shaped flowers with dark burgundy stripes and slightly ruffled edges. The brown and burgundy stand in sharp contrast to this plant's yellow throat. This plant that grows up to 24 inches tall loves the sun. Plant it in almost any type of soil if it drains well. Cut back spent flowers, and this option will continue to bloom from mid-summer through the fall.
Fooled Me Daylily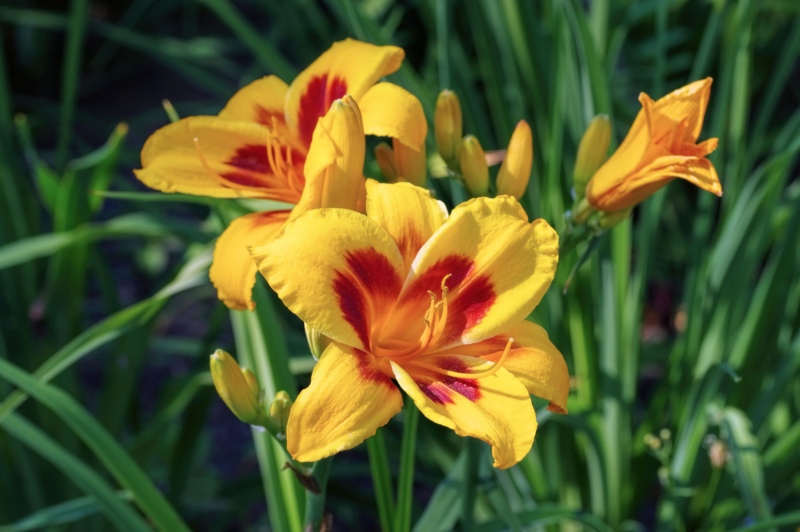 If you are looking for a sturdy daylily that will bloom in the early-to-mid-summer, consider the fooled me daylily. You will love the golden yellow color of this choice. It also a red ring around its middle. This plant that seldom grows over 24-inches tall when flowering is adaptable to soil types and moisture levels. While it prefers the full sun, you can plant it where it will receive up to four hours of shade daily.
Neon Flamingo Daylily
If you are looking for a specimen plant for your garden, consider the neon flamingo daylily. Its shocking pink blooms measure about 8.5 inches across, with the petals curling under in most cases. This option that opens in the early morning has a yellowish-green throat. Like most daylilies, you can plant it in the full sun or partial shade. Each plant will produce about 15 blooms in the middle of the summer.