A good quality electric hedge trimmer should permit users to cut shrubs with ease.  It should allow for a straight, flat cut or enable the user to do rounded, well-manicured designs.  The sky's the limit in terms of creativity when using the proper tool.
Image
Product
Features
Price
Worx WG261 Power Share Ideal for Higher Locations

Benefits:

20-volt trimmer and is 22" long
Lightweight
Enables users to cut flat tops on bushes and even out shrubs. Has enough strength to establish curves and corners
Comfortable to hold D-grip handle and generates a greater swing.
Dual-action cutting blade
Battery runs for 30-40 minutes
Absorbs vibrations
Option to buy machine with charger, with just battery and excluded battery.

Cons:

Seized up
Hard to assemble
Battery never charged

Check Amazon Price
Black & Decker Cordless Trimmer Natural Potting Mix

Benefits:

40V power and blade is 24" long
Provides dual action while working
Faster trim as blades takes half the time to get the job done
¾" gaps in teeth allow for easy removal of overgrown branches
 Reduced amount of vibration
Charge holds for 30-40 minutes.  Takes one hour to fully charge.
Comfortable grip on the handle with a soft rubber grip
Lightweight machine
Two-year manufacturer's warranty

Cons:

Broke down after one year
Began to smoke

Check Amazon Price
Ego Power+ Cordless Hedge Trimmer Lightweight Formula

Benefits:

24" blades and 56V battery
Dual-sided blade made out of stainless steel
3,000 strokes per minute for a fast job
Special electric brake will cease function in emergencies
Weather-resistant build
5-year manufacturer's warranty

Cons:

Charger purchased separately

Check Amazon Price
Hedging Into More Awesome Trimmers:
This 40V power hedge trimmer has a 24-inch dual blade.
Features:
Creates faster trimming over its competitors
Cut more branches with less effort
Allows for complex designs in shrubs or hedges
Permits better mobility
Cons:
One hour running time
Heavy
This hedge trimmer has two hours of run time and runs on an 18V lithium-ion battery.  Blades are 22 inches.
Features:
Designed for most backyards
Provides 1, 350 strokes per minute
Ideal for cutting shrubs, branches, and grass
Two hand operation through the grip
Anti-vibration design
Doesn't overheat or overload
Electric brake stops in emergencies
Battery cooling fan
Cons:
Battery doesn't always charge properly
The Craftsman hedge trimmer comes with a 20V capacity and a 22-inch blade.
Features:
Dual-action blades provide better precision when cutting
Power saw innovation allows the cutting of branches 1 ½ inch thick
Very maneuverable
Cons:
Works for one hour
Poor battery
Husqvarna cordless hedge trimmers come with a 40V motor and 22-inch dual-action blades.
Features:
Balances good handling with incredible ability to create hedge art
Provides better cuts in hedges
Brushless electric motor allows users to toggle and regulate device
Low noise levels
High efficiency
Cons:
Entry level hedge trimmer
Battery could stand some improving
Cordless hedge trimmers come with a variety of capabilities and do various jobs. In selecting the proper tool, you must carefully consider the amount of expertise and the task at hand.
Will you be trimming large hedges or shaping large trees?  Then you will need a longer blade.  For shorter tasks or a beginner level of comfort, shorter blades are recommended.  While they may take longer to complete a job, they will provide the user with greater control
Greater control in a hedge trimmer will prevent accidents from occurring or mistakes from being made.
The weight of a hedge trimmer should be light.  If it is heavy, users will experience hand fatigue, but these motors are highly efficient. Meanwhile, lightweight trimmers allow for greater precision- especially when the design requires certain angles.
One thing to consider is storage. Off locks are a great safety feature because it prohibits it turning on accidentally, which is essential if the person has pets or young kids.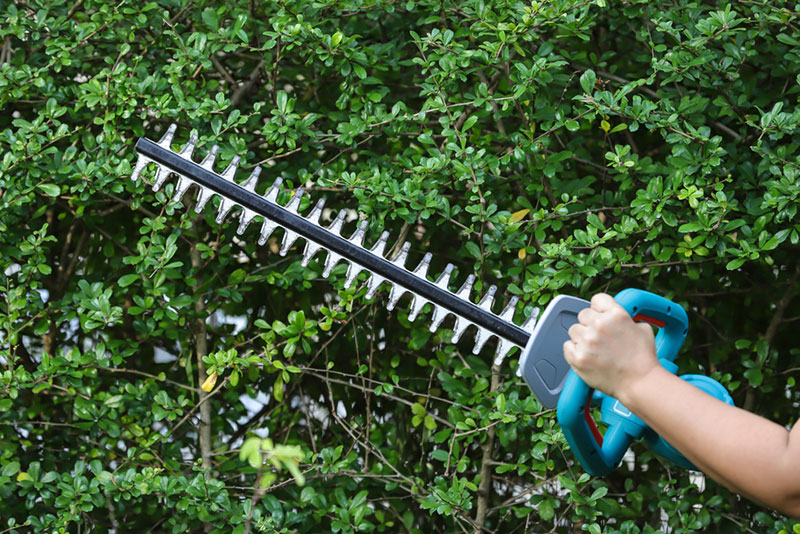 Tips on What to Look For When Purchasing a Cordless hedge trimmer!
1. Run Time and Battery Life. Generally, battery voltage is between 20-60 volts. A higher voltage equates to a more powerful and efficient tool, and you should choose based on trimming requirements.
The voltage of a battery and the power let users know how long a trimmer works between charges. A heavier battery equates to having a greater, more efficient running hedge trimmer. The drawback is that the heavier the machine is, the greater hand fatigue.
Battery indicators are a useful tool on a cordless trimmer so you can see how much run time remains.  Removing heavy branches from a thick hedge can drain the battery in a cordless model and reduce run time. Therefore, an indicator is useful when planning out activities.
2. Blade Length. A 24-inch blade is used for larger hedges because of its reach. Smaller bushes require 16 inches, but ten-inch blades are perfect for pruning or finer work. Selection can be based on the height of the shrubs needing trimming.
Blade lengths tend to range from 20-26 inches. Experienced users can use longer blades. While they may be difficult to control, they quickly complete tasks in fewer passes.
Beginners should use a shorter hedge trimmer blade because they are easier to maneuver. Tasks may be slightly longer because you will need more passes, but you will regain control.
3. Blade Types. Blades come in one or double-sided configurations. A one-sided blade allows for trimming and shaping of hedges one side at a time. Double-sided blades (blades on both sides) permit easy movement.  They allow for easy shaping and effortless cutting.
Confusion can result in the specs of a product.  Some companies refer to their trimmers as single or double, but this does not refer to the blade.
A single-action trimmer has a moving blade and a stationary blade while dual-action trimmers have two moving blades. A dual-action blade makes cleaner cuts with reduced vibration.  Single action blades cost less but are effective for trimming fewer areas.