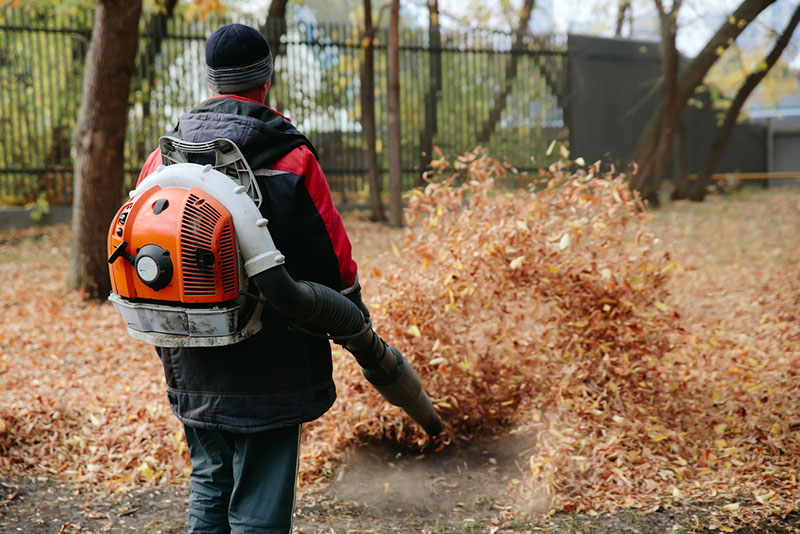 The best backpack leaf blowers provide a good run time. It should have some ergonomic advantages over a handheld blower, and it must contain an adequate amount of power. In short, it must be able to complete the job effectively and be comfortable to use.
The Greenworks backpack leaf blower is battery-powered. It has a speed of 145 miles/hour and an airflow capacity of 580 cfm. This backpack leaf blower permits the blowing of wet or dry leaves and debris. The brush-less motor is what users would expect from a gas equivalent performance. It has many speed triggers and a turbo button for on-demand power.
You can set the cruise control for ultimate control over the leaf blower.
It comes with a battery and charger, and a two-year battery, and a four-year tool warranty.
The only cons reside with battery life and charger.
Schroder Industrial backpack blower comes with a five-year commercial warranty. It has a 3.7 HP motor, moves with a speed of 230 miles/hour, and has an airflow capacity of 920 cubic feet/minute.
The LawnMaster NPTBL31AB has a speed of 175 miles/hour and an airflow capacity of 470 cubic feet/minute. It has an incredible 31cc engine with a two-cycle full crank.
There are no pull electric push start buttons. This electric leaf blower will do 150 starts with a single charge. It is gas-powered, so it eliminates the need for a pull cord.
This electric leaf blower has an automatic choke for convenience, and it boosts power with a variable speed and cruise control, extending the battery life.
The padded ventilated harness and adjustable design eliminates fatigue and prevents vibrations.
Some customers do not like the battery in the cordless leaf blower. They claim that it does not last.
What Sets Various Leaf Blowers Apart?
What truly makes the difference in a backpack leaf blower is how comfortable it is to wear. Weight and padding do make a difference!
The straps should be wide and padded for extra comfort and to minimize vibrations. The ideal weight of a backpack leaf blower should be about three pounds. If you are using it for prolonged periods, the weight will make a world of difference!
Backpack blowers are generally loud due to the power they possess. Users may want to wear protective ear protection.
Backpack blowers generally test between 101-104dB at the operator's ear. For this reason, you should wear ear protection at all times.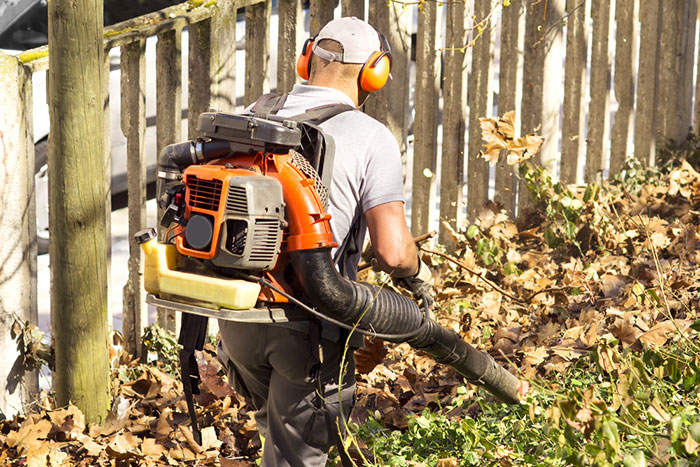 In purchasing a backpack leaf blower, consider the active cooling feature on your back. The best backpacks pull air into the blower housing. Additionally, air comes through ports by your back, creating a draft and cooling effect. It seems trivial, but in the hot summer sun, maintaining a cool temperature becomes essential.
The benefits of a backpack leaf blower over the other models are that it is easier to learn how to use, less bulky to carry, and gives the best results. Handheld blower models tend to create arm fatigue, while walk-behind models can be cumbersome to push and difficult to maneuver.
Electric backpack blowers are quieter than gas ones. They are low maintenance, lightweight, and easier to start. They are great for sweeping leaves.
Gas-powered blowers provide more power and force. They are ideal for larger properties and difficult jobs as they are meant for more frequent and longer use.
If you have limited body strength, this may not be the blower for you. The pull-starts require increased strength.