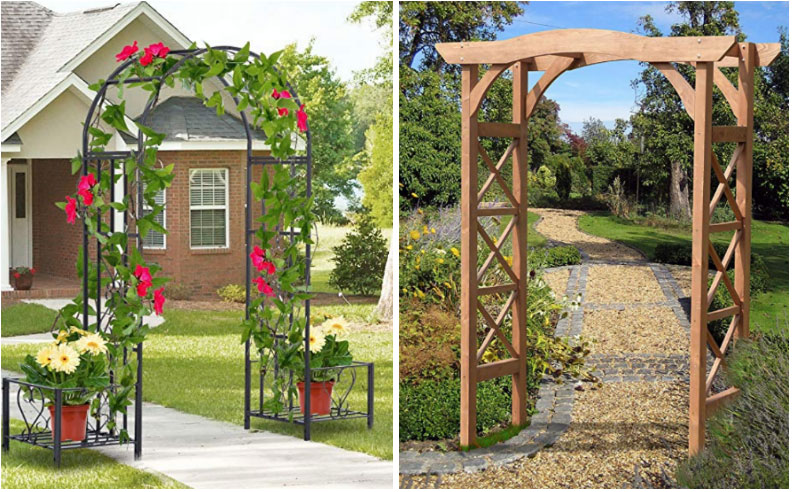 Arbors can be a great addition to any outdoor space. These uniquely designed accents can add a lot to your garden and even give you and your friends a place to sit back and enjoy the garden that you have worked so hard on. In this guide, we are going to talk about eight different arbor options that you can consider for your adding to your garden, but before we begin, let's discuss some of the benefits to an arbor and the types that are available for you to purchase.
Benefits of a Garden Arbor
It can create an entrance way or a focal point in the garden space. You can add a gate under the unit to create a doorway or simply make it stand out for your guests to see.
It can offer a shady space to enjoy. During the summer, an arbor can offer a bit of relief from the sun and a comfortable place to relax.
It can offer protection from the rain and wind. A good arbor can protect you a bit from inclement weather, especially if an all-weather fabric is added to the top of it.
It supports climbing plants and adds vertical garden space. It can be a great place to train grape vines, ivy, roses, and honeysuckle. This vertical space can also add a frame of plants in the space, which will add to the atmosphere.
Types of Arbors
There are a few different types of arbors that you will want to consider when you are considering which option to purchase. The style that you choose will depend on your style and the design of your garden. Two of the most popular options are arched arbors and pergola arbors. Arched arbors have a traditional form that typically has a curved top. These are great for entrance ways and accent points in an outdoor space. Pergola arbors are a Greek-inspired design that is more angular. This is an excellent option for a shaded seating area or a place that needs additional charm.
Material Options
When you decide which type of arbor you want in your garden, you are going to need to consider how durable each material is and how it will look in your space. Arbors can be made from:
Wood: This is the classic option that will give your garden more of a rustic look. The longer it is in the weather, the better it will look amongst your plants.
Vinyl: This is a great option to consider when you live in an area with extreme heat or cold temperatures. When it gets muddy from a storm, it can easily be rinsed off with a hose.
Metal: This is a style that is going to withstand the elements as well. It offers a sleek design that is great for vines and plants to grow on.
Arbor Reviews
White Providence Arbor
This is an option that is designed with PVC vinyl that will never peel, crack, or fade from being exposed to the outdoors. It is white in color, and it has a pergola design that you will love. The sides of the arbor trellises that you can wind vines and other climbing plants through with ease. When it comes to the assembly of this product, the vinyl is all precut and drilled, so it should not take too much time to complete.
Pros
It has a 20-year warranty.
It's easy to assemble.
Cons
Steel Garden Arbor with Intricate Scrollwork
This steel arbor is designed with a beautiful black verdigris finish that will look great in any garden space. It is an arched arbor that is designed with intricate scrollwork on both sides. It is weather-resistant, so it will not be damaged easily in the rain. There are also ground stakes on both sides of the arbor so that it can be more secure in your garden, which can be useful, especially when it is windy.
Pros
Assembly of the arbor is quick.
The color looks amazing.
Cons
It is not as sturdy as it looks.
Athens Vinyl Arbor
This is a lovely white arbor that will make a lovely entryway into your garden. It is an arched arbor that is made from a vinyl material that is ideal for training a plant to grow, especially because the arbor has a trellis-like design. The style is similar to what you will find in New England, which can be a great addition to most outdoor spaces.
Pros
It takes very little time to assemble.
It comes with a 20-year warranty.
Cons
It does not anchor into the ground without extensions.
Carolina Composite Vinyl Arbor
This is another arbor that is designed by New England Arbors, but this one has a pergola design that is very sleek and stylish. It is made from vinyl, and the unit is the color of wood to help it blend in with the trees. It is made using a weather-resistant material that will last for a number of years, and it even comes with a 20-year warranty that ensures that the company will stand behind its products.
Pros
The wood grain finish looks amazing.
It has a very sturdy design.
Cons
The adhesive turns white when it dries, which looks tacky against the brown.
Metal Garden Arch with Planter Boxes
If you like metal arched arbors, then this is a great option to consider. It is designed with flower boxes on both sides of the arch that you can use to plant your flowers and get them to start growing. Once they have taken root, the arbor can be used to train the vines. The metal work on the arbor is stunning, and it will look great in any garden.
Pros
It has a very durable design.
The planter boxes are a nice addition to the display.
Cons
The arbor does not secure into the ground.
Northbeam Venice Arbor
This arbor is a unique option that is crafted from wood. It has a pergola design that is not too intricate; however, the sides have a lattice design that is ideal for growing plants and vines. The arbor is actually made from Canadian hemlock, so it is a durable option that is coated in an oil-based stain. It has a very traditional that will look great in any garden.
Pros
It is easy to assemble.
The wood is a great, weather-resistant option.
Cons
The instructions can be a bit difficult to understand.
Elegant Garden Arch with Gate
The next arbor that you should consider for your garden is one with a classic design that adds a little bit extra to the space. It is an arched arbor, but it also has a gate at the base of it, which would make it an excellent option for an entryway. The intricate metal design is rather stunning, and it provides plenty of space for your climbing garden to thrive.
Pros
It has a very durable design.
The arbor is very simple to assemble.
Cons
The hinges on the gate can rust.
Stunning Rustic Blue Arbor
The final arbor that we are going to consider for your garden comes in a rustic blue color as well as a rustic brown. It is made from iron, which means that it is very sturdy, but after some time in the rain, it is likely to begin to show its age. Though, with time, it may look even more rustic; this can be great for a cottage garden display.
Pros
It is straightforward to assemble.
There are plenty of spots in the design to weave your plant vines.
Cons
The gate doors are not large enough to fully close.