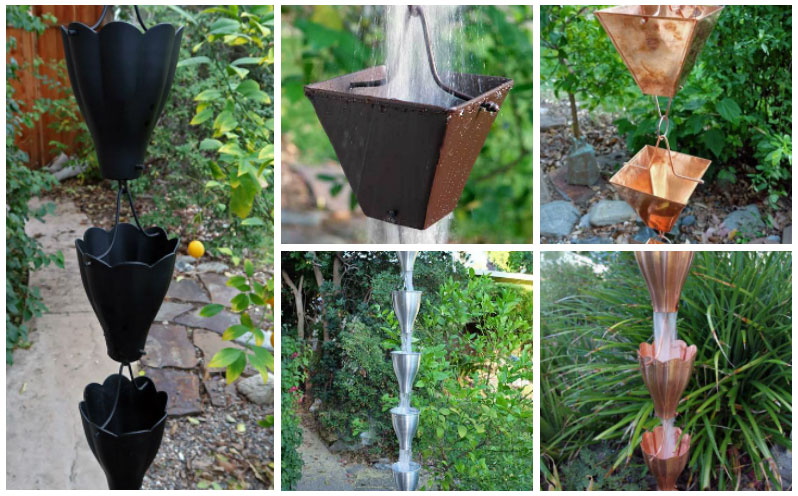 Rain chains are beautiful in many ways. They make a relaxing sound when the water streams down, and they're like a small waterfall in your garden. The Japanese creation is now globally widespread because of its pleasant design and high convenience.
You may want to consider a few things before buying a rain chain. For example, you'll want to ensure you get a material that doesn't rust. Additionally, you may need an installation kit if the rain chain you like doesn't work for your gutter.
In this guide, we cover 4 great options for rain chains that can handle heavy rain conditions.
The 5 Best Rain Chains for Heavy Rain
This list includes rain chains with different materials, diverse prices, and a variety of designs. Scroll through them and take your pick.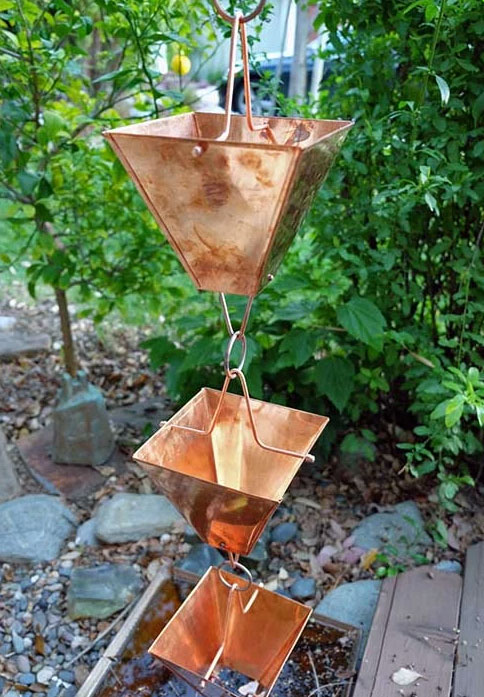 This rain chain has a simple, minimalistic design. It's made out of pure copper that takes a pyramidic form to ensure smooth water flow. Additionally, the cups are large enough to prevent splashing. If the size doesn't suit you, custom sizes are available upon request.
The rain chain is crafted to perfection by hand. It also features welded sides that guarantee durability and functionality. On top of that, it comes with thin, heavy-duty wires that hold the whole thing together superbly. They're shipped disassembled to prevent any harm, but they're easy to install.
The copper-plated rain chain will go perfectly well with a variety of interior design styles, including Rustic, Mediterranean, and Southwest styles. Plus, it won't require much effort to install, as it comes with a V-hook for the gutter. You can also purchase an installation kit.
Things We Like
The copper won't rust
The square design is ideal for heavy rain
Easy installation
High durability
Custom sizes available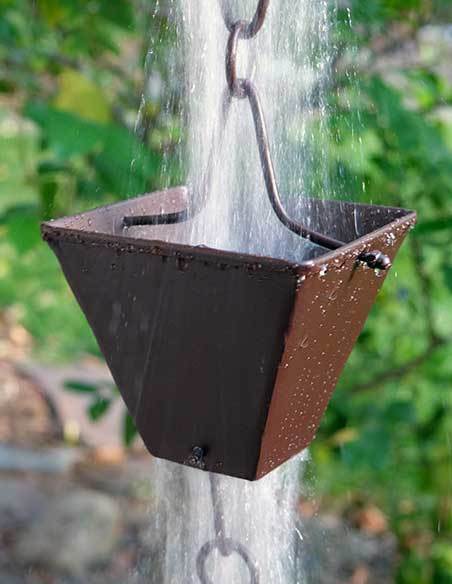 This bronze rain chain has an extra matte finish to its color. This gives it a modern, sleek look, contrary to the copper's rustic finish. The bronze color is a powder coating on the original aluminum frame, which provides strength and durability for years to come.
Furthermore, you can suspend up to 9 cups on the chain. The 8.5-ft long wire will hold them together in a beautiful stream. If you want a longer chain, you can order a custom size to fit your garden.
The exterior of the rain chain cups is resistant to corrosion. It'll stay in your garden for years without showing a sign of rust. Plus, the bronze color will go with a lot of interior design styles, including Modern and Rustic styles.
Things We Like
Hand-welded cups
V-hook for easy assembly
Beautiful bronze color
Custom sizes available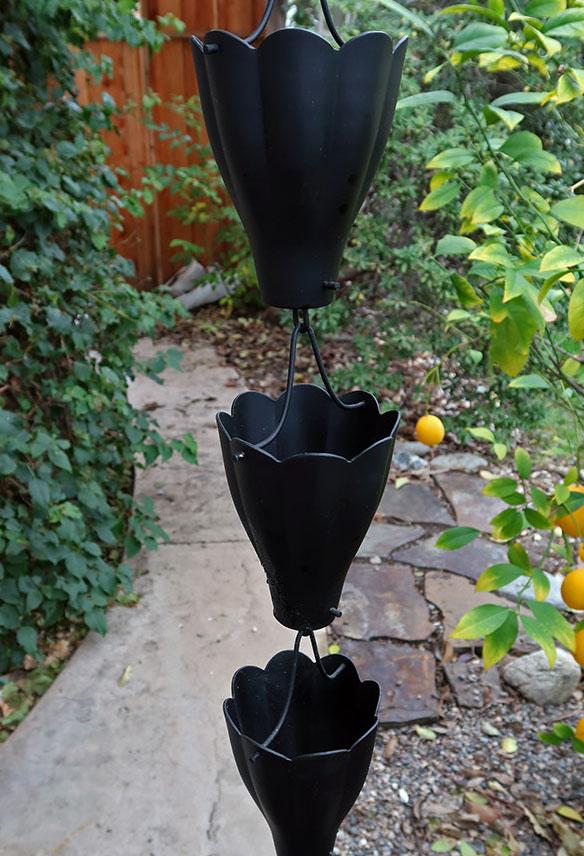 If black is your go-to decorative color, you'll love this rain chain. Its craftsmanship is hard to match. It features graceful cups that take the form of a scallop, which stands out among regular rain chains. Additionally, the black color gives it an even more distinct shape.
Tha scallop rain chain has the perfect balance between beauty and functionality. It features some of the largest cups on the market. That way, the water can cascade smoothly without a hitch. Moreover, the chain's design will go with a wide variety of interior design styles.
The wire that holds the chain together is made out of robust stainless steel, which will stay intact for years. On top of that, the aluminum frame is rust-resistant, which makes it a great choice for places that rain frequently.
Things We Like
Unique design
High-quality materials
Aluminum frame
Custom sizes available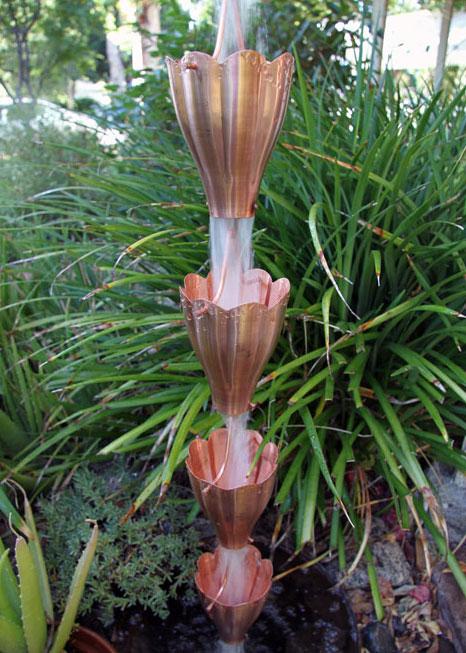 Copper rain chains are a pleasure to own. The material develops a patina after being exposed to air for long, which gives it an enchanting look. This rain chain doesn't only feature a copper exterior, but it also has a rose-like design that appeals to the eye.
The chain has a length of 8.5 feet. It can hold up to 13 large cups comfortably, which is more than most rain chains can take. That's mainly because of the high-quality wire that adorns the chain.
Additionally, the cups that come with this rain chain have a width of 4.25 inches and a height of 5.5 inches. However, you can order your own custom size on the Garden Lovers Club online store.
The copper rain chain goes with Oriental, Rustic, and Southeast interior design styles
Thing We Like
Copper exterior
Sophisticated design
Large cups
Durable wire chain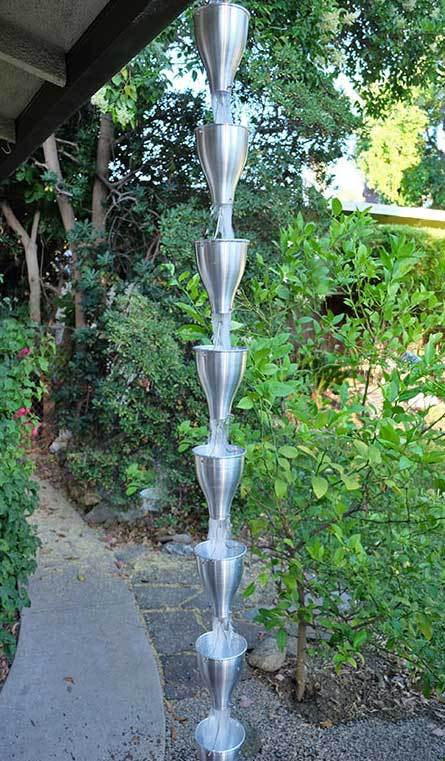 If you have a thing for traditional decor, this rain chain will be a nice addition to your garden. Its simple design will go with any interior design style you pick for your home. Plus, the tapered design of the cups ensures effortless water flow.
The cups are handmade out of corrosion-resistant aluminum. Besides, a copper plate covers the exterior to make for an elegant finish. These cups are held together by an 8.5-feet long chain that dangles subtly in the harsh wind.
On top of all that, the rain chain is the most affordable on our list, although t's one of the most durable chains available on the market.
Things We Like
Ideal for heavy rain
Gutter V-hook for easy assembly
Subtle, traditional design