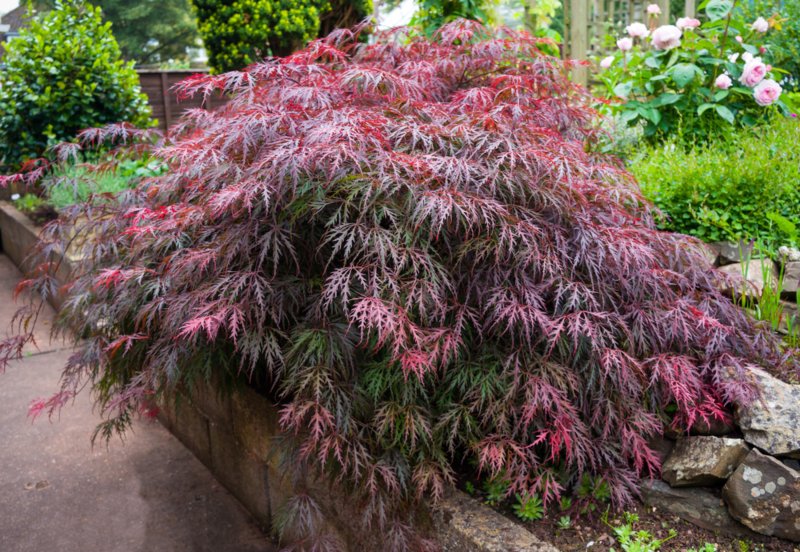 These small, unique trees are true showstoppers in the garden or on the growing grounds. Japanese maple species have very elegant and unique foliage that can be mesmerizing when tended to with the correct care. They often have vibrant foliage color that is delicate and makes an attractive spectacle. Japanese maple come species vary wildly. Differences include foliage color, lead form, size, variations of staking vs non-staking, and branch arrangement.
Japanese maples trees are garden treasures in many cultures and are perfect additions to unique landscapes like zen or cottage gardens. It grows smaller than many other types of similar foliage.
Japanese maples typically grow in hardiness zones 5 through 8 and will thrive in full sun or partial shade. They often grow in pots and are commonly used for Bonsai in the garden. Japanese maple trees come in a vast variety of species, and here are some of the most common.
Bloodgood Japanese Maple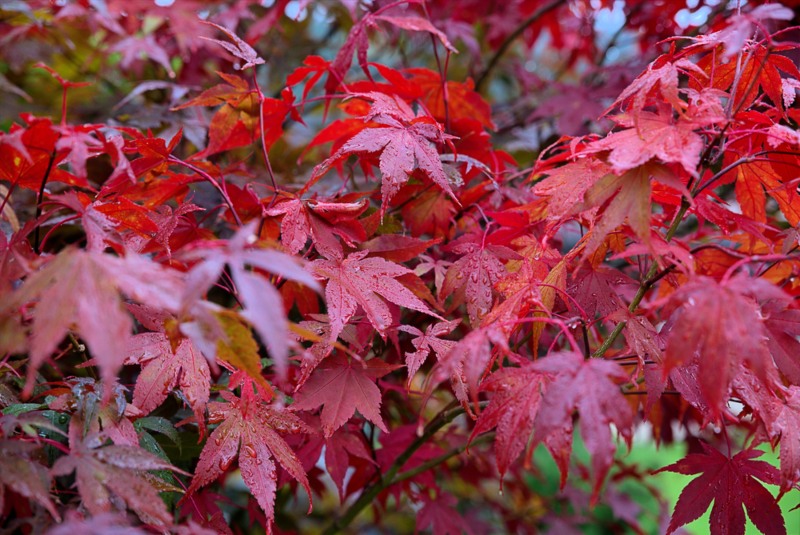 This particular Japanese maple has purple to plum shades of foliage, making it stand out as unique and highly popular. It grows as a large shrub or tree and will maintain its bloom throughout all the seasons. It grows from 15-20 feet tall and grows in almost any climate zone.
Butterfly Japanese Maple (Acer palmatum 'Butterfly')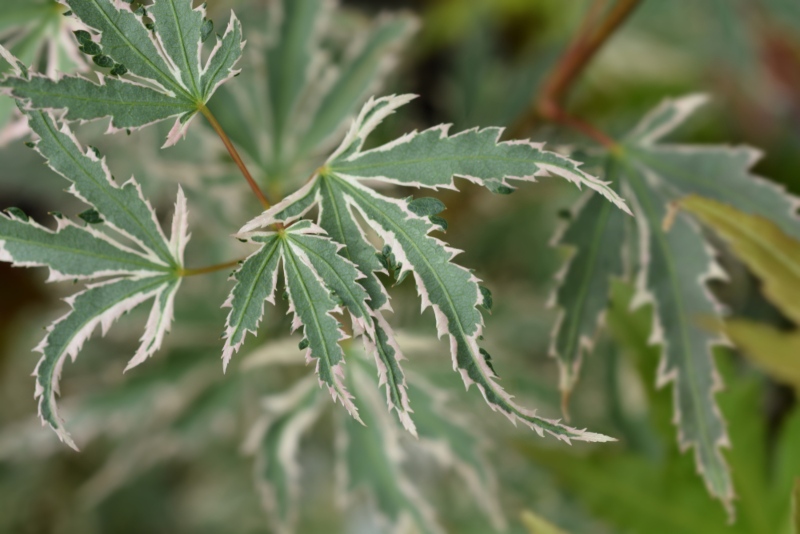 This shrub or small tree has lobed light green leaves with an edge of silver. It thrives in a good amount of shade and will do best when it has a good amount of moisture in the soil, even better with the addition of mulch. It is popular in cottage gardens and gardeners enjoy it because it takes very little maintenance to be a real showstopper.
Crimson Queen Japanese Maple (Acer palmatum var. dissectum 'crimson queen')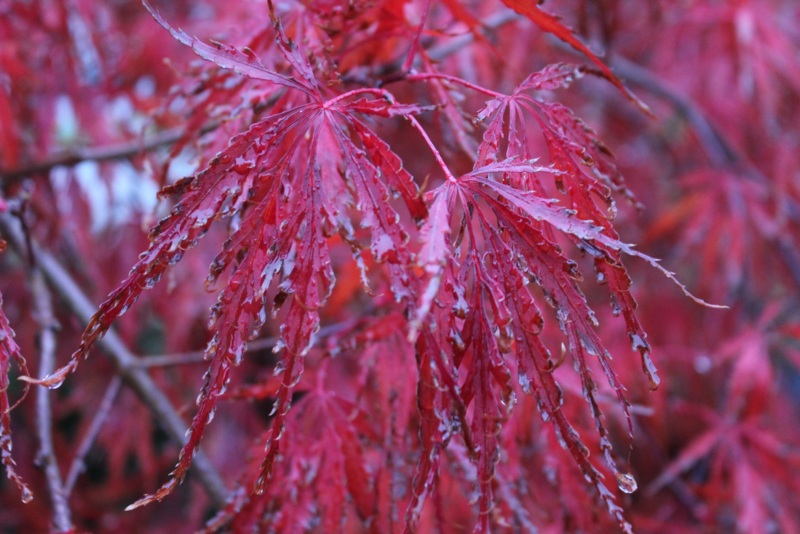 This unique variety of Japanese maple has jutting, pointed leaves that come in a reddish-purple shade before turning a bright shade of deep red during the fall months. They typically grow around 10 feet in height and grow best in well-drained soil in zones 5-8.
Emperor Japanese Maple (Acer palmatum 'Wolff')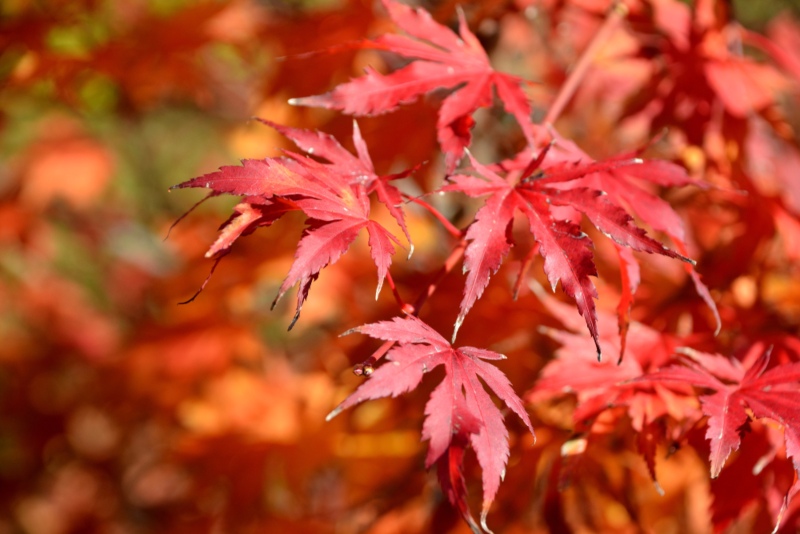 This is one of the straightest-growing variations of Japanese maple, growing upright at a height of up to 15 feet tall. It is a popular accent tree for a zen garden or meditation garden and is often used as a focal piece. Its leaves grow in a burgundy-plum shade that transforms into a vibrant shade of red in cooler temperatures.
Japanese maple 'Dissectum Atropurpureum'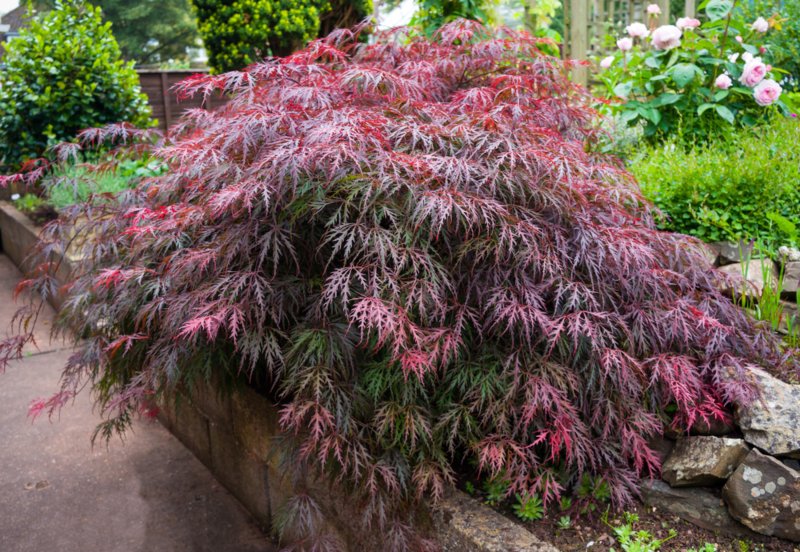 Known for its distinctive shades of foliage and reliability in adding color to a garden or landscape, this tree is a favorite among gardeners and landscapers alike. This Japanese maple has a low-spreading spray of foliage that makes it popular in a rock garden or as an accent next to a patio or rock garden. It grows well in zones 5-8 and will grow to a height between 6-8 feet. It blooms in a shade of rich red and blooms in late spring and will thrive in most sunlight levels.
Japanese maple 'Green Cascade'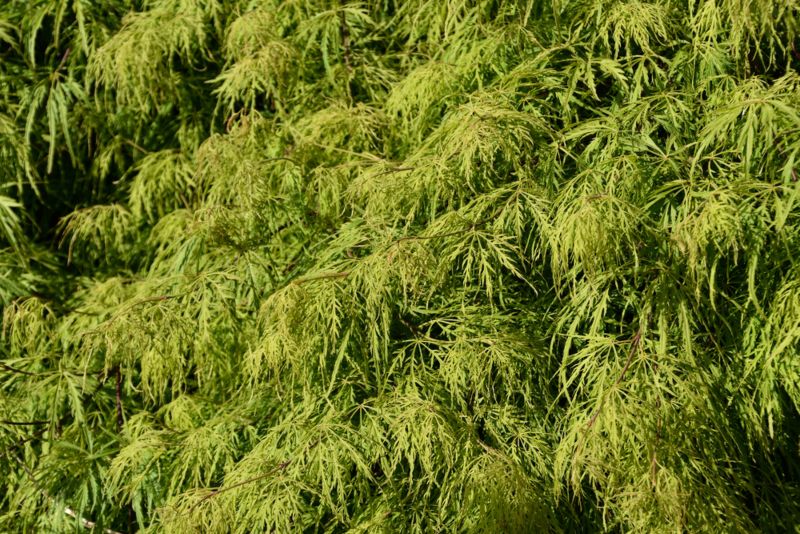 With thick, finely cut green foliage that has a slight weeping look, the Green Cascade is commonly staked to grow upward. It is green in the winter and summer and its foliage will turn to lustrous shades of red and orange in the fall. It grows well in everything from full sunlight to partial shade and does best in moist soil. It can grow up to 20 feet tall and 20 feet wide. The Green Cascade grows best in hardiness zones 5-7.
Inaba Shidare Japanese Maple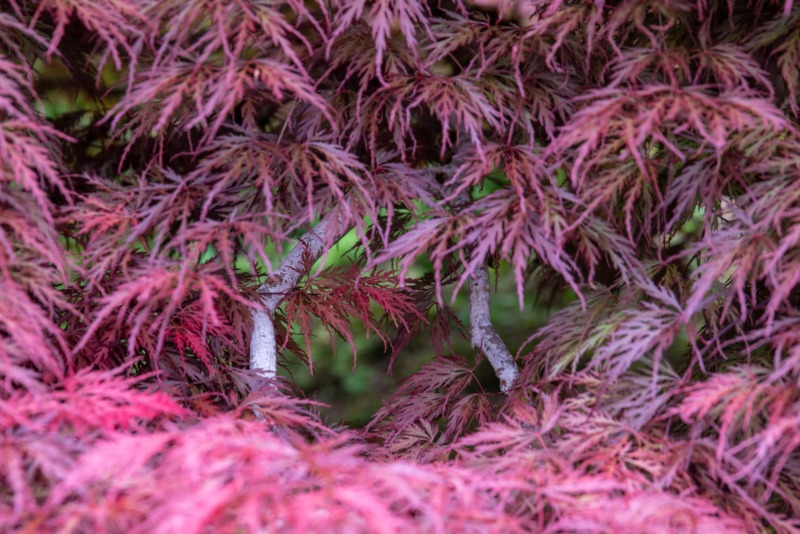 This landscaper's favorite has tight-knit intricate leaves that have three separate seasons of outstanding color. It is considered a lace-leaf maple due to its delicate and intricate leaf patterns. This tree often grows low to the ground that makes it look almost like a brush cover due to its spread of branches that have a weeping habit. Its leaves are deep red with a bluish-purple color that explodes to a fiery red during the crisper winter fall and winter months. It grows best in zones 5-9 in full sun to partial shade.
Orangeola Japanese Maple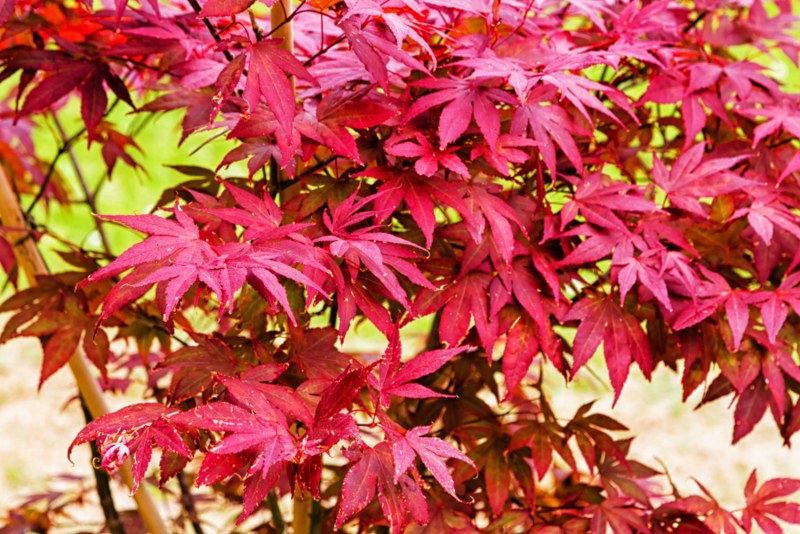 Known as one of the fieriest Japanese maple species, it is treasured by gardeners for its bright, red-orange leaves that add a shock of bright color in the spring and retains its color in a softer hue in the colder months. It grows as a small tree or shrub that does well in hardiness zones 2-8. It is flexible growing and will do well in most soil types and sunlight variations.
Weeping Viridis Japanese Maple
This small bright green tree has a gorgeous cover of foliage that earned its name for its weeping leaves that fall from a spray of outstretched branches. It typically grows between 6-8 feet and its foliage will grow brightest in partial shade but it can still able to tolerate full sunlight. The Weeping Virdis grows best in zones 5-8.