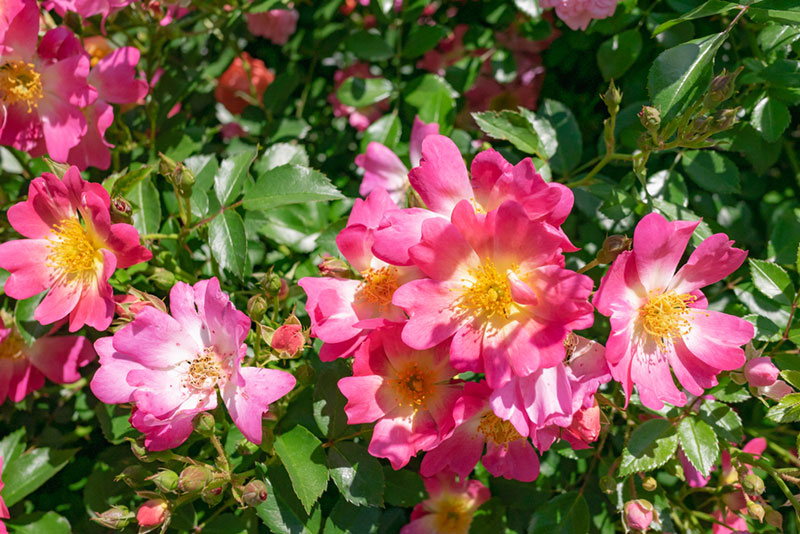 Drift roses are a series of seven cultivars produced by the same company that created Knockout roses. These new Drift series roses ("Drift" is a registered trademark, not a genus or species name) are a hybrid of groundcover roses and miniature roses, and the results are stunning. These short shrubs have small blossoms tumbling every which way, covering the plant and blooming three to five times per year from April to November. Drift series roses are available in seven colors and even better, in a few different blossom shapes.
The flowers are small, ranging from 3/4 inch to 1 1/2 inch, and the shrubs are low-maintenance dreams. They last a long time, too. Not all of the Drift series roses are fragrant, but all of them make up for any loss of scent with amazing numbers of blossoms and bright colors. All of the series is hardy in USDA plant hardiness zones 4-11, and all require full sun. All the plants grow to 1 1/2 feet in height; most grow to 2 1/2 feet in width, with the exception of Peach Drift and Popcorn Drift, which grow to 2 feet wide, and Pink Drift, which grows to 3 feet wide. If you've wanted to plant hardy roses like Knockout series roses but preferred to have something smaller that you could plant in corners, borders and gaps, the Drift series roses are the perfect choice for your garden.
Different Varieties of Drift Rose
The seven varieties are the pale-peach-colored Apricot Drift (Rosa 'Meimirrote'), the dark pink Coral Drift (Rosa 'Meidrifora'), the yellow Lemon Drift (Rosa 'Meisentmil'), the soft pink Peach Drift (Rosa 'Meiggili'), the hot-pink-and-white Pink Drift (Rosa 'Meijocos'), the red-and-white Red Drift (Rosa 'Meigalpio'), the medium pink Sweet Drift (Rosa 'Meiswetdom'), and the pale yellow-to-off-white Popcorn Drift (Rosa 'Novarospop'). Apricot Drift and Sweet Drift have double blossoms, Pink Drift has semi-double blossoms, and Coral Drift, Peach Drift, Red Drift, Lemon Drift, and Popcorn Drift have cuplike blossoms. Red Drift produces the flowers with the smallest diameter.
As of February 2021, Lemon Drift was only available for sale in the western U.S.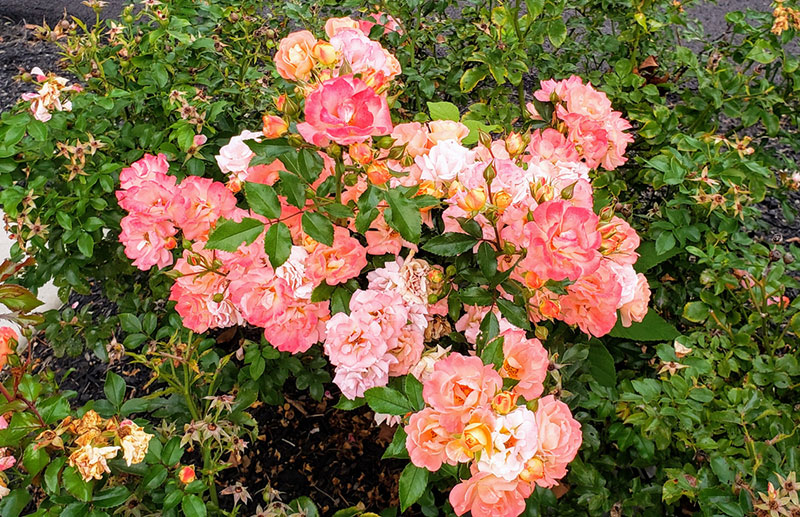 Light and Water Requirements
The Drift series of roses do like their full sun, but they also need weekly watering, with special care taken in very hot periods. Water from the base of the plant. Place 2 to 3 inches of mulch around the base of the shrub to help retain moisture. The soil does need to be well-draining whether the roses are planted in-ground or in a container. Before planting, amend the soil with organic matter, and add fertilizer every few weeks while the roses are blooming.
Deadheading
These roses, like many of the newer hardy cultivars, are self-cleaning. This means that old flowers drop off the stem; you don't have to deadhead. However, you can deadhead if you want by following a specific procedure: look down the stem of the flower you want to remove until you see a set of five leaflets (no less than five!). Cut the stem just above that five-leaflet bundle. If you choose to let the flowers drop off naturally, clean the debris away regularly, both for looks and to prevent pests from using the debris as a hiding place.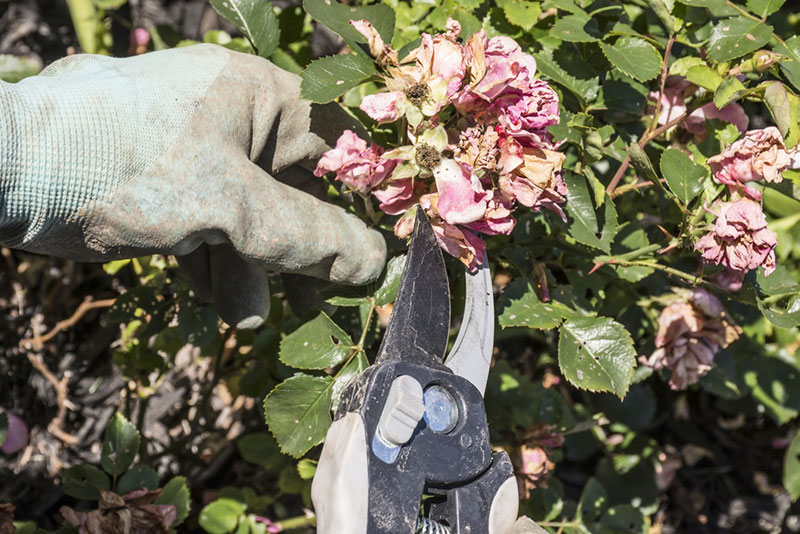 Pruning is just as easy. In early spring, when you see new shoots starting to grow, grab your pruning and lopping shears (for those bigger canes) and cut each back by two-thirds. Don't worry about how small the shrub looks after pruning; it will grow back vigorously if the shrub is healthy.
Winterizing
As winter approaches, add a new 2- to 3-inch layer of mulch around the base of each shrub. (You'll change this mulch in spring.) In areas that become very cold, wrap the shrub in burlap to protect it against wind. Container plants should stay outside for the first few freezes and then stored inside in a garage or other shielded area. These roses are disease-resistant and somewhat drought-resistant, but unfortunately they're not deer-resistant. If you rarely have deer, and some stop by and eat the roses, more will bloom later. But if you have a lot of deer, you'll need to protect the roses.
Purchase Drift series roses from a reputable nursery. As these are popular roses, you'll want to be sure you're getting real Drift series roses and not shrubs that merely look like they could be Drift roses. These roses are hardy, low-maintenance plants that are perfect for those new to growing roses. With proper care, the roses can re-bloom year after year, providing lots of color for your garden.
Related Articles