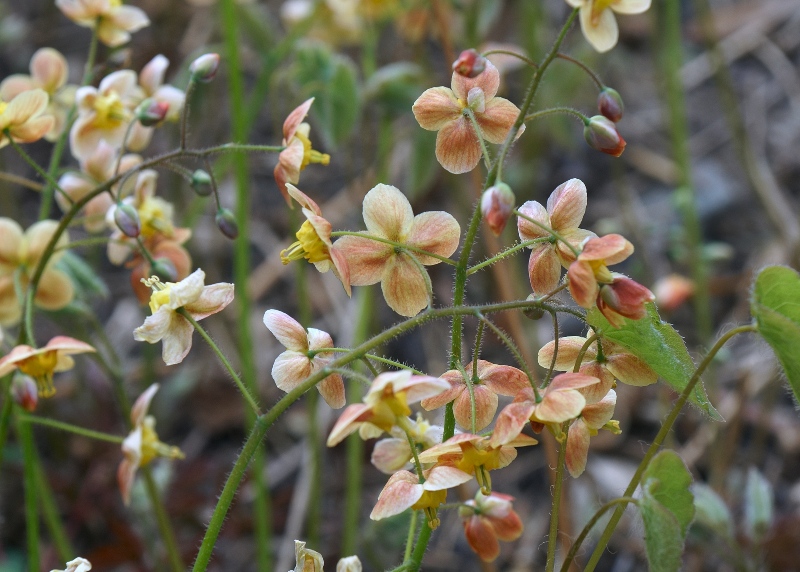 Barrenwort (Epimedium) is a hardy perennial that often blooms in the spring. It may go by several different names depending on your location, including bishop's hat.
This plant seldom grows to be more than 1-foot tall. It spreads by rhizomes, making it very useful as a ground cover.
Many types are incredibly hardy, so if you are a novice gardener or a forgetful one, then it may be a perfect choice for you. Most put on delicate flowers in the spring.
If you are a gardener in zones 3 to 9, then this shade-loving plant may be perfect for you.
Epimedium x versicolor Sulphureum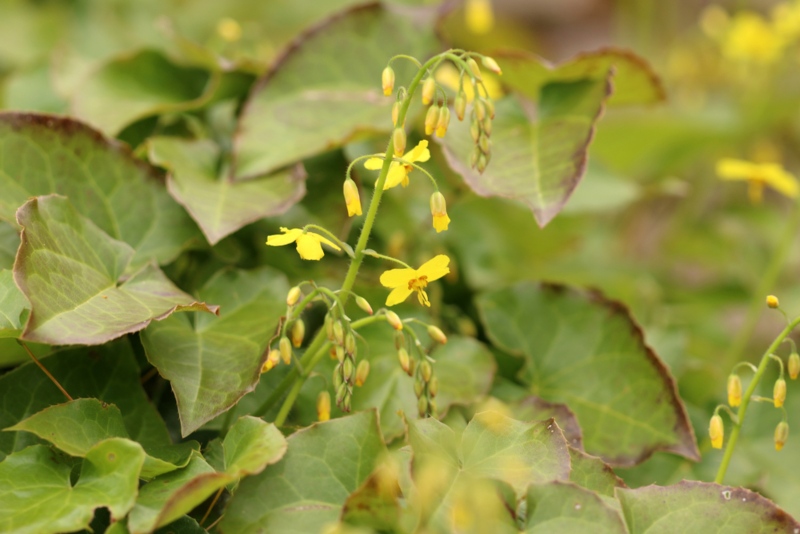 Epimedium X versicolor sulphureum grows faster than most epimediums. This plant that usually grows between 8-and-12-inches tall puts on yellow flowers in the spring. The flowers look particularly attractive because of their pale-yellow sepals, bright -yellow petals and deep-yellow spurs. The flowers appear on the ends of wiry stems with heart-shaped leaflets that can be up to 3-inches long. The leaves add visual interest to this plant because they emerge red, turn dark green in the summer and turn back to red in the fall. It flourishes in zones 5 to 9.
Epimedium rubrum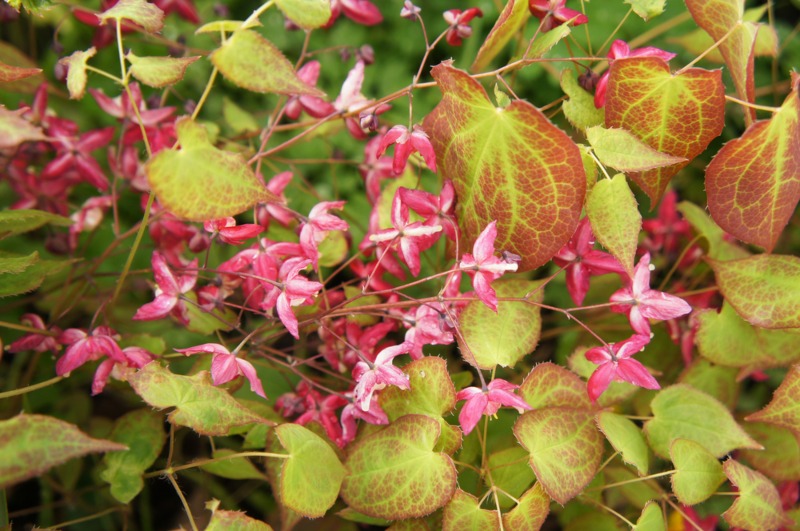 Epimedium rubrum is commonly called red barrenwort because of its springtime flowers with red sepals and pale-yellow petals. The heart-shaped leaves on this shade-loving plant emerge red, turn green in the summer and back to red in the fall. The leaves can be up to 3-inches long. This clump-forming plant spreads to be between 12-and-18-inches wide using underground rhizomes. This plant grows well in the shade in zones 5 to 9.
Epimedium grandiflorum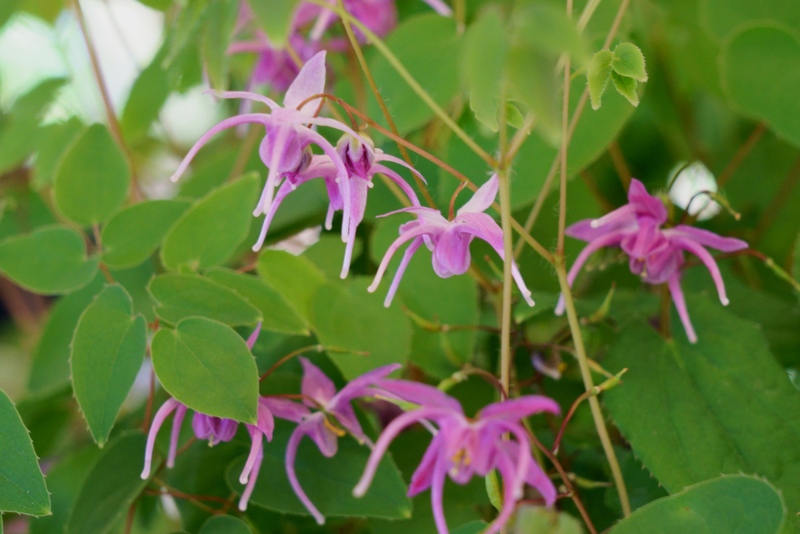 If you have a shady spot where you want a slow-spreading plant, then Epimedium grandiflorum may be the perfect option for you. It thrives in growing zones 5 and 6. This plant has tightly packed racemes of white flowers with eight rose or violet inner sepals. Each of the four petals on these upright flowers can be up to 0.75-inches long. The leaves on this option emerge beige in the spring but quickly turn medium green.
Epimedium pubigerum
The cup-shaped flowers on the Epimedium pubigerum rise high above the mound. These yellow flowers have creamy white to pink inner sepals. This option has leathery, heart-shaped leaves that are medium green. They emerge with a purple tint in the early spring. The Epimedium pubigerum is one of the tallest options as it often grows to be about 24-inches tall. This option usually thrives in shady spots in zones 5 to 9.
Epimedium x warleyense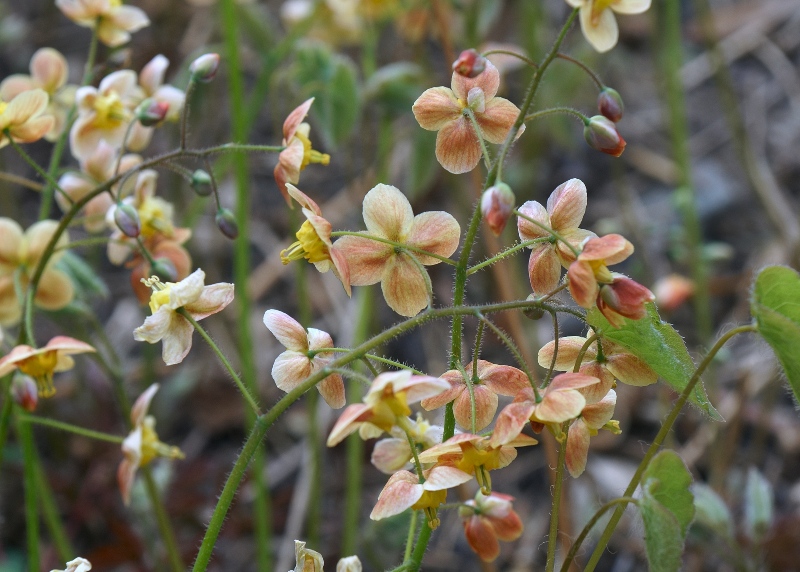 The epimedium X warleyerse is a colder climate option as it can grow up to the northern fringes of zone 4. This option is often evergreen in warmer zones, like zone 8. It puts on loose clusters of dainty yellow-petaled flowers with copper-orange inner sepals. Emerging foliage usually has a purple tint before it turns medium green. This choice usually grows to be about 12-inches tall.
Epimedium x purralchium
One of the broadest spreading epimediums, the Epimedium x purralchum often spreads to be about 18-inches wide. It grows to be about 12-inches tall. The leaves on this option are shiny green with bronze marbling in the spring. As the year progresses, the marbling on each heart-shaped leaf becomes less noticeable until the cooler days of fall arrive. This plant puts on bright yellow flowers in the spring that rise taller above the clump than many other options. Gardeners in zones 5 to 9 will want to consider this beautiful option.
Epimedium x youngianum 'Nieveum'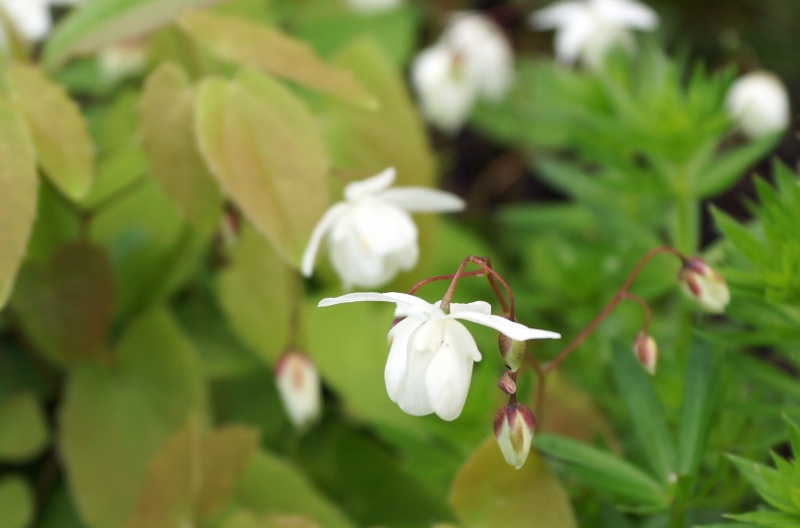 Epimedium X youngianum 'Nieveum' is another taller option. It is not unusual for it to grow to be about 18-inches tall. This option puts on white to pink flowers about the time that summer arrives. The heart-shaped leaves emerge with a reddish tint that turns medium green in the summer. Once fall arrives, you will love this plant for its red leaves. This option grows well in zones 4 to 8.
Choose the right colors of epimedium for your environment. You will love its colorful foliage and flowers. These shade-loving plants require almost no care once they are established. Be sure to choose the right area as they will spread.