Selecting the correct gardening tool boils down to having the proper tool for the job. Not all shovels are equal, and each has its own separate function. It is important to note their best usages as this will prevent you from buyer's remorse from not selecting a proper tool and not getting the job done.

The Wilcox All Pro 202S Trowel uses tough metal that will not bend or break. It has rugged, heavy-duty, light stainless-steel material to the blade. Trowel also has depth markings.
This tool is exceptional for deep bulb planting, cutting through the soil, and breaking up soil. Its non-slip grip is coated with heavy plastic and is comfortable. It also comes with a lifetime warranty.
Some users say they don't like the lack of leverage and that it could be a bit shorter.
Black and Decker BD1515
The Black and Decker BD1515 is composed of tempered steel, designed to withstand the most demanding digging jobs. The fiberglass handle does not rot or bend, improving the durability of the product.
TPR molded grips reduce hand stress and have a non-slip grip. The powder-coated paint will resist rust and enhance the longevity of the product.
It is a strong tool yet lightweight for incredibly easy use.
Users generally enjoy this shovel, and the cons of this product are minor. Complaints are generally superficial. The only valid comment was that it was small.
There are a plethora of tools that you can use for various gardening tasks. The differences between them and what to use come down to what the individual is attempting to accomplish. Special attention needs to be paid to the usage of each instrument as they all do different gardening tasks.
Different Types of Gardening Shovels: The Players in the Garden
Most gardening shovels contain round, concave blades that have a pointed end. They are designed to dig dirt but can be equally used to move soil, loose materials, or snow.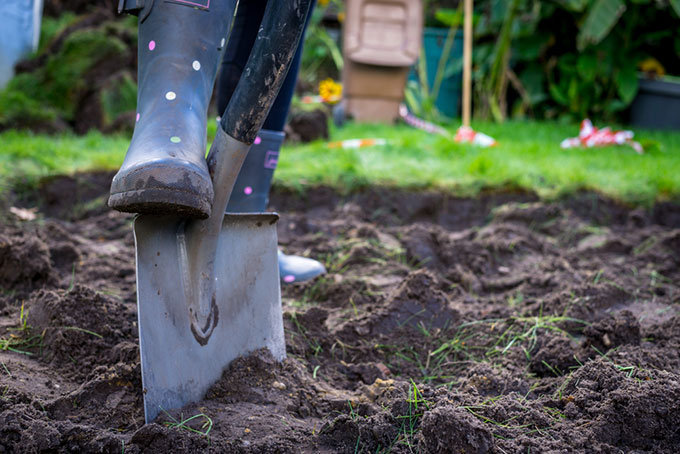 A garden spade uses slightly concave blades with flat edges. This garden tool is not ideal for creating holes but will cut through lawn edging, mark a trench, or glide through sod like an edging shovel. Spades have a wider collar so that you can use the foot-power for difficult-to-reach places.
On the other hand, garden scoops are flat, wide blades that rise on the sides. A scoop shovel is not for digging jobs but for compost, hay, dead leaves, mulch, loose soil, or other lightweight materials.
A garden trowel is for one-handed use. They have a short shovel handle and pointed tip. They are ideal for transplanting plants/herbs, digging in containers, creating small holes in the garden for plants, and removing weeds from the garden bed.
A trenching shovel has a long handle with narrow blades that culminate to a point. They are great for creating trenches, digging drain systems, and repairing irrigation.
Things to Consider
Most digging shovels have steel blades which tend to be 8-10" x 10-12" long. Durable shovels will have forged blades. These blades begin as a single piece of steel that has been heated and molded into shape.
Inexpensive shovels will have stamped steel blades. These blades and the adjoining handle attachment have a stamp from a machine from a sheet of steel.
Forged blades are twice the cost but will last longer.
Garden scoops have aluminum blades which make them susceptible to bending or denting.  They are lighter, however, due to their material.
The handle length is between 44 to 48 inches, which is a comfortable length for most people. Short-handled shovels exist that range from 18 to 24 inches.  Differences exist between the two.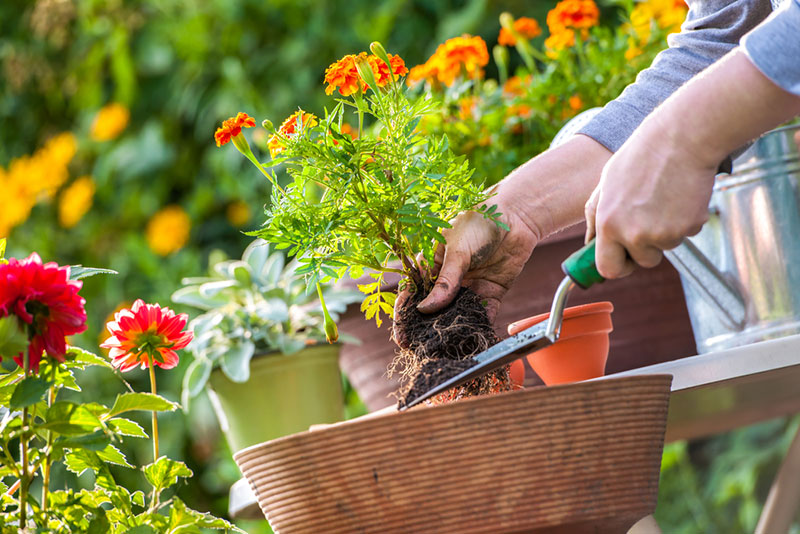 Short-handled shovels work best in confined spaces. Long-handled tools provide improved leverage for certain projects and are designed to tackle a wider range of gardening needs, and are easier on the back.
Handle material comes in wood, fiberglass, and steel. Wood is the traditional choice for a handle. It is less expensive than fiberglass but may leave splinters. Additionally, wood is heavier and is more susceptible to snapping from increased use.
Steel handles cost the same as fiberglass but are both heavier and stronger.
Inexpensive tools may not have a grip. Users grasp the handle. Higher quality wooden and fiberglass handed tools usually have some grip on their design to provide increased traction, prevent pain, and eliminate blisters from forming due to friction.
The most common type of handle design is a D-shaped grip. It is easier to grasp with one hand while placing the other hand on the shaft. You get greater control with this design. It is much easier to use.
It is also more prevalent on shorter tools as opposed to longer ones.
Most tools weigh between 5-8 lbs. Fiberglass is at the bottom of the scale, while wood is at the top. While the differences appear to be minuscule, fatigue can set in quicker if using these tools for prolonged periods.
The ideal weight, however, depends on the individual's strength and preference. Although, a heavier shovel usually lasts longer.