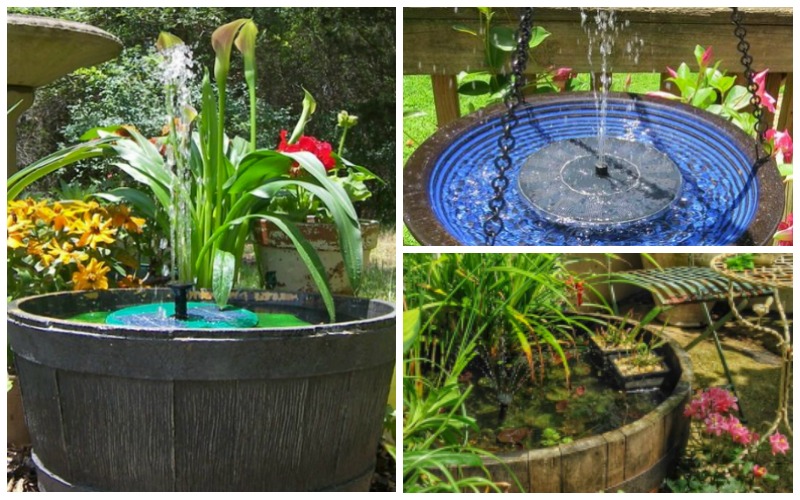 If you have water in your garden or you want to create something for the animals to enjoy in your backyard, then a solar fountain pump is going to be a great way to create a unique waterscape. I have a backyard pond, and I love the way that my solar fountain pump creates spouts of water that make it look like a community fountain rather than a small pond in my backyard.
I found a solar fountain pump at a great price, so I purchased a few of them to put in my pond. Then, I began thinking about other ways that the fountain pump would enhance my garden, which led me to create this list of ideas for you to consider for your own garden.
I came up with eight spots in my garden that I felt were perfect for a solar fountain, so in this gallery, you will see them all. One of my favorite ideas on this list is the solar fountain inside of the whiskey barrel. It is a wet planter that is almost swamp-like, but the foliage and the water hide the fountain perfectly.
I also love the solar fountain in the urn planter because it is a unique place for a fountain that many may not consider. If you have wildlife in your garden, they may even decide to use this planter as a place to get a drink or take a bath. A subtle spray is perfect with this idea so that the water does not splash outside of the planter much.
Let's check out the gallery images so that you can decide which one is best for your garden.
1. Add a Solar Fountain Pump to Your Pond

Adding a solar fountain pump to your pond can make it have a lot more character. In this image, you can also see how other pumps like the solar powered lily pads can enhance the pond as well. The moving water and the ripples that the fountain creates are perfect for a small pond.
2. Solar Fountain in a Galvanized Tub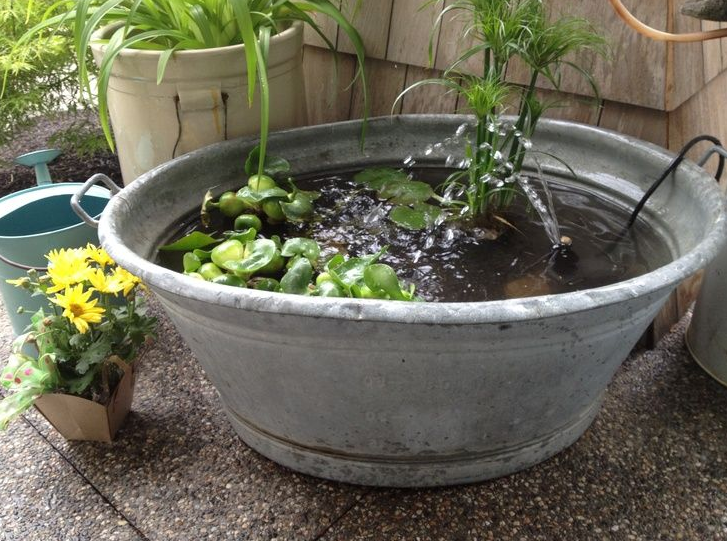 Having a water garden in a galvanized tub is not uncommon. Here you can see that the fountain brings new life to the plants in the tub as well as the ones that are around it. This rustic tub adds flavor to your garden; making it the perfect place for some subtle bubbles in the water.
3. Solar Fountain In a Whiskey Barrel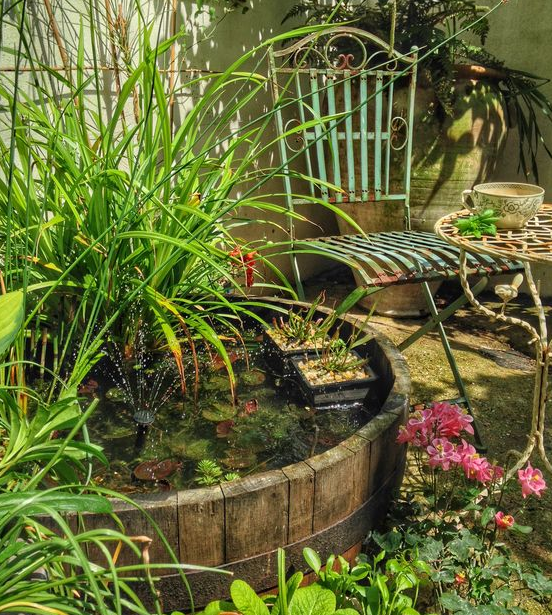 This whiskey barrel is full of life, and the fountain pump inside it can oxygenate the water so that the birds and other wildlife can enjoy it. The chair that is positioned next to the barrel is in the perfect location to relax as the birds fly in to bathe.
4. Easy Solar Fountain Container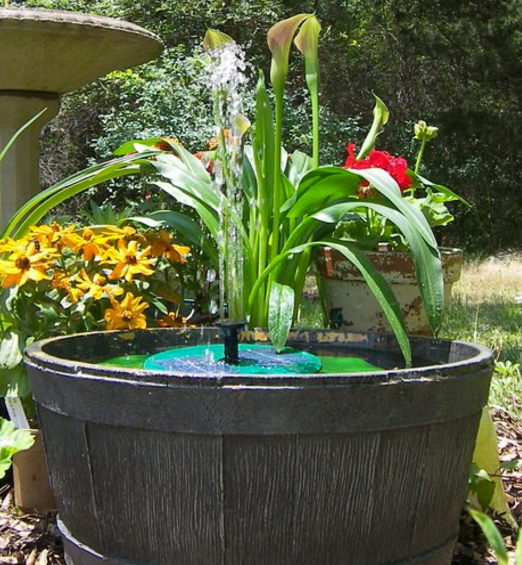 This idea is perfect for smaller gardens that do not have enough space for a large pond. The barrel is perfect for creating a place for the animals to frolic, and there is plenty of green foliage and brightly colored blooms nearby to liven up the garden.
5. Solar Fountain Urn Planter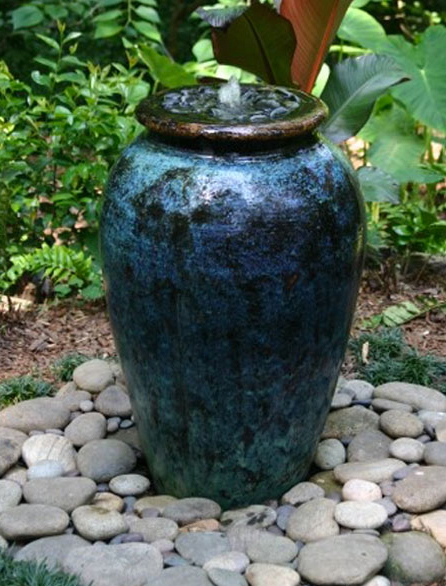 This urn planter is the perfect place for a solar fountain, especially if you have a rock garden to position it in. Fill the urn with small rocks, and then place the solar fountain on top. A small fountain stream like what is shown here is ideal with such a small opening.
6. Add a Solar Fountain Pump to Your Bird Baths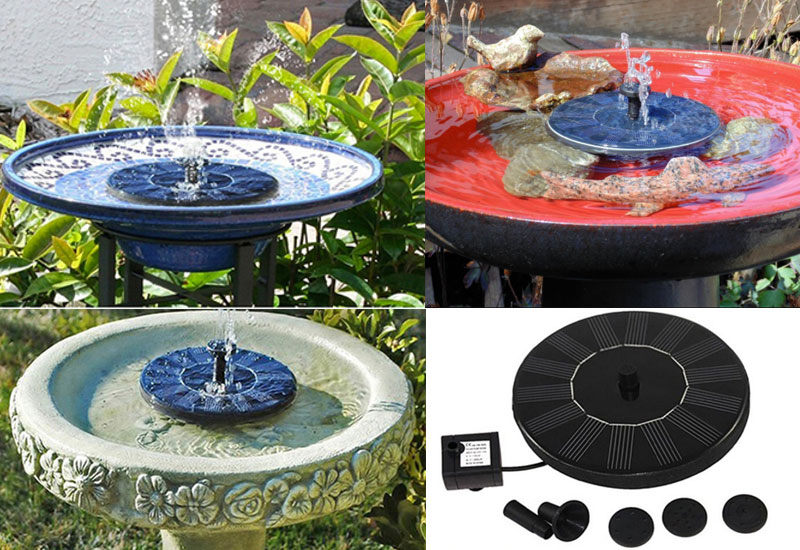 Birds love moving water, which is why it is a great idea to add a solar fountain pump to your bird baths. The birds will have plenty of space to bathe, and you will create a fountain effect that will look amazing in your garden. The red bird bath here looks especially nice.
7. Solar Fountain Pump in  hanging Bird Bath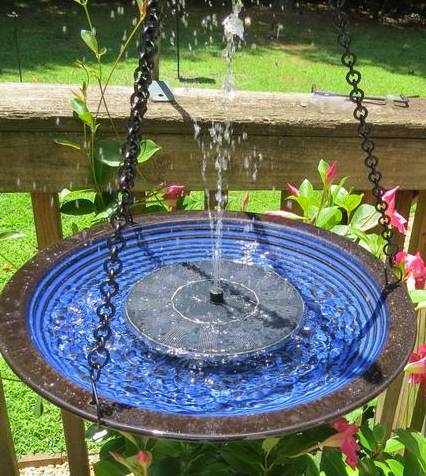 A hanging bird bath is another ideal location for a solar fountain. As you can see, this is a great option for your back porch. When the wind blows, the ripple effect created by the fountain will intensify, and the birds will be drawn to the bath even more.
8. Drop a Solar Fountain In Your Pool!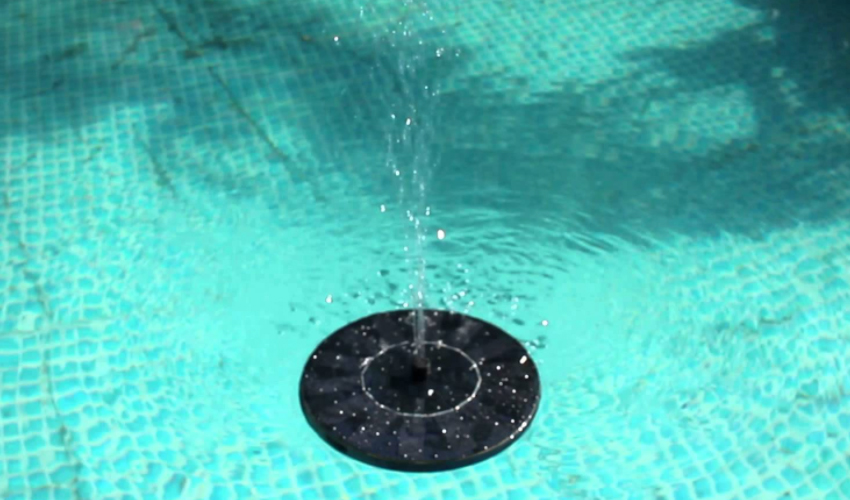 If you have a large pool like this, then having a solar fountain pump will be a fun feature to add. Add a few of these and let these float around your pool!
If you still haven't purchased a fountain pump yet, check out our list of top 10 solar powered fountain pumps here for some great options!