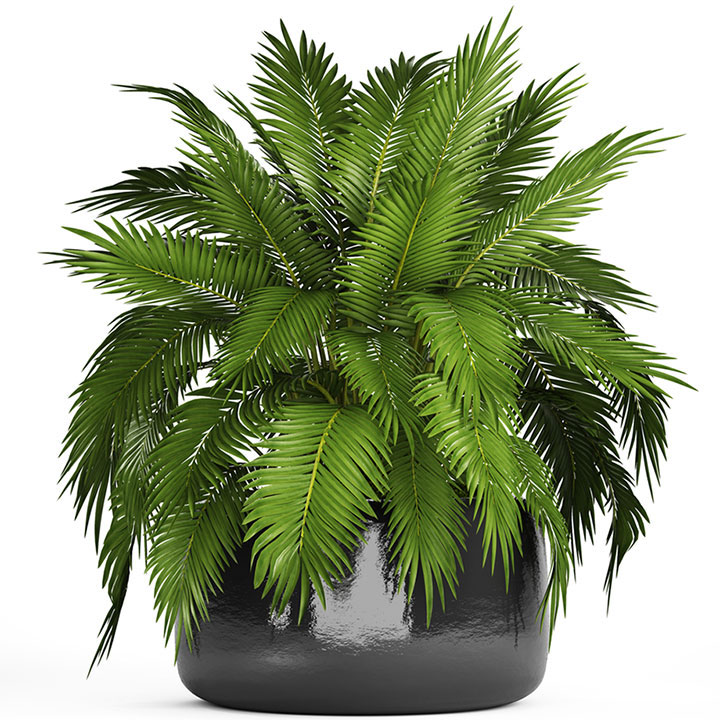 The cat palm is a trunkless palm tree that can be found growing in hardiness zones nine through 11, which is an area where the temperature rarely falls below 20 degrees Fahrenheit.
At maturity, this plant can grow to be six feet tall, and since it is a tropical plant, it will need some extra attention to thrive.
Let's take a look at some of the requirements that the plant will need to grow.
Watering Requirements
This is a plant that will need to be watered about once a week. You will want the soil to be relatively moist, but don't allow it to be soggy or constantly wet. It will not tolerate dry soil, so make sure to check it every five days or so to see if the soil is still moist. It also does not do well sitting in water, so be careful not to overwater the plant because the fronds can turn brown.
If your tap water has too much salt or fluoride in it, this could hinder the growth of the plant as well and cause the tips of the leaves to become burnt.
Light and Temperature Requirements
Cat palms need to grow in bright sunlight, but indirect light is best so that the fronds do not burn in the hot sun. Filtered light that goes through a window will be an excellent option for this plant if you are growing it indoors. When it comes to temperature, it should be grown at a temperature that stays between 500 and 80 degrees Fahrenheit.
Also, make sure to keep the plant away from areas where drafts are prevalent.
This plant also likes to grow in humid spaces, so if grown indoors, try to keep the humidity at about 55%.
Soil and Fertilizer Requirements
This is a plant that will grow best in slightly acidic soil. It also needs to be a well-draining soil that will keep the roots from being wet.
To feed a cat palm, it is best to give it a slow-release fertilizer that is will provide it with the nutrients that it needs during the growing season. It should be fed to the plant monthly during the spring and the summer, but during the dormant seasons, it will not need to be fertilized nearly as often. In fact, it should only be fed once or twice during these six months.
Pruning Requirements
This is a plant that does not require a lot of pruning, but it can be done at any time to keep the size and the shape of the plant.
Pruning the plant will also help to keep the palm from developing a complex root system, which it would need to support a larger tree. Pruning should also be done when the fronds change colors.
Brown and yellow leaves should be removed, and tips that are burnt should also be trimmed.
Propagating Cat Palm
A cat palm is going to need to be propagated using seeds; however, this can be a challenging undertaking that may not work out the first time you try.
These seeds will germinate slowly, and once they take root, the seedlings can take years to grow into trees. This is a plant that is very fragile when it is young, so it will require a lot of care and patience to propagate a cat palm.
Dividing the tree is not an option because the plant is too fragile to survive the separation.
Pests and Diseases
When growing this plant, you will want to check the fronds for small pests that can easily infest it. This can include spider mites, ants, mealybugs, and scales. The fronds can be gentle sprayed with a mild pesticide or wiped with warm, soapy water. Scales can be removed using a toothbrush if they are seen. In addition, leaf spot is a common problem that cat palms face. This can from when the soil or the water has too much fluoride, salt, or copper in it.