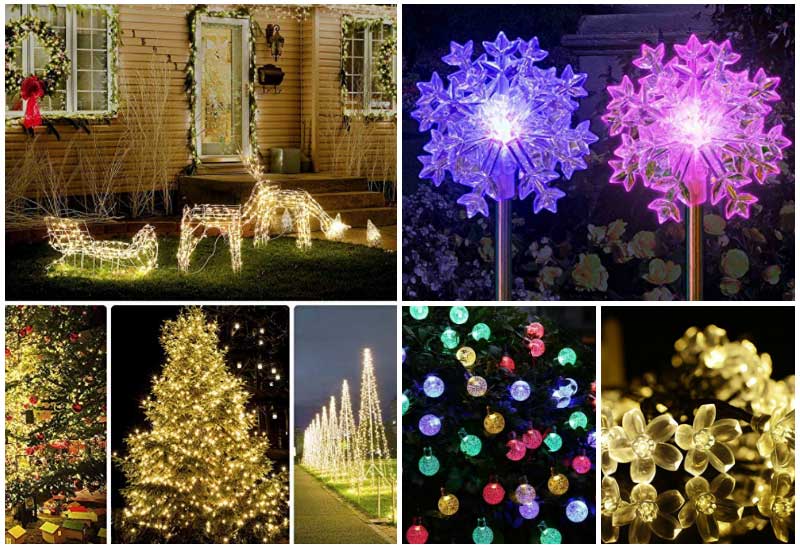 It's that time of year again! Christmas is right around the corner, and you're ready to start decorating your home and garden for the season. Outdoor lights can be difficult to use when you don't have a source of electricity, so this year, we thought that we would gather the best solar Christmas lights that would be perfect for your outdoor display.
In this guide, we are going to take a look at 17 different illumination options.
What are the Advantages of Solar Powered Lights?
One of the biggest advantages of using solar powered lights to decorate your home for the holidays is that you do not need to use electricity to power the lights. This eco-friendly option is better for the environment, but it will also help save on your electric bill as well, which means that you can easily have the lights on every night for the entire Christmas season.
They are also very versatile options that you can use to illuminate any part of your garden or yard. These lights do not have to be connected to an extension cord to reach an outlet, so you can easily wrap them around any bush, tree, or outdoor decoration without having lights on the ground or out of place so that they can reach the outlet. The best part is that since there is no electric cord to worry about, you don't need to be worry about rain or snow because there are water resistant solar lights that you can use.
How to Choose the Best Solar Powered Christmas Lights
As with anything that you purchase for your outdoor space, there are some aspects that you will want to look for on the solar lights that you purchase. Not all solar lights are going to be made with the same quality level in mind, so it is important that you know what to look for if you want outdoor Christmas lights that will last for multiple Christmas seasons. You will want to consider:
Durability – Some of the lighting options that you will find on the market will be made out of plastic. This can be a great option to consider if you are looking for lights for this holiday season, but if you want something that will last, you will want to consider lights that have solar panels made out of tempered glass, which will last much longer in the outdoors.
Replaceable Lights – Light bulbs do not last forever, so you will want to find a set of lights that allow you to replace the bulbs with ease. If you purchase a set of lights that does not allow you to replace the bulb, it can become costly to get a new set of solar lights each season.
Sunlight Requirements – How much sunlight does your front yard or garden get during the day? Some solar lights require eight hours of sunlight a day to function properly, while others require less because they can store sunlight even when the skies are cloudy. Determine how much light your yard gets on average before deciding which solar lights fit your needs this holiday season.
Best Solar Christmas Light Reviews
Everyone wishes for a white Christmas, so why not decorate your home with a 20 foot string of LED snowflakes to help spread Christmas cheer. The lights can flash or be a solid display in your garden. If you prefer more authentic snowflakes, this strand of lights can be purchased in white and warm white as well. When these lights are fully charged, they will easily last a good 10 hours.
If you are looking to enhance your garden this holiday season by giving it a glow of light, then a single color solar string like this one will be ideal to illuminate your outdoor space. The 72-foot string of lights is available in blue, green, pink, purple, red, and white. There are eight different modes that you can choose, and they will stay lit for a period of eight hours or more.
These long, tube-like LED bulbs are turn on and off in sequence so that they look like there are glowing particles falling from the sky. Depending on the speed that you set it at, you can have a soft light that looks like snow or something more intense like a meteor shower. These lights need about six to eight hours of light a day to get eight to 12 hours of illumination at night.
Sometimes, the best way to decorate your garden is a long strand of mini lights, especially if you have a fence or other lawn decorations that you want to outline. This option has 100 lights that can be set to blink or a solid glow, and as long as the solar panel gets enough light during the day, these lights will have enough power for eight to 10 hours of illumination.
If you want your garden or yard to stand out from the others on the block, this 33-foot strand of lights is ideal. The lights can be on consistently, or you can choose from one of the other seven settings that will blink, twinkle, or create other interesting illumination patterns. The thin wire that connects the lights is easy to bend, so it is ideal for more intricate decorations that you want to create.
A fully decorated outdoor space will include lights that you place on the trees and bushes as well as those that are on the ground. These 3D snowflakes are positioned on stainless steel stakes that are waterproof and easy to push into the soil. They are even designed to rotate through seven colors; though, these lights will need to have at least six hours of sunlight each day to function properly.
The next lights that we are going to consider are small illuminated ornaments that are designed to be placed in the ground to light a garden path or walkway. These Santa figurines are made of crystal, so they light up quite nicely, but if you prefer snowmen, they are an option as well. The stake goes into the ground up to the solar panel, and with enough sunlight, it will last about eight hours.
Solar-powered LED curtain lights are a beautiful way to decorate different types of structures throughout your home & garden.  I like to use them as backdrops in a gazebo or a side of a patio. These lights are solar powered so there is no need to worry about electrical outlets.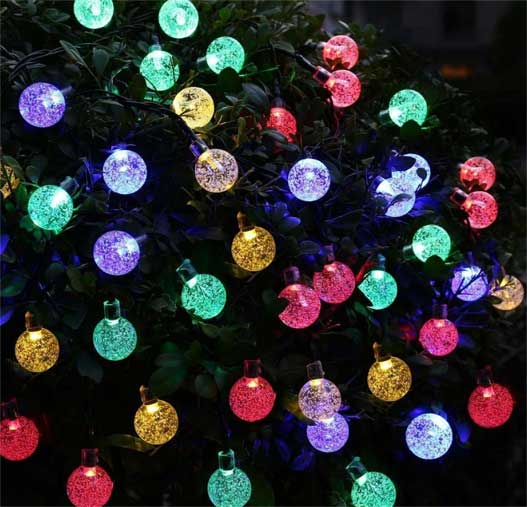 These lights are a bit larger than the ones that we have looked at so far. They are globes that vary in color, which will really brighten up your garden, and the strand stretches more than 20 feet in length. There are eight different modes that you can use for your decorations, and if the lights do not get adequate sunlight, there is a USB charging option that you can use as well.
This outdoor Christmas light is a projection that you can use to enhance your Christmas decorations this year. There are options to change the speed that the lights blink at, the color of the lights, and how long the lights will be on. All of these settings can easily be changed with the included remote, which has a range of about 15 meters, so the settings can be adjusted from inside your home.
If you like decorative ornaments on your tree, then you can use these Christmas lights to give you the same look outdoors. The 15-foot strand of lights will give you about eight to 10 hours of illumination a night, and they can be set to flash if you'd like. The Moroccan balls can add a lot of atmosphere to your Christmas display, which makes them ideal for an outdoor tree or fence.
These Angel Solar Powered lights are really cute. When fully charged throughout the day they light up at night for 6-8 hours. They glow in 7 different colors which makes them wonderful. These are perfect for front yards along garden paths or in garden flower beds.
Just because you are decorating for Christmas does not mean that you cannot have flower-shaped lights in your display; in fact, you can use this strand of lights for any occasion that needs a little illumination. There are eight different light modes that include a solid light, a fading option, or one that quickly flashes in and out. With six hours of sunlight, you can expect up to 12 hours of illumination.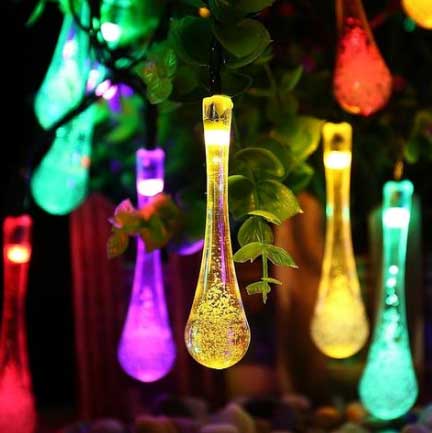 These solar lights are designed to look like a drop of water, so if you want your trees to stand out, then this 20-foot strand can really add to your Christmas display. The lights are multi-colored, but you can change them to a warmer color to match the rest of the display. There is also a built-in sensor that will make sure that the lights turn off when it becomes daylight.
Solar stakes can really look great along your driveway or a garden path, but this LED lighting option has a disco lens that will transform your garden into a dance floor. The patterns that this light creates will look quite unique in the snow, and with a full charge, they will be able to remain illuminated for at least 10 hours. These can also be seen underwater, so these may be ideal for a pond.
These solar stakes come in a pack of 12, which will give you six colors to use in your Christmas display. These stakes are simple to place in the ground, and they are designed to turn off when the sun comes up. These lights will offer a unique star-shaped pattern on the ground, which will look great on a garden path or a driveway. With a full charge, they should last for approximately eight hours.
These snowman-shaped garden stakes are quite unique, and they come in a set of two so that you will always have one for each side of the path or bush. The snowman is positioned on a bed of pine and berries. In the middle of the snowman, which lights up at night, there is a red. Each snowman also has a black top hat that gives the snowman a bit of character.